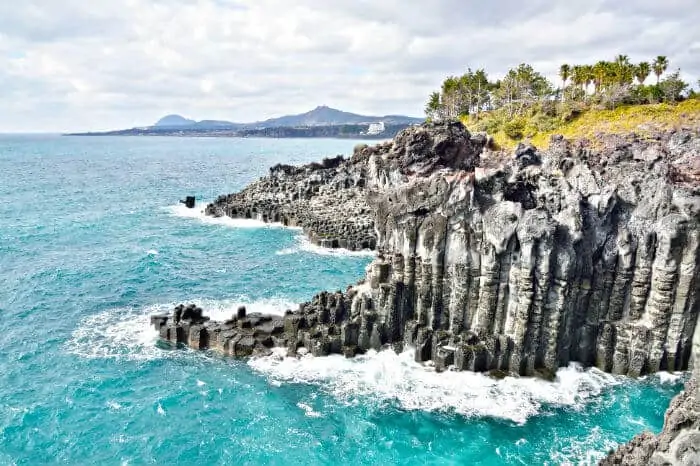 Dateline: Jeju City, South Korea
It's barely a one hour flight from Seoul's Incheon airport to the capital city of the self-governing Jeju Island off the southern coast of the Korean peninsula.
They call it the "Island of the Gods". It's a popular destination for Korean honeymooners and an increasingly popular destination for Asian tourists. Yet, almost nobody outside of the region has ever heard of it.
Plus, in a number of ways, the culture of Jeju Island is rather different from mainland Korea.
Jeju Island is an interesting place. For one thing, almost ANYONE can visit here without a visa. The island calls itself "a Free International City where the provincial citizens are happy". Whitewashing aside, so long as you're not carrying a passport from one of a dozen troubled African or Middle Eastern nations, you can get into Jeju Island visa-free.
That even includes holders of passports from Mainland China, who are forced to get a visa in advance for almost any country they visit.
Jeju Island is one of nine provinces that make up South Korea, but its location away from the mainland gave it the ability to obtain status as the country's only Special Autonomous Province.
The idea of an autonomous region within a country is nothing new. Hong Kong and Macau are China's two Special Administrative Regions, or SARs.
Labuan in Malaysia benefits from a similar arrangement that allows it to run an offshore financial center separate from the rest of the country.
Similar autonomy allows Jeju to make its own immigration laws; and, in their desire to be an international city, they've decided to let just about anyone come here… no prejudices.
It's a great strategy for a place that wants to attract wealth from around the world.
While some might consider this strategy dangerous, I consider it the strategy of a place I want to take a closer look at.
My recent time in Seoul was marked by rather inhospitable weather and quite hospitable people. However, Seoul never really caught on as an expat destination, even with an easy entrepreneur visa program.
In fact, barely one million foreigners live in all of South Korea.
Jeju Island wants to be different. English is more widely spoken here. While South Korea is like any other liberal, developed country, things feel a bit more open in Jeju.
Not to mention that the place is a nature lover's paradise, with a volcanic peak to hike, great beaches, and great scenery.
And, if you have enough money, anyone can live in Jeju. I recently shared how to get a second residency in South Korea by starting a business. While the program used to be super cheap and easy, demand went through the roof and the government raised the price and the standards (a common issue, and a reason to take action on your internationalization plans sooner than later).
How to get a residence visa in Jeju Island
The process of obtaining a second residency in Jeju is easy. Unfortunately, due to Korea's proximity to newly wealthy markets like China with eager expats-to-be, it's not cheap.
However, if you're looking for a lifestyle investment, it could be a good fit.
Specifically, Jeju Island offers immigration of real estate investors who purchase a single property valued at 500 million South Korean won or more. Total price of admission: about US$416,000 at mid-2015 exchange rates, down 15% in the last year.
Properties purchased for the immigration program should be "recreational" in nature; basically, you need to want to live there. You can buy a larger property and go in with other investors, but each party needs to have at least 500 million won in the game in order to get a residence visa.
They don't advise you to rent your property out to others, either.
All you need to make the investment and claim immigration status is the cash, proof of purchase, and a passport. You get residence status for three years and your spouse and minor children get the same status for two years. Each residency is renewable, so long as you continue to hold the property.
To be clear, this is a second residence option for someone well off because the government does (of course) require proof that you can support yourself. This isn't Thailand, and prices aren't exactly cheap here — especially since a lack of freshwater on the island means the water that is available is used for things like drinking, rather than farming.
The government also requires your 500 million won investment to be in cold hard cash. If you mortgage the property to the point that your equity goes below this threshold, you're out.
After five years of living in Jeju Island and keeping your nose clean, you can apply for permanent residence and work toward a South Korean passport.
If you've always wanted to live on an island with beaches, mountains, and a bit of city life, Jeju Island might be an option for you. More and more service workers here are learning English, Japanese, and even other languages.
Like any other small place that wants to attract wealthy people to its shores, Jeju aspires to be truly international. Nobody's going to curse you out for not speaking Korean.
Personally, I think we're going to see more "international cities" of this order as regional governments in various places decide they need to do something big to put themselves on the map. What a great position to be in as an investor.