In this article, we'll take a look into the 10 least corrupt countries in Asia, offering unique insights for travel enthusiasts and potential investors alike.
As corruption perceptions have significant implications on economic stability, investment attractiveness, and overall societal well-being, understanding the corruption landscape can enhance your decision-making process.
The selected countries are deemed the least corrupt based on rigorous evaluations based on Transparency International's Corruption Perceptions Index.
The rankings not only represent a low number of public sector corruption cases, but also embody a strong anti-corruption culture that is firmly entrenched in their society.
Discover why these Asian nations have made significant progress in their national corruption control efforts, setting them apart in the region where the global average remains unchanged.
This knowledge could prove vital for identifying lucrative investment opportunities, securing a more tranquil lifestyle, or both.
To learn more about travel and investment opportunities abroad, contact us at Nomad Capitalist today, your trusted companion for global living and investing.
Understanding Transparency International and the Corruption Perceptions Index
Transparency International, a globally recognized organization, plays a pivotal role in assessing and ranking countries based on the level of perceived public sector corruption.
They do this using a key performance indicator known as the Corruption Perceptions Index (CPI). The CPI provides crucial insight into the corruption situation globally, offering an annual corruption statistics snapshot that is published annually.
This index utilizes various sources of information to create a comprehensive image of public sector corruption cases in each respective country. It takes into account systemic failures, corrupt practices, and political determination to stop corruption.
Therefore, the CPI is a reliable tool that reflects the effectiveness of national corruption control efforts and is instrumental in shaping perceptions about corruption worldwide.
The significance of the CPI is multi-dimensional. It serves as an important factor for governments and organizations to develop strategies against corrupt practices.
For potential investors and business people, it offers valuable insights into the country's economic stability and business environment. Additionally, the Corruption Perceptions Index serves as a standard for gauging the impact of efforts against corruption.
By appreciating the role of the CPI, you can make informed decisions about where to invest or travel in Asia. Its importance cannot be overstated, particularly when it comes to predicting potential economic risk and navigating the dynamics of corruption in different countries.
The Top 10 Least Corrupt Countries in Asia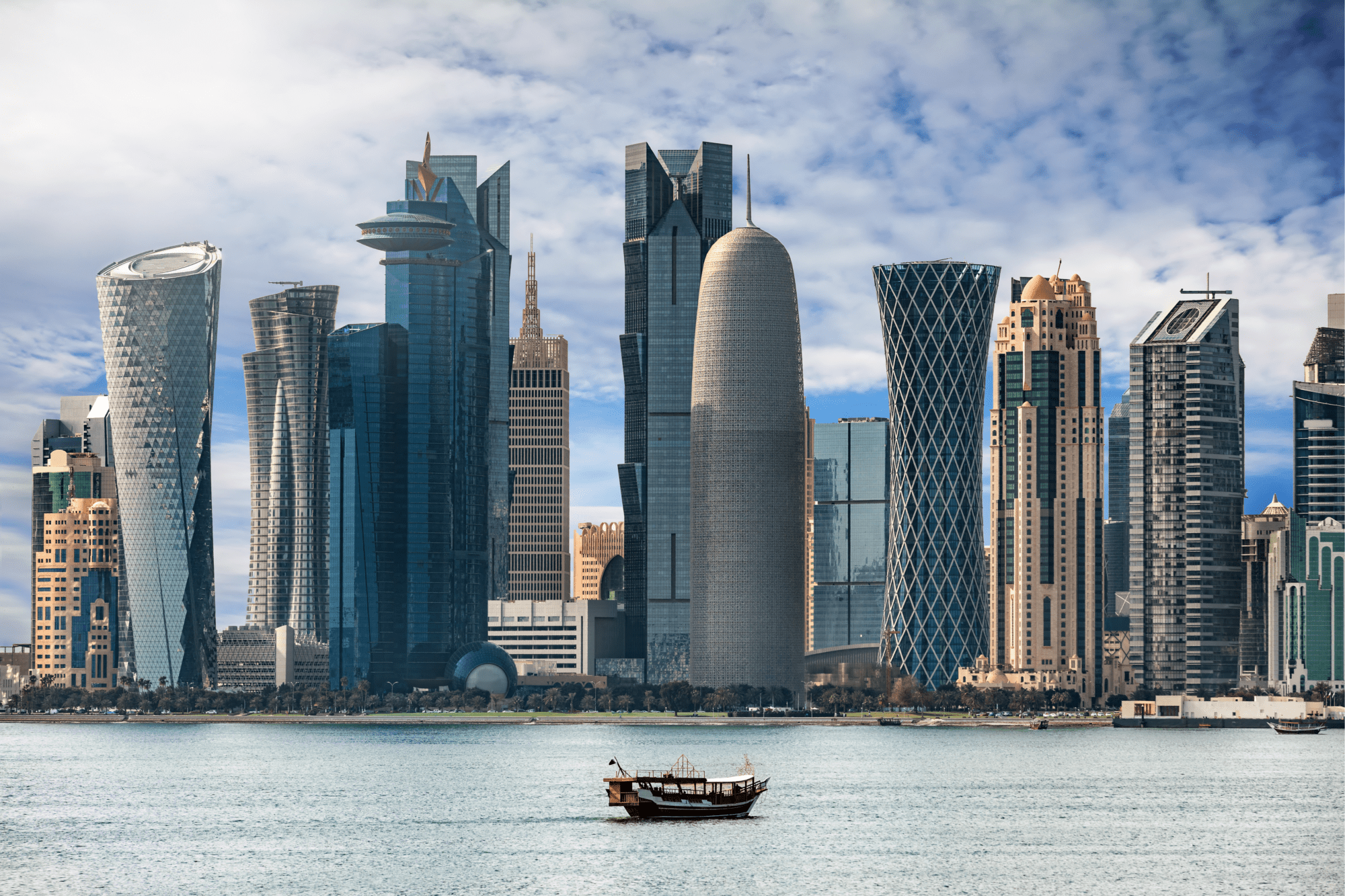 As corruption significantly impacts social, economic, and political dimensions, let's now have a look at the 10 least corrupt Asian countries according to Transparency International's CPI rankings for 2022.
10. Qatar (CPI Score: 58)
Qatar, a nation known for its wealth and progressive vision, holds the tenth spot.
Despite being highly scrutinized for its human rights issues following the 2022 World Cup, Qatar has implemented strong public confidence and initiatives to deter corruption.
A strong political determination, coupled with systemic reforms, has gradually moved this country up in the CPI rankings, showcasing its commitment to transparency and integrity.
9. Brunei Darussalam (CPI Score: 60)
Brunei, a small yet affluent country in Southeast Asia, is making significant strides in combating public sector corruption.
With a government that's fully committed to promoting a zero-tolerance culture towards corrupt practices and the public's support, Brunei has demonstrated that it remains firmly on the path of continuous improvement.
8. South Korea (CPI Score: 63)
Known for its rapid industrialization and cultural influence, South Korea has maintained a strong stance against corruption.
Government agencies, in collaboration with its citizens, have been instrumental in implementing stringent measures to deter corrupt practices.
As a result, South Korea's corruption perceptions index has remained consistently low, reflecting their progress over the years.
7. Israel (CPI Score: 63)
Despite its geopolitical complexities, Israel has made considerable strides in tackling corruption.
Its public sector is vigilant, with heavy punishment for corruption offences and the culture of zero tolerance towards such acts is well-ingrained within the population, thus reflecting in its respectable CPI score.
6. United Arab Emirates (CPI Score: 67)
The United Arab Emirates stands out as a beacon of progression in the Middle East, establishing a formidable stance against corruption.
The Emirati government's dedicated efforts to tackle corruption, coupled with the public's strong adherence to laws, have shaped the UAE into one of the least corrupt countries in Asia.
5. Bhutan (CPI Score: 68)
Bhutan, known as the Land of the Thunder Dragon, has a unique approach to national wellbeing, with Gross National Happiness being a key indicator.
Their robust system of checks and balances, paired with a committed public sector, has resulted in a consistent low corruption score, making Bhutan a surprisingly transparent and accountable Asian nation.
4. Taiwan (CPI Score: 68)
Taiwan, an East Asian democratic stronghold, takes the fourth spot.
The island nation's approach to reducing corruption involves rigorous legal mechanisms and a strong cultural inclination towards public sector integrity, which is reflected in their CPI score.
3. Japan (CPI Score: 73)
Japan, with its rich cultural heritage and formidable economy, holds the third spot.
The Japanese government's dedication to upholding integrity, coupled with a society that deeply values honesty and ethics, makes Japan a highly trustworthy and transparent nation, thus reflecting in their admirable CPI score.
2. Hong Kong (CPI Score: 76)
Hong Kong, a dynamic city-state in East Asia, ranks second.
With its robust legal system, transparent governmental operations, and citizens that value rule of law, Hong Kong has consistently showcased its commitment towards being a less corrupt territory, making it a popular choice for businesses and individuals alike.
1. Singapore (CPI Score: 83)
Holding the first spot in Singapore.
This Asian city-state's approach to corruption is globally revered. With the Corrupt Practices Investigation Bureau (CPIB) leading the fight, and a strong public support for a zero-tolerance culture towards corruption, Singapore has maintained high levels of public sector integrity.
This country has achieved remarkably low corruption rates year after year, solidifying its position as not just the least corrupt nation in Asia but also as one of the least corrupt countries worldwide.
Singapore's success story is a testament to the effectiveness of sustained, committed, and integrated anti-corruption efforts. It also enjoys a business-friendly government and some of the safest banking to be found anywhere in the world.
So there you have it, the top 10 least corrupt countries in Asia as per the CPI rankings. These nations are not only rich in cultural diversity but also in their commitment to ensuring fairness, transparency, and integrity within their borders.
Remember, however, that while these rankings provide a solid overview, it's always recommended to conduct thorough personal research or consult with experts before making significant decisions.
Final Thoughts on Corruption Perceptions in Asia
Understanding corruption perceptions is an essential step in exploring investment or travel opportunities in Asia. These top 10 least corrupt Asian nations showcase that progress is indeed achievable, even in areas where the global average remains unchanged.
Their respective commitments to maintaining transparency and fighting corruption offer a sense of security and stability, making them attractive to global citizens.
At Nomad Capitalist, we appreciate the role of comprehensive insights in making the best possible decisions for your second citizenship and international investment needs.
Contact us today to learn more about how you can explore Asia better so you can go where you're treated best.
Least Corrupt Countries in Asia Frequently Asked Questions
What Are the Least Corrupt Countries in Asia?
The least corrupt countries in Asia, according to Transparency International's Corruption Perceptions Index are as follows:
Singapore
Hong Kong
Japan
Taiwan
Bhutan
United Arab Emirates
Israel
South Korea
Brunei Darussalam
Qatar.
Which Country Is the Least Corrupt in Asia?
Singapore holds the distinction of being the least corrupt country in Asia in 2022, as reported by the Corruption Perceptions Index. Its rigorous anti-corruption measures and public commitment to a zero-tolerance culture against corruption contribute to its top-ranking position.
What Is the Corruption Perceptions Index (CPI)?
The CPI is a tool developed by Transparency International that ranks countries based on their perceived levels of public sector corruption. It plays a crucial role in evaluating how well countries are tackling corruption. CPI provides a vital benchmark to measure the effectiveness of anti-corruption initiatives at a national level.
How Are Corruption Perception Index Scores Calculated?
The Corruption Perceptions Index scores are calculated using a combination of surveys and assessments of corruption, collected by a variety of reputable institutions. The score ranges from 0 (highly corrupt) to 100 (very clean).
How Does Corruption Impact Investment Opportunities?
Corruption can significantly affect investment opportunities. Countries with high corruption levels often pose greater risks and uncertainties for investors, including legal and financial complications. Conversely, countries with low corruption levels, like the least corrupt countries in Asia, generally offer a more stable and transparent business environment.
How Are Asian Countries Fighting Corruption?
Asian countries are combating corruption through various means, including establishing anti-corruption agencies, enforcing stringent laws against corrupt practices, promoting a culture of zero tolerance towards corruption, and engaging in robust national corruption control efforts.