Dateline: Belgrade, Serbia
If you're reading this article, chances are that you are painfully aware of the fact that doing business in the West and other high-tax places and putting all of your eggs in one basket is not a good idea.
I often come across news stories that illustrate just how bad things have gotten for entrepreneurs in the West. And every once in a while, it's worth sharing those stories.
Today, we'll look at the story of one New York restauranteur who's closing up shop because he has realized that it's not the place where he can be treated best. More importantly, I'll share what you need to do to avoid the same business mistake if you're an entrepreneur in the West right now facing a similar situation.
The article, "Retail Chains Abandon Manhattan: 'It's Unsustainable'", was originally published in the New York Times and discusses the Bryant Park Grill & Cafe, which is part of Ark Restaurants in Midtown Manhattan and has been a top-grossing restaurant.
During the coronavirus pandemic, however, many businesses have been hit hard. Especially in New York City, where many chains are shutting down branches for good.
The article goes on to talk about Michael Weinstein. This is the good part.
"Michael Weinstein, the chief executive of Ark Restaurants, who owns Bryant Park Grill & Cafe and 19 other restaurants, said he will never open another restaurant in New York.

Of Ark Restaurants' five Manhattan restaurants, only two have reopened while its properties in Florida — where the virus is far worse — have expanded outdoor seating with tents and tables into their parking lots, serving almost as many guests as they had indoors.

"There's no reason to do business in New York," Mr. Weinstein said. "I can do the same volume in Florida in the same square feet as I would have in New York, with my expenses being much less. The idea was that branding and locations were important, but the expense of being in this city has overtaken the marketing group that says you have to be there."
There are a couple of things I want you to take away from this article, the most important being exactly what Weinstein was discussing here and the business mistake he is now trying to avoid.
While Weinstein runs a very successful restaurant group, his business bought into the idea of branding and believed that they had to build in a name-brand location. This is a business mistake many successful people are falling into when it comes to doing business as well as creating a life of freedom and prosperity.
THE NAME BRAND BUSINESS MISTAKE
Without question, New York City is a name brand.
I have some fond memories of going to New York City, but I haven't been there in years. I have friends there now who are telling me that it's going downhill. The subway doesn't work. It feels like a third world country. There's increasing crime.
But it's New York City!
Many businesses succeeded for years by buying into name brands. But when all a brand has left is its name, you will see decreasing quality and profits, just as is the case with New York.
At Nomad Capitalist, we've said before that countries are name brands. The United States is one of the most well-marketed brands on earth. Europe is well marketed as a brand too. All of the countries that people are going to invest in are super well marketed.
But what will you find if you look past the name brand to see what's really on offer?
Are these countries any safer? They're safer than some, but not all other places. There are plenty of off-brands that we've talked about in our videos and on our website that are just as safe and have more private property rights, higher returns, lower taxes, and fewer regulations.
Yet, people still flock to the name brands.
But Mr. Weinstein of Ark Restaurants is saying no more. He'd rather just do his business in Florida.
He has realized that he doesn't have to buy into these name brands. He doesn't have to be in the center of midtown Manhattan and this prestigious brand.
As a business owner, you're trying to make money. In order to make money, you need to go where you're treated best. And that certainly doesn't have to mean opting for the name brand.
If you want real success, going where you're treated best is only natural.
GO WHERE YOU'RE TREATED BEST
So, now Weinstein is going to Florida.
I always argue that if you're going to move your business, you might as well move it as far as you can go to the best place possible. Once you're moving, you're moving.
In Weinstein's case, they already had restaurants in Florida. Now, they've decided to expand there because that's where they've been treated best.
I bet if I were able to talk to Mr. Weinstein about some of the markets we do business in, he would be astounded by how easy it is to open a restaurant in some of these countries in the emerging world. And he'd have far less competition there.
But that's a side point. The issue is high-tax states and high-tax countries are increasingly difficult to do business in. Sticking around just because that location is a name brand is one of the worst business mistakes you can make.
We told a similar story a number of months ago about a gentleman who had a chain of sandwich shops that he started in San Francisco that finally closed down because it wasn't worth it anymore.
We're seeing more entrepreneurs and more business owners who are waking up to the idea that what happened 10, 20, or 30 years ago – what may have helped their business succeed when they opened – no longer works.
When people ask me if I think the US is still the best place to invest, I say maybe when my parents were growing up. Back then, it probably was among the best places. Countries like Malaysia, Georgia, Brazil, Mexico, and others now offer a business potential that was not as accessible to as many people back then.
But now they are.
Now, you can go to these places and start a business with far less money, experience, competition, and regulations, and they'll welcome you.
Sometimes, they'll give you a passport and citizenship if you start a big enough business. You can get a residence permit or tax breaks for coming and hiring workers who are far less expensive than whatever the Bryant Grill and Cafe are paying their workers.
It's just a far easier business experience. I'm seeing more and more people who are realizing that just because something once was, does not mean it will always be.
The risks associated with having the Bryant Park Grill and Cafe in New York is that when the city shuts down – something people thought was unimaginable – you're out of business.
You're still expected to carry many of the costs such as high rent costs, high staff costs, labor laws that make it difficult to get rid of people, and all the different regulations. It's driven a lot of people during this pandemic into bankruptcy because they simply can't carry the costs.
Is this a business mistake you're willing to make just to operate in name brand locations?
I'm not. This is why I have absolutely zero debt and always keep cash on hand. I can run my business for years into the future without one single dollar of revenue.
Most businesses in high-tax states and high-tax countries can't say anything close to that. Many of them can only make it three to six months.
GLOBAL DIVERSIFICATION IS KEY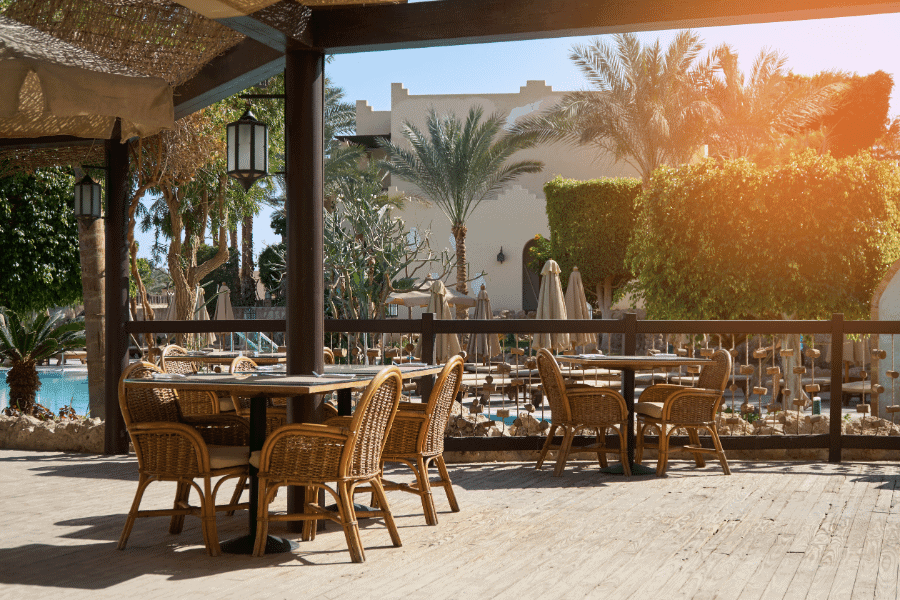 It's important to prepare yourself for the worst-case scenario and understand that what once worked – even what got you to the top – may not always work.
People like Mr. Weinstein should look at where they could take their businesses internationally. Many celebrity chefs have opened up restaurants all over the world.
They may not be opening them up in specific places with their tax benefits in mind, but they are diversifying around the world. They have restaurants in France, Italy, Singapore, China, the United States, etc. They are globally diversified. If one of these places takes a hit, their entire restaurant empire is not going to come crumbling to the ground.
Every business should take a cue from that.
Particularly if you have an on-the-ground business, it's worth looking at your international expansion plan not just for expansion's sake but for the asset protection plan for your business as well.
When New York City comes in and says that they hate small businesses, or when New York state puts in more regulations, or when the United States as a country decides to make your life difficult as a business owner, you don't have to rely on them. You don't have to be a sitting duck.
You don't have to sit down and make a huge emotional decision. You can be prepared to pack your bags and go to another part of the world where you're treated better.
This is the realization I want every business owner to have.
It's a lot harder for me to help a restaurant chain with offshore tax savings. The business is there. It's sitting on the ground. There's not nearly as much that you can do unless you become Starbucks.
But there are opportunities to expand your business and make sure you are not subject to one city, one state, or one country.
A business succeeds by going where it's treated best.