This article discusses living in Dubai, UAE – the most well-known emirate in the UAE. We will discuss quality of life in Dubai, its best neighborhoods, cost of living and other important factors like expat life and safety.
Dubai is the ultimate expat hotspot with expats making up over 80% of Dubai's population.
إذًا، من أين اكتسبت دبي هذه الشهرة الواسعة؟ 
The most enticing draw is the lavish lifestyle you can enjoy in Dubai. You'll be spoiled for choice when it comes to the creme de la creme of apartments in some of the best skyscrapers in the world, yacht parties, extravagant nightlife options, and more. Life in Dubai is very high-tech – futuristic even – and definitely luxurious.
Dubai is one of the seven emirates that make up the country of the United Arab Emirates. However, it usually stands on its own on the global scene. 
If you want to live in one of the safest, low-tax, and ultra-luxurious places in the world, you'll love Dubai. Note, however, that UAE doesn't usually hand out citizenship to foreigners. You can stay in Dubai all your life, but, as a resident.
If you're okay with that, and want to plan your life and business in Dubai, set up a call with us today. We can curate a holistic offshore strategy for you that handles all your problems and grants you peace of mind.
أن تعيش في دبي يعني أن تعيش في الصحراء العربية. فهناك، تبلغ درجات الحرارة مستويات قصوى، لا سيما في فصل الصيف. 
You may not want to be in Dubai from May to September, when temperatures soar and people can just about manage to scurry from air-conditioned car to air-conditioned house. Many expats leave Dubai for their holidays during that time and you may want to do the same. 
And while there is pretty much no rainfall to speak of, sandstorms are quite usual in Dubai.  
Note, however, that for many expats living in Dubai, the extreme heat is simply a by-product of living an otherwise perfect life.
The neighborhoods in Dubai are loosely defined – there are no street addresses. This means it could be a total nightmare to get a parcel delivered, but if you can look past it, Dubai offers plenty of neighborhoods with numerous of amenities.
The downtown is where it's at. With all the cafes, nightlife options and plenty of amenities nearby, you would never have to leave this area if you lived in Dubai. 
The Marina is another popular neighborhood, not to just moor your yacht but also to live. Go relax at the water's edge and enjoy the numerous cafes and the perfect private beach club that's within easy reach.
قلّما تجد حيًا يجتمع فيه الأجانب والوافدون مع المواطنين الإماراتيين والخليجيين، ولكن الأمر مختلف في هذا الحي. فإذا كنت من هواة هذا التمازج الثقافي، فلا تتردد في الإقامة في دبي مارينا. 
The man-made Palm Jumeirah is probably the most luxurious and expensive area of them all. You have likely seen the palm leaf-shaped islands that make up The Palm Jumeirah and there are plenty of real estate options there. 
العقارات الفاخرة في دبي
With no shortage of billionaires, Dubai is definitely not short on luxury real estate. You'll have plenty of options, no matter what your requirements are. 
من أراد الاستمتاع برغد العيش، لا بد له من زيارة برج خليفة أو شقق دبي مول أو أي مبنى سكني فاخر في وسط المدينة، ويا لكثرتها في دبي.
ومن أمثلة ذلك مشروعُ لا ريف السكني المكوّن من شقق راقية تعلوها ملاحق رائعة تسحر الناظرين بإطلالاتها الخلابة على المارينا ومياه الخليج العربي المتلألئة. 
ولمحبي المساحات الأصغر، يعجّ مجمّع لا ريزيدنس ديل مار وتاج الإمارات بكم كبير من الخيارات في منطقة المارينا. 
Whether you want a luxurious penthouse or a beautiful beachside property, we can help you achieve that. Nomad Capitalist's Real Estate Plan helps you buy foreign real estate like a local. Set up a call with us today to get the best real estate deals in a foreign country.
تكلفة المعيشة في دبي
تضاهي تكلفة المعيشة في دبي إلى حد كبير تكلفة المعيشة في لندن أو نيويورك، فهي من أغلى أماكن المعيشة في العالم.
تفرض المقاهي والمطاعم أسعارًا باهظة للغاية لوجباتها، فلك أن تتخيّل أن ثمن كوب المشروب 12 دولارًا أمريكيًا وثمن كوب الكابوتشينو 5 دولارات أمريكية، في المتوسط. أما أسعار مواد البقالة، فهي ليست رخيصةً أيضًا، لأن هذه المنطقة الصحراوية تُضطر لاستيرادها من الخارج. 
Renting a luxury flat in a central area will easily cost over $5,000 a month. However, properties are abundant and a decent rental apartment will cost less.
أفضل أماكن العمل المشترك في دبي
لعلنا جميعًا سمعنا ببرنامج تأشيرة "العمل عن بُعد" في دبي. يسمح هذا البرنامج للعاملين عن بُعد والأفراد العاملين لحسابهم الخاص بالسفر إلى دبي والإقامة هناك لمدة عام واحد.
وحتى إذا لم تكن تنوي السفر إلى دبي بقصد العمل، فمن الرائع معرفة أن هناك مساحات ملائمة للعمل في حال الحاجة إليها.
1.myOffice Dubai Marina: A working space where staff go above and beyond to accommodate you and all of your needs. The offices at myOffice are spacious and well-equipped, and the views can't be beat.
2. Bisdesk: How about a private office in the business area of Dubai? Bringing together start-ups and long-established businesses, Bisdesk also offers 24/7 office access. 
It's always good to know that Dubai has the fastest internet connection in the Gulf so you can connect and manage your business from anywhere in the city. But Dubai is also one of the most expensive places in the world to have broadband.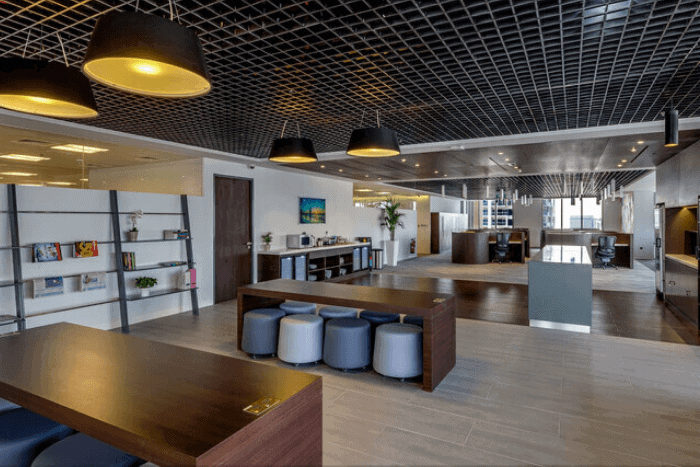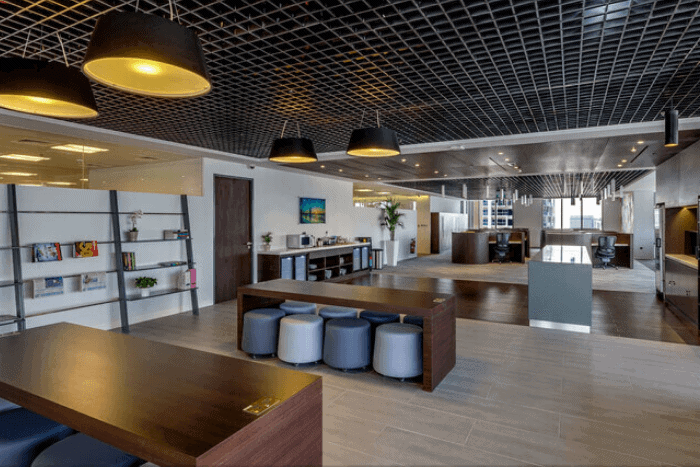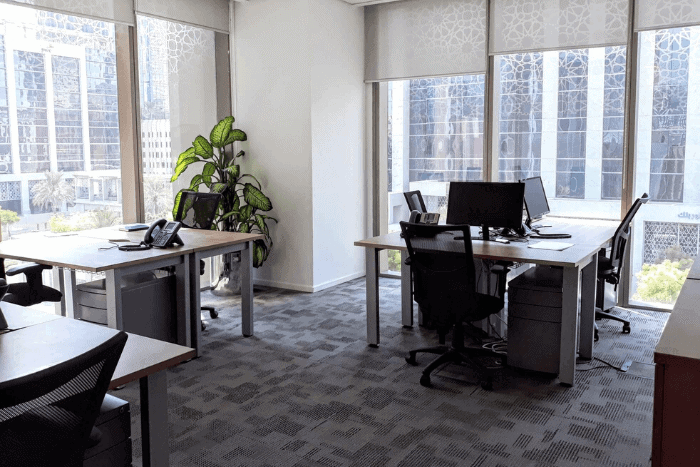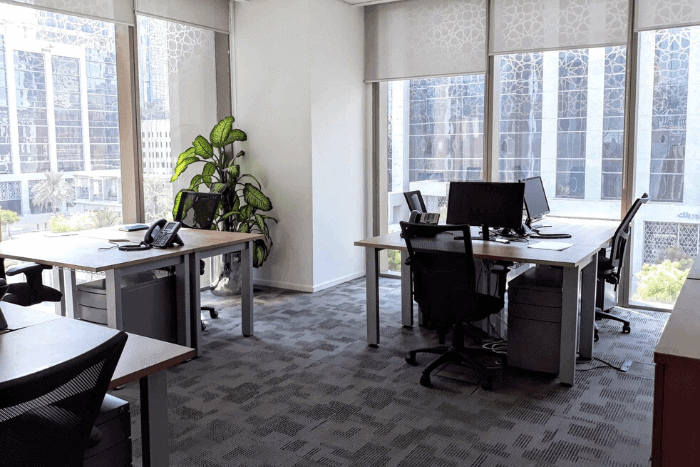 كيفية الوصول إلى دبي
مطار دبي الدولي هو المطار الرئيسي الذي يخدم المدينة، وقد حاز الكثير من الجوائز، منها:
The world's busiest airport by international passenger traffic

One of the busiest cargo airports in the world

The busiest airport for Airbus A380 and Boeing 777 aircraft

والقائمة تطول…
Needless to say, Dubai is highly connected to the world, making it a great base for those using our Trifecta Strategy. 
You can hop on a plane for a weekend trip to Europe, or fly directly to New York, London, Sydney, Beijing and many other major airports in the world.
لقد أثبتت دبي جدارتها الكبيرة في الاتصال ببقية أنحاء العالم. 
بالإضافة إلى ذلك، هناك شبكة طرق تربط كافة أرجاء المنطقة بعضها ببعض، لذا لا عليك سوى أن تستقل سيارتك لزيارة المدن القريبة، مثل أبو ظبي. 
الأمان في دبي
Dubai is one of the safest cities in the region, second only to Abu Dhabi. According to The Economist's Safe Cities Index, it's safer than Rome and Beijing. 
لا شك في أن هذا إنجاز رائع لمدينة تحظى بهذا القدر من التنوع. لم نسمع قط بأي حوادث نشل أو سلب في دبي. 
ولعل الفضل في ذلك يُعزى إلى القوانين المتشددة التي تفرضها الدولة بصرامة، والتي جعلت الجريمة في أدنى مستوياتها. لذلك، لا داعي للقلق، فمن غير المحتمل أن يواجه أحد من الوافدين والسياح أي مشاكل أمنية. 
وسائل الترفيه المتاحة في دبي
تعجّ دبي بعدد لا حصر له من الأماكن التي يمكن للمرء إنفاق أموال طائلة فيها بغرض المتعة فحسب. 
وتوفّر المدينة للمقيمين والزوار على حد سواء أنشطة كثيرة، من تجارب التسوق الفاخرة إلى التزلج في صالات مغلقة وركوب القوارب، ويكفي توفّر المال للاستمتاع بكل ذلك. 
يُحظَر على سكّان دبي من الإماراتيين تناول الكحول، ولكنه يتوفر بكميات كبيرة للسيّاح والوافدين في حانات ونواد مصرّح لها بيع المشروبات الكحولية. 
أفضل المطاعم والمقاهي في دبي
دبي مدينة تتمازج فيها الثقافات ويجتمع فيها أناسٌ من كل الأعراق. وبطبيعة الحال، امتد هذا التنوّع ليطال أصناف الطعام، إذ يُمكن للمرء تجربة أطباق من كل الأنواع.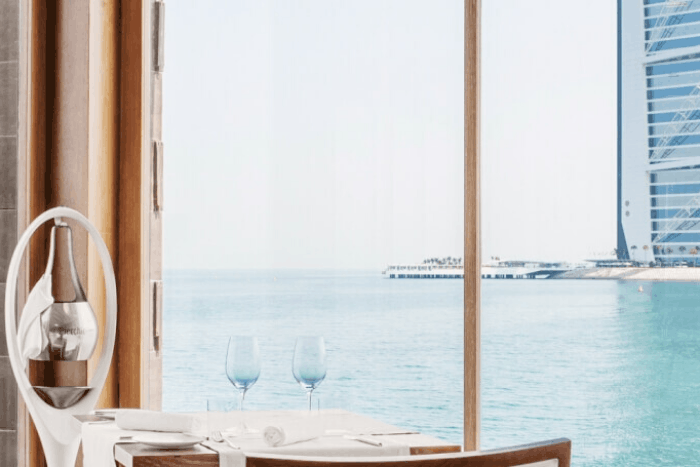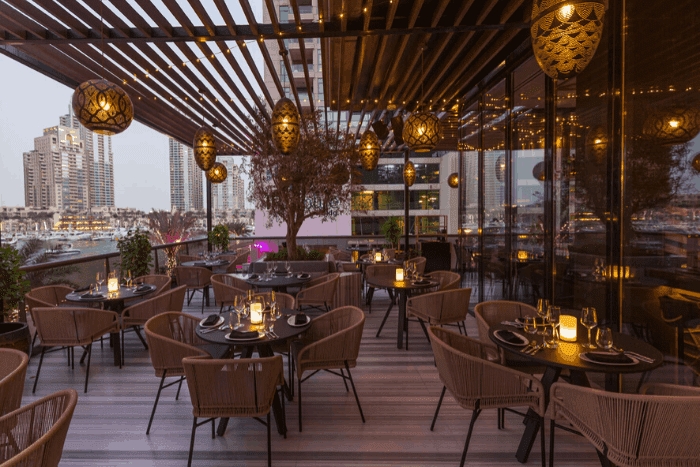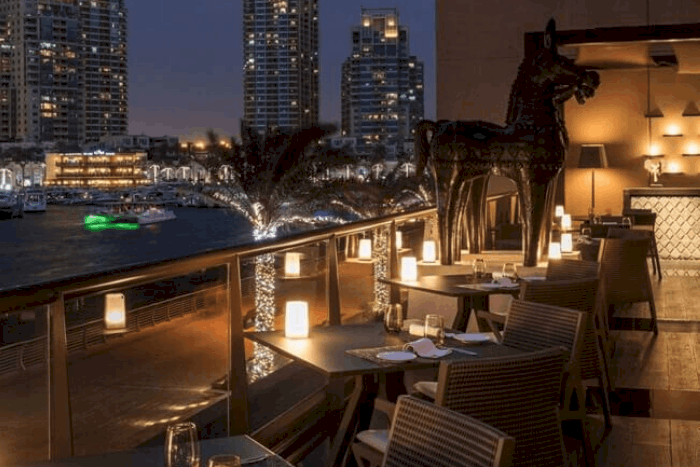 الوجهات السياحية والأنشطة في دبي
في دبي، ثمة الكثير من الوجهات السياحية والأنشطة التي لا يمكن أن تتسع لها قائمة واحدة.
ولكننا سنسرد القليل منها فيما يلي:

1. برج خليفة: Of course, the obligatory visit to Burj Khalifa's 148th floor. You'll feel at the very top of the sky. Just make sure you don't have vertigo. And when you get down, check out the Dubai Fountain, which truly rivals the dancing fountains of Las Vegas.
2. Yachting: You can rent a luxury yacht in Dubai – what about a 44-foot one, starting at $300 per hour. Or perhaps you'd like to buy your own to use when you're in Dubai and then moor it at the exclusive Dubai Marina? Everything is possible in this emirate.
3. Sand dune adventures: Dubai is located in the middle of a desert, which means there are quite a few options for dune adventures with the Dubai skyline sitting in the background. Rent a buggy, slash through the sand in an SUV, or opt for a sunset camel ride.
4. Luxury shopping: Every single brand you can think of probably has a store in Dubai and no wonder. Giant malls populate the entire city and shopping is one of the most popular past-times in Dubai, especially during the scorching summer.
5. سكي دبي: إذا كنت ممن يحبون تغيير الأجواء، فعليك بمنتجع سكي دبي، وهو منتجع التزلج الأكبر في المدينة. وليس هناك أجمل من قضاء أوقات فراغك منتقلاً من الأجواء الحارة والرطبة إلى الطقس اللطيف والبارد.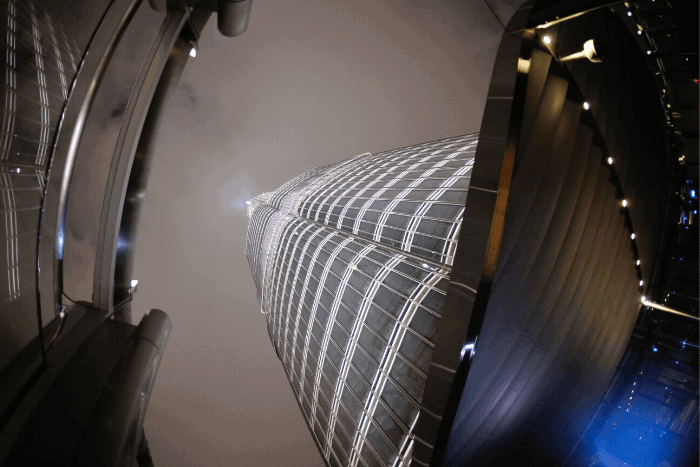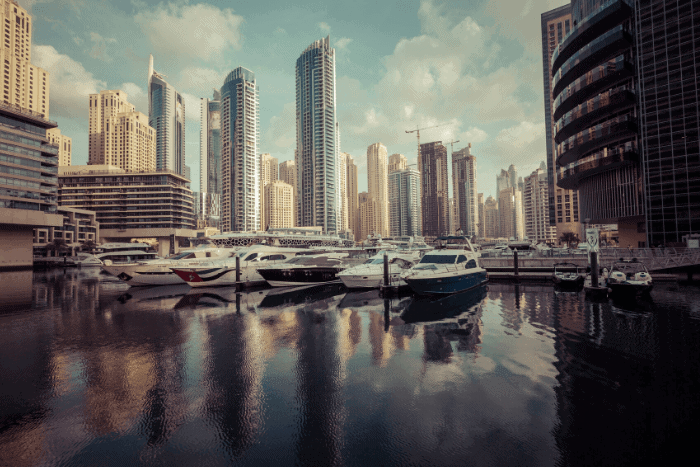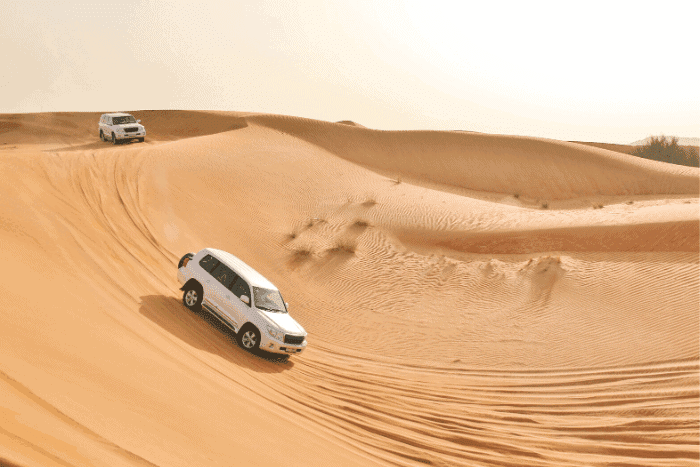 المغامرات وسط الكثبان الرملية
الانفتاح الثقافي على الغرباء
There is no need to learn Arabic to thrive in Dubai. English is the most widely spoken language. So, although Arabic is the official language, you can easily get by without it.
And, seeing as over 80% of Dubai's population is foreign, you could safely assume that it is quite open to outsiders. If you're a wealthy person, this will certainly be true. You'll be widely accepted.
If you're planning to move there with family, you'll be pleased to know that there are plenty of international schools in Dubai. School fees vary and each school may follow their own educational standards. For example, some may be more US centric while some may follow the British education system.
IS LIVING IN DUBAI WORTH IT?
دبي وجهة رائعة للعمال المستقلين الساعين إلى اتخاذ مقر يزاولون منه أعمالهم. 
Dubai's residence visa is extremely easy to come by and setting up a business is encouraged as well. You can also set up a bank account with no problem at all.
Note, however, that UAE levies 9% corporate tax now, so your business there won't be tax free.
While it might fit within a holistic offshore strategy that we here at Nomad Capitalist would approve, there are definitely some peculiar cultural differences to take into consideration.
As always, moving to Dubai is not a simple decision to make. Lots of carefully planning should take place before you make any geographical moves.
Business tax, personal tax, residency requirements and everything in between – we can help you with that here at Nomad Capitalist. Set up a call with us today to discuss your holistic Action Plan.
Living in Dubai, UAE – Expat Guide FAQ
Is Dubai safe?
Dubai is one of the safest cities in the region, second only to Abu Dhabi. According to The Economist's Safe Cities Index, it's safer than Rome and Beijing. 
Is Dubai expat friendly?
Over 80% of Dubai's population is expat friendly. The country is highly friendly toward foreigners, especially if you're a seven or eight-figure investor or entrepreneur.