Update 2020: The Moldova Citizenship by Investment program was cancelled on 18 June 2020.

Moldova is an eastern modern European country, formerly a part of the Soviet Republic, neighboring Romania and Ukraine. It is one of the poorest countries in Europe and the region, with Ukraine recently taking its place as such.
In 2018, Moldova introduced the Moldova citizenship by investment program developed by the government, the Moldovan Investment Company, and its specialized partner. One of the major reasons behind this program is the country's lack of economic growth and how it's not sustainable for future generations. The government of Moldova has been trying to move away from being an agrarian economy to a more modern one.
One of the reasons for its lack of economic growth is its heavy reliance on agriculture as its major source of income. To overcome this problem, the government looked for ways in which a defined economic contribution could be made on a consistent basis, in efforts to make the country a global leader in different sectors. The country has definitely been offering foreign companies the perfect business climate.
This led to the development of the Moldova Citizenship by Investment initiative.
The Moldova Citizenship by Investment Program

The Moldovan citizenship investment program is one of the most recent in the ever-growing group of countries offering dual citizenship. Moldova has now joined a list of roughly a dozen countries offering investment citizenship.
There is currently only one way to gain Moldovan citizenship through investment: by donating a specified minimum investment amount to the country. This donation will fast-track your citizenship process.
In Moldova, you can become a citizen in approximately four to five months with the citizenship by investment program.
The total government fees and cost of the process depend on the total number of people applying. This means that as the main applicant, the cost of a set number of family members (dependent parents, siblings, or others), applying with you is different, and for each additional member, the government charges separately.
For example, you can donate EUR 100,000 to obtain citizenship as a single, main applicant. Similarly, it would cost about EUR 115,000 for the main applicant and their spouse to obtain citizenship through this program.
Or, you can pay EUR 145,000 for the citizenship of a whole family of four.
There are even options available for a family of more than four members. You will have to pay an additional fee for each additional member of the household. All have to pass the stringent vetting process to become successful candidates.
Once you get your citizenship, you are entitled to a Moldova passport. This allows visa-free access into Russia, which is not offered to citizens of most western countries.
You will also be able to travel with visa-free, easy access to other countries that don't allow western citizens, as this is a somewhat under-the-radar passport.
With Moldovan citizenship, you will also be allowed to work and start a business in the country. Furthermore, it opens investment opportunities that are exclusive to citizens.
You also will also have free access to the Schengen Area, making this passport well worth having. After all, visa-free access to Europe's Schengen Area is why most entrepreneurs and investors consider second citizenship.
So, why not take advantage of this unique opportunity and begin your application process today?
Future Possibilities: Real Estate and Other Investments

As people learn more about this fantastic citizenship by investment program, there's been whispers about more investment options being made available.
While there have been talks of introducing such additions in the past few years, we haven't seen them come to light just yet. If the Moldova citizenship by investment program introduces new options, it is highly likely to be in the form of other investments.
These will probably be aimed at the development of other important industries in the country.
Under that option, applicants might be allowed to invest in real estate to gain citizenship rather than donating to the country. They might even be allowed to invest in local businesses.
A long-term investment that will offer returns sounds better than an unrecoverable fee, but that just isn't an option in Moldova yet. So, keep this in mind when you are going through the entire process.
How is Moldovan Citizenship by Investment Different from Other Countries?

The main difference we see in the Moldova citizenship by investment program compared to others is in the currency.
Most countries set their donation or investment amounts in dollars. This is done for the ease of applicants. But Moldova uses Euros instead of dollars as the currency for donation.
Citizenship by investment programs are often targeted at western citizens so they use the dollar. But Moldova requires the donation to be made in euros instead of dollars. With the current exchange rate of euros to dollars, this citizenship program is more expensive than others.
What further adds to the cost is the mandatory concessionaire fee. This is a payment to the service provider of the program for services rendered. It has to be made by each applicant. This is an expensive fee and makes the program even more costly.
What Does Moldova Citizenship Have to Offer?

The Moldovan citizenship program has its fair share of both pros and cons. Some of the reasons to consider Moldova citizenship include its reputation, location, tax treaties, and its future with the European Union.
What Does Moldova Have to Offer?
The Moldovan citizenship program has its fair share of both pros and cons. Some of the reasons to consider Moldova citizenship include its reputation, location, tax treaties, and its future with the European Union.
One of the major concerns with the citizenship program is the environment of Moldova. Moldova lacks any features that make it stand out from other European countries.
Besides its interesting wine culture, which Romania shares, Moldova doesn't have much to offer in terms of infrastructure. And not many people want to live there.
This is further amplified when we compare Moldova to other countries that offer citizenship through investment.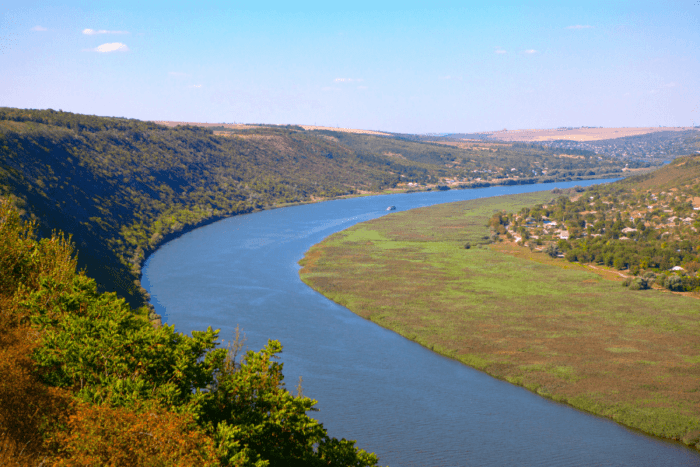 Location

Some people don't consider Caribbean countries as "real" countries. Their nature as islands often allows people to discredit them as countries. Therefore, these people are less likely to sign up for the Caribbean citizenship programs.
And for them, Moldova fits the bill.
Moldova occupies land and borders other countries in Europe and is therefore considered a "real" country.
Travel Access & Restrictions with a Moldovan Passport

If you plan to keep a Moldovan passport as your only passport, you need to consider the travel implications.
With Moldova citizenship, you will travel to some additional countries that are restricted to western citizens. But this is also offered in most European countries that allow citizenships through investments, so don't think it's a perk exclusive to Moldova.
A Moldovan Passport offers access to Russia, so if that's where your business interests lie this makes an excellent second passport.
But you will also be losing out on those that permit western citizens that restrict Moldovan citizens. People with Moldovan passports are not allowed visa-free entry into the UK and some other countries.
If you plan on getting a Moldovan passport as a second passport, then this shouldn't affect you too much.
Moldovan Tax Structures

Its continental European location and tax try to amplify its position. Moldova has recently lowered its taxes. They now have a flat tax rate of 12%, which is relatively lower than most western countries.
However, it also has a wealth tax. The country taxes its citizens if they own certain types of real estate. This wealth tax counters the effect of the flat tax rate.
If you are looking for low-tax options, many countries offer a tax-free solution. The most prominent examples are in the Caribbean countries such as St. Kitts and Nevis and Vanuatu.
However, if you have your heart set on Moldova then don't worry. You just need to be very thorough about your tax planning and you're good to go. Besides, most of Europe has high taxes. In fact, most of them aren't willing to give you a passport by investment.
Limited Investment Options

The program doesn't allow for applicants to invest in real estate or bond programs instead of making donations to the country. These are long-term investments that are often returned in the long run. Compared to that the donation program is a one-time fee that you won't get back.
But, as we mentioned, there have been talks about increasing the options and the fee isn't that high so it's not a big deal. In the end, it's really a matter of personal preference.
European Union

Moldova might also join the European Union sometime in the future. The country's strong historical ties with neighboring Romania make this a possibility.
Moldova is right next to Montenegro, in the race of who joins the EU next. But Moldova is cheaper than Montenegro, which makes it a more appealing program.
Furthermore, Moldova is known by people throughout the EU. Its reputation as the poorest country in Europe, recently being displaced by Ukraine, has made it known.
The Cost of Moldova Citizenship

One of the major issues with the Moldovan citizenship program is cost. Its only value comes from the fact that it's a neighbor to the EU, and that it will be a part of the European Union someday.
Compared to other citizenship by investment programs in Europe, Moldova has the least to offer. It's one of the poorest countries in Europe, is not yet a member of the EU, and doesn't have a major technological industry. Yet its citizenship by investment program is fixed in Euros, and it has an expensive and mandatory concessionaire fee.
It is hard to decide if the benefits being offered are worth the price.
We would recommend Moldovan citizenship to young entrepreneurs or someone looking for remote labor or affordable Eastern European workers. If you're trying to establish your startup and are looking to expand to Europe, Moldova just might have the hidden gems that you need to get going.
If you're someone who likes to invest in tech or stocks then Moldova won't be the best option for you.
Choose the Best Citizenship by Investment Program for you

While Moldova is a country to consider, there are many other options available to you, especially as a seven to eight-figure entrepreneur from a western country.

Get in touch with our team to determine which countries offer the best citizenship through investment programs for your lifestyle. Our team will help you find the perfect fit for you and your family members.
Nomad Capitalist is dedicated to providing financial services to seven and eight-figure entrepreneurs and business people. If you're thinking about applying for a citizenship through investment program, we have you covered.
We bring decades of personal and professional experience to the table. Our team will work with you to develop a personalized road to citizenship for you.

Everything we do is completely legal to ensure that transition is as smooth as possible. With Nomad Capitalist, you're guaranteed to go where you're treated best. So, what are you waiting for? Get in touch with us today and begin your journey into becoming a global nomad.