In this article, we'll tell you how you can gain residence-by-investment in the Bailiwick of Guernsey, how much it will cost you, and what steps you should follow to get it.
For decades, this tiny jurisdiction near the shores of Normandy, France, has welcomed foreign investment through its robust and innovative approach to funds and other varieties of financial assets. Moreover, providing financial management services is somewhat of a Guernsey specialty.
Vying for investor dollars with its slightly larger neighbor Jersey, Guernsey is also a great alternative to establishing residency in the UK.
For almost half the price, you can get residence in Guernsey and still get most of the benefits of being a resident in the United Kingdom.
Guernsey can be used as a more economical way to gain access to the UK and Ireland while also offering a quality of life that you simply cannot find elsewhere.
Safe and stable, Guernsey is a jurisdiction where people of high net worth go to strike the right balance between work and life.
And if you get bored of the island living? You can hop over to London or Paris in a quick hour, and from there – the world is your oyster.
We've helped dozens of clients relocate to Guernsey before, and we can help you too. Not only do we help you relocate, but we also create a holistic strategy tailored to your needs that adds value to each aspect of your life. Set up a call with us today to go where you're treated best.
Guernsey – Country Overview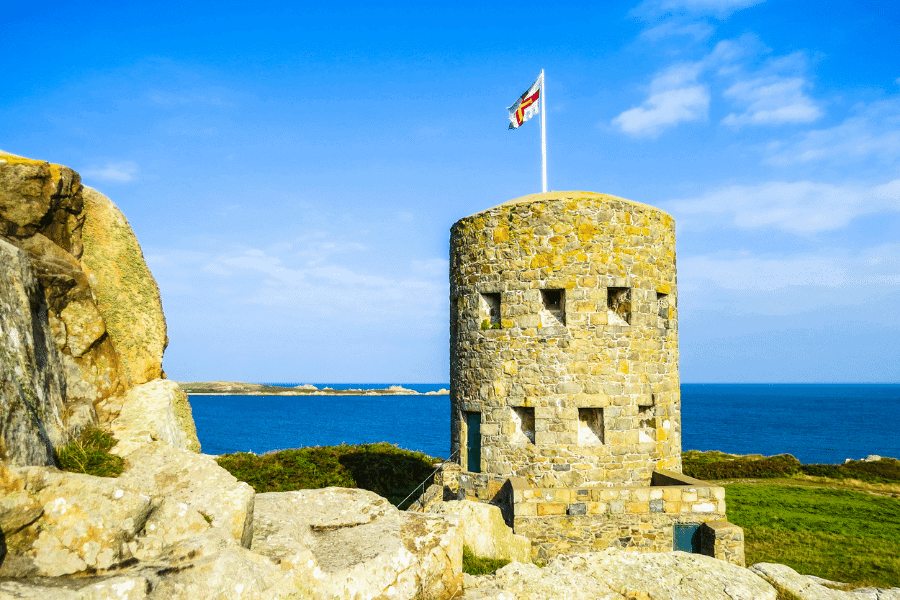 Located near the shores of Normandy, France, Guernsey is an amalgamation of British and French cultures.
The result?
An English-speaking island with 66,000 residents who have a stable government with a long-term vision, a safe environment to raise a family, and an enviable quality of life.
The island of Guernsey is a peculiar one – it's not entirely its own jurisdiction, but it's not part of the United Kingdom either.
It holds the status of a British Crown Dependency, which means that while it's self-governed and has been for the past 800 years, it still has some historically strong ties with The Crown.
It's a beneficial relationship for Guernsey; it gets to use the UK for defense, as well as use its currency (a variant known as the Guernsey Pound), while still deciding on its own laws.
Throw luxury housing, a lively arts and culture scene, Michelin-starred restaurants (or cozy pubs, if that's more your thing), and world-class sports facilities into the mix, and you've got what some call the 'playground of the rich and famous.'
Being an island, water sports play a huge part in the everyday lives of Guernsey residents. Sailing, surfing, paddle-boarding, and kayaking enthusiasts will all find suitable conditions to enjoy their off-time.
Sure, Guernsey is not quite as popular as some of the other investment immigration destinations – looking at you, Greece, and Monaco – but it consistently attracts wealthy foreigners.
Why Establish Residency in Guernsey?
Apart from tourism, which is an important industry for an island with dramatic landscapes and enticing gastronomic propositions – welcome to scallop and oyster paradise ­– other light industries also contribute a fair amount to Guernsey's GDP.
But the main industry that keeps Guernsey not just afloat but thriving is its financial sector.
Obviously, being a tiny island, Guernsey has long recognized the need to diversify its income. So, it established and has been successfully running its financial industry for over 50 years now, adjacent to Jersey's robust financial industry.
And how did it manage to achieve that? The following things come to mind.
Its political stability is admirable. Although closely tied to the United Kingdom, Guernsey is politically and fiscally autonomous. Its legal system draws on the Common Law of the UK, and its politicians have long recognized the importance of predictability when it comes to international investment.
Since it's not tied up with the UK or the EU and can fully pass its own legislation, it has set up a highly favorable environment for its investors.
Guernsey is fully compliant with international tax laws and principles.
Guernsey's transparency in terms of financial services and fund management has been approved by the OECD and the EU.
Guernsey has gained recognition as being one of the 'highest quality financial centers' when it comes to tackling money laundering and terrorist financing, as set out by the Financial Action Task Force (FATF).
Guernsey also facilitates the automatic exchange of information between tax authorities – no dollar goes unaccounted for here.
Another trick up Guernsey's sleeve is this: Guernsey is also where many international investors choose to domicile their funds due to the highly favorable conditions. Currently, there are over 1,400 funds located and administered here, valued at over £300 billion – no chump change.
Since the assets under management are so huge, it means that Guernsey has a large pool of experienced fund management service providers, from administrators to auditors.
So, if you're in need of a place to set up or relocate a fund, then Guernsey could be an even better place to gain residence. Set up a call with us today to plan your asset allocation and life in Guernsey.
Guernsey Permanent Residence by Investment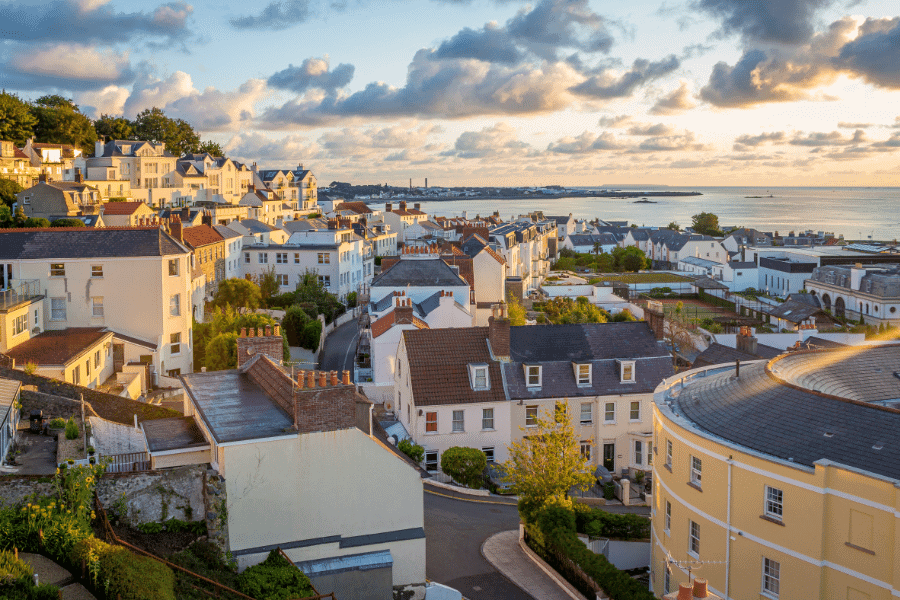 Certain residence-by-investment programs are better suited for some people than others, and the Guernsey program is no different.
Here's who it works for the best:
Those looking for a residency that offers visa-free travel to the United Kingdom, Ireland, and other Common Travel Area countries.
Those looking to eventually get UK citizenship without becoming a UK tax resident.
Those seeking to invest in a business or set up their own.
Those looking to take advantage of a well-established financial services industry.
However, even if you don't fall under one of these categories, there could still be a case made for you to gain residence by investment in Guernsey if you so wish.
If you think that living in Guernsey could be beneficial to you and/or your family, you'll be happy to know that there are two immigration routes into the country for the wealthy foreigner:
Investor visa
No surprises here – you can invest a sum of money and gain temporary and then permanent residence in Guernsey.
The applicant must deposit £1,000,000 into a Guernsey Bank account. The investment has to be:
£750,000 placed on deposit in a GFSC-regulated Guernsey bank, or
Purchasing and retaining an Open Market property worth at least £750,000, or
Investment of £750,000 into another Guernsey opportunity of the applicant's choosing that is considered satisfactory by the States of Guernsey.
Entrepreneur visa
Although this option requires a much smaller up-front investment of just £200,000 (approximately $255,000), it requires a more hands-on approach.
You will be responsible for establishing and running a new company in Guernsey, as well as registering it with the Income Tax office. You must have evidence that the company you establish will create jobs and benefit the local economy. Alternatively, you can invest in an existing company, but you'll also need to have a full-time and active role in managing it yourself and to have a majority stake in the business too.
Moreover, you must either rent or purchase a home on the island of Guernsey.
Under each of the visa options, you're able to bring dependents with you to live on the island. This includes your spouse as well as any children under the age of 18.
Finally, with both options, you must have the full intention to settle in Guernsey 'for good' and not draw on public funds to survive.
Eligibility Requirements for Establishing Residency in Guernsey
Whereas many other residence-by-investment countries won't care to look at your nationality or age, Guernsey inadvertently does.
Rising from the notion of population management and its legislation, Guernsey's government actively manages who comes and lives on the island and who doesn't.
The aim is to strike the right balance to support the community as well as the local economy. The government has lists of professions that it seeks, but it also tries to vary the ages, genders, nationalities, and so on.
And since an aging population is a real concern in Guernsey, population management does make sense for this jurisdiction if it's to keep a high standard within its financial services industry.
Sure, the requirements are a bit laxer when it comes to its foreign investors but make no mistake – all of your personal, demographic, and social factors are being taken into consideration, especially if you're going the entrepreneur visa route.
However, the formal eligibility requirements to apply for residence by investment in Guernsey are the following:
Must be a non-EEA passport holder.
Must be at least 18 years old.
Must have a clean criminal record and no major breaches of immigration law.
Have a good character.
Have all of the funds needed for the investment liquid and available.
If you opt for the entrepreneur visa, you must pass an English language test.
If you meet all of these requirements and can prove it, you can then proceed to apply for Guernsey residence.
The Step-by-Step
Guernsey Residence
Application Guide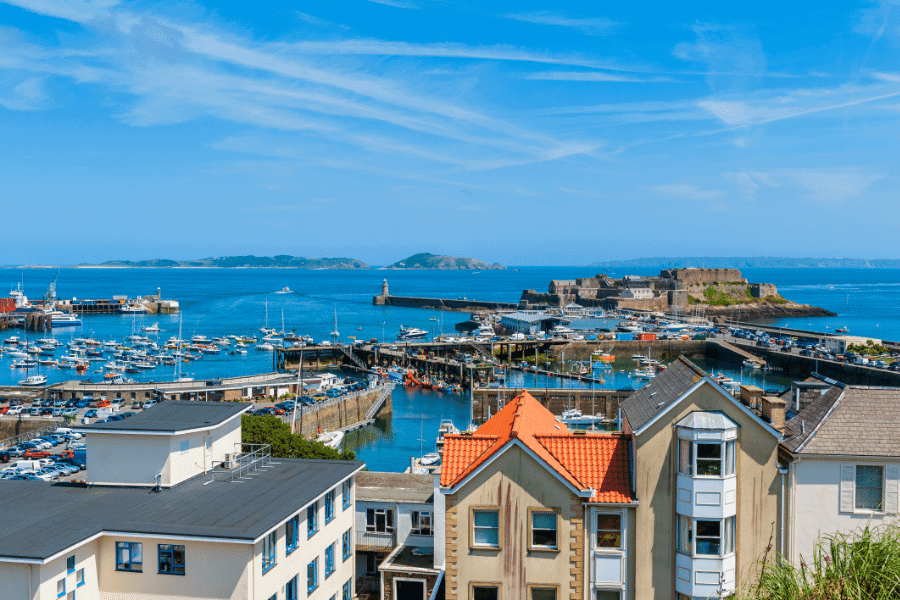 You will need to apply for a Guernsey visa while still in your home country. In other words, you cannot arrive there under a tourist visa and apply from within.
Once you've made up your mind as to which investment route you would like to go with, here's what the process looks like.
Step 1: Apply for the Visa
Put together your pack of documents and send them by post to the Immigration Office of the island.
The wait time is approximately 2-6 weeks, and you'll receive your investor or entrepreneur visa then.
It will be valid for two years.
Step 2: Move to Guernsey and Make the Investment
You will need to make arrangements to move to Guernsey. We would recommend booking a hotel for those initial weeks until you get settled and find your bearings.
Within 90 days – plenty of time if you ask us – you will be expected to make your investment of £1,000,000 or use £200,000 to set up that new business.
You'll also be expected to register your arrival at the Border Agency (within 7 days) and stay in Jersey for at least 10 months of the year if you want to work your way towards permanent residence.
Step 3: Find Accommodation in Guernsey
No matter which investment route you choose, you will need a place to live, and you'll only be legally able to find it via the 'open market.'
It's a market especially separated from the 'local market' that's meant for people with a birthright to live in Guernsey.
Successful applicants for the residence program will soon find out that the island's housing stock in the open market features prices that are quite inflated. That's because it's geared toward wealthy foreign investors.
Approximately 10% of the people in Guernsey live in properties sourced via the open market.
But there are a couple of bits of good news too. First, some of the most desirable housing stock is available only via the open market, think villas with pools.
Second, you can also rent a property via the open market and don't absolutely need to buy. This can lessen some of your up-front investment if you're looking to do that.
Step 4: Renew Your Temporary Residence
Since the initial visa is only valid for two years, you will need to renew it for another period of three years just before it expires.
It's easily done, provided that you've kept up your end of the bargain and have maintained your investment, be it real estate or a business.
Also, you should have spent no longer than three months per year away from Guernsey. In other words, it should be obvious that Guernsey is your permanent home.
Step 5: Get Guernsey Permanent Residence
After five years of living in Guernsey, you may apply for Indefinite Leave to Remain (ILR) – Guernsey's version of Permanent Residence.
To qualify for Guernsey permanent residence, you must have made Guernsey your primary home for the duration of the full five years.
Since it's a status that's much more entitling, applicants aged 18-65 must pass the Citizenship Test to show that they speak English and know enough about life in Guernsey as well as the United Kingdom.
Applicants younger than 18 can simply be added to the main applicant's residence application.
If you have Guernsey permanent residence, you will need to continue being a tax resident on the island to retain this status, but you don't have to apply for citizenship if you don't want to.
Citizenship, as you may know, has all kinds of implications not just for your personal life but also for your finances, and it's a decision that you must weigh up carefully.
Step 6: Apply for Guernsey's Citizenship
Interestingly enough, Guernsey's citizenship is considered to be British by most measures. So, if you think that you would like to apply for citizenship, you'd be getting a British passport, in essence.
You will become eligible to apply for citizenship in Guernsey after six years of living on the island. The clock starts ticking after you first enter the country as an investor or an entrepreneur.
You must spend no more than 450 days away from the island (or the UK) over the preceding five-year period (your temporary residence years) and no more than 90 days in the year preceding your citizenship application (the first year of your Guernsey permanent residence).
The process is quite quick and simple, and you (as well as your dependents) could enjoy all that Guernsey has to offer for an indefinite time if you're a citizen.
Luckily, Guernsey allows dual citizenship. You can keep both your initial citizenship as well as the Guernsey one unless your country of origin disallows dual citizenship.
The Tax Implications of Guernsey Residence
One notable difference between the Jersey and Guernsey residence by investment programs is that Guernsey doesn't have a minimum sum that an individual has to pay in tax per year to maintain the residence.
So, out of the two, it's arguably a more attractive jurisdiction for those who are seeking to optimize their personal and business tax rates.
In Guernsey, there are no:
Capital gains taxes
Wealth taxes
Inheritance, estate, or gift taxes
VAT or sales taxes
If you're a resident of Guernsey, you'll pay a flat income tax rate of 20%. That doesn't sound too good, does it?
Well, there are various caps that you can take advantage of. The maximum tax liability with no Guernsey source income is £130,000 per year. This means that you have to be making over £650,000 a year for this tax cap to make sense for you.
And if you have both non-Guernsey and Guernsey income, your maximum tax liability is £260,000 per year. To start saving on tax, your annual income needs to be more than £1.3 million.
Furthermore, as a new resident of the island, for the first four years of your residence, there is a tax cap of £50,000. To use it, you must fulfill the following criteria:
You're a full-time resident of Guernsey, and it's your primary residence.
You paid £50,000+ in duties when you purchased your open market property. At the current duty rates, this is equal to buying a home worth £1.32 million.
You've made the purchase of your home 12 months before or after the date of becoming a Guernsey resident.
That's not a bad deal if you ask us. You already have to buy a property, so why not use it to your advantage and get a tax cap while you're at it? For tailored and holistic offshore and tax planning, set up a call with us today.
Benefits of Guernsey Residence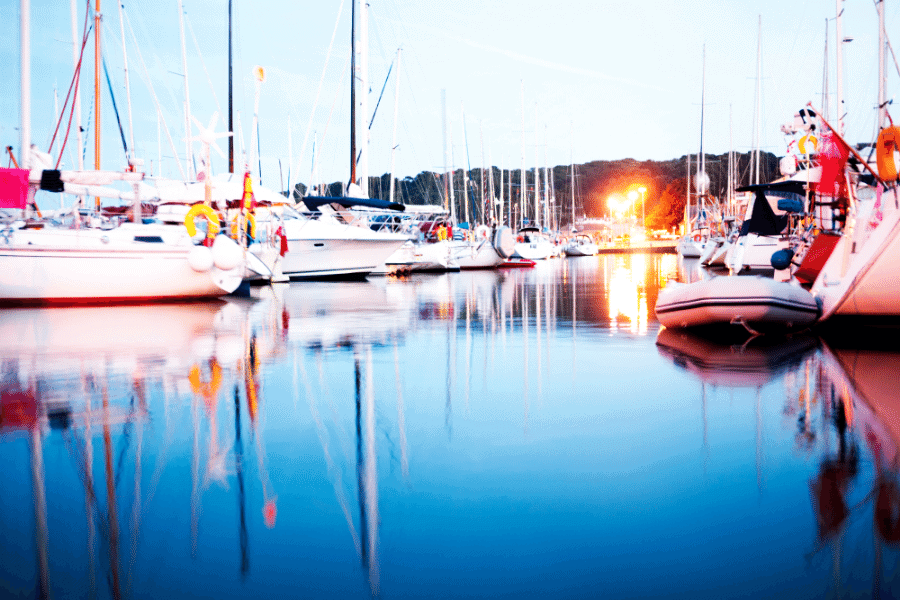 An investment that's half that of Jersey and the UK. If you'd like to live in this part of the world, but Jersey or the UK are too expensive, then Guernsey can be the perfect alternative. It's the cheapest option out of the three.
Access to the Common Travel Area. Guernsey residents have free access to the United Kingdom, Ireland, and other Common Travel Area countries. You can travel there, work there, or even let your kids study there, totally uninhibited.
Favorable tax regime. The straightforward and favorable tax system of Guernsey is one of its biggest lures. If you spend some time properly mapping out your financial plans, Guernsey can deliver effective tax rates in the region of 10% or even less.
Enviable Quality of life. With beaches, sports activities, the great outdoors, easy access to Europe and most of the world… Guernsey really does seem to have it all. Plus, with a GDP per capita that's nearly 60% higher than that of the UK and 14% higher than neighboring Jersey, Guernsey residents have the money to enjoy life to the fullest too.
British-standard education. If you are bringing your kids along to Guernsey, you'll be happy to know that they will be well taken care of in the state or private schools. Guernsey's educational system is based on the British national curriculum, and island kids consistently do better in their exams than their mainland counterparts. After high school is done, kids can obtain higher education in British universities – top-class institutions.
High standard of healthcare. Guernsey offers modern medical facilities and plenty of experienced clinical staff too. Although most visits and treatments are free of charge, residents are advised to take our private healthcare insurance to cover all of the 'extras, such as optician and dental appointments.
Pro-business environment and financial industry. Guernsey knows that its economy runs on foreign investment, business, and the financial services industry. It's done everything in its power to position Guernsey as a world-class jurisdiction in which to do business, thanks to political stability, the skilled workforce, and its innovative taxation rules.
Is a Guernsey Permanent Residence Right For You?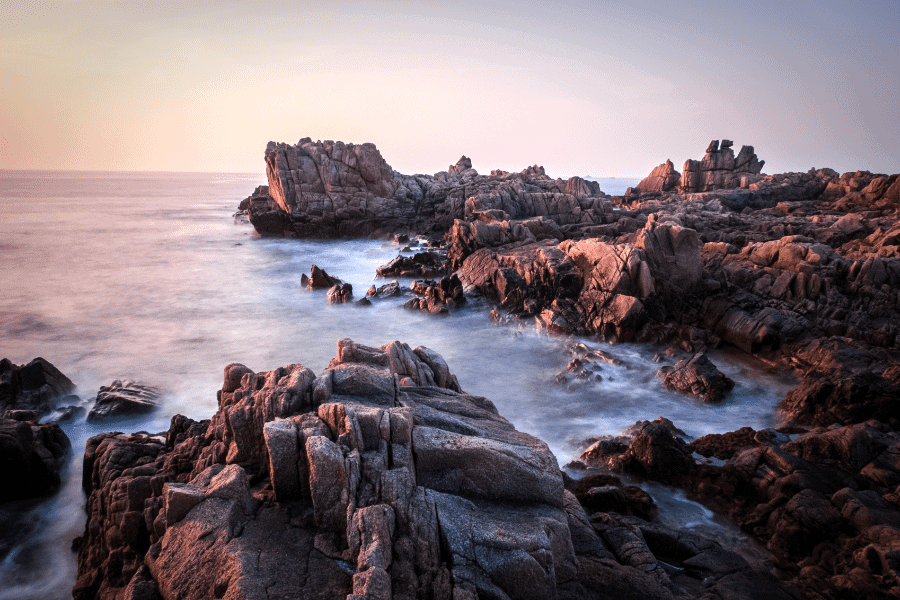 It's undeniable: Guernsey is a place that has one of the most robust financial services industries in the world.
Yet, you'd be forgiven for not knowing where it's located.
Tucked away on the shores of France but quintessentially British, this small collection of islands is where the wealthy come to live and play.
If you're seeking residence in a well-established offshore jurisdiction, then you should at least check Guernsey out – it could tick many of your boxes.
The main question is this: can you afford to dispose of £1,000,000 for the duration of five years? Or, if you choose the entrepreneur visa, do you have what it takes to run a business? It will need to be your full-time occupation, after all.
If you want to 'join the party' and become a resident of Guernsey, we can help.
We'll determine if it would be useful for you to plant a flag there and see how it could fit into your holistic financial plan.
Guernsey Residence by Investment – FAQ
Where is Guernsey?
Guernsey is a self-governing country. It's not part of the United Kingdom, but it's a British Crown dependency. It's a country that has been long-established as an offshore financial center where a stable government, long-term policies, and full transparency rules.
What's the minimum required investment to become a Guernsey resident?
You will need to invest a minimum of £1,000,000 in the economy of Guernsey and hold that investment for at least five years. The financial demands are smaller for those interested in establishing a new business or investing in an already existing one on the island. You will need a minimum of £200,000 for that.
What financial asset classes can I invest in?
If you opt for the Investor Visa, you can choose to make a bank deposit, invest in real estate, or opt to invest in another pre-approved economic activity that would benefit the island. And if you go the Entrepreneur Visa route, your choices are to set up a new company or to invest in an already existing one (you would need to have a controlling stake, though).
What financial services are offered in Guernsey?
The island is well-known for its financial management and services industry. The services provided include legal, accounting, valuation, registrar, secretarial, and audit services, among others. There are professionals on the ground to help you set up and grow your business, fund, or other financial structure.
What's special about funds in Guernsey?
Guernsey is well-known worldwide for being a favorable place to domicile one's funds. That's not only because of the favorable tax regime (zero or low tax) but also because of its innovative laws and regulations of funds as an asset class.
What tax will I have to pay in Guernsey?
Guernsey can classify as a low-tax jurisdiction in some regards because it doesn't have any form of VAT, capital gains, or inheritance tax. There is also no stamp or document duty nor transfer tax. Personally, the income tax rates are capped, and the overall tax environment is rather favorable in Guernsey – it's all legal.
Can I bring my family to live in Guernsey with me?
Yes. Each residence-by-investment applicant can bring their spouse and children under the age of 18 with them to live in Guernsey. Note that no additional investment will need to be made – you can bring your entire family just like that.
Do I need to pass an English test to gain Guernsey permanent residence?
You don't need to speak English to receive the initial visa to reside in Guernsey. However, if you would like to work towards Guernsey permanent residence, you will be required to have knowledge of the English language and of life in Guernsey and the United Kingdom.
How can I get a British passport?
Since Guernsey is so closely related to the UK, a Guernsey passport is considered equal to a British passport. After six years of residence in Guernsey, you will be able to apply for and receive a Guernsey passport. After this, you can divest your funds and not stick to the physical presence requirement anymore. Your family can also get a British passport.