Dateline: Bogota, Colombia
I recently returned from Merida, Mexico where I successfully obtained Mexican residency in less than a week. The total cost to apply for a one-year residency card came to just $250. Not in the mood to stick around until my physical card showed up, I also paid a fee of $90 for a one-time exit permit.
The process was incredibly straightforward. It took me a while to figure out exactly how it worked, but once I started working with some folks on the ground it was easy. The process involves showing that you have some money and then showing up to the immigration office in Mexico. If you work with the right people, it's a simple matter of getting it done.
Not every residency application is this straightforward or cheap. However, sometimes paying more fees and jumping through a couple more hoops can be worth it.
High fees don't always mean that a country wants to take advantage of you, it is often a simple matter of supply and demand.
In Europe, for example, many of the residency programs are designed for Chinese and Russians who just want to get in, no matter the price. They don't mind paying heavy fees because what they get in return is more than worth it for them.
Even so, there are many European countries that charge very low fees to apply for a residence permit. While there may be other requirements to invest or start a business in order to qualify, the actual application fee can be quite low.
In fact, in Hungary, Spain, Latvia, Estonia, Luxembourg, the Czech Republic, Portugal, and Slovenia, the application fee is under 100 EUR. In 2017, Hungary's application fee is just 32.55 EUR while Slovenia's is at 99 EUR.
The application fees in many other European nations are more on par with the price I paid for my Mexican residence permit. Bulgaria, Sweden, Iceland, Italy, Cyprus, Romania, Malta, Germany, Switzerland, Austria, Croatia, the Netherlands, Poland, Finland, Slovakia, Belgium, Norway, and France all charge between 100 and 269 EUR to apply for their residence permits.
There are five countries, however, that charge considerably higher fees for the privilege of residing within their borders.
One, in particular, has experienced a spike in interest since the United Kingdom voted for Brexit. Others, despite their high application costs, may still be of interest to those who eventually hope to obtain citizenship in the European Union.
Each country makes their own specific requirements to obtain their permanent residence visa, from mandatory language classes to full-time employment to background checks and more. There are also varying minimum residence requirements for those who seek permanent residence and for those who wish to obtain it.
Let's examine the five countries with the most expensive residency application fees in Europe and dissect exactly what they'll ask from you in order to apply for and receive permanent residence in Europe.
5. Ireland – 500 EUR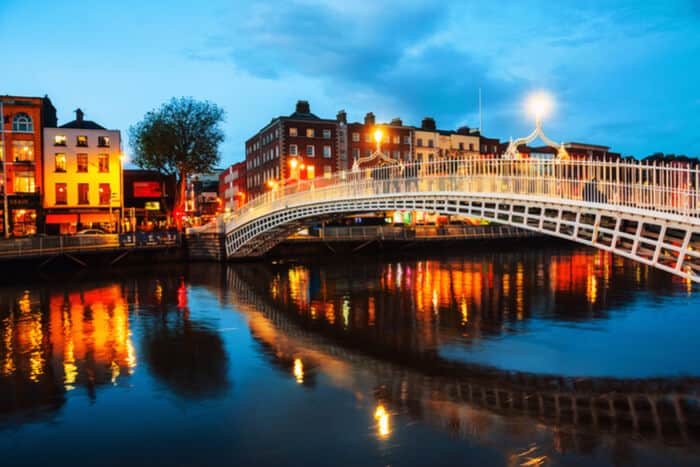 As the UK prepares to leave the European Union, many Brits are looking for ways to maintain their individual membership in the EU. Many have gone the route of pursuing citizenship in Ireland. In the three months following the winning Brexit vote, over 37,000 people from the UK and Northern Ireland applied for an Irish passport – an 83% increase over the same three-month period just a year earlier.
Most folks don't have the fortunate connections to Ireland that citizens of the UK and Northern Ireland have. Instead of submitting an application for Irish citizenship, they must first apply for temporary Irish residence, then permanent residence, and then citizenship – a process that can take up to nine years.
Ireland issues residence stamps for employment, studies, and investment. They suspended their business residency program in March of 2016, but now offer the Start-up Entrepreneur Programme. Anyone who obtains one of these stamps is considered a temporary resident. Among them, only those who have obtained a work permit will eventually be able to apply for permanent residence.
To qualify for permanent residence in Ireland, you must have been legally resident in the country for at least 60 months (5 years) prior to your application. The only exception is for those who hold a Critical Skills Employment Permit, which allows the individual to apply for permanent residency after two years.
This permanent residence stamp is good for another five years. However, after a total of eight years of residing in the country, residents can apply for Stamp Number 5, which grants permission to reside in Ireland "without conditions as to time." This stamp will last until the applicant's passport expires and can be renewed once a new passport is obtained.
Regardless of when you obtain your permanent resident stamp or how long it will be valid, you will no longer need to carry a work permit to work in Ireland once you have it. However, you must be employed at the time of your application and you will need to have been registered with the Garda National Immigration Bureau for the full 60 months before you apply.
So, apart from the 500 EUR fee that you must pay upon applying for your Irish residence, you should also expect to pay the 300 EUR registration fee when you first enter Ireland as a temporary resident.
4. Greece – 616 EUR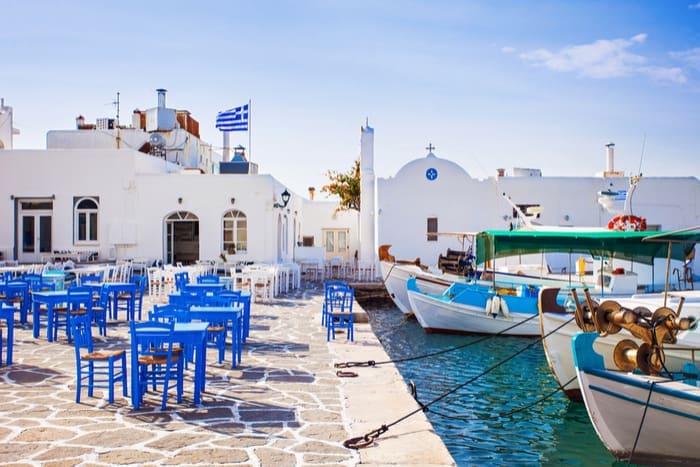 Besides being the child or spouse of an EU citizen, you can obtain residence in Greece by investing, being a self-employed entrepreneur, retirement, being a student at a Greek university, or by finding an employer to sponsor your Greek work visa and permit.
All the residence permits issued for each of these purposes are temporary except for the investment option, which automatically grants permanent residence. Most permits are initially valid for one year and can be renewed continually as long as the application for renewal is submitted two months prior to the current permit's date of expiration.
Any temporary resident can apply for permanent residence after five years of continuous residence in Greece. The cost to apply is 616 EUR, one of the highest application fees in all of Europe. However, it appears that the high fees appear have not helped make the process more efficient. The Greek government is known to be very slow at actually handing out these permanent residence cards.
If you are still interested in gaining permanent resident status in Greece, there are a few more conditions that must be met to obtain the initial temporary residence. For example, self-employed entrepreneurs will need to have held a different Greek residence permit for at least one year before applying for the entrepreneur visa. They must also deposit 60,000 EUR in a bank account as proof of solvency.
Those wishing to retire in Greece must show evidence that they are supported by independent means with a minimum income of 2000 EUR a month. Those who wish to live in Greece without working can also apply for a residence permit as long as they can show independent income or funds from outside the country via a virtual job, business, savings, or grants.
The only way to obtain automatic permanent residence is to invest a minimum of 250,000 EUR in Greek real estate. There is no minimum stay requirement unless you wish to obtain Greek citizenship, which requires seven years of continuous residency (and is usually denied to anyone who is not ethnically Greek).
The permit is renewable in five year periods as long as the applicant maintains their ownership of the property. While I'm not too keen to live in Greece myself, if you are interested in the country it could be a good time to buy seeing that property prices dropped as much as 50% since the credit crisis. But be wary, there is a difference between a country that is open to investment and one that is desperate.
3. Denmark – 772 EUR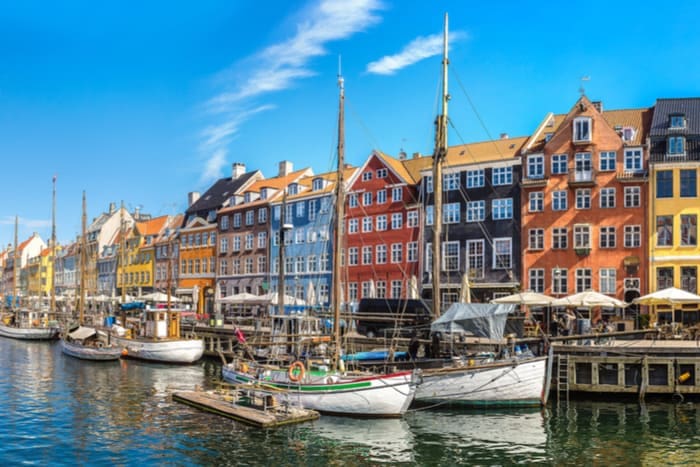 Denmark is making things noticeably difficult for non-EU citizens who wish to obtain permanent residence in the country.
In April 2017, the Danish parliament passed a proposal that extends the six-year residency requirement to eight years before an individual can apply for permanent residence.
The proposed amendment makes Denmark one of the strictest countries in Europe for those hoping to obtain permanent residence. This, on top of the application fee of 772 EUR – the third highest fee of its kind in Europe – makes me question if Denmark is worth the effort. If they don't want you there, it's probably not a place where you will be treated best.
The Danish residency program also includes requirements for age, employment, language, and criminal records. To qualify you must be over 18 years of age, have current full-time employment and have held regular full-time employment for at least three and a half years in the previous four years prior to application, and have passed the language test 2 (Prøve i Dansk 2) or a similar Danish language test of the same level or higher.
You must also meet at least two of the four supplementary requirements. If you somehow meet all four of the supplementary requirements, you could be eligible to reduce the eight-year waiting period to just four. The supplementary requirements involving having:
Passed an active citizen exam test or have exhibited active citizenship in Denmark;
Held regular full-time employment for four of the past four and a half years;
Earned a yearly taxable income of at least DKK 275,400 over the past two years; or
Passed the language test 3 (Prøve i Dansk 3) or a similar Danish language test of the same level or higher.
2. Lithuania – 600 – 1100 EUR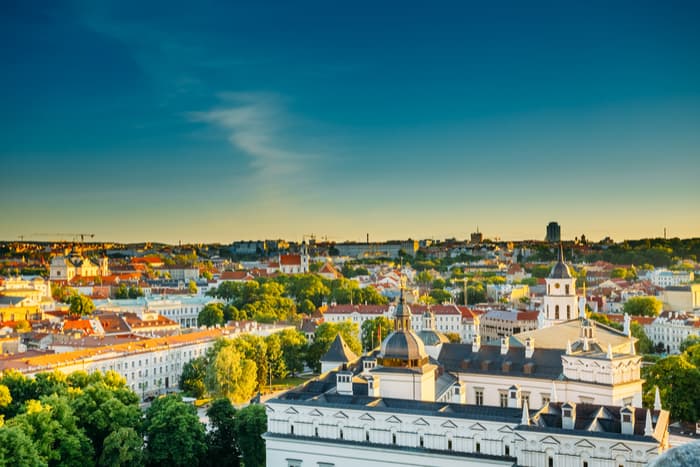 Lithuania has become a popular portal for many Russians seeking permanent residence in the EU. This is one of the reasons that the application fee for permanent residence in Lithuania is so high, ranging from 600 to 1100 EUR.
Like Ireland and Greece, individuals wishing to obtain permanent residence in Lithuania must have held temporary residence in the country for at least five years prior to their application. Temporary residence is granted in one year terms for up to five years, at which time you can apply for permanent residence.
You can obtain temporary residence in Lithuania by becoming a manager or shareholder of a Lithuanian company. Your shares must have a value of at least one-third of the company's authorized capital. The company's capital must also be at least 28,000 EUR, of which your investment in the form of assets and funds must be no less than 14,000 EUR. You must also employ Lithuanians or other EU citizens.
Finally, your company must have been in operation at least six months before you apply for temporary residence. Under this particular temporary residence, you will not need to apply for a work permit.
After completing your five years of temporary residence, you can qualify for permanent residence by meeting the following conditions:
Complete a Lithuanian language examination;
Obtain Insurance;
Prove Self-sufficiency – earn at least EUR 325 per month or have enough savings in a personal bank account to provide for yourself for a period of 5 years; and
Find Accommodation – either purchased or leased.
1. United Kingdom – 1345.27 EUR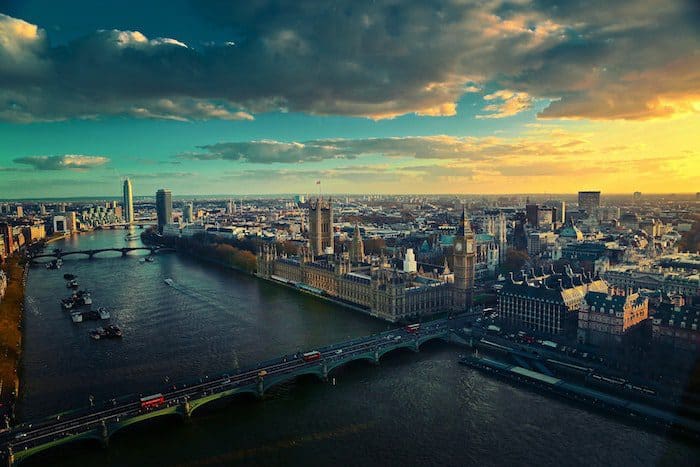 In the United Kingdom, permanent residence is known by the term 'Indefinite Leave to Remain' (ILR). As with the other residency programs on this list, any permanent residence hopefuls must first spend time in the UK as temporary residents.
The requirements and processing time for ILR vary depending on the type of temporary visa an applicant possesses before applying for ILR. Individuals with a work permit, investors, writers, composers, and artists, as well as business visa holders must all wait a period of five years before applying. In some cases, individuals married to UK citizens can qualify for a reduced two-year waiting period. All other lawful residents must wait a period of ten years while unlawful residents can apply after fourteen years in the country.
Applicants must have sufficient knowledge of the English language. They must also prove their knowledge about life in the UK through the "Life in the UK" test. Applicants younger than 18 or over 65 are exempt from this requirement. Applicants are also required to provide biometric data used to perform a background check.
The application fee was recently increased to a staggering 1,345 EUR. According to the UK, the increase was made to reduce taxpayer contributions to the programs for borders, immigration, and citizenship so that the systems are solely funded by those who use them.
Once an applicant obtains their Indefinite Leave to Remain, they will no longer be subjected to any immigration-related restrictions. They will be able to live, work, and do business in the United Kingdom and there are no time limits on the length of their stay (or leave). However, if someone with ILR were to spend more than two years outside of the UK, they may lose their indefinite (permanent) status.
With the impending exit of the United Kingdom from the EU, residency in the country is becoming less and less attractive. That, combined with the high application fees are enough to motivate most Nomad Capitalists to look elsewhere. Unless you have very specific needs that can only be met by residence in the UK, my suggestion would be to find another country for your second residence.
Worth It?
As we discussed in the beginning, if it's the right fit, the fees may not be an issue for you. A European residency may be worth the high fees if you are aiming for an EU passport. I know several Americans who want to give up their US passport and an EU passport is exactly what they need.
But maybe you don't want Europe with all its bureaucracy, higher fees, and longer wait periods. Maybe you think it is too expensive and that most European countries are simply banking on their reputation as "Europe" to draw people in. Maybe somewhere like Mexico fits you better.
In the end, there are different strokes for different folks and you have to really examine your end goals to determine which one is right for you.