One of the most frustrating things for a digital nomad or perpetual traveler is figuring out how to receive your mail.
Many people who are interested in the Nomad Capitalist lifestyle haven't considered this because mail might not be the first thing you think about
when you learn about and start to incorporate it into your daily life.
Mailbox forwarding services appeal to digital nomads and perpetual travelers who fly all around the world and would like to receive personal mail while doing so.
In this article, I'm going to share several mail forwarding services we've come across that are worth your consideration. But first, let's discuss how global mail forwarding services work.
What is a Mailbox Forwarding Service?
Mailbox forwarding services work on a simple premise: they provide you a street address at which you can receive mail by using a designated box number. In some cases, it's obvious this is a mailbox while in other cases, it appears to be an apartment or office suite.
For example, Andrew uses a mailbox service in the US; he recently sold his last property there and wanted to make sure he could still receive any statements. Plus, in the grand scheme of things, the US Post Office is relatively organized and rarely loses mail coming in from overseas.
That being said, it's important to understand the difference between various mail services. Chances are, you may want to use more than one mailbox forwarding service in different locations to receive different types of mail from bank statements to property documents. Some businesses simply won't send mail to certain countries, or you might want to ship a package to yourself for collection next time you're in town.
There are several types of mailbox services around the world, and it's important to understand that not all are created equal.
Types of Mail Forwarding Services
Old-school mail services simply forward your mail without opening or scanning it. You can say, "Hey, from May 1st to May 15th, I'll be staying at the Shangri-La in Kuala Lumpur. Here's the address – please forward my mail via FedEx and I'll collect it from the front desk." For a hefty fee, they'll repackage it and send it to your location.
This practice is kind of outdated as many more modern mailbox services scan mail so you can instantly see and choose what you want to be forwarded. In many cases, you won't need mail forwarded as you can simply have documents scanned and act on them remotely.
On top of that, you may want a mailbox to simply hold your packages for collection. If you have mailboxes in places that you spend time in, this can help you avoid costly tariffs and customs issues.
Basic tax considerations are also involved; one benefit of being a US citizen or using a US mailbox is that generally a mailbox isn't a tax nexus in the US. Surprisingly, the US is actually an easy place to receive mail.
If you're receiving mail in another country, such as your home country that you are leaving for tax purposes, it might be good to get tax advice on using that as an address. This article is not intended to provide tax advice, but you should always consider the tax implications of your actions.
I have compiled a list of mailbox services from around the world that passed our basic customer service and service quality criteria. This isn't an exhaustive list of all high-quality mailbox service providers, but it includes some of the best that we've found around the world.
Now, let's move onto the list…
Mailbox Services in Europe
Europe offers a number of high-quality mail services for expats who live or do business there.
Denmark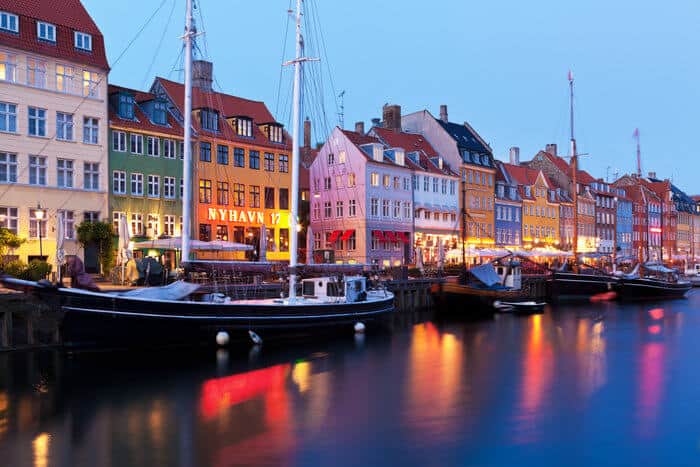 Amalie6; Amaliegade 6, 2. tv., DK-1256 Copenhagen
Based in Copenhagen, Amalie6 has an exceptionally elegant office just minutes from the Queen.
Location is key for a mailbox service since Denmark has been ranked in the top five countries in the world to start a business for many years. The mailbox service is old-fashioned and prides themselves on building good business relationships and maintaining a lot of connections.
Also, most everyone in Denmark speaks fluent English, further deeming this mailbox service an ideal location for an offshore mailbox. Amalie6 also offers international legal and tax advice in addition to their mail service.
The mailbox service offers attractive business addresses in the center of Copenhagen. With their virtual office, you can also book meeting rooms and invite partners or customers to meetings and workshops. The mailbox service also offers mail forwarding and mail scanning, and their website is simple but modern.
Estonia
B2baltics; Sakala 7-2, EE-10141 Tallinn
B2baltics is a licensed mailbox service provider for e-residency companies. E-residency in Estonia is a government-issued digital identity that allows anyone in the world to start and manage a global business.
E-residents have the ability to establish an EU company online within a day and then administer it remotely from anywhere in the world while accessing various tools that are necessary to grow.
The B2baltics mailbox service provides consumers with a virtual address, an official contact person, and mail forwarding. It also includes a legal address, a contact person, physical mail reception, and email forwarding.
Estonian law permits entrepreneurs to establish their company in Estonia even if the business is operated primarily outside of the country as long as the company goes into an agreement with a licensed service provider who is responsible for receiving the company's mail, which is otherwise known as the contact person. B2b handles bookkeeping for customers' Estonian businesses, taking care of monthly VAT reporting and annual reports.
The mailbox service scans and forwards mail daily, but there's limited information on this part of the business since the majority of information on the website is focused more on e-residency. B2baltics does offer aregistration option for customers to fill out if they want to learn more about B2b's mailbox service.
France
French Office – Courrier du Voyageur; 350, chemin du Pré Neuf, 38350 La Mure
CDV French Office is a mailbox service offering mail receiving, storage, scanning, and forwarding. They will store your mail for months at a time.
Customers are given the opportunity to choose their French address, and the mailbox service can forward mail in bulk to reduce shipping costs for the customer. You can receive mail all over the world, and you have the ability to choose to ship with major international carriers like DHL and FedEx. The mailbox service also automatically discards advertising mail and allows customers to choose what types of mail they want to discard.
Customers have the ability to slide scanned mail to a trash bin on the online portal, which tells CDV employees it's okay to shred that mail. Depending on your plan, you also have the ability to choose whether your mail is automatically scanned, selectively scanned, or scanned on demand.
CDV is an eco-responsible company, acting in favor of sustainable development (photovoltaic solar panels, eco-responsible recruitment, selective sorting), so scanning documents when possible instead of having them packaged and forwarded is preferred – but not required, of course. You can save scanned documents as PDFs to keep them in your files.
If you need mail forwarded, you have the luxury of choosing the frequency. CDV French Office has multiple plans to choose from, but the basic plan costs €22.90 per month. Their website is informative and easy to follow.
Germany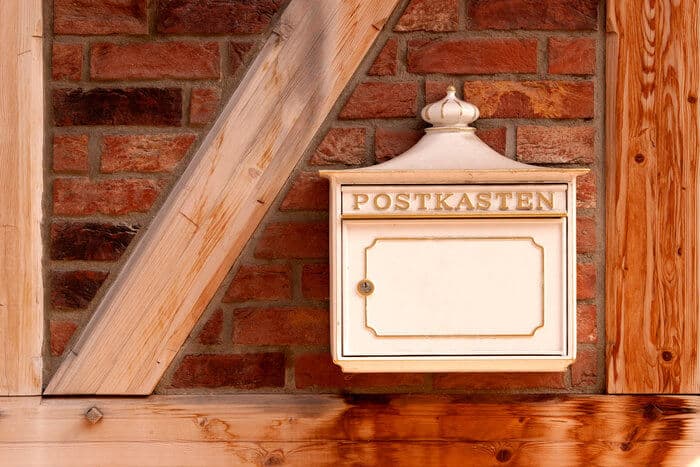 BPM Lux; Zum Bürgerwehr, 28, D-54516 Wittlich
BPM offers 10 reception addresses in 10 countries: Australia, Canada, Belgium, France, Germany, Luxembourg, Italy, Spain, the UK, and the US. Digital nomads and perpetual travelers benefit from using BPM because of the options to scan, store, express, forward worldwide, and read and manage letters online – not to mention the ability to make online purchases from vendors who do not ship abroad.
Through this mailbox service, customers can receive packages from USPS, FedEx, UPS, DHL, and more, and they may choose between scanning, storage, parcel shop pick up, or home delivery. Short- and long-term storage are available, and the first month of service is free.
The mailbox service offers basic accounts for only €5 per month, or customers can utilize the pay-as-you-go option. You have the ability to purchase credits in advance, and you may use them each time you need to use the mailbox service until you run out of credits – at which point you'll purchase more.
The layout of the BPM website does not look modern, but the information is plentiful and easy to navigate. You can earn credits by liking their Facebook page and sharing their Facebook posts, and you can reduce handling costs by 15% when purchasing credits in advance.
My Germany; Nordstrasse 5, 99427 Weimar
My Germany is located in the "green heart" of Germany: the beautiful city of Weimar in Thuringia.
This mailbox service provides customers with German delivery addresses for free, and it advertises the ability to purchase items from Germany that are not available for shipping abroad. The company can have your packages delivered in 2-8 days via FedEx and DHL.
Shipping is insured, and this mailbox service also offers door to door delivery. Another free service that My Germany provides is taking and sending photos of items before delivering them to you, enabling easy returns.
They also allow you to store shipments in their warehouse for several days while shopping, allowing items to be combined for reduced shipping.
Because there are no monthly fees, customers only have to pay forwarding costs. The mailbox service's concierge can order, pay, and pick up items on your account. They also scan mail, letters, and documents to over 220 countries.
Customers can choose from automatic scan and storage or on-demand scanning and forwarding. Scanned documents are provided in PDF format, and customers can shred unwanted documents for free. My Germany's website is modern, up to date, user-friendly, and enjoyable to navigate. The videos on their website are very easy to follow and interesting to watch.
The Netherlands
Dutchmailer; Suite 8521, Oude rielseweg 11, 5032 SH Tilburg
Dutchmailer has no minimum contracts as well as online mailbox access with unlimited history, and you can change forwarding addresses as often as you like.
It also offers easy PayPal payments, cheap monthly fees of just €10 (with two higher-level plans available), and free credits for regular subscribers.
This mailbox service instantly provides customers with secure online mailboxes, and the service will forward mail if necessary. Dutchmailer is therefore ideal for digital nomads, perpetual travelers, multinationals, and secret shoppers.
You can sign up for an account in minutes, and your mail will immediately begin sending to the Dutch location. When receiving mail, you have the option to shred it, forward it, return to sender, or hold until further notice.
Additionally, you can log in to the mailbox service's demonstration account to get a feel for what the service is like.
Dutchmailer was not created for speed or express service, and the mailbox service does not feature mail scanning. This mailbox service is primarily utilized by customers who need someone to hold onto their mail with occasional forwarding.
Dutchmailer's website is basic but informative and user-friendly, which is to be expected from a service that was not designed with the intention of handling mail with a sense of urgency.
Spain
Spainbox order fulfillment; Calle Buendía 11, 19005, Guadalajara
Spainbox offers international shipping, eBay and Amazon returns and collections, mail forwarding, online shipment management, order fulfillment services, a virtual Spain address, a free trial of Spainbox personal (although other memberships are available), white glove delivery services, and financial services.
The mailbox service accepts the following forms of payment: Visa, Discover, American Express, MasterCard, PayPal, Bitcoin, and S€PA.
Spainbox Standard is free, and Spainbox Premium is $14.95 per month; these are the two most popular Spainbox memberships. Spainbox also partners with UPS, Fedex, and TNT, and customers are given the opportunity to choose the carrier that provides them with the lowest shipping rate.
Spainbox combines mail/packages into as few boxes as possible to ensure customers are receiving the lowest rates possible. The mailbox service also assists customers with setting up an address and utilizing an online personal shopper for sites that won't accept national credit cards, and the virtual address is very convenient for customers who want to purchase items from online stores that don't ship worldwide, such as Zara, Mango, Blanco, Amazon, and Carrefour.
The layout of Spainbox's website is not modern, but the information is up to date. It's also packed full of great information that's easy to navigate through.
United Kingdom
UK Post Box; 13 Freeland Park, Poole, BH16 6FH
UK Post Box offers mail forwarding, free PO boxes, street addresses, and an online portal that allows customers to access their scanned mail from anywhere in the world.
Even though UK Post Box only provides UK addresses, customers all over the world utilize the mailbox service. To my knowledge, UK Post Box is the only UK mailbox service offering free PO box addresses.
The mailbox service serves as an online post office, so you have the ability to send letters electronically. All you have to do is type and upload your letters to the portal, and the mailbox service will print and mail them. Customers also have the option to request next day delivery or require signatures to ensure successful delivery of mail/parcels.
The mailbox service offers multiple plans – even a pay-as-you-go plan. The street address plan costs £12 per month (including VAT). The mailbox service also will fill out all required forms to ensure that you are in compliance with all UK customs requirements.
UK Post Box's website is modern, visually appealing, and overflowing with useful information for nomads and perpetual travelers.
Mailbox services in the Americas
Many North American mailbox services are easy to use and have high standards of customer service, making them popular among travelers and digital nomads.
Panama
Panamail offers virtual offices, mail forwarding, mail drop, PO boxes, street addresses, fax and phone numbers with voicemail and call forwarding, and a handful of other features.
Exclusively for Panamail clients, the mailbox service also offers Panama company registrations in Panama. Customers can purchase a World Trade Center Premier Plan for $500 per year, which includes a Panama City World Trade Center street address that works for business or personal use with a unique suite number, a Panama phone number, and a $20 bonus for mailing expenses. Customers can receive phone calls, mail, and faxes to their address within 24 hours of opening an account with the mailbox service.
The company accepts payments from PayPal, Visa, MasterCard, Discover, American Express, Bitcoin, bank wire/transfer, MoneyGram, and Western Union.
For customers who want a more basic plan that includes mail scanning, the PO box plan is available for $300 per year. The mailbox service also offers a basic virtual office, premier virtual office, street address, dedicated phone number, and shared fax number plans.
The website is simple but informative and has a live chat support option in the lower right screen.
The United States
Traveling Mailbox; 500 Westover Dr Sanford, NC 27330
Unlike many other mailbox services, Traveling Mailbox is unique in that it offers addresses in multiple regions across the US. PO boxes are not available, but customers can choose from addresses in the midwest, northeast, southeast, and southwest (with the option to choose from multiple cities within those regions). You can also fill out a request for a specific address not listed if desired.
You can access your online mailbox anywhere in the world, and unlimited phone support is available 24/7. Plus, the mailbox service facility is under 24-hour surveillance, so mail is much safer than it would be sitting in a mailbox at the end of a driveway.
Added perks are the ability to have mail scanned, mail forwarding, scanning mail into services like Evernote or Google Drive, receiving email notifications, unlimited cloud storage, and accessing Traveling Mailbox via Android or iOS apps.
The mailbox service can also deposit checks upon request, and it can filter through junk mail.
They offer a basic plan for $15 per month in addition to an extended and a small business plan for $25 and $55, respectively. The website is up to date and has everything it needs in terms of information and ease of use.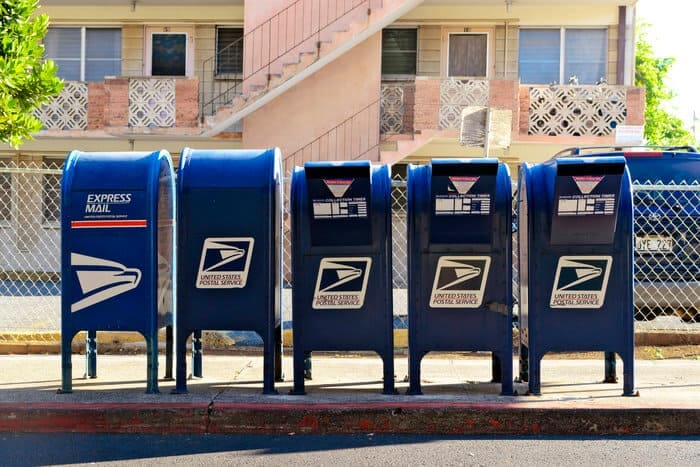 USA2ME; 10685-B Hazelhurst Dr #1000, Houston, Tx 77043
USA2ME has been in business since 2004, making the mailbox service one of the most established mail forwarding companies in the industry. Family owned and operated, they now have tens of thousands of customers and have received and forwarded close to 2 million items.
USA2ME specializes in international shipments, making the company ideal for US expats or foreign individuals and companies who want to receive mail or make purchases in the US. Fortunately for digital nomads and perpetual travelers, the addresses are based in Texas, so they are not subject to state income taxes.
The mailbox service also has an A+ rating from the BBB and earned international shipper awards from DHL and Fedex; USA2ME has also won the BBB Gold Star Award every year since 2006.
In addition to mail forwarding, the mailbox service offers fax reception, letter scanning, remailing, and order fulfillment. They offer a 30 day free trial, and the basic plan has no monthly fee. However, you have to pay for what you use.
The standard, premium, and ultimate plans have more value and offer low shipping rates. The mailbox service's website layout is not modern, but the information itself appears to be up to date and it's very informative and easy to navigate.
Mailbox services in New Zealand
Private Box; PO Box 83090, Johnsonville, Wellington 6440
Private Box currently has over 14,000 satisfied customers and is based out of Wellington – New Zealand's capital city.
It's locally owned and operated and allows customers to collect mail from over 500 locations nationwide. The mailbox service provides customers with a street address in addition to a PO box located in their choice of Auckland, Wellington, or Christchurch.
The company offers secure same-day processing and a cloud portal for users to manage their mail. Private Box is proud to clear your PO box, filter junk mail, scan and digitize mail, and securely deliver images to you.
The mailbox service offers personal and business accounts, and you can currently try Private Box for $1 for 30 days. Receiving letters is free, and parcels are $1 each. The mailbox service's personal plan is $12.50 per month and includes mail for your entire family. The mailbox service's business plan is $29.90 per month and includes a professional business address. The virtual office plan is $103 per month and includes a phone number and an answering service.
The mailbox service can forward mail from New Zealand to the US, Canada, England, Europe, and Australia.

Latest posts by Nomad Research Team
(see all)