Turks and Caicos Islands is a tranquil chain of islands in the Caribbean. The islands have some of the best opportunities for savings on annual taxes through a permanent residency program. This article will explain how to obtain residency on the island based upon your needs and capabilities.
Looking to obtain a second residence or citizenship? Talk to the experts. We will help streamline the process and handle your application every step of the way. By helping you handle the whole process and ensure everything's done correctly and legally, we'll make sure you move to a place where you're valued.
Turks and Caicos Islands Overview
Turks and Caicos Islands are located just over 600 miles (965 km) south of Miami, Florida in the Gulf of Mexico. The islands are separate chains that are only connected by boat or plane but have a shared history and culture.
The islands host a beautiful and diverse biodiversity. The surrounding shores are home to coral reefs with over 60 varieties of coral and 250 types of fish. The vibrant blue tang fish is one of the most popular fish species that tourists and naturalists alike visit to see.
The climate is wet-dry tropical with summers reaching into the upper 90s Fahrenheit (32 Celsius) and lower 60s in the winter (15-16 Celsius).
The weather, natural beauty, and laid back culture make the islands a favorite spot for tourists. However, it's also a great place for retirement or residency.
As a British Overseas Territory, the islands fall under the jurisdiction of Britain. Citizenship is difficult to obtain and requires going through various channels to apply. However, you don't need to have citizenship to acquire a temporary or permanent residence.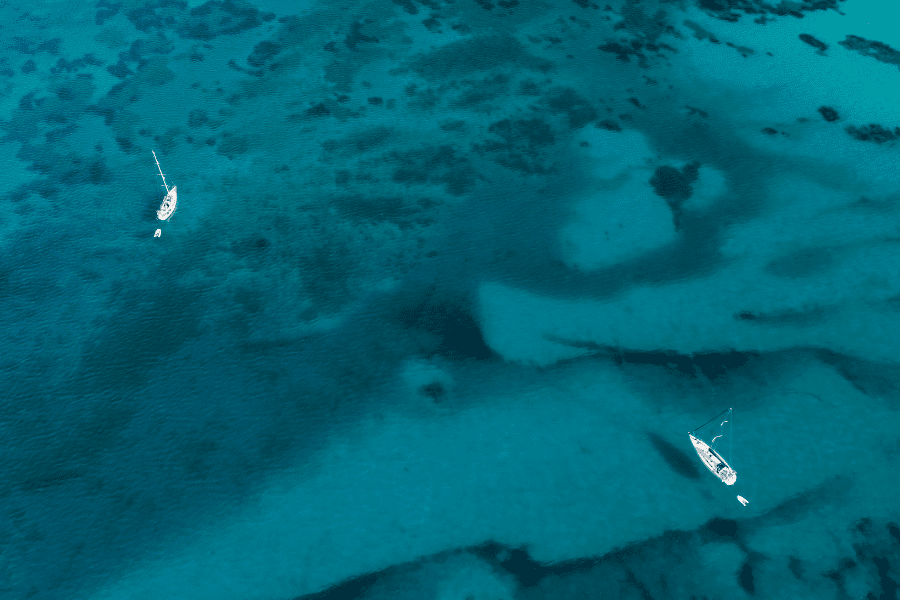 Why Turks and Caicos Islands?
Aside from its natural and cultural beauty, Turks and Caicos has a variety of tax benefits for permanent and temporary residents. Over the past 40-50 years Turks and Caicos has become a hot spot for retirees seeking a peaceful and affordable place to live.
Although, it's not simply a place for retiring. Turks and Caicos Islands have even more opportunities and perks to investors and entrepreneurs.
Investing in land, real estate, or in a business are the best and fastest ways to obtain residency. They're also the best ways to avoid several kinds of taxes on capital gains and revenue.
This is because Turks and Caicos does not charge personal income taxes, VAT, capital gains, real estate, or various other profit taxes.
Besides the monetary benefits of investing in this country, there are other perks to living in Turks and Caicos. The society is very peaceful, with a very low crime rate. Tourism and travel are the two biggest industries on the islands which make most of the island luxurious and laid back.
Thanks to the tourism industry, the islands are always in search of investors to bring wealth and prosperity. This influx of money allows for new building projects as well as maintenance on airports and roadways. In other words, by investing in the area you're creating opportunities for yourself while also providing the area with new capital.
Residency in Turks and Caicos Islands
Residency in the Turks and Caicos Islands is defined under the rules of a British Overseas Territory. As a territory of Britain, the Turks and Caicos Islands are partially under British rule.
However, they enjoy autonomy in many areas, including immigration and tourism. The goal of immigration for the islands is to encourage growth to the economy and assimilation to the local culture.
While you can obtain residency through marriage or staying on a ten year visa, these aren't the methods we recommend. Residency by investment is the best way to get a residency on the islands because it's the quickest and most straightforward, while also affording you with some lucrative investment opportunities.
Permanent Residence Certificate
Other than having spent ten years legally residing in the Turks & Caicos, you can get your a Permanent Residence Certificate in one of three ways:
We've already touched on each of these residency varieties, but we'll dive into them in more detail below. While these aren't the only methods of attaining residency, they're the best way if you have the means to invest.
We'll also give you details on obtaining a work and temporary residency permit.
Residency By Investment in Business
Residency by business investment involves investing in a local business or opening a new business on one or more of the islands. Since Turks and Caicos seek to advance local development and financial opportunities, they prioritize such investors.
To get the ball rolling on this process, start by determining where you're looking to invest. Investing in business includes providing proof that you're employing local workers and that your investment exceeds the designated amount.
If you're investing in one of the following regions, you must show proof of an investment of $750,000.00 or more:
Salt Cay
Grand Turk
Middle Caicos
North Caicos
South Caicos
If you wish to invest in any other islands or regions, you must demonstrate that you invested at least $1,500,000.00. Since tourism is one of the biggest industries of the islands, you might want to consider investing in hotels and other tourist attractions.
Once you have this all lined up, you'll need to demonstrate that you're of good health and moral character. This can be done by obtaining a police certificate, a medical certificate that's no more than 6 months old, and a letter from two references who vouch for your character.
Last, obtain a certificate of undertaking from the governor. Once you have your investments in order and all your documents arranged you can start your path to residency.
Residency By Investment in Real Estate
One of the goals for Turks and Caicos Islands is to promote improvements to their national infrastructure. By granting residency to individuals willing to invest in the local economy, the goal is to encourage real estate development and growth.
Turks and Caicos Islands seek individuals who are able to invest up to $300,000.00 in real estate and development. Some of the projects that fall under this category include:
Buying a home worth $300,000 or more
Investing $300,000 or more in real estate development (building projects or improvement projects to existing real estate)
Renovation projects
These rules and rates apply to the Island regions of South Caicos, Middle Caicos or North Caicos, Grand Turk, and Salt Cay. If you wish to invest elsewhere, you must invest at least $1,000,000.00.
Before applying for residency, ensure that you have the property valuation either before or prior to investment and a certificate of occupancy.
Residence By Investment in a Public Project
Similar to real estate investments, investing in a public project helps improve the infrastructure and well-being of the island's residents. Public projects usually include providing financial assistance in building things like hospitals or schools.
You'll need to get a police certificate, medical evaluation, and two reference letters vouching for your character. You'll also need to present a certificate of undertaking from the governor and the meeting minutes approving your participation in the project. The investment must be at least $1,000,000.00.
Temporary Residency Permits
Individuals of independent financial means or an outside income who make a qualifying investment in a home or business in the Turks and Caicos Islands may qualify for a temporary residence permit that can be renewed annually. The minimum level of investment to qualify for temporary residence is as follows:
On the island of Providenciales or West Caicos: $500,000
On any other islands in the Turks & Caicos: $250,000.
Work Permits
Foreign nationals offering skills required for a job with a business in Turks & Caicos that cannot be filled locally are often granted a work permit for a period of one to two years which may be renewed after that.
After ten years of uninterrupted residence in the Turks and Caicos with a work permit, foreign workers may apply for a Permanent Residence Certificate (PRC).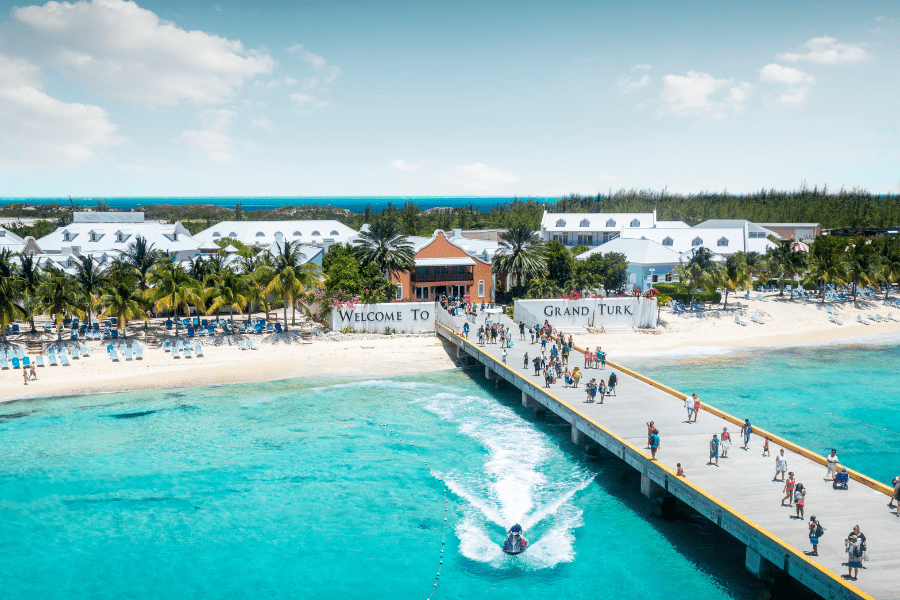 Considerations
Economic growth accelerated in Turks and Caicos from the mid-1980s and onwards. Lush North Caicos and secluded South Caicos began to flourish as exclusive destinations for tourists.
If you're an affluent foreigner looking for an opportunity to grow your wealth and save on taxes, then Turks and Caicos Islands are worth consideration.
Permanent residency secured by business investments can secure British Overseas Territories Citizenship (BOTC). Turks and Caicos Islanders, are automatically granted British Overseas Territory Citizenship.
BOTC grants holders voting rights in the country and runs for government office.
Your partner and children need their very own PRC to apply for BOTC. When a child reaches 19, their endorsement expires. Remember to disclose a dependent on your initial application for a PRC. Otherwise, they will not be endorsed on any subsequent applications. You and your children may need a DNA test to confirm paternity.
Conclusion
Turks and Caicos offers alluring tax break opportunities for foreign investors. By investing a portion of your wealth up front, you can save thousands of dollars in taxes going forward.
The main selling point here is low taxes. So if you're paying let's say, $300,000 a year in taxes currently, with the very real prospect of that amount rising higher in the future, then Turks and Caicos makes sense, because it essentially pays for itself in three years.
That said, at $1 million, we do feel the price is quite steep, especially if you consider that you could also use that money to gain Maltese citizenship, a low-tax EU member state with one of the world's best passports.
This is why it's always good to get the right advice to help you consider your options.
At Nomad Capitalist we believe in helping our clients get the most out of their investments and wealth. We help our clients find the best place to live where they'll avoid unnecessary and excessive tax and regulations.
Let us help you find the place where you're treated best. Contact us today to get started.
Turks and Caicos Islands FAQ
What Currency Do They Use In Turks And Caicos?
The United States dollar (USD) is the official currency of Turks and Caicos Islands. There are no foreign exchanges on the island so you must exchange your currency before arrival.
Is Turks And Caicos A Territory Of The U.S.A?
No, Turks and Caicos is a territory of Britain, however it does use the U.S. dollar as the currency of the islands.