This article will walk you through the critical steps involved in obtaining a Bolivian residency, as well as the associated costs and available visa options based on individual circumstances.
Additionally, we will highlight the many advantages of Bolivia, from its rich culture, affordable cost of living, to its diverse investment opportunities.
Bolivia presents attractive opportunities for location-independent entrepreneurs, investors, and world travelers looking for a unique destination in South America. That's why we've put together this guide on how to obtain a Bolivian Residency.
At Nomad Capitalist, our goal is to offer you a complete understanding of the steps, prerequisites, and advantages of acquiring residency in Bolivia, a mesmerizing country.
If you're considering Bolivia or other countries where you're going to be treated best as your future home, we welcome you to accompany us on this adventure. Contact us at Nomad Capitalist today. Our team is committed to turning your global lifestyle and financial goals into a reality.
Bolivia: An Overview
Located in South America, Bolivia is a nation that boasts a distinctive combination of various terrains, cultural richness, and investment and expat prospects. The country's population is at around 11.6 million people. This makes Bolivia the 81st most populous country globally.
It also spans an impressive 1,098,581 square kilometers (424,162 square miles), making it the 28th biggest country in terms of land area.
La Paz serves as Bolivia's administrative capital, while Sucre serves as its constitutional capital. Both cities are recognized for their rich history and architecture, as well as their economic and cultural significance.
Bolivia's economy is fueled primarily by natural resources, agriculture, and manufacturing. Its key industries include mining (especially silver, zinc, and tin), natural gas production, soybeans, and textiles.
With a GDP of around $41 billion in 2021, the country has seen modest growth in recent years.
Bolivia offers two compelling features for those considering residency. First, the cost of living is significantly lower than many other countries, with affordable housing, food, and transportation options. This makes Bolivia an attractive option for those seeking a comfortable lifestyle on a tight budget.
Second, Bolivia has a relatively simple and accessible residency process, with several visa options tailored to different types of applicants, such as investors, retirees, and remote workers.
What Are the Benefits of Becoming a Bolivian Resident?
Bolivia is one of the most reasonable countries to relocate to. We identified its largest city Santa Cruz de la Sierra, as one of the best places to live with $1,000 per month. It's the ideal base if you want to become a permanent resident, and real estate is cheap. After meeting tourist visa requirements, you might want to stay indefinitely. That requires an altogether different kind of visa.
Tax-Free Residency
Bolivia taxes individuals only on their Bolivian-sourced income, regardless of nationality/residence. Income from goods/assets located or utilized within Bolivia and performance of any activity is interpreted as Bolivian-sourced income.
No Bolivian taxes are imposed on foreign-sourced income obtained by individuals. Bolivia doesn't have any local taxes on personal income.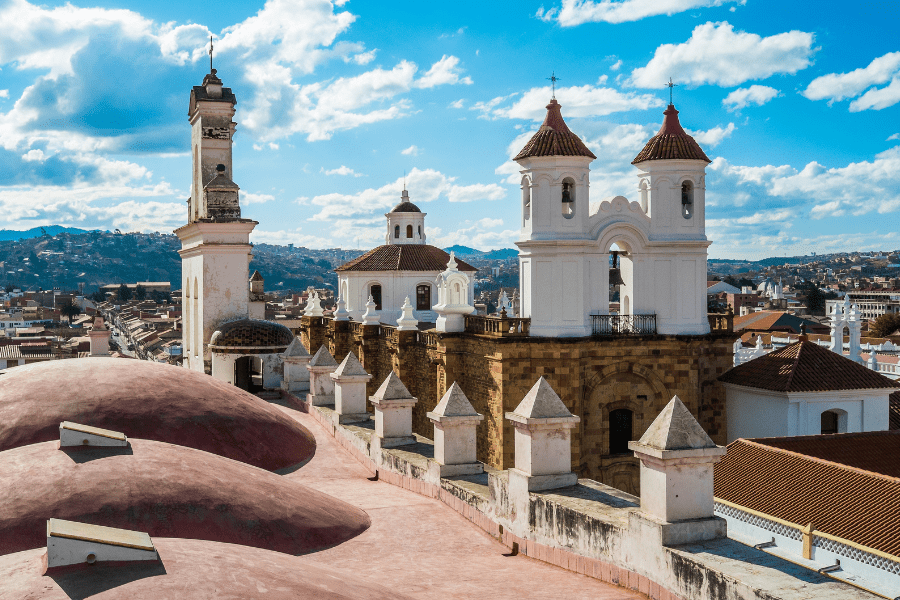 How Do You Get Residency in Bolivia?
You are allowed to visit Bolivia without a specific purpose visa for up to 90 days annually. If you are planning on staying in the country for more than this period, you must apply for a Bolivia tourist visa from a Bolivian Consulate before arriving in Bolivia.
Upon entering Bolivia, you will be issued an entry stamp allowing you to stay for 30 days, but this can be extended up to a maximum of 60 additional days, thus allowing a total stay of 90 days. You can visit the Bolivian Immigration Office to request the extension.
Passports are required to be valid for at least six months from the date of arrival to enter Bolivia.
Tourist visas are temporary residency visas. A temporary visa is like a student visa.
You can get a specific purpose visa with a letter of intent from the company or organization.
Acquire a temporary stay visa with a valid passport, a visa for a specific purpose, a work contract, a criminal record certificate, proof of address, an application for temporary residence, and a letter to the under-secretary of Migration. You can obtain a visa for indefinite residence under specific conditions.
There are three main routes to residency in Bolivia. If you want to upgrade from a temporary residency visa to a permanent resident visa, you should consider business investment immigration.
1) Obtaining Residency in Bolivia Through Real Estate
There isn't any fixed amount for this type of investment. You can find urban land and properties ranging from $10,000 to $1,000,000.
Restrictions regarding foreigners buying real estate include excluding purchases in all rural areas and within the 31.1-mile-wide (50.03 kilometers) frontier band of the country. Only citizens can purchase properties in the Bolivian countryside close to its borders.
You'll need to enter Bolivia to sign the contract or send a notarized letter explaining a power of attorney.
2) Residency in Bolivia Granted Via Company Incorporation
You can incorporate three different types of companies in Bolivia. This can be a Limited Liability Company (LLC), Corporation, or Branch.
You can be a partner with a company in Bolivia and invest there. But if you want to be a company representative, you will need a residence registration.
The company needs to be operational. You can't own an LLC in Bolivia as a sole shareholder. You must have other shareholders. They can be nominees or de facto shareholders.
An LLC in Bolivia will require the foreign national to pay 37.5% corporate tax.
If an LLC company has two partners, it is better if the Bolivian partner has 90% ownership of the company and the foreign investor has the remaining 10%. With this structure, it's possible to reduce or eliminate corporate taxes.
There needs to be proof of companies holding annual meetings of shareholders.
A registered legal firm must be retained for an address, paid by the company on an annual basis, for an office that can receive litigation or another legal process on behalf of the business.
There is a legal obligation to file accounts every year. Consequently, there is often a requirement to have these accounts audited.
3) Immigration by Investment in Accidental Society
A temporary joint venture, also known as an Accidental Society (Sociedad Accidental) in Bolivia, is a commercial business arrangement between parties for a specific project or investment.
Choosing this option won't provide residency for those who remain outside of Bolivia. According to legal experts, this can be a challenging path for foreigners as it necessitates legal representation and tax obligations.
However, one noteworthy advantage of this type of company is that it's exempt from corporate taxes.
For instance, a law firm provided an example where foreign investors contributed $200,000 to real estate without needing to reside in Bolivia. In these cases, they only invest in the property and don't receive residency.
The primary goal of this company structure is to invest in real estate or agricultural properties.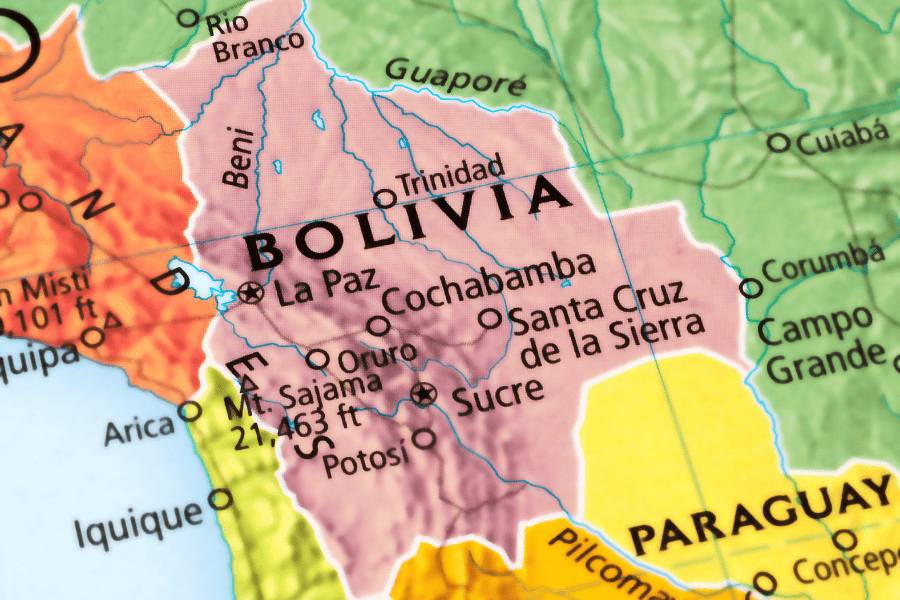 Required documents for these visa applications include the following:
Criminal record from your country of origin or from the place where you have lived for the last six months that must be apostilled
Health certification, especially if arriving from a country that has yellow fever or other kinds of illness
Proof of economic solvency via a bank statement
Red background photo
Notarized letter confirming the request for a visa for a specific purpose.
After the documents are submitted, you need to do the following:
Go to the Bolivian Immigration Office and obtain the Bolivian Foreigner's Identity Card (cedula de extranjero)
If you are in La Paz, the process will take eight days Factor in a couple of days more if you are outside Bolivia
You obtain a valid residence visa
The application process continues to be relatively smooth as the next day, you go to the National Service of Identification and claim your ID card
You acquire permanent residence after two years of living in the country, and during that time, you cannot be out of Bolivia for more than 180 days
You can then renew this residency for a further two years with a valid passport.
After three years of living in Bolivia, you can become one of the country's citizens.
Ensure you receive entry and exit stamps from the Bolivian authorities every time you enter or leave Bolivia.
If you obtain the Bolivian visa at a land border or an entry port and lose your passport, you will need to get a new visa and fork out a visa fee of $160 US to leave the country.
Suppose you acquired your Bolivian visa at a Bolivian embassy or consulate in the United States and lost your passport. In that case, you will need to get an exit stamp, but you do not need to pay the visa fee.
Conclusion
Bolivian residency offers an attractive option for location-independent entrepreneurs, investors, and global citizens seeking a diverse South American experience. Bolivia's strategic position, rich culture, affordable living, and accessible residency options make it an attractive destination worth exploring.
We hope this guide has shed light on the process of securing Bolivian residency. As you set out on this exciting path, keep in mind that individual circumstances vary, and thorough research is vital to understand the specific requirements and regulations applicable to your situation.
Seeking assistance from legal experts and professionals will ensure a seamless and successful process.
At Nomad Capitalist, our goal is to guide you toward the best global opportunities. We provide an extensive range of resources, expertise, and tailored advice to support your international aspirations.
Contact us today to discover more about our services and how we can assist you in realizing your dreams of living and investing abroad where you're treated best.
Bolivian Residency FAQ
Is Dual Citizenship Allowed in Bolivia?
Yes, Bolivia permits dual citizenship.
Its constitution guarantees that Bolivian citizens who acquire foreign citizenship do not lose their nationality.
Equally, those who acquire Bolivian nationality are not required to renounce their original nationality as new Bolivian citizens.
Why Shouldn't You Progress From a Tourist Visa to a Two-Year Resident Visa?
A definitive visa appeals less when you discover that the Bolivia passport is not in the top 50 of our Nomad Passport Index ratings. You may be able to enter Bolivia with this passport, but it only gives you visa-free travel to 34 countries. So the visa application process might not be worth your time or trouble.
What is the Cost of the Various Visas?
Bolivian embassies charge $50 for a student visa.
A tourist visa for multiple entries to Bolivia during a 30-day stay in the country involves a Bolivian embassy fee of $160.
The two-year resident visa application has a cost of $560.