How do you claim citizenship by descent in Albania? What treasure will you find in your family tree?
If you are concerned about the quality and quantity of education and healthcare options in your home country, you may be more impressed by what Albania has to offer. You'll find the state offerings more extensive. Could Albania provide the new start you and your family are looking for?
Why Albania?
There are several factors that make an Albanian passport a prize. Some of the reasons to opt for an Albanian nationality adopt are historical, and others are more contemporary.
The Albanian government has instigated reforms to aid its economy and accelerate the country's ascent to acquiring European Union status. Albanian citizenship looks set to become more of a commodity.
Where is Albania?
Albania is situated in the western Balkans, in the southwest of Europe.
It borders Montenegro, Kosovo, North Macedonia, and Greece. Fifty miles across the Adriatic Sea lies Italy.
Albanian citizenship allows you to position yourself strategically. The Republic of Albania is a land where the West meets the East and Albanian citizenship will allow you to enjoy the best of both worlds.
The Republic of Albania is mountainous with ranges including its very own Alps. One-third of the country is carpeted by dense forest.
Tirana, the capital, was named European Youth Capital in 2022. The city celebrated its first Digital Nomad Conference in September of that year. Acquiring Albanian citizenship appeals to nomad capitalists attracted to flag theory and the world of perpetual travel.
As an Albanian national, its home soil will be more accessible. Where will you explore first?
How to Apply for Albanian Citizenship by Descent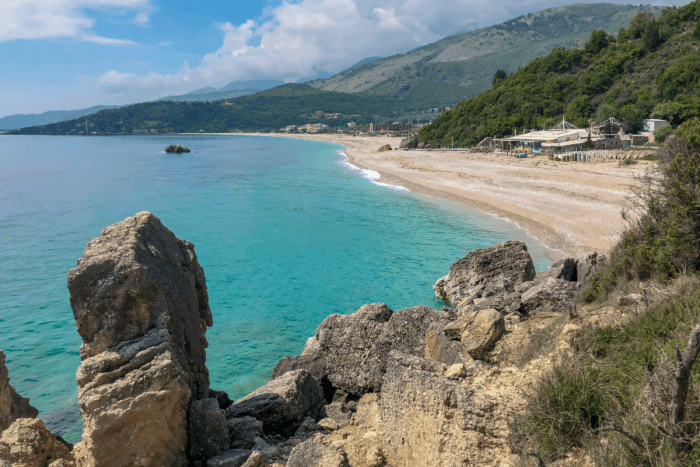 Suppose you cannot become an Albanian citizen by birth or are unwilling to attain Albanian citizenship by naturalization, having lawfully resided in the territory of the Republic of Albania for a minimum of five years. In that case, there is an alternative to securing Albanian nationality. You can obtain Albanian citizenship by descent.
Becoming an Albanian citizen is relatively easy. The procedure is similar whether you opt for Albanian citizenship by naturalization or descent and there are four stages.
Stage 1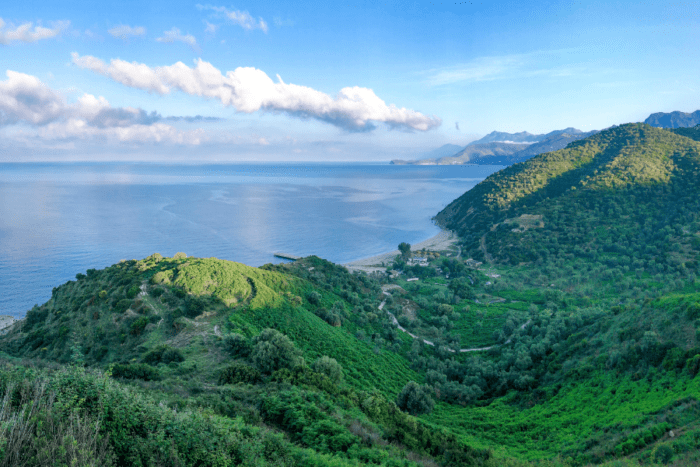 Residence
You have resided legally in the territory of the Republic of Albania. Under the terms of Law No. 8389, 05.08.1998 "On Albanian Citizenship," applicants, who need to be 18 and over, must have lived legally in Albania for three years. This is reduced from the standard five years for those who seek Albanian nationality by other means.
Parentage
You can prove Albanian origin from at least one Albanian parent up to the second generation with birth certificates to help you secure Albanian citizenship. A child acquires Albanian citizenship if both parents are of Albanian nationality.
Property
You own or rent a property.
Means
You can demonstrate that you have sufficient financial means to support yourself if you choose to live in the Republic of Albania.
Criminal Record
You can confirm that you have spent less than three years in prison for penal crimes rather than political offenses.
Language Skills
You have mastered at least basic knowledge of the Albanian language to be granted Albanian citizenship.
Stage 2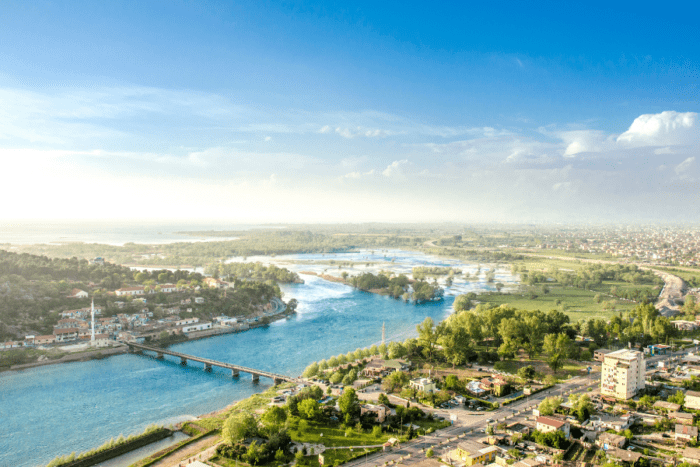 If legally residing in the territory of the Republic of Albania, apply to the regional police station where you live or are registered.
If you're in another country, you can apply through your nearest Albanian consulate or embassy. Every consulate or embassy of Albania abroad will be able to field your application.
Pay the €30 Albanian citizenship by a birth application fee.
Stage 3
Your application to become an Albanian citizen passes to the Republic of Albania's Ministry of Internal Affairs.
The MIA has a six month deadline to evaluate your application.
If you have been unsuccessful in your application to become an Albanian citizen you can appeal in the district court of Tirana, the capital of the Republic of Albania. If you win your appeal, you will move on to Stage 4.
Stage 4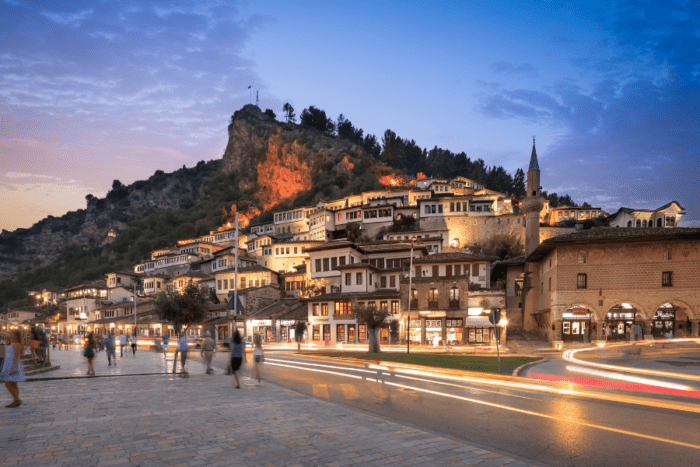 Before six months have elapsed, the MIA will rubber stamp your Albanian citizenship application.
The President of the Republic of Albania issues decrees to new Albanian nationals.
The President will send out the decree within three months of being informed by the MIA that you wish to be granted Albanian citizenship.
Congratulations! You are now an Albanian national, a citizen of the Republic of Albania.
Go Where You're Treated Best
There are alternative ways of acquiring Albanian citizenship, and were not only talking about citizenship by birth. If you are over 18 and the Republic of Albania has a scientific, economic, cultural, or national interest in you, that is qualification enough.
Nomad Capitalist creates and implements bespoke, holistic strategies for successful investors and entrepreneurs to legally reduce their tax bills, diversify and protect their assets, invest overseas, obtain a second citizenship, and live a more free life globally.
Let us help you to go where you're treated best, whether that be the Republic of Albania or elsewhere. The choice is yours. We can help you if you want to opt for an Albanian nationality or to achieve dual citizenship elsewhere.
Albanian Citizenship by Descent FAQ
What is the Albanian law which relates to Albanian citizens?
You become an Albanian citizen by birth, descent, or naturalization if you follow the rules and regulations established by Law No. 8389, 05.08.1998 "On Albanian Citizenship."
How do I get Albanian citizenship by descent?
You can acquire Albanian citizenship by residing in the territory of the Republic of Albania for a minimum of three years.
You need to prove you are of Albanian origin, with ancestors of Albanian origin going back to a maximum of three generations. Citizenship is only available to those applicants whose parents, grandparents, or great-grandparents were Albanian citizens.
You must share proof of income.
You'll need to show a basic understanding of the Albanian language.
Your criminal record must show that you haven't been imprisoned for more than three years for non-political offenses, as in penal crimes.
Finally, you need to pay a €30 application fee.
Can Albanians have dual citizenship?
Yes. Albanian nationals have been allowed citizenship of other countries since 1992.
Is becoming an Albanian citizen worth it?
Yes. We rate the Albanian passport amongst the 50 strongest in the world. Albanian citizens can enjoy visa-free or visa-on-arrival travel to 115 countries and territories worldwide. 
If you are not a child born to at least one parent of Albanian origin, thereby ruling out citizenship by birth, and you are reluctant to get citizenship by naturalization, playing the descent card could be a worthwhile investment.
Together with Western Balkans neighbor, Northern Macedonia, the Republic of Albania entered into accession talks with the 27 EU Member States in July 2022. 
The EU President and Czech Prime Minister Petr Fiala warmly welcomed the pair: "Opening of the accession negotiations is a great milestone for Albania and North Macedonia." "I congratulate both countries on this important step and wish them a smooth path to the European Union."
When Albania eventually joins the European Union, that passport will become even stronger. This will make Albanian citizenship even more valuable.