Dateline: Yerevan, Armenia
The flight from Tbilisi this morning was a mere 27 minutes; little more than a picturesque climb followed by a descent.
For years, I've been speaking of the benefits of investing in Georgia, and I've put my money where my mouth is, acquiring nearly one dozen properties in the tiny Caucasus nation.
However, even less spoken of is Armenia, Georgia's neighbor to the south.
For over a decade, Georgia had Armenia beat in terms of good governance, and still has it beat in terms of tourism. Georgia's historical wine culture and beautiful sights have caused tourism to see gains of nearly 20% per year, including unfathomable gains from nearby Gulf countries.
But where Georgia excels at tourism, Armenia has a different vibe and a quiet determination.
For years, this was a classic "people outwitting the government" case study, but now the government has changed and people claim to feel rather dramatic improvements after just months. Among people I know here, corruption is said to have dropped significantly.
Armenians were always efficient and globally minded; their diaspora around the world have forced a higher standard of service than anyone would expect from a relatively poor nation of barely three million people. Where Tbilisi is charming, Yerevan is zippy.
The Alexander here in Yerevan is undoubtedly the best hotel on earth at "punching above its weight" and is one of the best-run five-star hotels in the world in my opinion.
That high level of service is exactly why I recently claimed Armenia was the best place in the world to hire virtual administrative talent.
Beyond administrative talent, there has been a quiet movement brewing here in Armenia in the form of a burgeoning tech scene, leading those in-the-know to label Yerevan as "the Silicon Valley of the Caucasus".
While cities like San Francisco, New York, Berlin, and even Tel Aviv have gotten credit for their role in the tech boom, few have mentioned or even heard of Armenia.
But here at Nomad Capitalist, we're all about finding the next big place.
We are always talking about "the next Singapore" – the next big place to bank, hire, immigrate to, become a citizen, or find investment opportunities.
Armenia is a place I've been silently studying and observing for many years now. I found some very interesting opportunities that check a lot of the boxes that I look at when I'm trying to find the places where my clients and I will be treated best.
Georgia and Armenia don't typically get along. So, while I've worked in Tbilisi, I've stayed away from Yerevan and Armenia in general. But in recent years, Armenia has proven that it's an emerging market worth looking into.
In this article, I'll give you a look at many of the things I have been observing, including the Armenian work culture, its tech hub scene, recent reforms, investment opportunities, and even options for foreigners to bank in Armenia.
THE STRONG ARMENIAN WORK CULTURE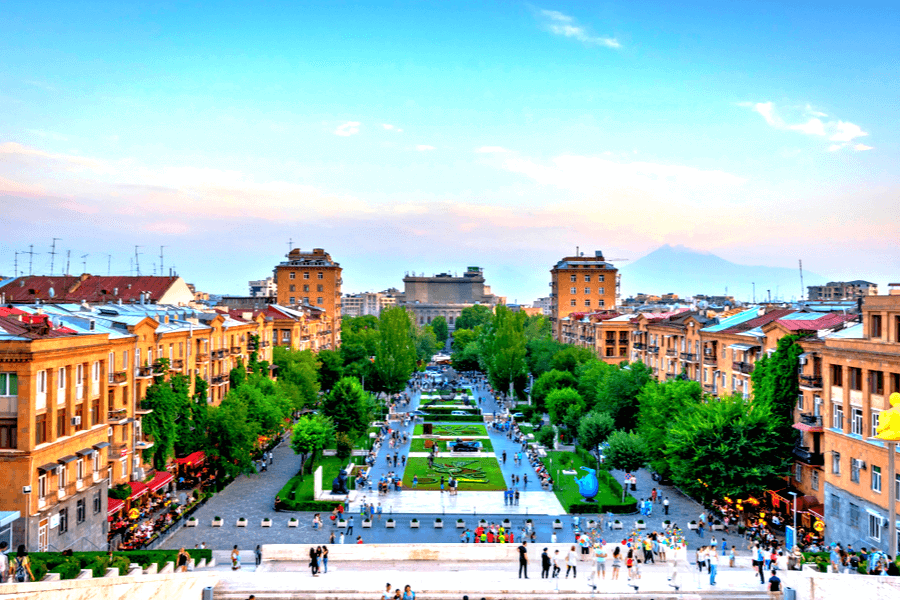 Armenians have one of the greatest work ethics and work cultures in the world, making this tiny Caucasus country one of my favorite places to hire.
I've talked since the beginning of Nomad Capitalist about how culture is extremely important to finding a country ideal for working and investing. You can have all the institutions you need – from pro-investor laws to pro-business policies – but if the culture doesn't work, it's not going to last forever.
What I found in Armenia is one of the strongest work ethics around. Armenians are people who go above and beyond.
When you go to Yerevan, you'll see some of the best shops bustling with activity on North Avenue. You'll see beautiful buildings and a lot going on.
If you come to do business in Armenia, you'll find that things here are fast. Looking at real estate takes a fourth of the time it would in Tbilisi or Baku or even Istanbul.
Things move quickly here.
If you call a guy about buying an apartment, he's going to get back to you quickly, much as you would find in the United States.
One reason for that is that so many Armenians are living elsewhere. There are nearly a hundred countries that have a significant Armenian diaspora – very few Armenians are actually here in Armenia.
They travel the world to places like Paris and Los Angeles. When they come back, they bring with them some of that wealth, culture, and mindset.
And that means that they have high demands of their homeland.
Once you're used to high levels of service in the West, you don't settle for any less when you return to your home country. That positive emigrant attitude is part of what makes Armenia the hardest working country in the Caucasus, and perhaps even in all of Eastern Europe.
More importantly, they're bringing back experience and expertise. That's why, when you go to a restaurant, the service is far better than anywhere else in this region. People are being trained by those who lived in Paris, Los Angeles, and everywhere else to know how it should be done.
You're not going to be sitting around waiting for your water to be refilled or fighting with someone with a grumpy attitude. They know service. That's the culture.
That's why this is one of the best places to hire a virtual assistant. Perhaps not for high-level work, but for operations, for customer service, and especially tech.
In many regards, Armenia could be the best value in the world, even surpassing Belgrade or the Philippines.
It's a great place because the human capital here is really strong.
Armenia's "Silicon Mountain" Tech Hub
Armenia was once the IT hub for the Soviet Union, producing at least one third of the entire Soviet bloc's tech innovation from supercomputers to space tech, to submarine electronics and more.
When the Soviet Union broke apart, the economies of Armenia and many of the other republics became turbulent. Serving as an aspiring tech hub took a backseat to keeping the lights on.
Today, things are back on track here in Armenia.
While the country's economy is growing at a paltry 2%, the tech sector is growing at an annual rate of 20%. There are roughly 500 tech firms in the country that bring in at least half a billion in revenue every year.
The country's skilled workforce will no doubt play a large part in the growing tech scene as companies like Microsoft and Intel have already taken interest in Armenia's talented tech labor pool.
The government is also taking part in promoting itself as a hub. It's always nice to see governments competing to attract tech talent and tech companies to their borders. My libertarian approach suggests that the government won't be the driver of growth, but I like the pro-business attitude that is becoming more prevalent.
As we say here at Nomad Capitalist, "Go where you're treated best."
While the country as a whole wasn't always as pro-business as it is now, the government has prioritized technology investments as a way to create high-paying jobs in the IT sector. In a country where the average wage is less than $400 per month, proper education and creating good jobs is important.
The biggest challenge I see in countries like Armenia is the rampant desire by anyone intelligent to move to the United States. Here, Russia is seen as a friend on a geopolitical level, but many new tech companies seem to be moving into the US market.
On a business level, it makes total sense; however I always caution that a desire to kowtow only to western markets is hardly progressive.
That said, Armenia's tech scene is full of start-ups and developers making everything from laptops and smartphones to award-winning apps and artificial intelligence.
It is certainly a tech hub worth your consideration. You might even consider locating your startup in Yerevan.
REPUTATION AND REFORMS IN ARMENIA
Here's the rub. Up until recently, Europe and the rest of the world have said that Armenia has had a problem with corruption. They believed the country wasn't as strong as it should be. The human capital was there, but the institutions weren't.
Recently, a pro-reform government came into place. I was here when it happened and literally, two days later, young people were saying you could already see the improvements.
Two weeks later, things are really changing.
Young people who are looking to the West want to be part of the developed world and Armenia seems to be making the changes they want.
They're saying these changes are happening very quickly. Things are moving better. The government seems to be more efficient.
Now, this Armenian government is becoming a bit cozier with Georgia. They're moving in that direction.
Armenia historically has been very tied in with Russia and I expect that will continue but what I think is going to happen is more ties to Europe.
They're looking at visa-free travel. That's a positive sign as it shows that Armenia as a country is progressing.
Despite recent conflicts with Azerbaijan over the Nagorno-Karabakh region, my experience investing, banking, and hiring in Armenia show that, as a whole, the country is heading in the right direction.
INVESTMENT OPPORTUNITIES IN ARMENIA
Beyond business investments and high-interest banking opportunities, Armenia is a great emerging market to look at when investing in real estate.
While Armenia is not the cheapest place in the region to buy property, it's still pretty cheap. I'm looking at places for $1,200 to $1,300 per square meter.
That's pretty darn close to my dirt-cheap metric. (My definition of dirt cheap is real estate for $1,000 a meter in a desirable area, like a city center.)
I would recommend investing in Armenia over a has-been western country like Spain or Italy, where you are going to have to deal with many more laws and regulations.
Armenia does not currently have a citizenship by investment program (although the previous government had one all but ready to implement before the new administration took office), but if you are looking to get an Armenian passport for your passport portfolio, they do offer citizenship by descent.
FOREIGNERS WELCOME TO BANK IN ARMENIA
I've talked for years about Georgia as an easy place to open a bank account. There are plenty of opportunities to bank in Armenia as well.
What's actually interesting about this part of the world – Georgia, Armenia, Azerbaijan – is that these countries have been increasingly open to foreigners opening bank accounts.
One reason these countries are so open on a regional level is that none of them are members of the CRS, the Common Reporting Standard.
I want to be very careful when I tell you that. This is not an invitation to not report any bank accounts in your home country. I don't recommend that. But what it does mean is that these countries have a certain amount of privacy because they're not signed up with this information-sharing agreement.
This means that they require less paperwork from you and that, on a national level, they're more open to accepting foreigners because the banks don't have to deal with the same compliance rules that banks in other countries do.
Armenia has been open to foreigners opening bank accounts for some time. And there looks to be even more promise with the government reforms, as they are becoming more pro-western, more pro-foreigner, and more pro-investment.
HIGH-INTEREST BANKING IN ARMENIA
Two of the bigger banks in Armenia – including Evocabank – are relatively easy to deal with. They have plenty of branches all over Yerevan and offer very high-interest rates.
These larger banks have a 9 to 10% interest rate. That's one of the best interest rates in the world.
Additionally, these banks carry multiple currencies. You can bank in US dollars, euros, and even in Russian rubles.
If you have some kind of exposure to countries that use the Russian ruble or you have people who want to be paid in rubles, this is a place to do it. It's perhaps the easiest place in the world out of a limited number of countries that offer ruble exposure.
There are other banks that are a bit easier to deal with, but they aren't as prevalent or online savvy. If online banking is a priority for you, Evocabank has been incredibly focused on building a really sexy online interface. It's very millennial-focused so it's young and fun. It's a decent bank to take a look at.
In general, Armenia is on the upswing but you still have the ability to get into it easily.
It's easy to open an Armenian bank account, you can come, bring your passport, tell them why you want to open an account, bring your one dollar (there's no minimum deposit), and you have an account. You come back the next day, you get your debit card, and you get your online banking access.
You can open an account on a tourist visa and immediately start moving some of your money there. Use this as a tunnel, as a place just to put a bit of money. If you have to report it at home, make sure you do that.
We've looked at the Armenian dram against the dollar over a three year period, it was basically flat. So if you're bringing your US dollars, there's historical evidence that it's going to be safe.
Who knows what happens going forward? But this is not exactly a currency that has been collapsing as have some of the other former post-soviet republics.
BEGIN WITH A BANK IN ARMENIA
If you are wanting to get into the overseas world, this is how to begin. Use Armenia as a place where you can start getting exposure.
Perhaps you want to capitalize on the fantastic tech talent or hire other hard-working Armenians to build your team.
But if you are just taking your first step toward living life as a global citizen, my suggestion would be to begin with a bank in Armenia.
When you come to Armenia to open your bank account, you'll start to think about what else you could do here. As this economy is growing, should you be investing in real estate? Should you go to Georgia?
Perhaps you could invest in Turkey and get a second passport.
It's a great starting-off point.
If you are ready to start your life investing, working, or living overseas, contact us to help you design and execute a holistic offshore plan.