Reporting from: Ha Noi, Vietnam
Some people are willing to forgive anything the government does.
While I tend to avoid engaging with a lot of tourists while I travel, I happened to end up having lunch next to a couple of Americans the other day. Amazingly, things got political rather quickly, and we ended up discussing the NSA spying scandal.
To my intrigue, one of the women in the group said, "It's not like they've actually done anything with the information. I don't see what the big deal is."
Apparently she's never visited the Hoa Lo prison here in Hanoi, just a few minutes walk from our lunch in the Old Quarter's lavish Metropole Hotel.
The Hoa Lo prison has a storied history. Known colloquially as the Hanoi Hilton for its role during what's known here as The American War, it was decades old by the time the US government decided to do what it does best (in case you didn't know, the answer is "meddle").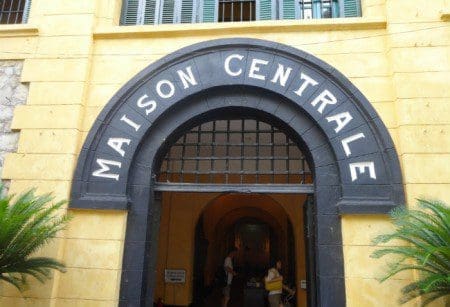 In the late 19th century, when Vietnam was part of French Indochina, French imperialists had a problem on their hands. Specifically, a Vietnamese push for independence. Not wanting to give up their grip on the region, the French built Hoa Lo to house dissidents and independence-minded political prisoners.
Named after a nearby street that sold ovens (remember that streets in Hanoi are named after foods or goods sold on them), Hoa Lo can be translated as "fiery hell".
Just what the French needed to lock up those who spoke out against their imperialism.
But when the French got the boot, the communists in Vietnamese turned the tables and made Hoa Lo a political prison of their own. It goes to show things can change quickly, and the result may not be pleasant.
When it comes to the current surveillance state in The Land of the Free, things can only get worse. Just a few years ago, American conservatives were giddy over the idea of wiretapping the phones of US citizen "terrorists". As the old saying goes, if you have nothing to hide, you should bend over for a tyrannical government just for the hell of it.
A few years later and with a new ruling class calling the shots, these same surveillance state lovers are amazed that their beloved government has come back to haunt them. They don't like it. They forgot that government tends to only get bigger, and a new leader taking power is a perfect way to deprive the citizens of even more liberties.
Or to turn the tables.
Despite promises from Big Government that only "terrorists" would be spied on, the average American is now in the crosshairs of a huge surveillance state that promises to give the government almost unlimited amounts of information on them.
Yet some, like my lunch partners the other day, still don't seem to care. They don't understand that once the infrastructure in place, anyone can come in and ramp it up with the push of a button. It's happened countless times throughout history.
As if today's surveillance state (or military policy, or tax policy) isn't bad enough, it could turn into something far worse than the Soviet Union, which I believe the US largely already is a carbon copy of. Much worse.
This is why you don't give the government any (more) power.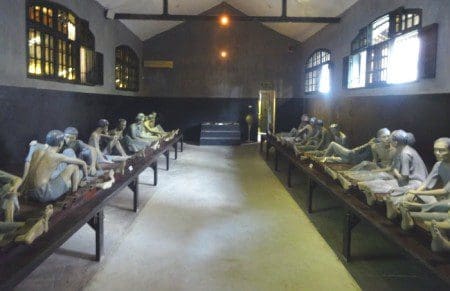 I have no doubt the Northern Vietnamese government would have found someplace to throw American POWs if Hoa Lo hadn't already been built. But the French, in their clamoring to suppress freedom of speech and dissent, gave the Vietnamese a leg up by providing them with a hellish, overcrowded prison to toss their own opponents into.
All it took for the gun to be pointed in the other direction was a change in power. The government the average westerner trusts with their life today could well be the one that takes that life tomorrow.
Interestingly enough, Hoa Lo is a great monument to government propaganda. Photos of Americans happily playing cards adorn parts of the museum, which focuses on the plight of Vietnamese dissidents under French colonial rule.
Of course, if the US government would have let the free market work and let North Vietnam run a miserable communist government without interruption, things would have been different. As much propaganda as Vietnam cares to put out about the war, it's hard to beat the United States in that department.
In a recent conversation with an American friend of mine, he asked about my time in Hanoi and how many elements from the war were still on display. When I asked why, he said, "perhaps the Vietnamese government is embarrassed or wants to hide some of it."
As if US war propaganda wasn't enough DURING the way, it's still working its way through the culture forty years later.
I replied to my friend with confusion as I explained that monuments like Hoa Lo Prison are here for anyone who comes to Vietnam to see. After all, I said, "they won".