Reporting from: Ha Noi, Vietnam
I almost got killed today.
Actually, I almost got killed a lot of times. If I had to guess, I'd say it was close to 87. Truth is, I lost count after a dozen or so.
Crossing the street in Vietnam is quite the task. It requires laser-like precision and an eagle eye for traffic coming at you from at least four directions. Just when you think it's safe, look the other way and there's a new threat.
Traffic comes from every which way.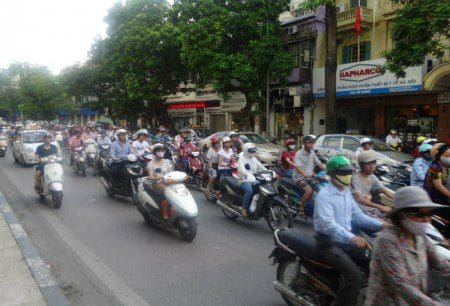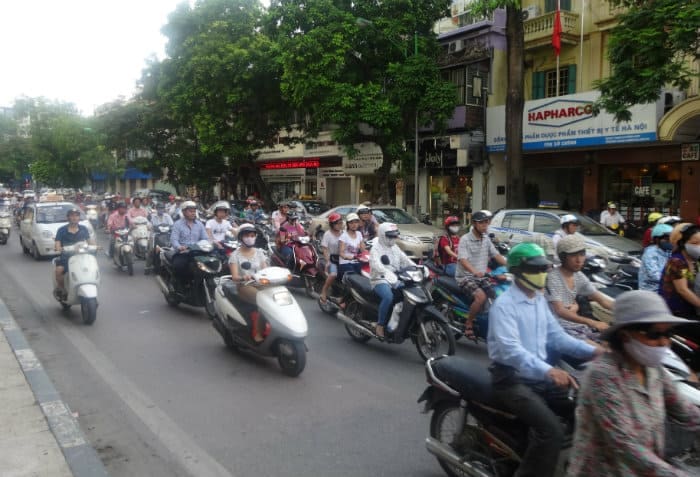 Yet I've found many aspects of Vietnam to be voluntarism at its finest.
While crossing the street in Vietnam takes some getting used to, I've actually been enjoying the freedom that comes with the challenge. Here in Hanoi, there are relatively few traffic lights and fewer crosswalk lights.
It's up to you to determine where to cross and to get yourself to the other side safely. But with that comes freedom from some mindless bureaucrat telling you where you should cross the street, as if he's ordained some heavenly path.
I know people who work for media companies in Burbank, California and routinely get expensive jaywalking tickets for stepping a few feet outside of "the box". In a tribute to police state fascism at its finest, cops there are actually waiting for them. Police make a sport out of seeing who can ticket the most productive people in a day.
One old friend of mine actually got a jaywalking ticket for crossing his quiet SUBURBAN STREET.
Here in Hanoi, the only police I've seen was a decrepit wagon parked off the traffic circle near Hoam Kiem, the main lake in the Old Quarter. I don't make a habit of peering into police vehicles in foreign countries, but I think one of the guys inside was actually sleeping.
In Vietnam, people cross the street where it suits them. If they get hit by an oncoming public bus, there's no suing the city for their stupidity. It's self-reliance as its finest.
Some would argue that living in a so-called third world country (which is actually an outdated term) to be an example of why voluntarism can't exist. They'd argue you're trading safety and security and warm fuzzy bunny kisses for filth and helplessness.
But being responsible for oneself is what voluntarism is all about.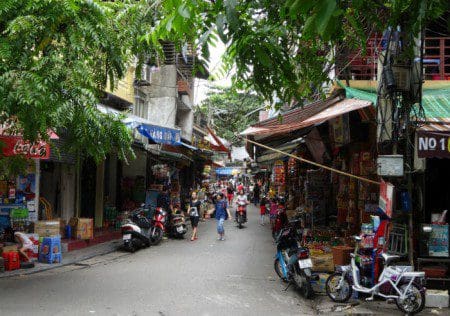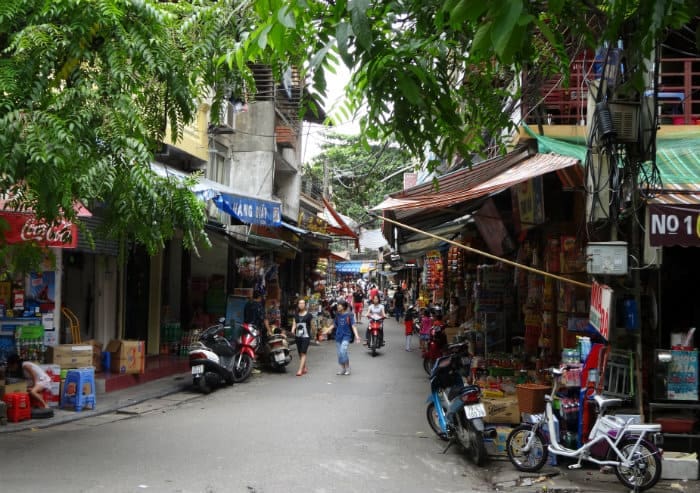 Earlier today, I was walking around some of the street markets north of Hoan Kiem. My hotel is situated just off the lake and I wanted to see local commerce at its finest. I noticed a few things along the way.
For example, when a street merchant had a wrapper or a piece of trash to dispose of, he or she dropped it in a pile on the ground. There are few trash bins here, so that's the most logical thing to do. Every once in awhile, I'd see another merchant using a big broom to sweep all of the trash around their working area into a big pile and putting it into a bag.
Yet I've seen very few people just throwing trash onto the street. Likewise, I've seen few people spitting wantonly the way a Beijing taxi driver would hock a wad out his window. It's not that people are throwing apple cores every which way with total abandon. It's that merchants have their own system for trash that works for them.
There's no trash patrol here handing out BS tickets for leaving a few napkins on the ground for a little while. People can figure out a system that works for them and their neighbors without grief about breaking some stupid ordinance.
For lunch, I chose from a wide assortment of street vendors serving local cuisine. My selections included a freshly squeezed limeade for about $0.50, and a chili chicken baguette for $1.25. Imagine my shock when these vendors had no big sign announcing their letter grade in front of their cart. How was I to know where to eat lunch without the assistance of a big red "A" to assure me of high food standards?
Why, I checked the food itself. Amazingly, I haven't gotten ill yet. That's one better than I can say for my neighborhood sub shop in the United States. Some seafood sensation that was.
You can be sure the western media, which gets lathered up into a frenzy anytime one person gets detained by police or dies in a third world country, would be all over it if there was a rash of tourist deaths in a place like Vietnam. Last year, two Canadian girls made front page news when they died in the Vietnamese beach community of Nha Trang.
Half a million Americans came to Vietnam last year. If thousands of them were coming home in body bags after a bout with bad chicken in Hanoi, you'd know about it.
Bankrupt governments don't want you to think a place with a little grit and a lot of hidden free market could work. It cuts in on their racket.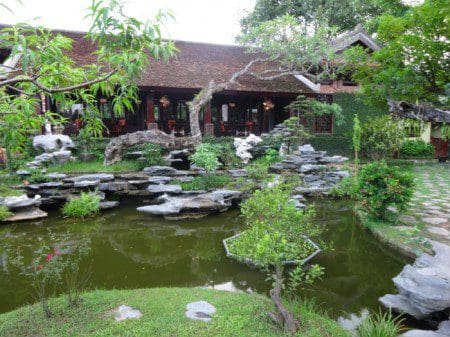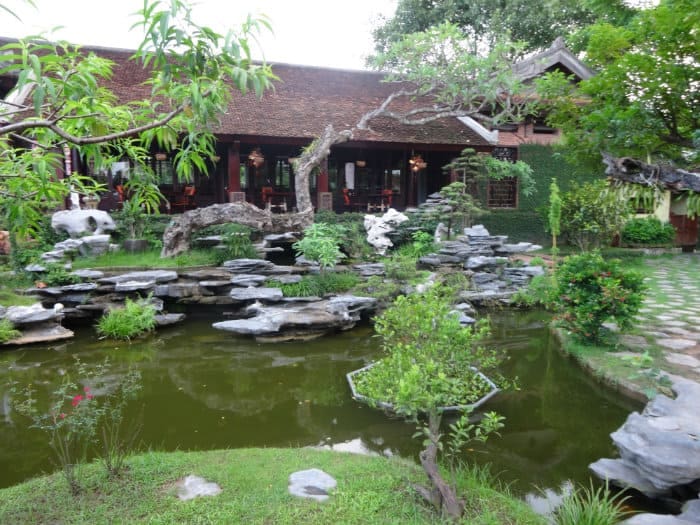 Yesterday, I attended a picnic with a bunch of expats working here in Hanoi. The place had all sorts of western food and drinks for sale. Even – gasp – alcohol. I ended up talking to the DJ there, who said it's somewhat an ad-hoc event. Every Sunday, people just show up on this patch of grass next to an Asian garden. Vendors starting selling things to eat, and the event grew. When I asked about permits, he joked, "where do you think you are?"
While it may sound nice to throw a bash without involving the man, many westerners still think the government will at least protect their stuff. But why bother?
Riding along a motorbike earlier today, I noticed how many motorbikes are parked on the sidewalk. People often walk on the edges of the street to avoid the chaos. Apparently the largely-motorbike riding society has determined that's the best place to park their vehicles.
When my friend and I took her motorbike to the West Lake to take a few photos, she parked it alongside several others and paid 5,000 dong (about $0.25) to a guy who patrolled the stretch of the sidewalk. That guy watched over the motorbikes parked there in exchange for collecting a fee. Somehow, our motorbike was there when we got back.
Who needs the police when you can pay someone a quarter to watch your stuff directly? I've had cars both stolen and broken into in the United States and all the cops could do was shrug. Gee, thanks for making me wait six hours for that. If only I could have taken part in a voluntarist system of property protection, I would have.
I'm certainly not saying Vietnam is the only example of voluntarism in a society of lesser wealth. Certainly, there is some cost to these freedoms, like having to walk over stale water at times, or having kids trying to sell you gum on the sidewalk.
To me, the trade-offs are minor. Standing back at the lake, watching humanity unfold in front of me, it's exciting and inspiring to be part of a society where people move forward with less of a safety net.
There's something about two guys being able to approach me on the street and shine my shoes without having to rent a government-approved space, without having a business license, without having insurance, or without regulations about which way they can shine the shoes or during which hours of the day. None of the hassles that come with a business in the "first world" exist.
It's just a contract between they and I. We agree on a price and terms… or not. It's simple. Honest. Straightforward.
I'll happily trade being able to beg for retribution from some bureaucrat if the shoe shine guys use the wrong color polish in exchange for more freedom any day. The small chance of having to buy another $100 pair of deck shoes is a lot cheaper than kowtowing to Big Brother at every turn.