The minimum wage has been a controversial topic since its invention at the end of the 19th Century. Most economists consider the minimum wage a harmful decision that affects both employers and workers, which we tend to agree with.
At Nomad Capitalist, we believe in a free job market based on supply and demand, and some countries do fit that bill. However, there's not much that you can do if you want to start your business venture within a country with pre-established rules about minimum wages.
However, when you can hire remote workers, it's a different ball game. You can contact freelancers from other countries who might happily work for a lower salary than workers in your country. It's no coincidence that some of the countries with the highest growth in remote workers are the ones with the lowest minimum wage. That's why there's a rising community of freelancers in emerging countries, which is what this article is about.
In countries like Venezuela, Albania, Egypt, Malaysia, Morocco, or even South Africa, the number of freelancers grows every day because it is more profitable for them to get into the international freelance market than getting a regular full-time job at home.
India is a major example of this – 20% of internet workers actually live there. If you want to learn about the best countries for outsourcing, click here.
Nowadays, it's pretty easy to connect with workers around the world. There are many different platforms on which employers and freelancers can contact each other, such as Upwork, and they all work similarly. For instance, if you need a virtual assistant, you simply specify your requirements and the profile that you are looking for. If someone finds your proposal acceptable, then you can get in touch with that person and interview them. Lastly, both parties decide if they want to work together and accept each other's terms.
If you have an internet business or if you are a digital nomad, it might be helpful to know which countries have a high volume of freelancers willing to work with you for a very reasonable salary. I'm not just talking about getting cheaper employees – I'm talking about getting quality work.
The countries that we are about to list might not have the absolute lowest wages in the world, but they are accessible because they have internet access, they are aware of the world, their level of education is good, and part of their populations can speak English.
Egypt
As someone who frequently outsources work to Egypt, I can attest to just how great Egyptians are to work with.
Their minimum wage is about $174 USD per month thanks to a combination of a low cost of living and a highly undervalued currency. It is very low – even for Africa – and many Egyptians are entering the freelance market to be able to earn more money.
Egypt was occupied by the British until 1952, and a high percentage of Egyptians are bilingual and speak English. This simplifies manners considerably for them, and it becomes quite easy for an employer from abroad to communicate with potential workers there.
As a developing country with very ingrained traditions, the older generation was taught that they should find a steady job, grow within it, and eventually collect benefits for their retirement. However, like in many other nations around the world, younger workers prefer to grow their skills as they freelance by finding different – and better paying – projects from different employers. This seems to be working just fine for Egyptians as they get more foreign recognition every day thanks to their hard work, commitment, and level of skills.
My experience with Egyptian remote workers has been very positive so far. It's a country to keep in mind if you need a couple of extra hands for a specific project.
Venezuela
Venezuela actually presents a very interesting situation. This South American nation is resource-rich and has a lot of economic potential, but bad politics and a corrupt government destroyed their economy. Currently, they are facing the worst hyperinflation in the world.
With a devalued currency, many Venezuelans are resorting to online jobs that pay in a foreign currency (mainly USD) because the bolivar is almost worthless to them.
In Venezuela, there's an important workforce of well-prepared professionals struggling to make a living. Seeing this opportunity, many Latin American countries have been outsourcing to Venezuela for years.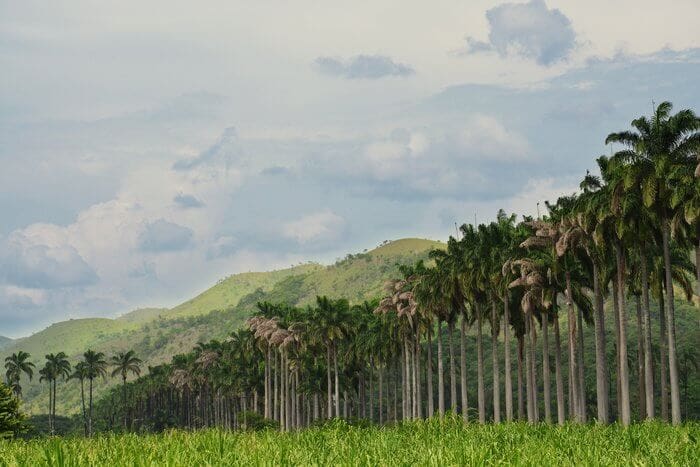 Their minimum wage is hard to calculate because of the currency instability. It's almost impossible for Venezuelans to get any foreign currency at the official rate set by their government, so they have to buy them on the black market. At that unofficial rate, Venezuela's minimum wage is currently under $20 USD per month.
Given that most of us will gladly pay substantially more for graphic design, programming, and other remote work, hiring remote workers in Venezuela seems like a win for all involved.
Albania
I've grown very fond of Albania for a number or reasons. It is extremely well-located geographically; their taxation policies are attractive; and in general, living standards there are very good despite the low cost of living.
Albania went through a difficult crisis during the 1980's, and in 1992, communism fell. The Albanian Democratic Party won most seats in the first general election, which caused things to change in this European nation.
Although much progress has been made, the Albanian economy is still healing from the effects of communism. With an educated population, natural resources, and a good geographic position (as well as beautiful beaches), many countries have their eyes set there because of its huge potential.
Albanians are hardworking people that could become important assets for your business as remote workers. Like in Armenia, Serbia, or Georgia, the percentage of English speakers in Albania is high, and the population is young.
Italy, Germany, and the United States have a major presence in Albania, taking advantage of its low costs and reasonable taxes. Garment and footwear companies began to open factories there since communism ended in 1992.
Albania's minimum salary is also very low for a European country. $210 USD per month isn't enough for many, so it isn't uncommon to see people there with two or three different jobs. That's probably the main reason why there's a high population of freelancers promoting their skills and services to the rest of the world.
Malaysia
Malaysia is well-known for its openness to foreign investments. Offering one of the largest and cheapest labor forces in the world, major companies have decided to bet on Malaysia and its low costs to improve their profitability.
Their minimum wage is $243 USD per month, and job openings are numerous as their young population passes on full-time jobs to find more beneficial opportunities.
Computer science, marketing, graphic design, and business management are some of the main fields in which Malaysians are offering their services to the world through the internet.
Most of them have conversational English down and are used to speaking with foreigners, so there shouldn't be much of a communication barrier. However, some cultural differences do exist, so you should take that into account when hiring remote workers from Malaysia.
South Africa
South Africa is another flourishing market for entrepreneurs and internet business companies to find excellent remote workers.
South Africa's minimum wage is about $277 USD per month. With a population of 50 million people, it doesn't sound that surprising that many of them make a living off of online jobs with employers from abroad, but this is a fairly recent development.
Today, it's not uncommon to see entire offices of freelancers looking for better wages by offering their services online to foreigners. Some of the most lucrative freelance jobs for South Africans are software engineers, sales directors, product managers, account managers, and data scientists.
As an internationally-minded country with deep social and economic troubles, South Africans value their jobs very much, making it easy to find top-tier employees.
This country is also vastly diverse, and South Africans speak a range of different languages. However, English is still fairly common – particularly in major cities.
Morocco
This African nation is one of the few in the world with different minimum wages for different sectors of their economy. In the public sector, the minimum wage is about $310 USD per month, but in the private sector, it is approximately $265 USD. There's not much difference, but since most Moroccans work in the private sector, their salary is very low compared to nearby countries.
As in every other country mentioned in this article, most Moroccans are bilingual. However, the most common second languages spoken there are French and Spanish because of Morocco's geographical proximity to Spain and France. English, however, is taught in public schools, and it's becoming more widely spoken every year.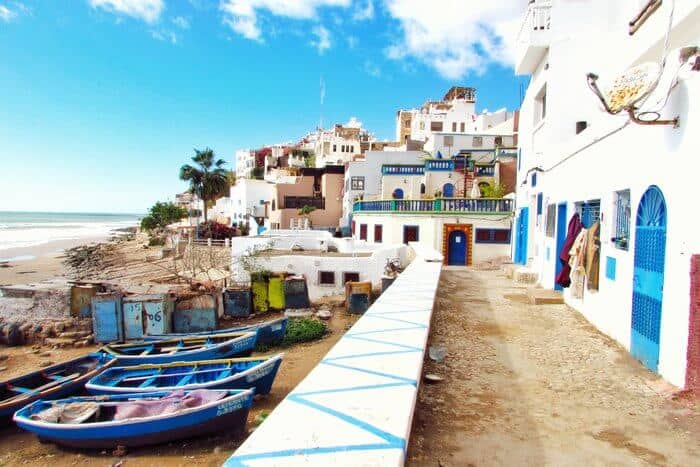 Morocco has one of the best economies in Africa, but in the past few years, its online freelance community has grown considerably. With so many excellent universities, many Moroccans are educated professionals.
Moroccans excel in the hospitality industry, but they also frequently offer their services in marketing, sales, human resources, and engineering through freelance platforms. Freelancing is quickly becoming popular among young Moroccans who are interested in expanding their professional possibilities by working for foreign employers.
Iran
Much like Venezuela, Iran is also experiencing currency devaluation as a result of poor governance practices, and the government has even established official exchange rates as a last-ditch attempt to prevent further devaluation. This has led to the creation of a black market for foreign currency, which sells 1 dollar for 110,000 Iranian rials.
At the official exchange rate, Iran's minimum wage is about $261 USD per month. With the unofficial rate, the minimum wage plummets to $100 USD per month. With Iranians desperate to get US dollars, many of them are turning to the internet, where they can offer their freelance services to foreign employers.
The freelance market in Iran will keep growing as their currency devalues and their economy suffers as a result of US sanctions. However, if you are a US citizen or if you reside in the US, you are legally unable to hire Iranians.
Ukraine
Ukraine is yet another thrilling and promising nation slowed down by corruption and bad politics, but despite its rough past and present, it still has a lot to offer. Today, Ukraine has one of the lowest minimum salaries in Europe at $140 USD per month (slightly more than €110 EUR).
Russia's attempt to intervene militarily in the country in 2014 was a hard hit to their economy, but it triggered a number of unprecedented actions against what's considered the most corrupt post-Soviet government. Luckily, these actions are slowly starting to pay off.
Meanwhile, Ukrainians keep searching for new ways to prosper, and those who decide to stay in their country are resorting to freelancing. A survey of Ukrainians showed that 68% of job seekers want to work from home.
The United States and many countries from Europe are outsourcing to Ukraine. History has shown that hurting economies and social crises make people more grateful and committed to their jobs, and Ukraine is no exception. If you add the fact that Ukraine has some of the most skilled software developers and IT specialists at the moment, it presents an opportunity for foreign businesses of all sizes.
Pakistan
Of the countries on this list, Pakistan has the largest community of freelancers. With a population over 193 million, this Middle Eastern nation offers a massive labor force like India, China, and the Philippines, and they are used to be employed by foreign companies that require many hands to make their products.
Their minimum wage is $113 USD per month, so naturally, Pakistanis have been offering their services online for many years – even before the hype around freelancing started. Many countries have been outsourcing to Pakistan for years, especially in the fields of computer science and software engineering.
Pakistanis claim that it is hard to find a full-time job in their country that pays well in the fields mentioned above. Turning to freelancing is therefore a common thing to do among young graduates.
Another great thing about Pakistan is that over three-quarters of the population can speak English, making it home to the third-largest number of English speakers in the world. That's why many companies from the United States outsource to Pakistani call centers just like they do in India. Pakistan has therefore always been a great option for low-cost telemarketing and tech support.
India
Last but not least, we have India – the country with the highest percentage of outsourced employees in the world.
With a population of 1.3 billion, one of their main exports is outsourcing. We all know that India is famous for its call centers and skills in the fields of computer science and software development.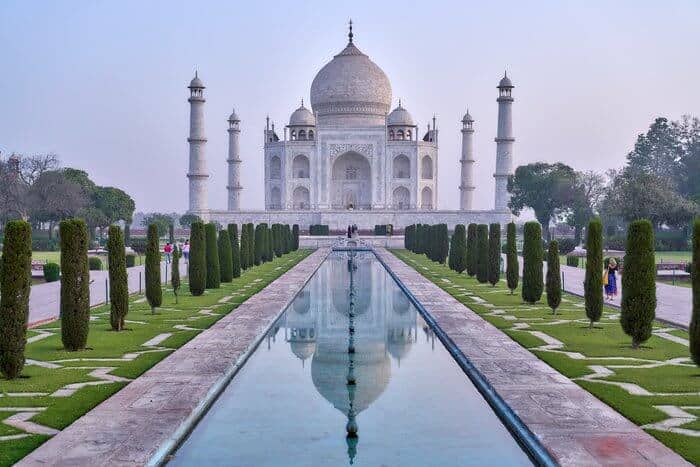 Because English is India's official language, foreign companies have always been interested in working with Indians, and eventually, knowing how to work with other countries became an important part of Indian culture. Although some cultural disconnects can occur, Indians are good-natured and willing to work things out should you accidentally butt heads.
For Indians, freelancing is more of a complement to their regular jobs than a full-time job, but if you offer a competitive salary, you'll have no trouble finding as many remote workers for your business as you need.
Conclusion
Countries with low minimum wages typically have a few things in common – educated, talented, and dedicated people; a low cost of living; and a dearth of high-paying jobs.
Because these low minimum wages have depressed salaries throughout these countries, an increasing number of skilled workers are turning to the internet to find a truly free job market where they can negotiate with employers for competitive wages.
The rise of online freelancing in places from India to Albania just goes to show how a free and location-independent job market benefits everyone.