Dateline: Tallinn, Estonia
If you're a fan of the hit TV show Shark Tank as I am, you'll frequently see the "shark" investors telling entrepreneurs to reinvest their company's profits into their business. Entrepreneurs that take large salaries rather than reinvest in their business are punished.
It's common business sense: when something is working, pump profits back into the company to make more profits.
Along with such advice, it's important to know which is the best offshore corporation that will allow start-ups to hold on to more of their own cash.
We frequently talk about the benefit of having an offshore corporation to protect yourself from unnecessary taxation, or even to pay zero corporate tax. After all, you have the freedom to set up a business anywhere on earth that you'd like.
And setting up an offshore corporation can allow you to pump more of your profits back into your business.
After all, Albert Einstein once said: "complex interest is the eighth wonder of the world." If you've ever heard of the example of a penny being doubled every day for 30 days, you know the power of compound interest and the power it has to make your business go further, faster.
There are many offshore corporations that allow you to per zero corporate tax. However, these corporations are not always suitable for every situation. Companies seeking to raise capital may have a harder time doing so with a $1,000 off-the-shelf Seychelles IBC (unless, perhaps, they're raising capital from India).
For purposes of "business image", a cheap international business company may not be the best choice, either.
If you plan on doing business in Europe, for instance, you'll need things like VAT registration that require a local presence for your company. Certain physical businesses require a different type of "offshore" corporation than, say, an online business.
Zero taxes – Estonian corporation benefits
That's what makes an Estonian corporation an excellent choice for those who need a "real" European corporation, while still maintaining some of the benefits of being offshore.
For one thing, Estonian corporations pay zero corporate tax on reinvested earnings. That means you can reinvest every dollar in profit and pay no tax. You only pay taxes on dividends with an Estonian corporation; unpaid dividends are tax-exempt.
There are a few odd exceptions to this zero tax practice. For example, fringe benefits paid to employees are subject to income tax, as is money spent on business gifts. And if you repurchase shares from a business partner or investor, those shares will likely be subject to Estonian tax, as well.
However, Estonian corporations allow you to reinvest as much of your income from day-to-day operations as you wish.
For any income you do distribute as dividend income, you pay a flat income tax rate of 21%. Estonia has actually managed its fiscal affairs quite well compared to countries like the United States, and corporate tax rates in Estonia have been lowered gradually over the past several years.
In fact, non-residents don't even have to pay withholding tax to the government, meaning that there could be ways to structure your Estonian corporation as a holding company and save even more money. That, combined with Estonia's dual tax treaties with around fifty countries, means your tax rates will be very reasonable.
My colleague and asset protection attorney, Joel Nagel, tells me that there are definite reasons to "pay a little tax", especially if you're running a substantial business.
If you're Google, you set up shop in Ireland and use a "Double Irish Dutch Sandwich" to use Netherlands and Irish holding companies to squeeze corporate tax rates to a couple percentage points. If you're a startup without a team of accountants, an Estonian corporation is an excellent option to pay yourself a small livable salary and let the rest benefit from the wonder that is complex interest.
If your company grows large enough to need further tax savings, you can always establish a holding structure later. Estonia isn't the best place for headline corporate tax rates, but it does offer start-ups an alternative to IBCs.
Your company will grow a lot faster by simply not paying some country like The Land of the Free 35% of your undistributed earnings.
Of course, there are always those who want to abolish the zero tax system, but I don't know that that will happen here any time soon. At worst, I see Estonia making banks pay some small tax on profits that are currently going untaxed.
Setting up an Estonian corporation
Setting up a company in Estonia is easy. There is no requirement to have an Estonian resident or citizen as one of the founders or shareholders. And there are no limitations to who can found an Estonian company.
You just need 2,500 euros in paid-up capital for a private limited company. Government fees are a few hundred euros, and while Tallinn is far and away the most expensive of the Baltic capitals, attorneys here aren't that expensive to hire to help you.
While Tallinn isn't the most vibrant city, either, it has become a mini-hub for entrepreneurship in Europe. In fact, Skype was actually started here before it was sold to Microsoft several years ago.
The US expat entrepreneur in Estonia, Chris Brown, suggested that "because the city is so small, everybody really does know everybody… that really created this huge flow of potential entrepreneurs."
With fewer than half a million people in the capital city of Tallinn, Estonia is indeed small. And that's why it is using the competitive advantage of zero corporate tax to bring entrepreneurs here.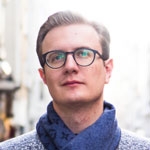 Latest posts by Andrew Henderson
(see all)
Last updated: Dec 29, 2019 at 5:42AM