There are many reasons why you should acquaint yourself with the weakest currencies in the world. You may like to travel to offbeat, budget-friendly locations where you can enjoy the most satisfying exchange rates. Or, perhaps, you would like to monitor these countries for their investment prospects.
In this article, we explore some of the weakest currencies in the world for 2023. This year has seen many bad-performing currencies, and some of the worst-performing ones include the Iranian Rial, the Indonesian Rupiah, and the Turkish Lira plummet to new lows.
Running themes for most of the bad-performing countries are political unrest, reliance on commodity exports, and weak or non-existent monetary policy. In 2023, rising US interest rates have depreciated already vulnerable currencies in some developing economies.
Nomad Capitalist is a turnkey solution for offshore tax planning, dual citizenship, asset protection, and global diversification. Find out more here.
7. Indonesian Rupiah
Long touted as one of Asia's worst-performing currencies, the Indonesian Rupiah has performed poorly on a consistent basis for over a decade.
The rupiah fell 3 percent in the three months to September 2023, the biggest decline since the period ended June 2022. It has since recovered to 1 rupiah buying 0.000064 dollar (or 1 USD equals 15,679 Indonesian rupiah), but longer-term projections do not look good.
Depreciation is an ever present threat. Recently, the IMF warned that a global contraction would put further pressure on the rupiah.
There are many factors contributing to its poor performance; namely its shrinking foreign-exchange reserves and its risk to capital outflows. The low reserves mean that the country's central bank, Bank Indonesia, is unable to protect its currency from rising US interest rates.
The country's capital flow vulnerability arises because overseas investors hold significant amounts of Rupiah sovereign bonds. Tighter monetary policies in countries like the US – where most of Indonesia's foreign investors are based – also do not bode well for the Southeast Asian country.
The country is also heavily reliant on commodity exports which is why, in lieu of falling commodity prices (due to China's economy slowing dramatically over the past two years), its economy is under pressure.
The government is trying to get itself out of its bind by focusing on growing the economy. Some of these measures include relaxing restrictions on foreign workers, cutting taxes, and increasing government spending.
The good news: not a bad time to go to Bali, especially now that they've become one of the easiest countries to visit.
6. Belarusian Ruble
Belarus is a commodity and energy-dependent economy… and a rather messy economy.
Following Belarus's support of Russia's invasion of Ukraine, many firms and foreign investors left. A sharp decline in EU trade has resulted in recession and a 4.7 percent drop in GDP. Most experts predict a steady decline in the Belarusian economy through to the end of 2023.
Russia's economy is shrinking in 2023 and hurting from the sanctions against it. Belarus is subsequently affected because the former Soviet-Union country pegs itself and its economy completely onto Russia.
Another former Soviet member, Kazakhstan also suffered because of Russia; its currency, the Kazakhstani Tenge, performed equally badly with a 17.65 percent decline in the last 12 months.
With the unsteady political situation in the country, where the incumbent President is on his sixth term in office, the Ruble is not showing any signs of a comeback anytime soon.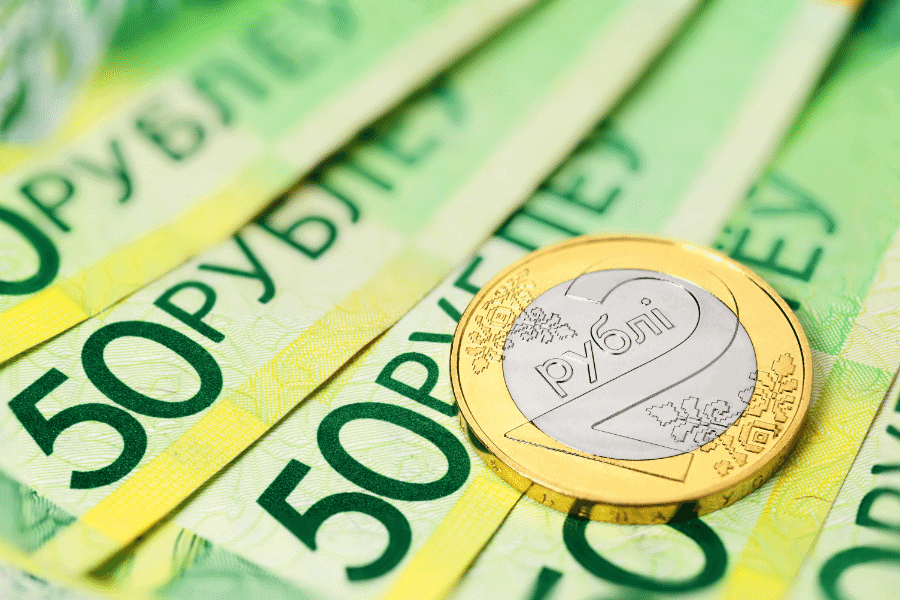 5. Malaysian Ringgit
The Malaysian Ringgit is high among Asia's worst performing currencies. In 2023, it has already depreciated by as much as 7 percent against the dollar.
In the past, Malaysia's problems arose when the country's policymakers restricted trading in offshore ringgit non-deliverable forwards. The government at the time wanted to prevent the currency from sliding.
Things have changed since then as investors are showing renewed interest in the country again. There has been an influx of Foreign Direct Investment in the country as well as an improvement in its Current Account.
Among the reasons for the Ringgit's poor performance are political uncertainty, strong global US dollar demand amid soaring energy prices, a fall in exports, and over reliance on China.
4. British Pound
This shouldn't come as a shock to anybody. The UK's inexplicable decision to leave the European Union is the single biggest reason why the country's currency and its businesses went into hyperventilation mode.
While it may not be one of the weakest currencies in the world, it has certainly experienced the most depreciation. In 2022, the pound hit a 37-year low against the U.S. dollar after weak retail sales figures signaled fears over the UK economy. The pound fell over 1 percent against the dollar to $1.1351, its lowest since 1985.
In 2023, the UK's currency was further harmed by political and economic uncertainty, the short-lived "mini-budget" announced by former Prime Minister Truss, pushing it to another record low.
While the pound's depreciation against the dollar and euro seems to have slowed, (1 pound sterling now buys 1.22 USD) it is still the cheapest time to buy pounds in many of our lifetimes.
3. Argentine Peso
So far in 2023, the Argentine peso is down 50 percent. A year ago, 100 pesos could buy one US. dollar, it would take over 200 now. On the black market, where many people often have been forced, you'd need 500 pesos to buy a single greenback.
Argentina's Government devalued the peso by nearly 18 percent recently, while hiking the benchmark interest rate to 118 percent. This was in response to a shock win by Javier Milei, a radical libertarian, that caused a sell-off of the peso and sovereign bonds.
Argentinians' high inflation, fragile politics and poor political conditions paint a bleak future for the country.
2. Venezuelan Bolivar
Venezuela is a country in economic free-fall. Despite holding the globes' largest oil reserves, citizens there struggle with food shortages, incessant power failures, and endemic corruption.
Under Nicolás Maduro eight year presidency, a leader who's been cited in various high-level corruption scandals, the country seems unable to stage economic recovery. Triple-digit inflation, which stands at 100.75 percent is still well below recent historical levels.
The IMF estimates inflation to have been as much as 400 percent in 2016, and in the years after, hyperinflation of 130,060 percent made the Bolivar worthless. The Bollivar, however, is still so weak today that very few people can afford luxuries, and often basic goods, unless they are paid in dollars or receive foreign remittances.
Though the US has signaled a recovery in the country's oil industry by removing sanctions, being one of the weakest currencies in the world is a clear indication of deeper issues within the country.
1. Egyptian Pound
Having lost half its value, the Egyptian Pound is the world's worst-performing and weakest currency in 2023.
Egypt's problems can be estimated quite accurately. In fact, it is possible to trace exactly why the country's Pound performed so badly and took the top spot. In simple terms the country is almost bankrupt.
In January this year, the government devalued the pound for a third time in less than 12 months. It means that half of the North African country's revenue is lost to servicing its debt, or 90 percent of its GDP.
In preceding years, such as 2016, the Pound declined by as much as 59 percent because of the Government's decision to float its currency. So it's an economy that has been bailed out many times before.
In the latest chapter, it has signed up to a flexible currency regime as part of another IMF bailout – this time for 3 billion dollars, to fend off foreign currency shortages.
It could still be said that this is an adjustment period for the nation, and its problems are not on par with Venezuela's. But, 60 percent of its 100 million population is on or below the poverty line. So, it still has an unstable political and economic system that it needs to remedy before it can be regarded as a stable economy.
Nomad Capitalist has helped 1,500+ high-net-worth clients from around the world. Find out how here.