Are you searching for a non-dom tax regime? A Cyprus tax residency can benefit non-domiciled residents.
We can help with Cyprus income tax or advise on what it means to be domiciled tax residents in other countries, with our holistic offshore plans, we ensure you go where you're treated best.
This article discusses the benefits of Cyprus tax residency for non-domiciled residents. We look at how to become a non-domiciled resident in Cyprus.
How to Become a Non-Domiciled Resident in Cyprus
If you take up Cyprus tax residency, you generally qualify as a Cyprus non-domiciled resident. This means you can remain on Cypriot territory for 17 years as a non-dom resident.
There are two ways to become a tax resident in Cyprus.
183-Day Rule to Become a Cyprus Tax Resident
You can become a Cyprus tax resident by spending at least 183 days of the tax year in Cyprus.
60-Day Rule to Become a Cyprus Tax Resident
You can become a tax resident of Cyprus if you:
live in Cyprus for at least 60 days during the tax year of assessment
maintain a permanent home in Cyprus (either owned or rented)
do not reside in any other country for more than 183 days in a tax year
are not tax resident in any other country during the tax year
do business in Cyprus
To do business means carrying out any business in Cyprus or being employed or holding an Office (director) of a company tax resident in Cyprus). One of the most popular ways to hold yourself accountable to Cyprus taxation is by registering your own private company that provides the employment contract.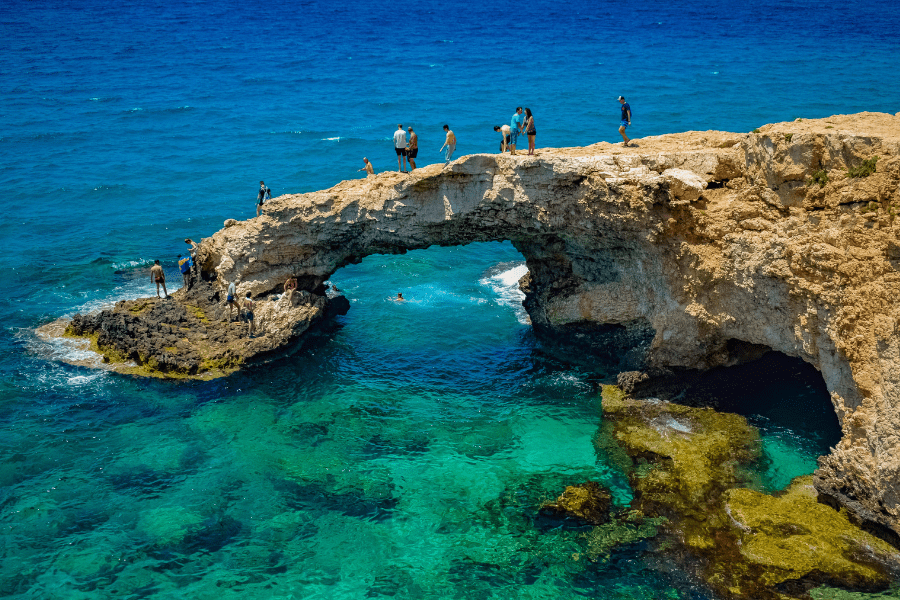 Non-Dom Residents in Cyprus Tax Benefits
No Inheritance Tax, No Estate Duty, No Wealth Tax, or Gift Tax
One of the greatest benefits of tax residency for non-doms is an exemption from taxation on worldwide dividends and passive interest income.
There is no income tax on salaried services rendered outside Cyprus, provided this exceeds 90 days in the same tax year. In addition, if you earn income from a permanent establishment outside Cyprus and spend at least 90 days working for that permanent establishment outside Cyprus, then this income is not taxed in Cyprus.
12.5% Corporate Tax Rate on the Net Profits of the Cyprus Company
This is one of the lowest corporate tax rates in the European Union and one of the best worldwide, making Cyprus an even more attractive tax destination.
Extensive Double Taxation Treaties
Cyprus has established treaties with many countries to avoid double taxation. So, if you're a Cypriot tax resident (whether you have a Cypriot domicile of origin or count yourself as one of the non-domiciled persons) and will be receiving a dividend from these other countries which have treaties with Cyprus, you will enjoy tax advantages such as paying lower withholding taxes in these other countries. And if you're a non-domiciled tax resident of Cyprus, this dividend income will be tax exempt in Cyprus.
Cyprus Non-Domiciled Tax Residents Are Exempt from Special Contribution for Defence (SDC)
Under the provisions of the Income Tax Law, these tax exemptions relate to dividends, bank deposit interest, and rental income no matter where the dividends, interest, and rental income originate from and where they have been paid to by tax residents who have non-domicile status.
No Capital Gains Tax Except on the Sale of Immovable Property Located in Cyprus
There is no capital gains tax in Cyprus except on immovable property located there, so crypto capital gains are ok. Any Cypriot immovable property acquired is not.
Personal Income in Cyprus is Taxed Progressively, with a Tax-Free Allowance of €19,500 per Year
Your salary is taxed in Cyprus, but this could be structured so you receive a low salary of €19,500, which will not be taxed, and then receive dividends that are not taxable under the Cyprus non-dom regime.
There is a Flat Tax Rate of 5% on Pension Income for Retirees
Your pension is free of tax in Cyprus up to €3,420 per tax year, with the excess subject to Cyprus tax at 5%.
How do the CFC Rules Apply to Cypriot Tax Residents under Non Dom?
The authority will not know if you have another company as you do not need to declare this information.
If the foreign company is managed from Cyprus, then that company is CFC. To avoid that, you should not work, sign contracts, or do anything business-related in the 60 days you are in Cyprus (the 60 days don't need to be continuous).
On the other hand, if you are a non-Cyprus tax resident who forms a company in Cyprus, you can claim that your business is not a Cyprus tax resident company because it is not managed in Cyprus. That way, you avoid paying Cypriot corporate tax.
A Cyprus company without tax residence in Cyprus may not use the double taxation treaties as income tax exemptions.
It is not necessary to employ a local director for a Cyprus company, but it would be advisable depending on the case. If you want to make the claim that the company is not managed from Cyprus and avoid paying corporate tax, you shouldn't recruit a local director.
A Cypriot tax residence has many benefits. But we help tax residents all around the world to qualify for tax exemptions. Some of our clients have become completely exempt.
Become a client today, and let us create a holistic Action Plan incorporating everything from taxation to obtaining residency visas, finding the best solution for your needs.