Dateline: Tbilisi, Georgia
Just the other day, we discussed the new requirements for IRS Form 5472 – an informational form for foreign-owned US LLCs.
Today, we're going to take on an equally-complicated form just one number different from 5472: Form 5471.
Whereas Form 5472 is for US companies that are owned by foreign persons, Form 5471 is for foreign companies owned by US persons.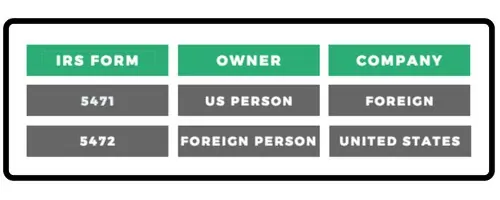 Interestingly, some US citizens may have to file both forms. If you have US companies that are foreign-owned and also own foreign companies as a US person, you get the honor of filling out both Form 5471 and Form 5472 – some of the most complicated tax forms the IRS has ever created.
Historically, Form 5471 has been the longer form out of the two. However, as opposed to Form 5472 (which could theoretically apply to a non-US citizen such as myself who owns a US LLC), Form 5471 is only for US citizens or residents who own foreign corporations.
It does not matter where you live or what tax strategy you have put in place; if you are a US person with stock in a foreign company, the IRS wants to know about it.
Whether you are a US citizen or US green card holder living in the United States, or you are living overseas (and even qualify for the Foreign Earned Income Exclusion), if you own at least 10% of a foreign corporation you must file Form 5471.
This means that if you own a Hong Kong corporation, a Panama corporation, a BVI corporation, or any other non-US corporation, it is reportable under Form 5471.
No exceptions.
What Is IRS Form 5471?
The requirement to file IRS Form 5471 has little to do with tax. Like 5472, Form 5471 is an informational return, not a tax return. The IRS utilizes Form 5471 to have a complete record of which US persons own foreign corporations.
While the ultimate goal in doing this is to protect against people trying to hide their assets from the IRS so they do not have to pay taxes, the form itself does not carry with it any obligations to pay the US government (apart from penalties for failing to file or incorrectly filing the form).
Part of the reason for the absence of any tax requirements is that many individuals set up foreign corporations for reasons other than their tax benefits.
Yes, you can get tax benefits from a foreign corporation if structured properly, but if you are a full-time US resident living in the United States, those tax benefits will not apply to you.
However, you can own a foreign corporation and live in the US and still enjoy benefits such as asset protection, access to foreign banks to store your money or to hold other currencies, and ownership of a business in another country that allows you to use tax treaties or foreign tax credits to offset your US tax based on foreign tax paid.
Whether or not you benefit where taxes are concerned, you still have to report your foreign corporation to the IRS.
They just want to know what you're up to.
The IRS requires informational reporting for other entities such as trusts and foundations via additional forms as well. The more transparency they can demand from US persons, the harder it is for those same people to hide.
As Nomad Capitalists, hiding isn't the end goal, so being completely transparent is not an issue. It certainly creates a heavy paperwork burden, but there's no reason you should be trying to hide any of this information in the first place since transparency is the key to freedom as a Nomad Capitalist.
Who Has to File Form 5471?
US persons who are officers, directors, or shareholders in a foreign corporation are required to file Form 5471.
A foreign corporation is a legal entity formed under the laws of a country other than the United States.
Local laws do not determine whether or not an entity is classified as a corporation for US tax purposes; instead, US tax rules stipulate that any non-US entity will be classified as a corporation by default if all owners have limited liability.
By this definition, almost all non-US entities are considered corporations by default.
The original law that introduced Form 5471 in 1960 only applied to foreign corporations, but changes were made to the tax law in 1962 that introduced Subpart F income, effectively imposing the same requirements on any individual with ownership of any foreign entity.
There is not a lot of reprieve from this requirement. It applies to anyone with a company that is offshore. Companies like Apple that have subsidiaries in other countries have to file these forms as well. The IRS website makes this principle clear: you can't hide money through using foreign subsidiaries.
If it's a subsidiary, it's reportable.
If it's your personal company that you own, it's reportable.
If you have a US company that owns a foreign company, it's reportable.
Whether you live in the United States or not, it's reportable.
So, for someone like me who used a foreign company and lived outside the United States while still a citizen, I had to report. Reporting did not take away the tax benefits of living outside the US and using a foreign company, but I still had to file.
Can you exempt yourself from the filing requirement?
The short answer is no.
The only way to get out of this reporting requirement is by renouncing your US citizenship. Forms like 5471 are simply something you have to put up with as a US citizen if you want to operate offshore.
Is it possible to bypass the requirement to file Form 5471 by changing the classification of your non-US entity from a corporation to a partnership or disregarded entity? Yes. However, you will then be required to file either IRS Form 8865 for a non-US partnership or IRS Form 8858 for a non-US disregarded entity.
Both forms are equally complicated and burdensome, so you would just be jumping from one frying pan to the next if you were to try to avoid filing under Form 5471.
The Ultimate Beneficial Owner
No matter which way you try to structure your offshore companies, at the end of the day, the IRS has made it very clear that you must report that ownership. US tax rules look beyond any structure you may have created and focus, instead, on the actual substance of your business.
If you are the ultimate beneficial owner (UBO), it is your company and you must report it.
That means that the people who pass ownership of their business to their foreign spouse or a friend from another country in an attempt to avoid this filing requirement still need to file. Even the folks who try to use nominees or an island law firm that will put their name on it still have to file.
None of these tricks work anymore and you probably will be caught, eventually.
If you put the assets into the company and expect to receive them upon liquidation of the company, and if you can direct what happens within the company, you have the benefits and burdens of ownership.
You are the ultimate beneficial owner. You own the corporation for US tax purposes and must file, even if you've slapped someone else's name on the front of the company.
The 4 Filing Categories
There are four active filing categories with different filing requirements for those who meet each separate category description. If you meet more than one category description, you can file once but must include all of the information required for both categories.
For the majority of the categories, a US person is defined as any of the following: a US citizen or resident, a domestic US partnership, a domestic US corporation, or a domestic estate or trust.
The categories are as follows:
Category 1: This is an inactive category that has been repealed. The IRS only kept it in the Form 5471 instructions so that they did not have to renumber everything.
Category 2: This filing category applies in the year when a US person acquires 10% or more of the stock in a foreign corporation as an officer or director. Category 2 filers only have to report a minimal amount of information about the corporation and the US acquirer.
Category 3: This category applies to any US person who adds to their stock in a company, thereby surpassing the 10% minimum ownership, or any US person who sells their stock in a company so that they own less than 10%. Category 3 filers must report a large amount of information, including an income statement, an opening and closing balance sheet, and the identity of other US shareholders.
Category 4: Category 4 filers must report everything that Category 3 filers must report, as well as any information regarding the corporation's undistributed earnings and any reportable transactions. To meet this categorization, you must be a US person who owns more than 50% of the stock of a foreign corporation.
Category 5: Category 5 filers include US persons who own at least 10% of a "controlled foreign corporation" or CFC. These filers usually only need to provide identifying information about the corporation and any information regarding undistributed earnings.
There is a separate set of laws governing Controlled Foreign Corporations that determine which companies are deemed to be US CFCs. Generally, if you, along with other US persons, own more than 50% of a foreign corporation, it is considered a CFC.
In the case of a CFC, certain types of income are treated as Subpart F income that flows through to the US shareholders and is taxed on the shareholders' personal returns as ordinary income.
If you have foreign business partners, a foreign spouse, etc. it's definitely worth looking into how those CFC rules impact your company and if there is a way to structure your company so as not to qualify as a CFC.
Generally, if you are a US citizen or multiple US citizens who own a company or at least the majority of a company, then you're going to have to file Form 5471 as a CFC and there's really no way around it.
Penalties
The penalties for not filing Form 5471 (or doing so incorrectly) can be incredibly high. An initial $10,000 penalty can be applied each tax year for failing to provide the proper information within the time given.
An additional $10,000 will be charged if the information is not provided within 90 days after the IRS has mailed a notice of failure to the US person. After that, an additional $10,000 penalty will be applied each 30-day period until the information is filed.
The maximum penalty is limited to $50,000 for each failure.
Your corporation does not have to have any profits for the penalties to apply. This is a penalty for a failure to file an informational report, not a tax that results from the information provided on the form.
Having said this, if you have not been in tax compliance in the past, you need to report any unfiled Form 5471s and ensure that you are up-to-date. This is definitely not something you should try and hide.
When to File Form 5471
Form 5471 should be attached to your income tax return if filing as an individual, or with your corporate tax return if filing as a corporation.
The corresponding due dates of each type of filing apply as well. For example, Form 5471 is due by March 15th or the extended due date if filed by a corporation. If filed by an individual, it would be due April 15th, or June 15th if you are an expat.
Conclusion
IRS Form 5471 is not the kind of tax document you should handle on your own.
The IRS estimates that it would take over 120 hours to learn about and prepare Form 5471. Even if your time is worth just $100/hour, that's more than $12,000 down the drain with no guarantee that you did it correctly (and aren't at risk for a $10,000 penalty).
Even if you followed all of the Form 5471 instructions down to the finest detail, you are better off hiring a professional.
The Trump tax reform has made it more difficult to use a foreign corporation and maintain maximum tax benefits. And, even if you're not that concerned about taxes and you just want to be done with the paperwork burden, you really only have one option: renunciation.
If taxes or paperwork are a serious issue for you, you might want to consider renouncing your US citizenship.
Whether you need help finding the right tax professional to help you fill out Form 5471 or want to consult with me to determine your best course of action to create a holistic tax strategy, feel free to reach out and get some help.