The price of precious metals is rising, and analysts predict that the spot price of silver will stay above $25 throughout 2023 and could even reach the highest price seen in a decade.
It is not surprising that silver is currently in demand. With consistent alerts of an economic crisis this year, it offers a more secure asset class.
All financial and tangible assets, such as real estate, dropped in value when the pandemic hit. However, gold went up 20%, and silver prices went up 45%.
The way to look at precious metals, including silver, is as an insurance policy.
Although gold is well known as a steady commodity and protection in times of inflation, silver is often overlooked and underappreciated.
One reason for the increasing demand for silver is industrial use. In our carbon-free economy, it's good news for silver. Just one example is solar panels, for which large quantities of copper, silicon, zinc, and silver are required.
So where is the best place to buy physical silver coins? Which silver coin is best to invest in? Keep reading our Ultimate Guide to Silver Coins to answer these questions.
At Nomad Capitalist, we work as the architects of tailor-made strategies for high-net-worth individuals designed for asset protection, including gold and silver.
Are you worried about the complexity and potential costs of investing in silver and gold? Our team has the experience you need and has served 1,500+ clients, with every Plan created unique, taking you where they are treated best. Apply here to become a client.
Why Buy Silver Coins?
More people are buying this captivating precious metal for the first time, and silver is growing in popularity as an alternative investment and a hedge against inflation.
As with gold, investing in silver is beneficial for a number of reasons. For starters, it is one of the most reliable assets that holds its value over time. Silver is highly liquid with a large market and is traded globally.
If you are generally a risk-averse person, then gold is more stable. However, silver is generally underpriced, so there is an opportunity in the market.
Silver is currently around 40% below its all-time high. So there is an opportunity to make more money, but, of course, you can also lose more.
Another point and possible concern is that silver has more industrial use than gold, so that will tend to affect the market. Let's say you read the news about the recession in China. Gold may appreciate because it's a negative signal, but silver may depreciate because it means they'll be less demand in China for silver industries.

Bullion coins are essentially silver coins composed mainly of precious metal created from highly refined metal and classified as investment-grade silver. They are commonly known as "sovereign" coins, as they are both manufactured and guaranteed by governments.
While these coins produced by government mints have a face value, the value is mostly symbolic, as the silver content makes them significantly more valuable than the amount printed on the coin.
Silver rounds are coins minted by private companies at lower premiums than sovereign coins, but they lack face value or government backing.
Numismatic coins are a class of rare coins that are collected and traded by collectors. Unlike bullion coins, their value is not solely based on the silver content but rather on their scarcity, quality, and demand.
These coins command high premiums, which often run into the thousands, sometimes even millions, of dollars.
Owning physical silver means you own a tangible asset, something you can physically touch and hold. Unlike paper or digital forms of currency, they cannot be easily created or destroyed.
Purchasing silver coins can also reduce third-party risks, as you don't need to rely on someone else to fulfill a contractual obligation, as there is no default risk. This differentiates them from stocks, bonds, and most other investment forms.
Silver coins are highly liquid assets that can be easily sold worldwide. The availability of bullion dealers in almost every major city adds to their liquidity. History has shown that during a crisis, the demand for silver coins increases significantly, making them a valuable investment option.
As many countries move closer to central bank digital currencies (CBDCs), having aPlan B to protect your wealth is essential.
Investing in silver coins means you rely on something other than digital storage for all of your assets, which leaves you open to potential risks, such as hacking and overreaching government control. Silver coins are a practical solution to counteract risks and provide a tangible and secure asset that cannot be easily manipulated digitally.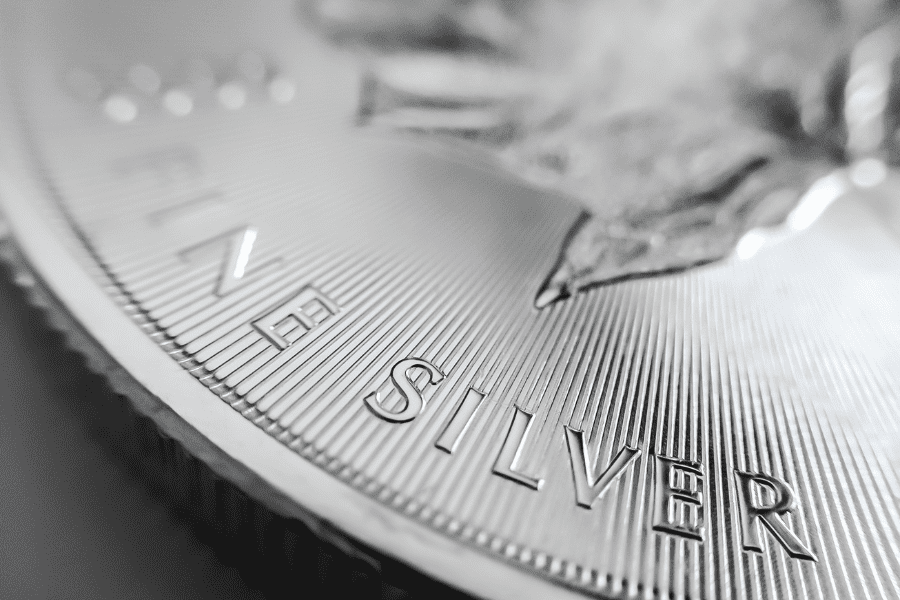 The Best Silver Coins to Buy
Numerous silver bullion coins can be found worldwide. However, we will focus on and highlight some of the most sought-after and exchangeable silver coins on the market today.
Silver Canadian Maple Leaf
The Royal Canadian Mint produces one of the purest silver coins in the world at 99.99% purity.
You can purchase the Silver Canadian Maples as 1 troy oz (31.1 grams) from various years.
The Canadian Silver Maple Leaf has been around since 1988 and features the image of the late Queen Elizabeth II and, on the other side, the iconic maple leaf of Canada. (At the time of writing, coins featuring King Charles III have yet to be minted.)
Austrian Silver Philharmonics
The Austrian Mint has been producing the Silver Philharmonics since 2000, and it is Europe's only pure bullion coin.
You can purchase the Austrian Silver Philharmonics coin as 1 troy oz (31.1 grams) from various years.
The Philharmonics silver coin has the illustrious Vienna Philharmonic Orchestra, or Wiener Philharmoniker, featured on the coin.
Australian Silver Kangaroos
The Perth Mint produces the Australian Silver Kangaroos, with each coin crafted from 1 troy ounce of 99.99% pure silver and holding a legal tender value of AUD$1.
You can purchase the Australian Silver Kangaroos coin as 1 troy oz (31.1 grams) from various years.
The Perth Mint produces this coin with images of the late Queen Elizabeth II and a picture of the iconic red kangaroo.
South African Silver Krugerrands
The Rand Refinery produces the South African Silver Krugerrand coin, which has a purity level of 99.99%.
The Krugerrand coins have held a prominent position in the coin market for over 50 years, with the gold Krugerrand at one point accounting for 90% of the global market.
You can purchase the South African Silver Krugerrands gold coin as 1 troy oz (31.1 gram) from various years.
The South African silver coin has the portrait of the leader, Paul Kruger, engraved on one side, while the reverse features the Springbok Gazelle, the national symbol of South Africa.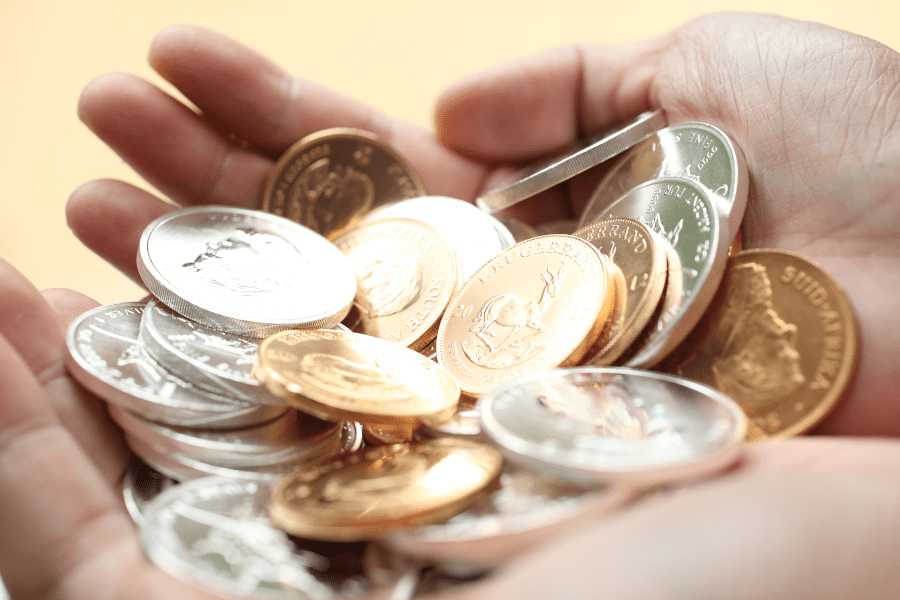 Where to Buy Silver Coins
The jurisdiction you store and buy silver coins matters,and we recommend countries that provide maximum security and have a proven track record. Here are some of the best countries for offshore silver storage.
Switzerland
Unfortunately, silver bullion is not exempt from VAT in the European Union, with rates varying across countries. However, the lowest VAT rate for silver can be found in Switzerland at 7.7%.
VAT rates in the EU can be considerably high and range from 19% in Germany to 24% in Finland. So, if you are set on storing your silver in Europe, Switzerland, and Austria are better options.
Switzerland offers the lowest VAT rate and has long been a preferred option for storing precious metals, including gold and silver.
Switzerland is a jurisdiction that stands out as exceptionally safe and with decentralized structures. Switzerland has always guaranteed the right to exchange precious metals, such as physical gold, a sharp contrast to the United States.
Would you like to buy and store your precious metals without triggering heavy tax liabilities? Become a Nomad Capitalist client today, and we will work as the architects of your offshore strategy, helping you navigate all the complexities of investing in silver bullion coins.
Singapore
Singapore has become a proven and reliable offshore destination for purchasing and storing bullion coins.
In light of the limited options in Europe, more investors are opting to shift their assets to Asia, particularly Singapore. The vaults in Singapore are among the most impressive in the world, making it an ideal location for buying silver bullion coins and opening an account.
Singapore imposes no taxes on the sale, trading, and possessing of silver bullion, and investment-grade bars and coins are exempt from goods and services tax.
Nomad Capitalist will help you choose a respected silver storage facility and the right jurisdiction for quality banking. We partner with qualified professionals, including trusted partners in the precious metals sector, to ensure your assets are secured and protected.
Buying Silver Coins
Sovereign silver coins, such as those mentioned above, are the best option as they offer the highest purity, have consistent prices, and are easy to sell. Some other things to keep in mind when investing ng in physical silver:
Spot Price and Premium
Understanding the difference between spot price and premium is crucial when purchasing bullion silver coins. The higher the premium, the more you will have to pay per coin, resulting in a longer and more challenging time to recoup the cost.
Historically rare coins like numismatics are notorious for carrying inflated premiums. On the other hand, sovereign bullion coins and rounds from reputable mints tend to have more modest premiums and a stable value. To understand the accurate spot price of silver coins, staying up-to-date with current market trends and data is essential.
Avoid Numismatic Coins
Unless you are experienced or an expert in silver investments, it is better to stay away from numismatic coins. When you buy a rare coin, you are taking a guess on whether or not the coin will be worth more in the future. The market for rare coins is complicated and not directly connected to investing in silver itself. On the other hand, if you buy a standard silver bullion coin, its value is usually based on the current global price of silver, which is more predictable.
Watch Out for Fakes
To recognize a fake coin, you can look for certain markers. Genuine coins have security markings like small letters or holographic images. They also have an international stamp rating, such as 99.99%. Don't buy your silver coins from TV dealers, eBay, or generic coin websites to avoid falling victim to scams and fakes.
As a Nomad Capitalist client, we will create a holistic strategy, protecting your wealth and planning for the future. This can also include helping you choose a respected silver storage facility and jurisdiction.
We are partners with qualified professionals in the industry, including J. Rotbart & Co, who provides the entire solution. They source precious metals from the best refineries and handle the transportation and storage of silver globally. An add-on service is the money lending license in Hong Kong, meaning clients could use their holdings as collateral.
FAQs
Which silver coin is best to buy?
Deciding on which silver coins are the "best" depends on a number of things, including your personal investment goals and budget. Some of the most popular and most refined silver coins include: 
Canadian Silver Maple Leaf
Silver Austrian Philharmonics
South African Silver Krugerrand
Australian Silver Kangaroos
How much is 1 oz silver coin worth?
The current spot value of a silver coin is $22.87. To get an accurate value of gold, you need to keep track of changes in the underlying spot price of this metal. Silver prices are affected by various factors, including economic conditions, political circumstances, and investor sentiment.
How much do silver coins weigh?
The weight of a silver coin can vary depending on the coin type. But generally, a bullion coin produced by a mint typically weighs 1 troy oz or 31.1 grams. Other coins, such as numismatic, can range from a few grams to several ounces.
Are silver coins a good investment?
Silver bullion coins are used as an investment option for anyone looking to diversify their wealth and investment portfolio and hedge against inflation. Because silver is not connected to traditional assets like stocks and bonds, prices are not adversely affected in the same way by market downturns. 
At Nomad Capitalist, we create tailor-made Plans for high-net-worth individuals to protect all their assets, including silver. We've helped 1,500+ HNWI entrepreneurs and investors, and we can help you, too.