Dateline: San Juan del Sur, Nicaragua
Surf season is in full force here. You can tell by the fact that hotel owners are getting heady: I paid all of $30 for a decent room near the beach after a little negotiating.
Nicaragua is, by some standards, the poorest country in the Americas, with a cheap cost of living throughout. And yet, the views here in San Juan del Sur are absolutely stunning.
A unique wind pattern along Nicaragua's southern Pacific coast means winds flow offshore and onshore at just the right time for surfers — a pattern seen in few other places in the world. That means more and more surfers descend on San Juan del Sur each year, setting up shop on the town's numerous beaches to partake in some of the world's best surfing.
The tourist base here is expanding. While the Nicaraguan economy is still a little too reliant on the economy in The Land of the Free for my liking, more and more people from Canada and even Europe are coming here, as well — both to vacation and to buy property.
Additionally, upper-middle-class and wealthy Nicaraguans are increasing in numbers, and they're eager to escape the boring and somewhat dumpy capital city of Managua to come to the beach. Nicaragua, on the whole, is safe, a sentiment echoed by an American lawyer friend of mine today, but it's nothing like the idyllic scene here along the beach.
If anything, thank the US government for playing both sides of a drug war that has given Central America some bad publicity.
The trends are pointing to the fact that San Juan del Sur will continue to grow and be a tourist destination for surfers, snowbirds, backpackers, and affluent locals.
I'll admit that I was a bit surprised that there is no up-and-coming "next place" in Nicaragua for tourists. The beach town of Chinandega to the north, for instance, is just too hot and too far out of the way to beat out San Juan.
That means that San Juan del Sur is perhaps the place for people who not only want to invest in a growing real estate market, but also want a property they can enjoy now, or in the future.
And for good reason. Nicaragua has some of the cheapest property for sale in Central America, at prices far below that of comparable real estate in Costa Rica or Panama. And while prices in San Juan aren't exactly what some people would consider "dirt cheap", you'd be hard-pressed to find ocean view and beachfront land for much less anywhere decent.
I've spent a few days in town talking to locals and real estate experts about the best opportunities for foreigners to take advantage of the real estate market here.
To start, my findings here echo a common theme we talk about: it's hard to know exactly who you should trust. While I tend to be skeptical of local real estate agents who are still under the idea that "real estate prices never go down", I had an equally poor experience at the Century 21 office here in town, and can't say I'd recommend them either.
Prices here have, in fact, gone down over the last few years, and are now at 2006 or 2007 levels. Americans who mortgaged their homes to suck out money for jet skis and Prada bags also sent some of that money down here to buy oceanfront lots, and then got stuck with them when the easy money ran out.
Today, there seems to be much less speculation in the market, and people who are buying lots are looking to actually build on them. Most of the projects I saw that were built were sold — with the exception of one that didn't look as bad as I would have expected for being shut down halfway through construction.
Real estate prices in San Juan del Sur, Nicaragua
Living on the beach here will still cost you money. The last round of beachfront condos with wrap-around ocean views sold for between $300,000 and $450,000. Mind you, at three bedrooms and about 1,400 square feet, that still isn't too bad.
In fact, one of the more recent projects was actually built by the Nicaragua Army pension fund in conjunction with a foreign construction company.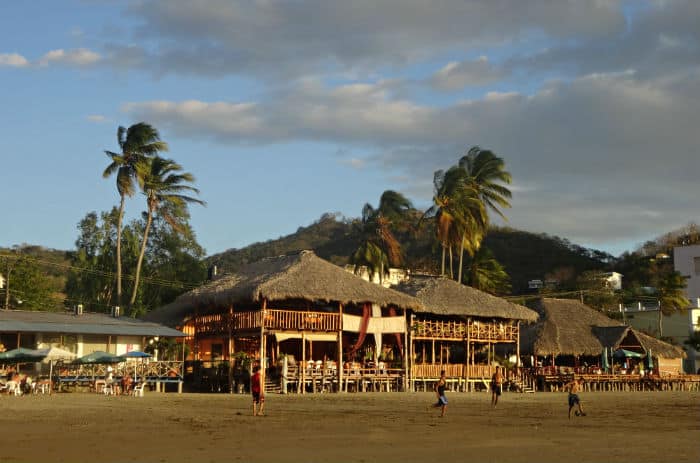 The preferred home purchase here seems to be a three-bedroom condo close to the beach. The town beach in the town of San Juan del Sur isn't as impressive as beaches such as Maderas Beach down the way, so it's up to you to determine how close you want to be to the actual town. Some of the nearby beaches are little more than virgin forest with some houses around.
These three-bedroom units are going for somewhere in the $200,000 neighborhood. If you're willing to make a few concessions, you could spend less, and of course, it's possible to spend more. Really nice, four- and five-bedroom homes with private pools — homes that would easily cost a few million dollars in Miami – go for anywhere from $400,000 to $700,000.
On the low end, there are condo properties for as little as $100,000. In fact, my preferred real estate agent here showed me a property you could buy for about $80,000 and rent out immediately for $1,000 or more a month.
It is possible to buy cheap ocean view lots here. Some of the more desirable lots are located in developments — the result of being subdivided from larger pieces of land — and require you to build within a year or two.
How to make money on a real estate investment in San Juan del Sur
My business philosophy has always been cash flow, and the good news is that you can obtain a decent return on property that doesn't cost a whole lot more than a decent ocean view lot.
Even better is the fact that, unlike many other destinations, larger homes are actually in demand here. Buying a three-bedroom home isn't bad for rentals because large Nicaraguan families want plenty of room to spread out with eight or ten people when they come down for the weekend.
That means you could buy a property to use a few months out of the year, then rent it out the rest of the time. Or purchase your dream home now with the intention of renting it until you move in several years from now.
Renting out property in San Juan del Sur is relatively straightforward. While commissions to sell property are a bit more aggressive than you'd find in the US, commissions on VRBOs are par for the course. Because more of today's buyers seem to be purchasing for their own use, I'm not as concerned about an over-saturated rental market in the near term.
As with anything, you make money in real estate when you buy. I was actually pleasantly surprised at some of the prices here, considering some expats claim the market is overheated. As I've been saying, Nicaragua has an undeserved PR problem, and as more tourists discover paradise in places like San Juan del Sur, I see potential for moderate appreciation in the long-term.
Any time I can pair appreciation potential with instant cash flow, I'm interested.
If you're a US person, you can use offshore real estate as a non-reportable asset. Of course, rental income derived from that asset is reportable and taxable in the US (and, technically, in Nicaragua).