Are you looking for an alternative to so-called "high-interest" savings accounts? Would you like to gain access to interest rates of upwards of 10%?
Keep reading for our alternatives to traditional savings accounts that offer both high interest rates and asset diversification.
Want to open a bank account? Need to lower your taxes? Interested in starting an offshore business? Sign up for the Nomad Capitalist Weekly Rundown for actionable tips, the latest news for global citizens, and exclusive invites to our Town Halls and live events.
What Is A High Yield Savings Account?
High yield savings accounts offer a higher interest rate than traditional savings accounts, and the interest rate is expressed as the annual percentage yield (APY), which determines the growth rate of your investment.
Most American providers today, such as American Express, which offers a rate of 3.90% APY, offer this type of savings account.
This classification of savings account is a savings product backed by the federal government and offers significantly higher interest rates than the national average or traditional savings accounts. These savings accounts can earn a yearly percentage yield (APY) of around 4%, while the national average savings account in the country offers just 0.40% APY.
Especially in today's economic climate, it's important to keep in mind that the APY varies according to market changes and is subject to adjustment any time the Federal Reserve alters its benchmark interest rate.
Despite recent drops in savings rates, high-yielding accounts still provide more profit than standard savings accounts.
One benefit of these high yield online savings accounts is that your money is liquid, meaning you can put money in today and take it out tomorrow if you wish. You get paid interest each day and can access your cash at all times, with the funds being FDIC insured (Federal Deposit Insurance Corporation).
Most high yield savings accounts allow up to six free withdrawals or transfers per month. When choosing an account, it's essential to read the fine print, as some online banks may require a starting deposit, minimum balance, or monthly fees.
At Nomad Capitalist, our philosophy is that you should diversify offshore, allowing you to hold your assets in different countries and currencies, that are outperforming the US dollar.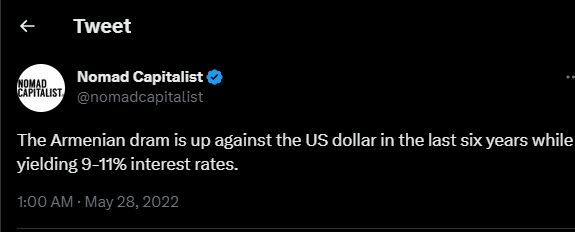 So, why choose an alternative to these standard run-of-the-mill investment options? By not following the herd, you open the door to lucrative opportunities and alternative methods of banking and investing that consistently earn more money with minimal volatility.
When looking for a more profitable option, your average Joe will look at today's standard options, including money market accounts, online savings accounts, and bank or credit union high yield checking accounts.
While these options are not terrible, offering interest rates of around 0.25% on a money market account.
The world is far bigger than the US, Canada, and the United Kingdom, and there are much better saving account options internationally. The best alternatives are found by opening savings accounts and term deposits in banks overseas that offer both USD and alternative growth currencies.
Offshore for the Best Saving Alternatives
For the best alternatives to standard saving accounts, you can open a savings account or term deposits in banks overseas.
DBS, Singapore
Established in 1968, DBS Bank is an impressive financial institution headquartered in Singapore and the largest bank in Southeast Asia. DBS, Singapore, have raised their rates to allow you to your savings account earn up to 4.10%.
In addition how much interest due to the standard interest rate, you can also earn bonus interest on your account balances.
DBS made the list of our safest banks in the world, far safer than US banks today. And Americans can open an account generally with as little as 2,700 Singapore dollars ($2,000 USD).
With great digital banking and an innovative approach, DBS provides a banking experience that is easy, quick, and convenient. Its exceptional services have earned the bank various awards and accolades, cementing its position as a top banking provider.
If you are American, you need to keep FBAR reporting in mind when banking globally. The category for FBAR reporting is intentionally broad and includes just about any US person involved with foreign financial accounts valued above $10,000.
Although offshore banking does not mean you are hiding money, authorities across the globe are constantly tightening up policies, making the process harder for foreigners.
Would you like to be free from reporting foreign bank accounts? Talk to us about renouncing your US citizenship and freeing yourself to go where you are treated best.
TBC and Bank of Georgia
We have discussed the Georgian banking system extensively over the years, and it still remains a hassle-free destination for opening a bank account. Two of the top banks, TBC and Bank of Georgia, both listed on the London Stock Exchange, offer attractive interest rates for one-year and two-year terms.
When you open a term deposit with TBC in the official currency of the Georgian Lari (GEL), you gain access to staggering interest rates of around 11%. The GEL is a reasonably stable currency and has shown a tremendous rise in value in the past decades.
Similarly, the Bank of Georgia offers high-interest rates in USD, Euros, GBP, and GEL, with the best interest rate of more than 11% available in the local currency. The banking process in Georgia is very fast, and everything can be done in under a short two-day visit, although remote account opening is also possible with the help of a competent attorney.
Become a Nomad Capitalist client, and we will help you open high-interest-rate savings and deposit accounts offshore, helping you create additional income sources.
Evocabank, Armenia
Georgia's neighbor, Armenia, is catching up fast with impressive high-interest rates on US dollars, euros, and local Armenian dram. Specifically, a one-year deposit of US dollars can earn a return of 4.75%, while a two-year deposit yields 5.25%. Meanwhile, a two-year euro deposit can produce a 3.25% yield. When you deposit in AMD, you can profit from a yield of 10.25 % for a year and 10.75 % for two.
Despite fluctuations against the US dollar, the Armenian dram has performed well in recent years. As a result, you can experience an incredibly high-interest rate if the dram remains steady. Keep in mind that while opening an account in Armenia offers great potential for high returns, it will require the translation of your passport.
Clearly, it's worth considering emerging economies and currencies that offer high-interest bank accounts. These high yield savings accounts can potentially outperform many investments available on the market.
There are alternative banking and investment options available to you offshore in stronger financial institutions and currencies that are both legal and reliable.
Recently, Asia, in particular, has become a popular place for high yield investments compared to already-developed economies that have reached their economic potential. Banking overseas seeking the most welcoming investment environments is crucial for success.
If you're interested in creating a comprehensive offshore plan that includes depositing funds in a high-interest offshore bank account, don't hesitate to reach out to our team.
When you become a Nomad Capitalist client, we work as the architects and general contractors of your holistic offshore strategy, helping you reduce your tax bills and diversify and protect your assets.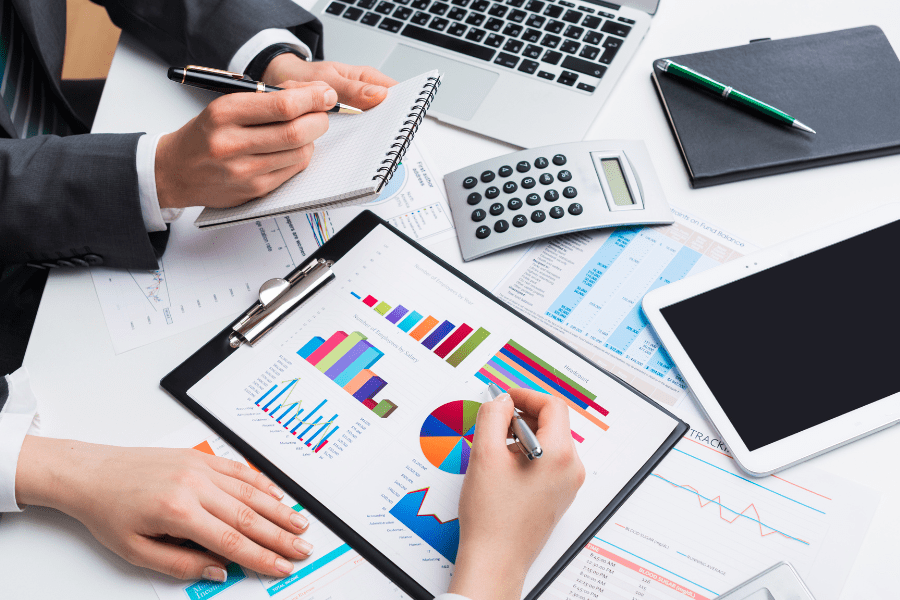 FAQs
What is a money market saving account?
Money market accounts (FDIC insured) are an alternative to traditional savings account or passbook savings accounts, which offer increased interest rates, online bank savings account options and some limited account services. For instance, a bank that provides a 0.10% rate on regular savings accounts could offer a 0.25% rate on a money market accounts.
Should I save with a bank or credit union?
Both credit unions and online banks are popular options for opening a savings account. While credit unions operate similarly to brick and mortar banks, they offer fewer financial services and are nonprofit organizations. Because of this nonprofit status, credit unions generally offer slightly higher rates on a savings account, with potential increases from 0.09% to 1.25%. 
What are high yield checking accounts?
With a high yield checking account, you can earn around 2% percentage yield, which is higher than what you typically get with a savings account. To qualify, customers must often meet specific criteria, such as a minimum initial deposit, maintaining a minimum balance requirements, setting up direct deposit or bill pay, or making a minimum deposit or number of monthly debit card transactions on your savings account.