This article was contributed by travel writer Ashuni Perez. The opinions expressed by guest contributors are theirs alone.
Cerulean waters, white sand, and gorgeous reefs make Roatan, Honduras, a scuba diver's paradise.
Roatan is a part of the Honduran Bay Islands. Springing out of the sea, the Bay Islands form part of the underwater mountain range of Bonacci Ridge.
Just off the northern coast of Honduras, Roatan is a thin stretch of land that measures only 40 miles long and a mere 3 miles wide. Despite its size, it is home to a plethora of natural beauty and boasts the world's second-largest barrier reef. Not to mention, it is also home to acres upon acres of untouched nature and wild jungles that will make you feel like you're in an Indiana Jones movie.
Much like the rest of the Caribbean, this island has ideal weather year-round that rarely dips below 77 degrees Fahrenheit. However, despite its similarities to other Caribbean islands, Roatan is considerably more affordable than some of its neighbors. Its affordability coupled with its undeniable beauty could be the reason why it's become home to so many expats.
Those looking to live the island life have found solace in the beach towns of Roatan. Conversely, others who only came for vacation and ended up staying simply can't bring themselves to leave the Honduran diamond of an island.
If you are looking for a slower pace of life, Roatan might be just what you need. However, you shouldn't come to the island expecting the locals to be great timekeepers. Most expats will tell you that island time takes some getting used to. When someone says tomorrow, they don't actually mean tomorrow. In fact, the commonly used phrase, "come back tomorrow," can be interpreted in a variety of ways depending on the speaker and the context.
Still, getting acclimated to the island lifestyle won't take too long as the quality of life can convert even the biggest skeptics. That may be because Roatan has an extremely low crime rate of 0.05%. It's no wonder that the islanders are so happy and at ease!
For many, the appeal of Roatan is evident. Come for the island's undeniable beauty and stay for the comfortable, idyllic lifestyle. Rush and hurry are words that do not exist in the Roatanian vocabulary.
You've got to take it easy and relax. Also, consider learning some Spanish while you're at it. Most islanders have a good grasp of English, but not all of them will. Plus, learning the local language can only benefit you.
While there are still plenty of Western comforts around, like steaks and diners, you must indulge in some of the local delicacies. Roatan is famous for its iguana and coconut stew.
If iguana is not your cup of tea, there's always their world-renowned snail soup that went so far as have to a song written about it in the early 1990s.
Of course, there are still those Caribbean classics like fresh coconut water to quench your thirst and fried plantain, or tostones, to fill your stomach.
Whatever you decide to munch on, you'll feel revived and ready to explore this small island. Bear in mind that some parts of Roatan are more developed than others. Despite that, there's a little something for everyone.
If you're looking for comfort, then you can enjoy the resort-style West End that hosts plenty of relaxing activities for its visitors.
Then there's Coxen Hole, the capital, where most hospitals and offices can be found. For those looking for a quieter venture, retreat to calm Punta Gorda to eat local grub in a house on stilts.
Now, this may sound just too good to be true: a beautiful, safe island that has affordable housing and perfect weather. What's the catch?
The bottom line is that you have to review the facts for yourself and see if Roatan is your ideal match. Below you'll find some key points to consider when planning your move to one of the Caribbean's most-loved islands.
How to Get to Roatan
As it's only 30 miles off the mainland, Roatan is rather well-connected. However, because of its size, chances are that the trip may cost you a pretty penny. You can always look around for deals, but don't hold your breath too long – especially if you're booking during summer months. Summer in Roatan lasts from December until July every year.
While you can still find a bargain here and there, your biggest decision will be how you want to reach the island. There are two main ways to get to the island: water and air. You can either take the modern, jet-set option and fly into Roatan's tiny airport. Or, you can embrace the Caribbean Sea and float in on that crisp blue water.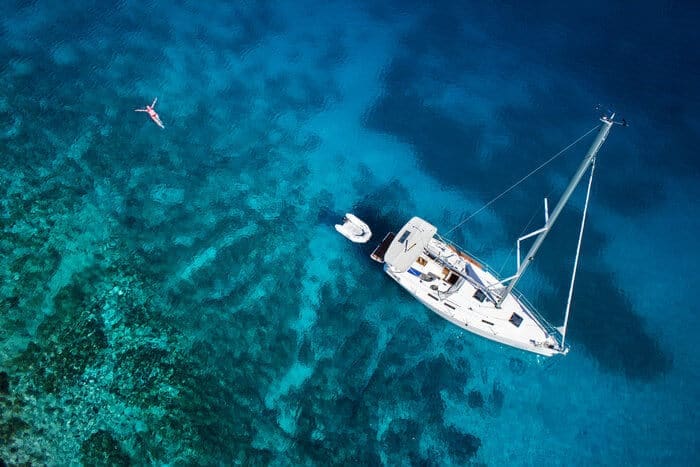 By water
Because of its location and immense beauty, there are plenty of cruise lines that make regular stops in Roatan. Usually, these cruise ships stop off in the busier spots of the island, like Coxen Hole or Mahogany Bay.
If you are already planning a cruise, combining a vacation with a move to a relaxing island could be a win-win situation. Both Royal Caribbean and Carnival offer lovely cruise packages to the Bay Island strip.
In the event that you're coming from another part of Honduras or Latin America and are looking to transport more significant items like a car, a ferry might be your best bet. Most ferry services to Roatan have two daily departures. A popular route is from mainland Honduras and a town called La Ceiba.
The Galaxy Wave, a recommended ferry company, shuttles passengers back and forth in a charming catamaran. The journey between La Ceiba and Roatan lasts just over an hour. Unfortunately, this particular company doesn't let you transport vehicles, so be sure to read over company policies before booking.
By air
Juan Manuel Galvez International Airport in Roatan is the only international airport in the Bay Islands. The airport overlooks the sea, and as recent arrivals deplane directly onto the tarmac, the salty sea air gives them a Caribbean welcome.
Getting through customs is quick and only takes about 20 to 30 minutes. All visitors have their photo taken and their fingerprints collected. It's just a short walk to Baggage Claim and the Arrivals gate after that.
Unless someone is meeting you at the airport, you may have to wait for some transport to Roatan. While you wait for your ride into town, you can always have a cup of coffee in the main lobby.
There are plenty of flights coming into Roatan from all over the world. Flights are also increasing day by day with the highest volume of flights arriving in between the months of November and April. There are lots of options for you to be able to schedule your perfect journey.
North American airlines like Delta, American, and IBC have regular flights to Roatan. Depending on your departure city and flexibility, you can find a price that works for you. Houston to Roatan is a typical route that can land you on the island in no time. Atlanta, Miami, Dallas, and Fort Lauderdale are other big cities that have a good connection to this Caribbean island.
Although it may be tempting to save some coin and get a flight to Honduras and then jump on a connecting flight to Roatan, it's not recommended. Missing your connection and having to stay in a hotel overnight and pay the transport to and from the airport will end up costing you the same. You're much better off shelling out a little extra from the get-go. Also, you'll save yourself the headache of running through the airport to catch another flight.
Don't worry, there are other options if you're not flying in from stateside. Air Canada and Cayman Airlines also regularly serve Juan Manuel Galvez International. Traveling from Canada to Roatan is most comfortable between the months of December to April. There is also the possibility of catching a flight from Quebec with Air Transat. From the Cayman Islands, regular departures to Roatan are scheduled on Thursdays and Saturdays.
If you're in Europe and are hoping to make it to Roatan, there are travel options for you as well. The budget airline Air Europa has a direct flight from Madrid to San Pedro Sula airport on the Honduran mainland. Other cities like Milan and London have flights to Roatan, too. London is generally a more affordable route; some travelers have even found round trip tickets for as low at 500 GBP. That, of course, is not in peak season.
However, be prepared to stay somewhere overnight when coming in from Europe. Unless you stop off in the Cayman Islands along the way, there's almost no way to avoid spending the night to catch a connecting flight the next day.
Cost of Living in Roatan
While living in Roatan is considerably more affordable than living in big cities in the US or Canada, there are some facts you'll have to face.
First is that being on an island means you won't have all the same luxuries as home. All electricity on the island comes from diesel generators that are run by an electric company.
As in other Caribbean islands, electricity prices are exorbitantly high, and service is underwhelming. Some people make small talk about the weather, Roatanians talk about how much they hate RECO (Roatan Electric Company).
Another thing to keep in mind is that you may not be able to buy all your usual comforts at the store like you're used to. Island life means learning to work with what you have. Don't expect the supermarket to be fully stocked with all your favorite foods and brands. You'll have most of the basics, and for the rest, you'll need to learn just to wing it. Also, good luck finding deodorant!
Plenty of expats who have graced Roatan's shores will tell you that being creative is necessary. As mentioned before, RECO doesn't provide the best service. Your lights may go out for hours at a time. You'll need to be prepared and keep your house stocked with blackout gear like flashlights and matches, and a propane stove is ideal for cooking in these situations.
However, keep in mind that getting propane refills are only possible about twice a week. You'll have to plan ahead to make sure you're not left in the dark or without a stove to cook with.
With that being said, living in Roatan is much cheaper than many of its Caribbean counterparts, which makes it a highly attractive option for many expats.
Rent
Buying a house in Roatan is much cheaper than buying a home in the majority of North America. With fixer-uppers starting as low as $70,000, it's no surprise why people flock to the island. But, if you're not ready to make that commitment yet, you can always find yourself a place to rent.
Depending on how close you want to be to the water, you'll find a good range of prices that are surprisingly affordable.
For an apartment or condo just a short walk from the beach, you could pay $500 a month. For a place right on the water, $800 to $1,000 is the going rate. If the area you're eyeing has a view of the beach, you can expect to pay $1,000 or more.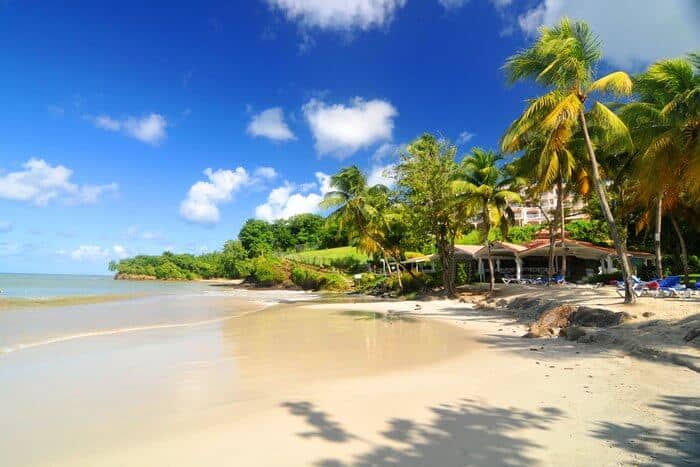 Although living on the beach in Roatan is more expensive than in other parts of the island, it will still likely be cheaper than renting an apartment in Los Angeles or Hong Kong.
Keep in mind that these prices depend on the season and the length of your stay. You are guaranteed to get a better deal if you sign a long-term contract of three months or more.
If you decide a short term stay suits you better, be prepared to cough up a bit more – especially if it's high season. December to April sees an increase of visitors on the island, and places get booked up fast. Reserve your spot ahead of time and save yourself the headache.
Groceries
As Roatan is an island, the majority of the goods on the island are imported. So, don't expect to get a bargain at the supermarket.
Many expats will tell you it's just as pricey as back in Canada or the States. Although Honduras exports plenty of fruits, finding good quality fruits and vegetables can be a challenge. Consider starting your own garden if you follow a plant-based diet.
One silver lining is that you can get fresh fish or lobster for a fraction of North American prices. There are lots of fishermen around, and one of them may be your neighbor. If you're a fan of seafood, keeping your eyes peeled for that connection may be well worth your while.
Eating Out
Local restaurants offer affordable meals for as low as $6 per plate. Beer and rum are quite cheap as well. That's another reason why so many people on the island are so merry.
You may find yourself eating out regularly and enjoying local favorites like baleadas several times a week because you don't have to break the bank to do so.
Electricity, Gas, and Water
As I mentioned previously, your utilities will be expensive in Roatan. Even if you live alone, expect to pay a lot to keep your lights on, and centralized air conditioning may also drive your electric bill up, which is why plenty of islanders only use fans or the sea breeze to keep their homes cool.
Your bill could be between $120 – $160 if you live alone or with another person. Keep in mind that an entire family would consume much more electricity.
Fortunately, gas and water are much more affordable and only cost about $40 a month. If you're concerned about the environmental repercussions of the diesel-powered generators, you can always incorporate some sustainable energy options into your home.
Other expenses
While you will be able to get internet at home, you shouldn't expect it to be the fastest connection in the world. Still, you can get yourself hooked up to the world wide web for around $50-$60 a month. Don't forget to update your Netflix subscription while you're at it! Cell phone service runs around the same price, about $50 a month.
Public transport and taxis are reasonably priced, too. However, getting around the island isn't too hard since it's so compact. Property tax is relatively low as well.
What to do in Roatan
This Caribbean paradise offers a great variety of things to see and do. If you want to take advantage of the lush scenery, there are plenty of outdoor activities to partake in the area of Helene.
You can also explore some of the amazing wildlife on the island. Conversely, if you're more interested in swimming or diving, you'll also have an excellent opportunity to have an underwater adventure.
On the other hand, if you prefer a little more action, the West End offers plenty of nightlife and entertainment aimed at tourists.
Outdoor Adventures
With perfect weather and beautiful vistas, it's obvious why most visitors enjoy the outdoors in Roatan. There are lots of excursions that you can go on to discover different areas of the island, such as the charming Oakridge Harbor, the very tropical Buccaneer, or the enchanting Maya Key Mayan ruin replicas. Whatever your interests may be, there is something for everyone and plenty of family fun to be had.
You'll also have a chance to get up close and personal with Honduran wildlife. Choose between a visit to an iguana farm, swimming with dolphins, relaxing with sloths in a sanctuary, or entering the wild world of Gumbalimba Park. Gumbalimba is home to lots of exotic birds, Capuchin monkeys, indigenous lizards, and over two thousand species of insects!
Getting active is also a great way to pass the time on the island. Take advantage of the untouched nature and explore the jungle with a zip line tour. You can even take a boat tour of the wild Mangrove Tunnels and see the real Roatan. Some favorite water activities are fishing, jet-skiing, and sailing.
If you want to plan a private trip around the island, several companies will sail you around the Bay for a fair price. However, if you're looking to explore the water on your own, consider snorkeling, sub-wing, or scuba diving.
Scuba diving
Diving enthusiasts from around the world come to Roatan for its ideal diving conditions. Since the water is crystal clear and the world's second-largest reef is just off the coast, there are plenty of beautiful things to see. The marine life is also stunning with plenty of species like rainbow fish, coral, and even Moray eels. Plus, the currents are quite tame, so you don't have to worry about being swept away with the tide.
If you're an experienced diver, you'll be able to appreciate the beauty of Roatan's marine ecosystem. However, if you're looking to try your hand at diving, rest assured knowing that there are plenty of classes available.
Resorts and diving centers both offer introductory classes for those seeking to give scuba diving a try. The prices are reasonable, starting around $110 for a four-hour session supervised by a certified instructor. Diving class starts out slow, first on the dock with an in-depth explanation of gear and diving protocol. Afterward, you'll make your way into the water to practice some essential diving skills and swim around to get a feel for the water. Then, a boat will take you to your final diving destination.
Should you decide to continue your learning, you can sign up for a certification class that will cost you around $400. Most centers give you credit for your introductory lesson, so remember to ask about it.
Nightlife
Most resorts in the West End have some kind of seaside bar or patio for you to enjoy. However, there are plenty of local bars where you can have a drink and dance the night away.
A big favorite among expats and visitors alike is Frank's Cigar Bar. With a fantastic view, fully-stocked bar, and cigars for smokers to enjoy, this could be a good place for you to wind down after all that scuba diving.
Those hoping to bust a move should look no further than Booty Bar & Caribbean restaurant. With great cocktails and decent specials, you may end up spending the rest of the night toasting with friends at Booty.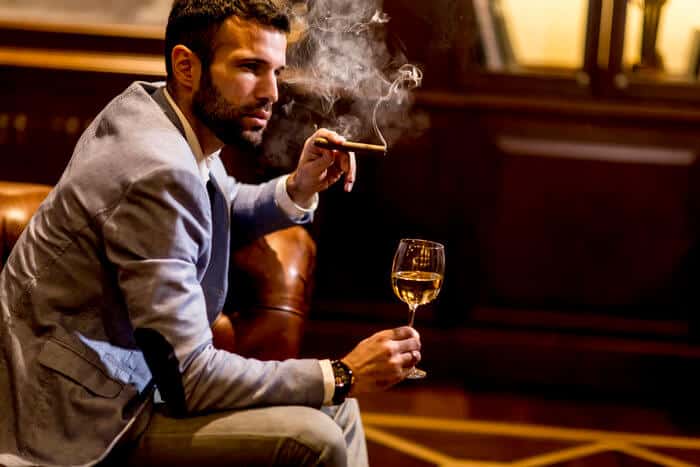 Sundowners Beach Bar is the perfect place to start the night as it closes early. Be sure to try to the signature Roatan cocktail, Monkey La La! Once you're feeling merry, you can take a walk over to The Blue Marlin for a bit of karaoke. Decide on a song and sign up fast because the request list fills up quickly.
If you're looking to have a late one, stop by Nova for a great DJ and dance music. You'll be able to bop along all night with the crowds in this late-night local.
How to get around in Roatan
Public transport is more developed on Roatan than some of the other Bay Islands. However, keep in mind that there is still a noticeable lack of infrastructure on the island.
There is one main road that stretches from one side of the island to the other. On the West End side, the road is in excellent condition whereas on the Punta Gorda side you'll find yourself on a broken gravel road.
Any other small roads you encounter will most likely be dirt or gravel roads, but as the island grows, conditions are improving.
Taxi
Hailing a cab from the airport or ferry dock will be relatively easy. It's essential to agree upon a price before the drive begins as some drivers take advantage of newcomers. Also, be sure to make it clear how you will be paying. Your options are American dollars and the local currency of Lempiras. Chances are you will get a better rate if you pay in Lempiras. After 6pm, a taxi ride will cost you more. Be prepared to pay a little extra for those journeys later in the day.
Bus
The island has a minibus fleet that can get you from point A to point B. Minibusses have to be flagged down, so don't expect them to stop for you just because you're standing patiently on a corner. The bus fare has to be paid in Lempira, so make sure you've got the right money for the ride. Fares can be anywhere between 20 to 50 Lempira (which equates about $1-$2) depending on how far you're going.
Know that most buses stop at 6 pm right when taxi prices go up. Additionally, you may have trouble catching a minibus on cruise ship days as they'll all be at docks picking up newly arrived tourists.
Driving
For those who prefer to be autonomous, there is also the option to rent a car, scooter, or motorcycle. Most rentals will have to be made at the airport or at a rental place next to it. It's recommended that you speak to your hotel or property manager to find the best rentals on the island. They'll be able to guide you towards a trusted rental agency.
Once you've rented your transport of choice, remember to do plenty of research on the best routes. Some streets are better than others, and locals will be able to provide you with plenty of insight in that regard.
Moreover, you ought to be very cautious about driving after significant rainfall. Some sections of the main road near West Bay and Flower are riddled with potholes that only worsen after the rain. The road between West End to Coxen Hole is significantly better and can handle everyday traffic. Although the road situation is improving, it's better to be safe than sorry when driving around Roatan.
Real Estate in Roatan
Honduran law favors locals when it comes to real estate. While foreigners can own three-fourths of an acre, only companies and Honduran residents are allowed to own property in Roatan. However, becoming a resident isn't too difficult. All that you need to sign yourself up as a resident of Honduras is to get yourself an attorney to help you submit all relevant paperwork to the Ministry of Foreign Affairs.
American citizens need not renounce their citizenship to obtain residency. The first way to get your Honduran residency is through a "Rentista" application. You can find out a bit more about Honduras' residency program here.
Work is also another way for you to get your residence. Being an owner or key employee of a Honduran company and applying for this residency is a tested way to get cement your resident status. Plenty of entrepreneurs who are searching for a way into the Honduran lifestyle first set up their companies in Honduras and utilize their business as a way to help them get their residency.
Everyone applying for Honduran residency is required to be in good standing with their tourist visas. While you are waiting for everything to be finalized, be sure not to overstay your 90-day limit. Once you've secured your residency, you can start focusing on purchasing your new island home.
The Roatan Real Estate Market
While Roatan's real estate market has a shady past, the market today has vastly improved. The popularity of cruise ships and the influx of people it brought to the island was what forced the market to get its act together. Today, there's no need to worry when searching for the right Honduran home for you or your family.
Lots in Roatan can sell for as little as $45,000. Houses that need a little love and fixing upsell for anywhere between $70,000 to $80,000. Of course, beachfront lots will be much more sought after with a heftier price tag to boot. To be that close to the water, you'll easily pay $100,000. For a house right on the water that is designed to North American standards, expect to pay $200,000 or more.
As most real estate deals are done in cash, you may consider taking out a loan. However, it is advisable not to do so in Roatan. Interest rates are outrageous and always require some kind of collateral. American expats looking for some financial help should consider a loan or second mortgage from an American lending company. You're more likely to get a better interest rate and have a better overall lending experience.
Communities
After you've managed to find the perfect home, you'll most likely want to link up with any expat communities around. You're in luck as Roatan has quite the bustling expat community. People from all over the world come to the island to call it their new home. You'll meet missionaries, environmentalists, photographers, scientists, explorers, and lots of others.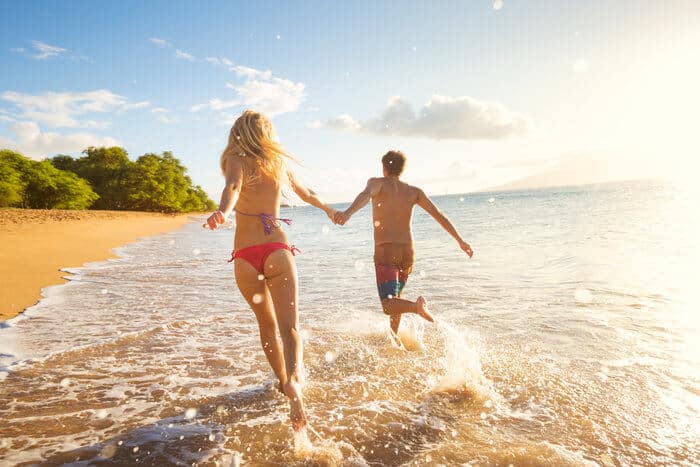 There is plenty of entertainment, dancing, and live music to enjoy. Plenty of musicians in Roatan are expats themselves. You can also join in on boat parties, dinners out, and big social functions.
Although locals will be friendly, don't expect them to always be happy to see you. Oftentimes, locals think that newcomers to the island are taking away jobs and taking food out of Roatanian mouths. Remember to be respectful.
Healthcare in Roatan
Life on the island is easy, and while your new uniform may become shorts and sandals, that doesn't mean that everything will always be sunshine and roses. If you have an accident or fall ill, you need to know how healthcare works on the island when medical attention is required.
Before you move away to an extremely remote area of the island, there are a few things you'll need to consider. The first is whether you ought to choose public or private health care. Since the government has experienced its fair share of fraud and embezzlement, the public health sector isn't exactly in tip-top shape.
Most expats would recommend that you get your own private insurance to keep you covered during your time on the island. Expatriate medical insurance can be a good option for those who have the opportunity to receive it. Get a quote from a few healthcare providers to see which package best fits your needs.
Cost
A monthly insurance plan could cost you $100 a month. If you require medication or have a health condition, having your own healthcare plan might be in your best interest. However, for everyone else, paying health fees as they arise can be relatively affordable. Before going to Honduras, do some research online to find out if the medication you are taking is legal there. The Honduran Embassy in the United States provides a list of legal medication online. Be sure to bring your prescription along with you.
With plenty of hospitals that have American-educated staff, they are in no shortage of healthcare professionals who will be able to help you in your time of need. In fact, you may find that the service you receive is quite quick and efficient. Plenty of visitors and expats have described short wait times and almost instant help from doctors and nurses. Moreover, the service they received help at a bargain price. For kidney infection medication, people have paid as low as $15!
Quality
The quality of the care you will receive in Roatan is excellent, and many expats are surprised by this. Just like any other hospital, hospitals in Roatan are open 24/7 with services ranging from emergency to maternity. You can also expect to have access to dentists and chiropractors on the island as well.
People looking for more comprehensive health services won't be disappointed. There is good availability for services related to pediatrics, gynecology and obstetrics, orthopedics, dermatology, and much more. Just because you are on a small island in the middle of the Caribbean doesn't mean that you won't be able to look after yourself.
The Takeaway: Moving to Roatan
If you're thinking about moving to Roatan, Honduras, you should always consider the above factors before packing your bags.
If you feel ready to embrace the Caribbean lifestyle, don't hesitate and book your travel before it's too late! But remember that peak season means higher prices and plenty of tourists. Waiting for the season to die down will mean cheaper flights and more affordable housing. The choice is still up to you, of course.
Before you make your way to Roatan, brush up on your Spanish or take a Spanish course. Although most locals in the more populated areas will speak English, Island English—a kind of creole—will be much more common. If you don't understand or speak Island English, then Spanish will be your saving grace. Anything from going to the bank to ordering in a local restaurant can require even the most basic Spanish.
When you are able to navigate your way through the island easily, you'll feel grateful for your Spanish skills. Not to mention, it will be much easier for you to negotiate prices and inform yourself about any necessary paperwork you need to complete. Communicating with realtors and property managers will be a breeze, and you'll feel more at home on the island when you're able to communicate effectively with locals.
For a friendly reminder of home, there will be plenty of expats around for you to link up with. You may find some diving buddies or even friends to go fishing with. When your days aren't filled with great outdoor adventure, you can visit local attractions or wind down with a drink in the West End.
Views of the beach and that salty sea breeze will remind you why you decided to move this beautiful Caribbean paradise. In fact, you may decide that you never want to live anywhere else. Roatan has that kind of power.
Once you get there, you become absorbed in the island life. When the rum flows like water and the clear blue sea stretches for miles all around you, it's hard not to want to stay forever. However long you decide to stay, take your time getting to know the island and take it easy, Roatanian style.