This article discusses seven best things to do in the paradise island nation of Seychelles. If the goal is to enjoy the ultimate island vacation, you'd love Seychelles.
Seychelles is an island paradise strategically located off East Africa, surrounded by the warm waters of the Indian ocean. This archipelagic, tropical country boasts scattered islands with long stretches of white sand beaches, rich flora and fauna, and friendly locals.
High-net-worth individuals prefer Seychelles because of the many luxurious beach resorts, unique cultural experiences, and activities this island nation offers.
If you want to hop one step ahead of vacationing and build a home in a tropical island, you'll also love Caribbean. The region offers excellent (and the cheapest) citizenship-by-investment programs. You can also establish a second residency in one of the Caribbean countries for better banking options, a vacation home, and countless other perks.
Whatever your motives for acquiring a second residency or citizenship, set up a call with us today. We'll handle all the complexities while you sit back and relax.
What to Do in Seychelles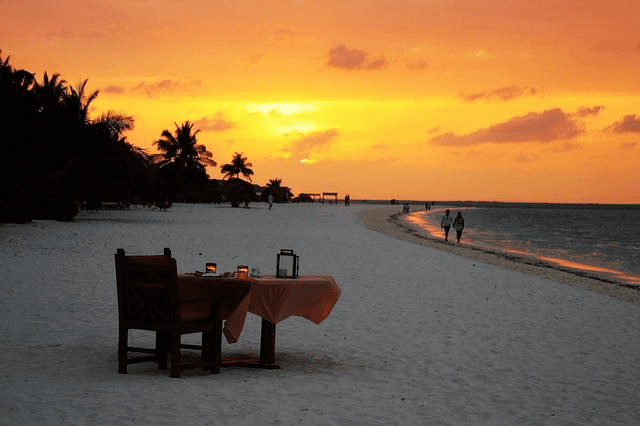 Here we round up seven Seychelles activities that will appeal to adrenalin junkies, adventure seekers, and those seeking solitude. So if you're looking for activities to do in Seychelles alone, with your significant other, or with the kids, our list is for you.
Below are our picks of the best things to do in Seychelles you shouldn't pass up.
1. Live the Island Life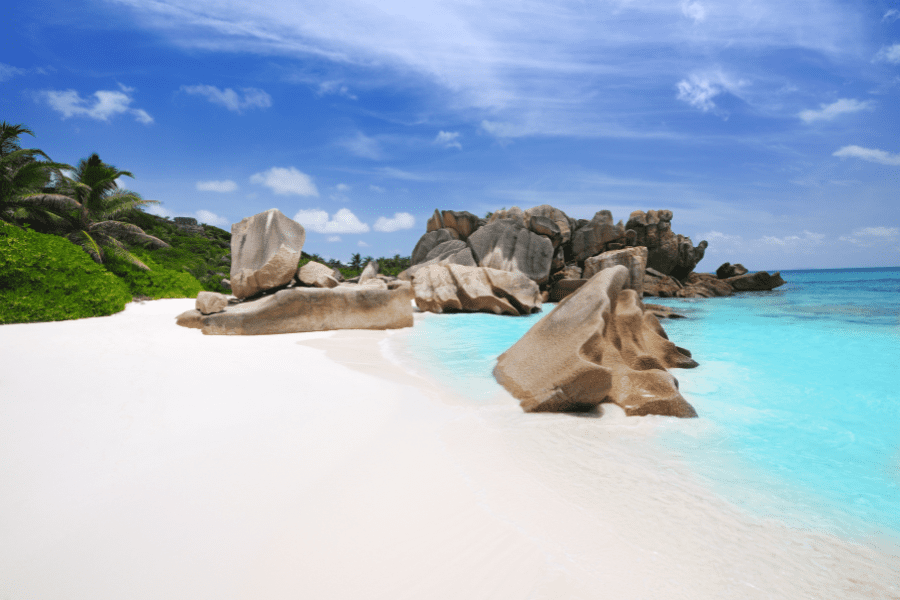 When you hear Seychelles, the first word that would come to mind is 'beach.' And you're right to think so.
That's why our first pick of Seychelles activities involves the beach. Some fun things to do in Seychelles are beach bumming and embracing the beach lifestyle. Take a dip in one of the lagoons of Seychelles. Indulge in a seaside dinner. Or enjoy the cocktails and nightlife.
If it is your first time visiting the Seychelle islands, exploring the pristine beaches and lagoons of Seychelles is a must. Even if you've been to Seychelles before, every visit is a unique adventure. There are so many island shores to explore that you'll never run out of options.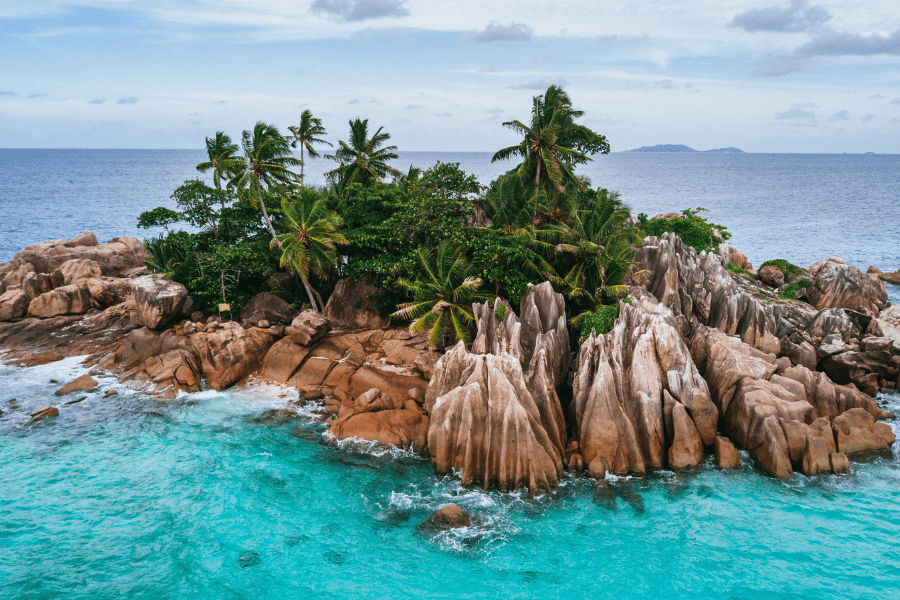 Some of the best go-to Seychelles beaches are the Anse Georgette beach on Praslin island. Though open to the public, Anse Georgette beach cove is not as crowded because it is located on the grounds of Lemuria Resort, limiting the number of visitors.
Besides Anse Georgette beach, Beau Vallon Beach is another must-visit when you travel to Seychelles. Frequented by both local and foreign tourists, this famous lagoon of Seychelles is packed with restaurants, beach shacks, and bars.
If you want serene, quiet Seychelles beaches and a secluded location, opt for Anse Cocos in La Digue Island and the beaches on North Island. The Anse d'Est Beach is where you can see a breathtaking sunrise view.
Adrenaline-pumping activities like surfing, skiing, and parasailing are great on Anse Intendance, Anse Gaulett, and Grand Anse on Mahé Island. Pointe Canon and Pointe Camille in La Digue Island are also great surf spots.
2. Go Island-Hopping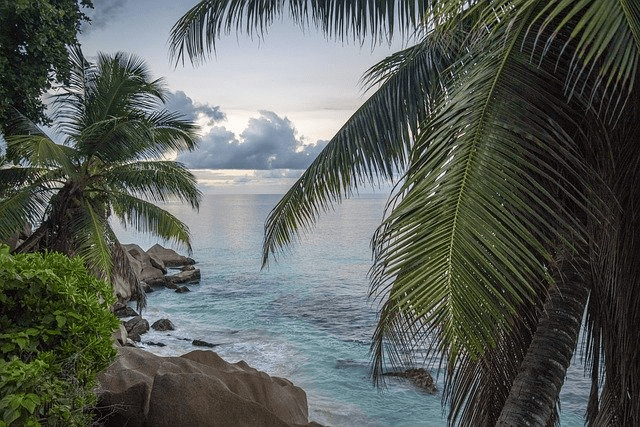 Because Seychelles is archipelagic, one of the fastest ways to explore as many Seychelles islands as possible is to go island hopping. A quick boat ride or kayak can take you to nearby island clusters. A cruise or helicopter ride can also be a good idea if you are pressed for time.
But if you want to explore what each Seychelles island has to offer, we suggest you pick a few islands and allot a few days each for you to explore each of the Seychelles islands.
Pick a theme on what you want to explore or things to do on Seychelles island you want to hop.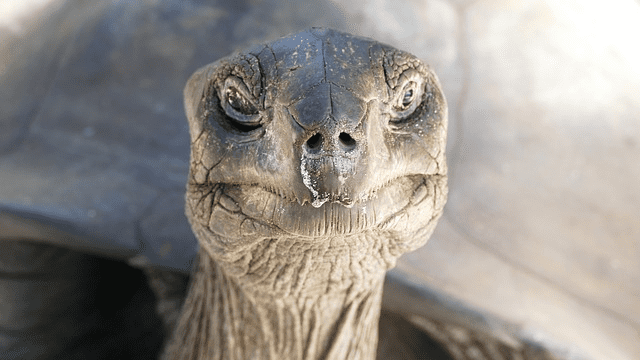 Explore the giant tortoises and watch baby Hawksbill sea turtles make their way to the sea on Cousin Island. Be amazed by the Mango forests on Curieuse Island. And best of all, enjoy the unique characteristics of each Seychelles island beach.
3. Enjoy an Underwater Adventure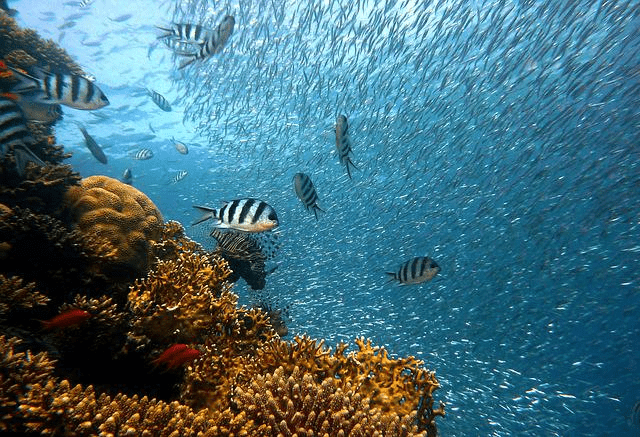 Your travel to Seychelles will not be complete without some sort of underwater adventure.
Snorkeling, glass-bottom boat excursions, free diving, and scuba diving let you explore the rich diversity of marine life underwater. It is also the most ideal way to get up close and personal with manta rays, turtles and sharks cruising through the blue.
If you do not want to venture out too much to the sea, the lagoons of Seychelles are great for snorkeling. Be awed by the diverse aquatic life, sprawling coral reefs, and clear waters of St Pierre, Bird Island, Coco Island, and Grande Soeur Sisters Island.
One of the more exhilarating underwater activities to do in Seychelles is free diving or scuba diving.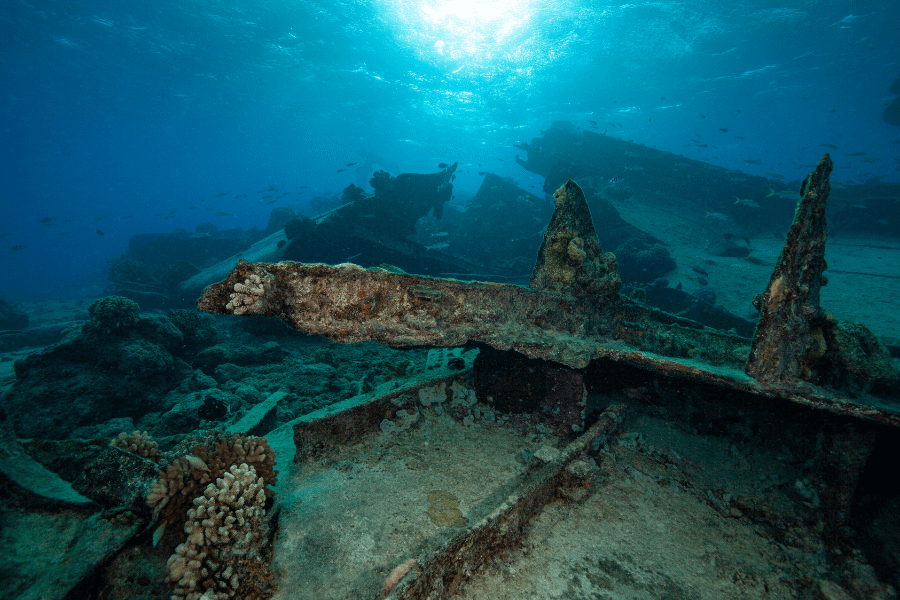 Dive with sharks and rays. Whether you're a novice or pro, take the plunge and book a scuba-diving experience in the Seychelles.
Travel to the Seychelles islands of Mahe, Praslin, and La Digue to get in touch with one of the several diving centers. There is also a diving school if it is your first time and you want to try the sport. The spectacular underwater topography, marine walls, ravines, apexes, drop-offs, and wreckage are perfect spots to explore.
Some notable diving spots in Seychelles are The Sunken Ship Dive, L'ilot, Brissare Rocks, White bank, and Aldabra.
Visit Seychelles from November to May to get the best underwater visibility.
4. Experience Local Culture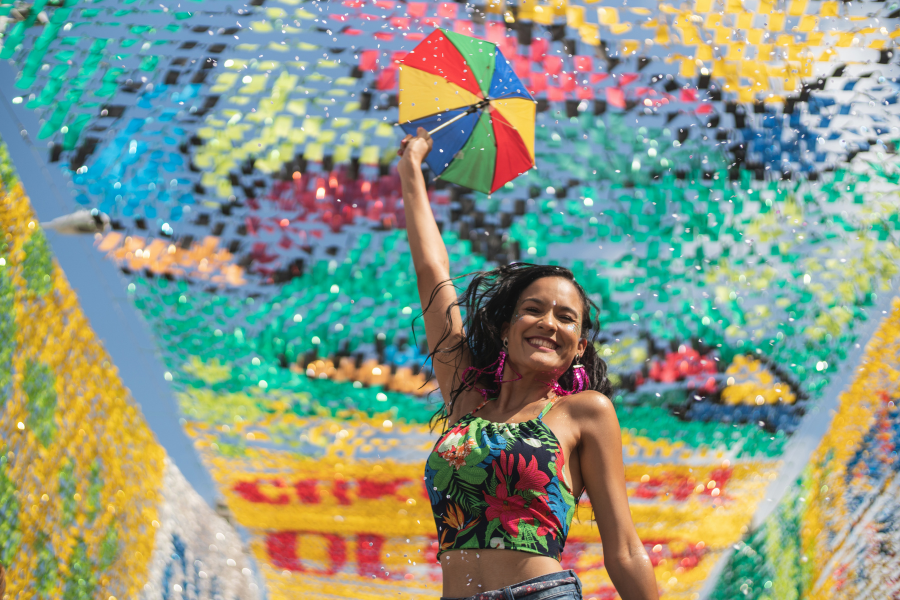 Another on our list of fun things to do in Seychelles is to experience local culture. We think one of the best ways to get to know a country is to immerse yourself in its people and culture.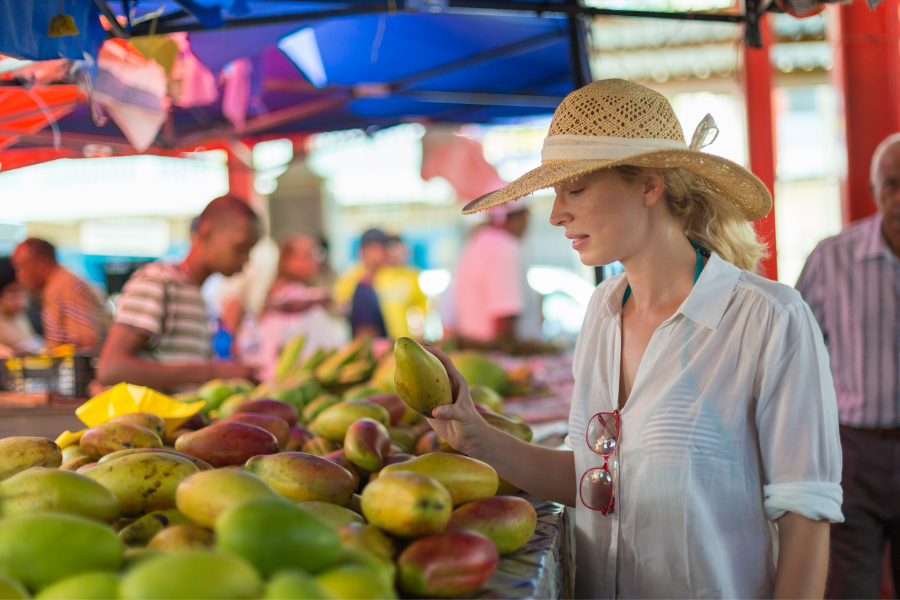 The people of Seychelles are generally warm and friendly. And one of the best ways to mingle with them and soak in the local vibe is to visit the markets.
Get to know the people of Seychelles by visiting the Victoria Market, also known as Sir Selwyn Clarke Market. Located at the heart of the island, you can meet locals who sell fresh fish, fruits, and vegetables. Explore the many craft shops that offer souvenirs and trinkets, ranging from ship models to pearl jewelry. And sample foods from the many Creole takeaway stands.
Seychellois love to share their thoughts on Creole food and culture. You can feel the market's enthusiasm from the vendors and locals buying their produce. It's visible evidence of the genuine heart of the capital and shows an agreeable mix of the old and new Seychellois lifestyle.
We advise you to go early in the morning when the sun is not yet hot and there are still few tourists.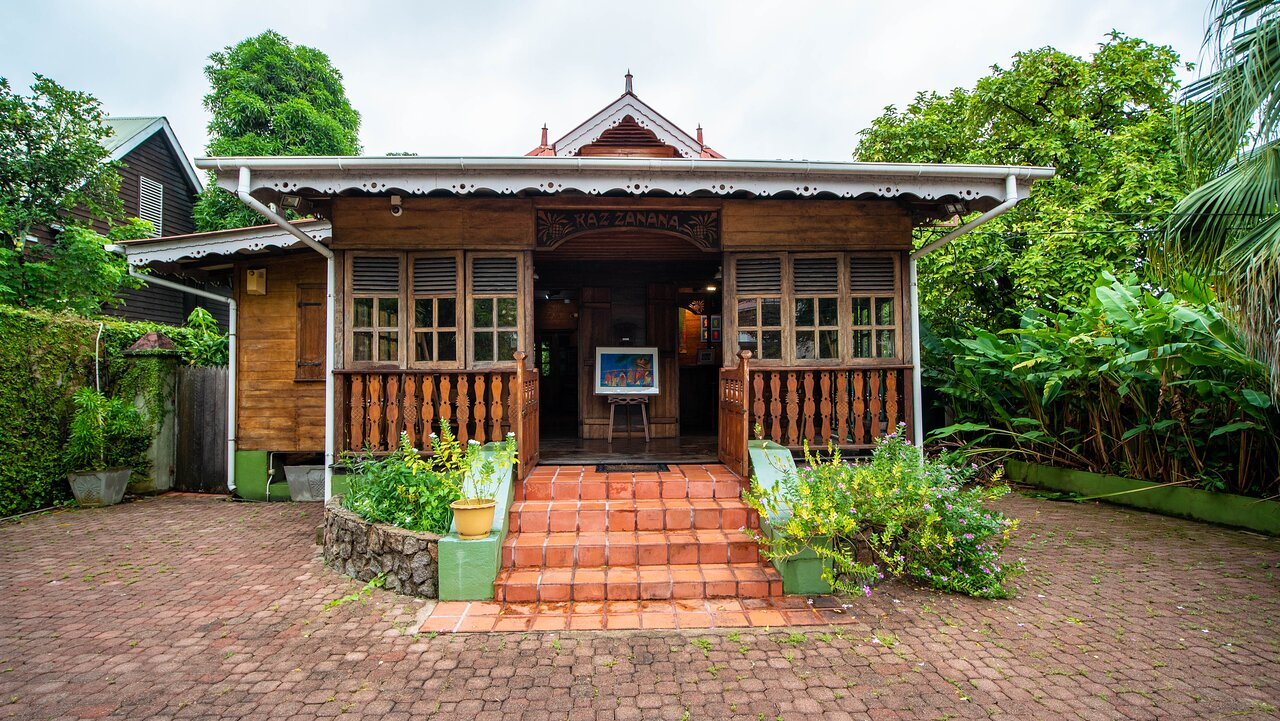 A visit to an art gallery is another way to understand the people of Seychelles better. Not only will you get to appreciate art, but you can also take a part of the island with you by buying art pieces made by local artists. George Camille Gallery, Galerie Passerose, and the Island Gallery Seychelles are great starting points.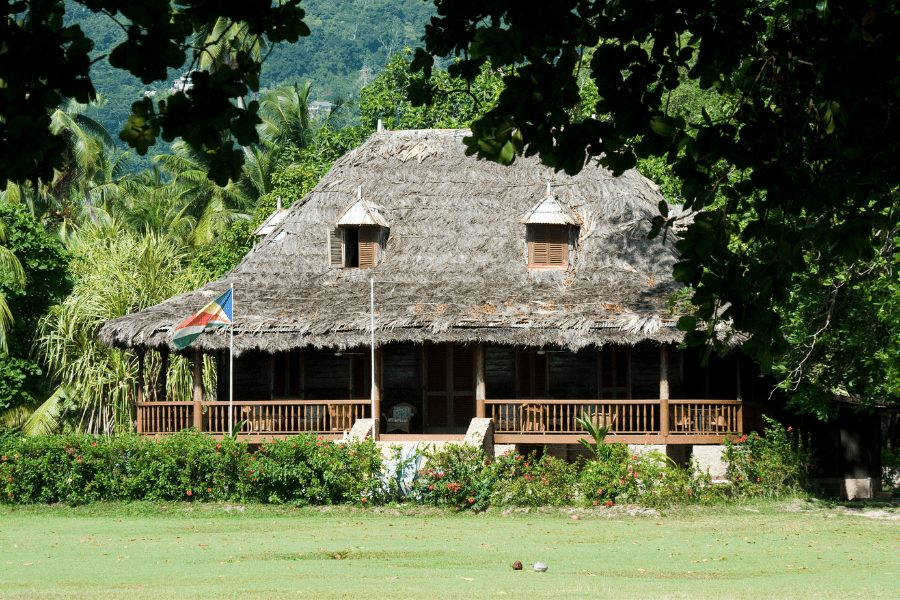 When you travel to Seychelles, you must visit a vintage plantation house to learn about the country's colonial history and the old way of life.
The Grann Kaz, located at l'Union Estate of La Digue islands, is one of the last traditional plantation houses in Seychelles. Recently renovated, you can explore the estate and appreciate how the islands' colonial history influenced the Seychelle islands. Hop on a bike and see places around the plantation house. Check out the surrounding thick coconut plantations, old cemetery, coconut oil mill, copra house, vanilla plantations, a colonial-era graveyard, a boatyard and a tortoise pen.
5. Conquer the Mountains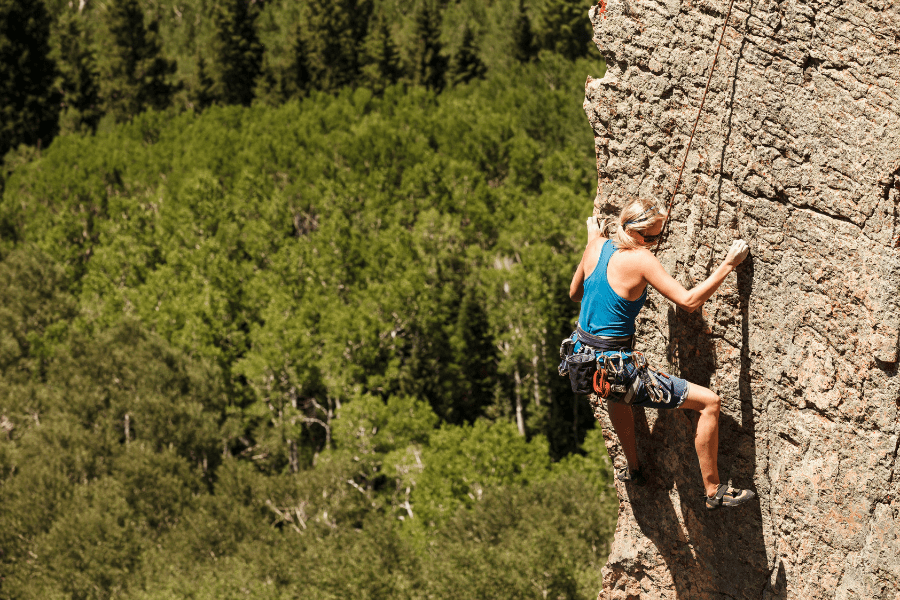 Your Seychelles travel should not be limited to the country's coastlines alone. If you already had your fill of Seychelles beaches, then maybe it's time to conquer the mountains. Seychelles has rich tropical forests and jungles for those who prefer nature trails. Immerse yourself in some truly beautiful nature trails. Pass through idyllic scenes of vibrant wildlife to stunning panoramic views across the island.
Some fun things to do in Seychelles that do not include the beach are:
Rock climbing
Zip-lining
Hiking
Bird watching
Nature and guided walks.
Helicopter Tours
Constance Ephélia Resort in Mahe offers rock climbing and zip-lining.
The rock formations in Constance Ephélia property offer various grades of rock climbing experience for any age and of any level. For more adrenalin rush, you can zip-line through the tropical jungle of Mahe island.
Morne Seychellois National Park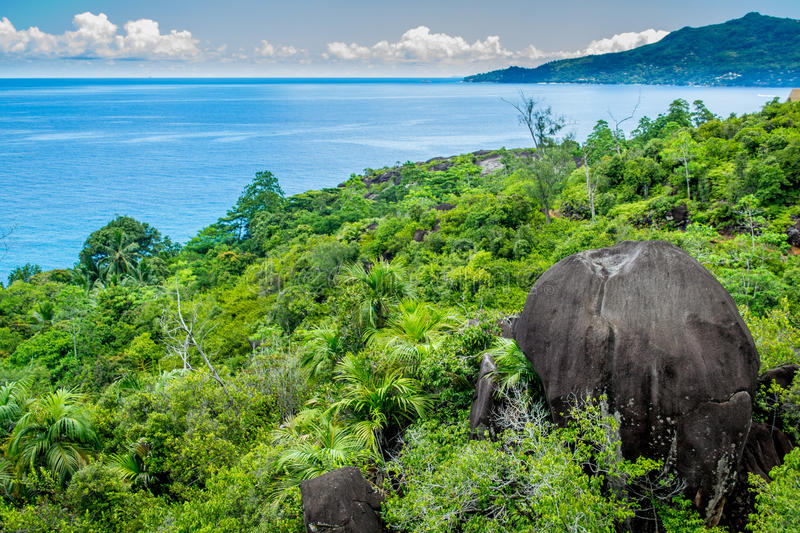 If you're a nature lover who prefers more moderate activities to do in Seychelles, a guided tour of Morne Seychellois National Park is a must. Be awed by the diversity of flora and fauna while you trail the mix blend of mangroves, tall mountains, and lush tropical jungles.
To see some amazing rock formations, walk the Anse Major Trail. This trail is relatively easy and takes around an hour and a half. The Anse Major Trail trail is also the only way to get to Anse Major beach by foot.
Morne Blanc Trail is one of the more challenging hiking trails in Seychelles. A little more difficult than your average trail, the Morne Blanc Trail is an uninterrupted uphill climb along Morne Blanc mountain with views well worth its challenging nature. The trail takes roughly 45 minutes each way.
Coco de Mer Vallée De Mai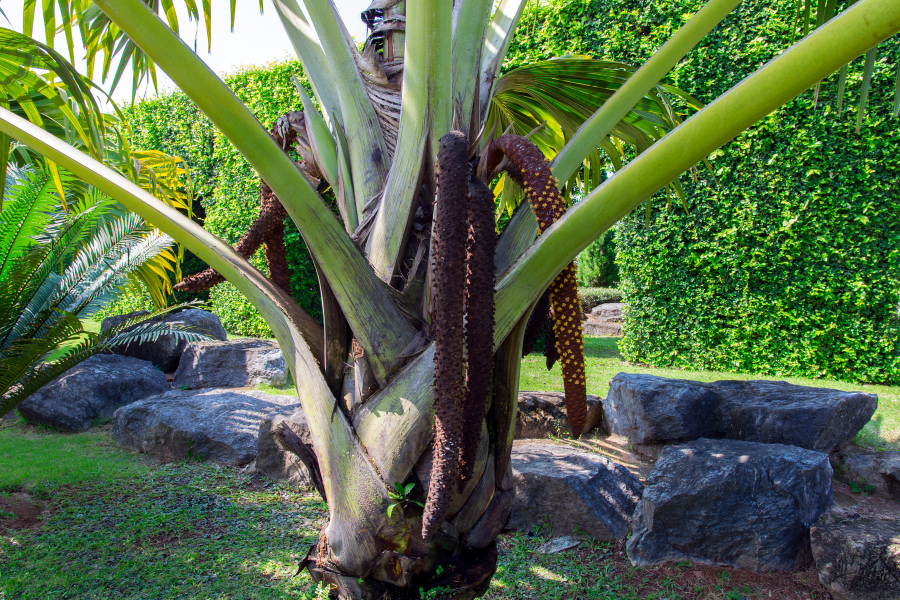 The Coco de Mer Vallée De Mai is one of two UNESCO heritage sites in Seychelles. It is part of a nature reserve that covers a large part of Praslin's interior. This UNESCO World Heritage Site on Praslin island is a natural palm jungle of Coco de Mer Palm, indigenous to the Seychelles. This stunning nature reserve is home to over 4,000 Coco de Mer palms.
The Coco de Mer was first thought to have grown under the sea because it will often wash up on the coasts of India. But when the French landed on the Seychelles in the 1700s, they found the real source.
Vallee de Mai is also a bird watcher's paradise. Here you can spot the endangered Seychelles bulbul and highly endangered black parrot. Both of which are endemic to Seychelles. Keep an eye also on the lovely blue pigeon, Seychelles warbler, tree frogs, and tiger chameleons.
6. Play Golf
Golf is another one of Seychelles' activities that do not involve water.
If you are a golf enthusiast, you should include playing a round of golf (or two) on things to do in Seychelles.
If you have a penchant and patience for the gentlemen's game, you are in for a treat in Seychelles. There are two excellent golf courses in Seychelles – the Seychelles Golf Club and The Lemuria Golf Course.
Seychelles Golf Club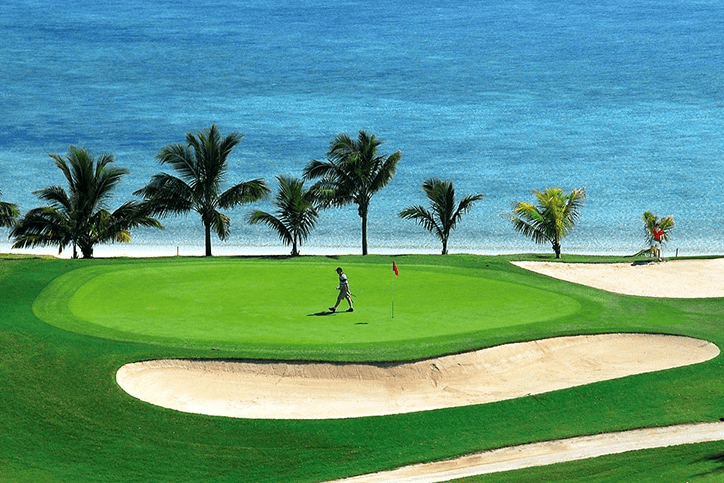 The Seychelles Golf Club is a 9-hole golf course with 4,992 yards of fairway. Built on old coconut plantation grounds, the Seychelles Golf Club is the only golf course found on the main Mahé island. Tee off in wide-open greens dotted by a mix of coconut and palm trees with lush green vegetation in the background.
The Seychelles Golf Club is just a 10-minute drive from the Seychelles International Airport at Pointe Larue. The club is open to the public, so visitors can book a tee time and, if they are lucky, participate in a sponsored competition.
Lémuria Golf Course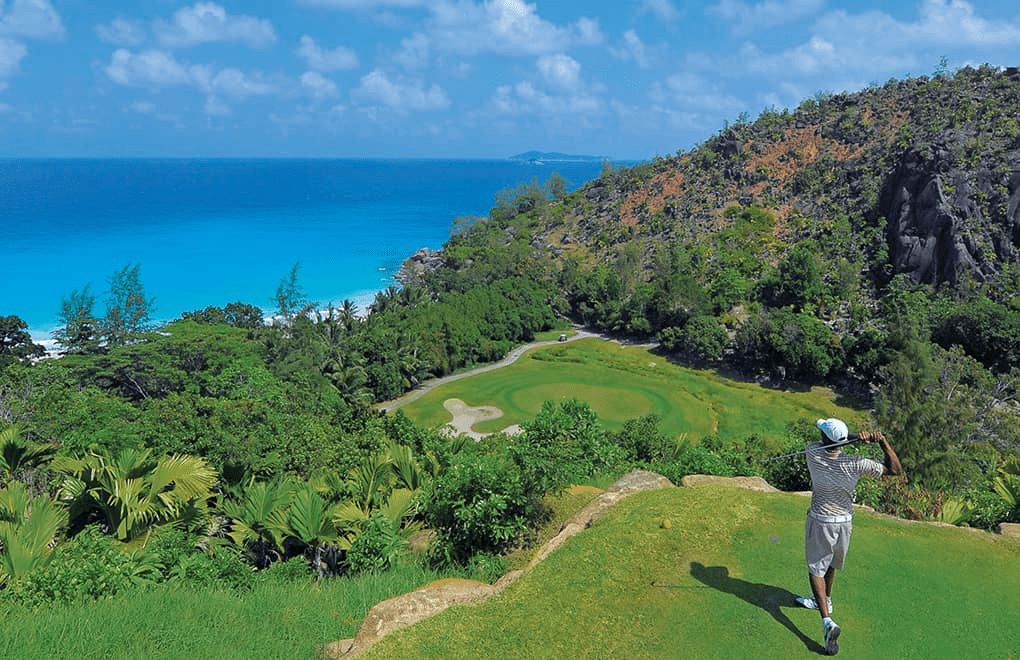 The Lémuria Golf Course, on the other hand, is located inside the Constance Lémuria Resort. The Lémuria Golf Course is a full 18-hole golf course that was once voted one of the top 10 golf courses in Africa by CNN. This championship golf course will challenge any golfers because of its wide water hazards and fairways dotted by coconut, palm trees, and rich vegetation.
7. Go on a Helicopter Tour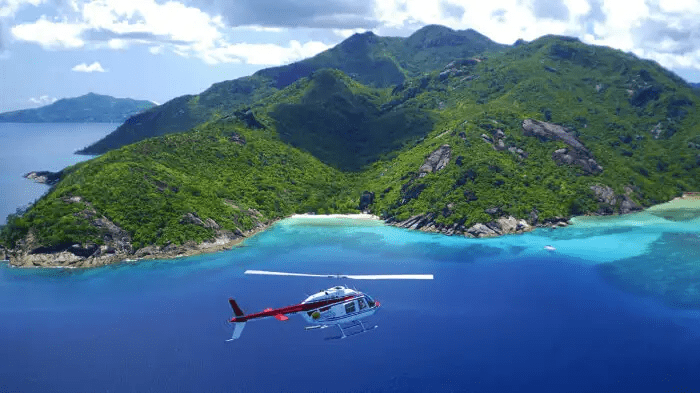 One of the ultimate things to do in Seychelles is to explore the islands from above.
If you are pressed for time and want to soak in as much of Seychelles, go on a helicopter tour. And with the many helicopter tour providers, you will never run out of options.
Experience flying in style and luxury as you take an aerial tour of the Seychelles islands. There's a 15, 130, and 90-minute scenic flights to take you on various themed experiences. Explore the diverse lagoon of Seychelles from above and opt for a private picnic in the most secluded spots.
Live Your Best Life Now – Get Your Plan B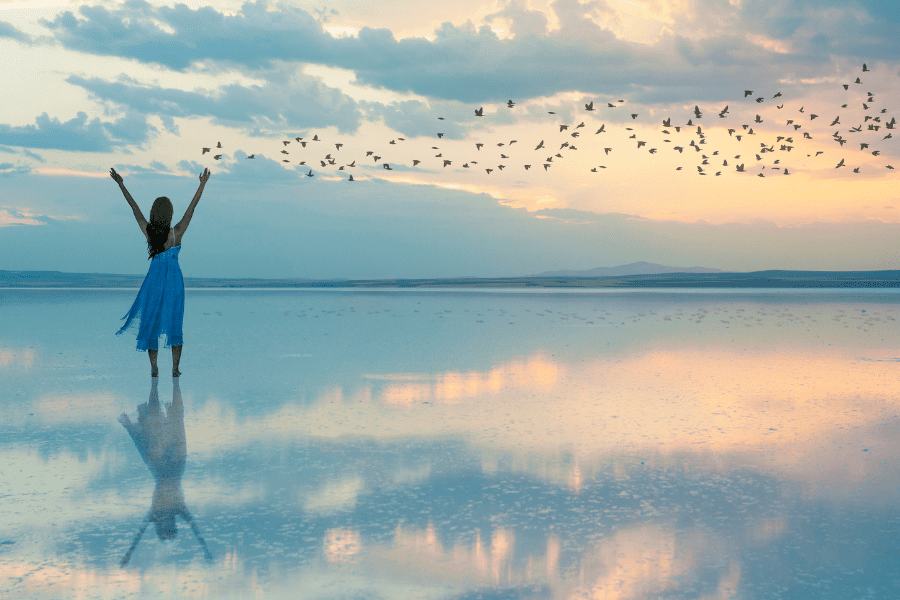 Here at Nomad Capitalist, we believe that you should go where you're treated best. We help seven and eight-figure investors, entrepreneurs, and global citizens create a holistic offshore strategy specifically crafted for their unique preferences and lifestyle.
Whether you want a Tier-A European passport or an Eastern European "back-pocket" residency – Whether you want a summer home in Montenegro or the Caribbean or simply want a stable jurisdiction to park your investment, we can help you achieve that. All you need to do is reach out to us, and we'll handle the rest.