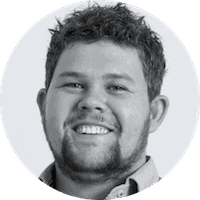 Article author, Justin Scott (@leangrowthguy), is the Head of Growth for Bench, a software startup completely changing the game for nomads and people who work remotely. He's a South-African-born New Zealander who lives in Los Angeles, but was in Vancouver at the time of this article.
I travel a lot. But I hit a bit of a roadblock with the USA Border Officers on my last trip from Canada to the USA on my way to meet investors. They denied me entry, leaving my fiancée to return to the US without me and causing me a hell of a headache.
I moved to the US only a few months ago. So, after a moment of panic, I knew that I had to figure this out. And I did. This is a story of how I conquered the immigration process and managed all required documents and relationships during the process.
I've heard horror stories about this process, but overall, for me, it felt effortless.
If you are thinking about immigration (to any country) yourself, this article is for you. I will walk you through the hoops I jumped through while applying for my US visa.
If you are a legal professional, this article is for you, too. I will explain what your potential customers' feel and what they are looking for in collaboration with you.
I am going to tell you EXACTLY how I simplified my immigration process, kept everything centralized and easy to access, and cut out a lot of (often costly) miscommunication between me and my attorneys.
PHASE 1: Start with the Research
I don't know about you, but when I first started the process to get my visa, I got a little complacent as soon as my attorneys got involved. I didn't do much research; I just answered their questions, listened to them, and did what they told me.
But, my first two visa applications for a B1 were denied. In hindsight, this totally made sense. The purpose for which I was entering the USA was not quite right for the B1 visa.
In retrospect, my advice is to do your own research. After I got denied the first time, I started getting really familiar with the legal material.
"The problem with researching legal stuff is that it can easily all merge into one folder in your brain. Kind of like a cloud of meaningless, non-specific information, and rough conclusions."
So, as I was researching, I wanted to make sure I always had a repository of the info I had gathered and relied on. I started a Bench with my fiancée and we began uploading knowledge.
As we visited websites and did our research we took full page screenshots of what we found. (This chrome plugin came in very handy).
We found the following two resources to be critically informative and invaluable: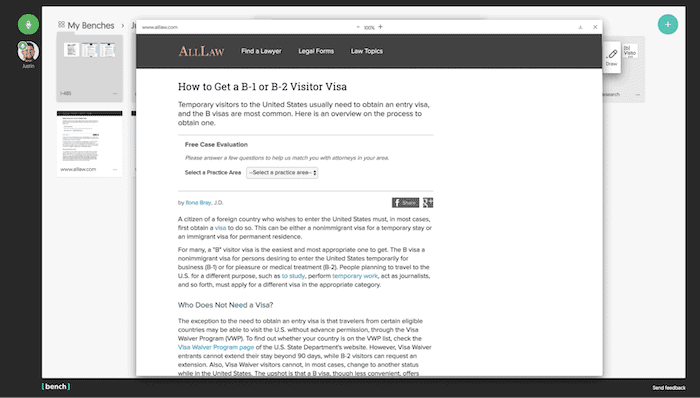 Then, we read those resources together and we annotated the things that we needed to pay attention to. (Notice the different colours on the screenshots below.)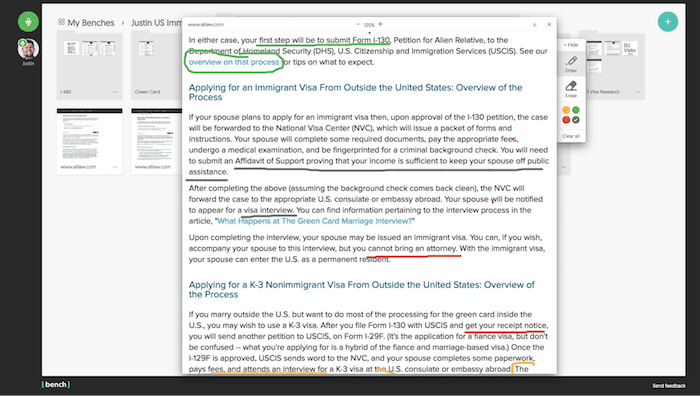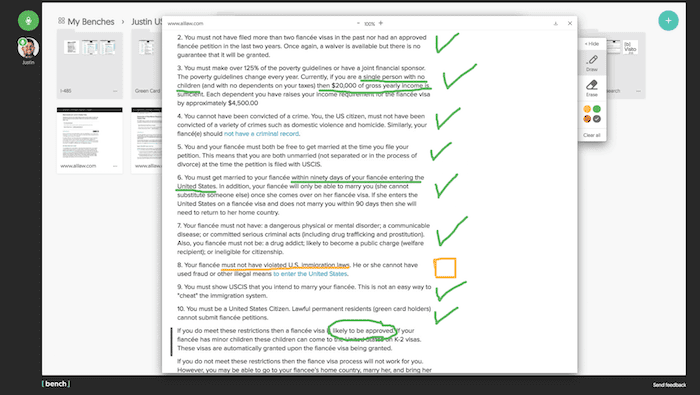 At first, the research started quite broad. We were looking into what visas made sense, what their requirements were and what forms needed to be filled out. So, to keep on top of all these things, we drafted the process on a whiteboard: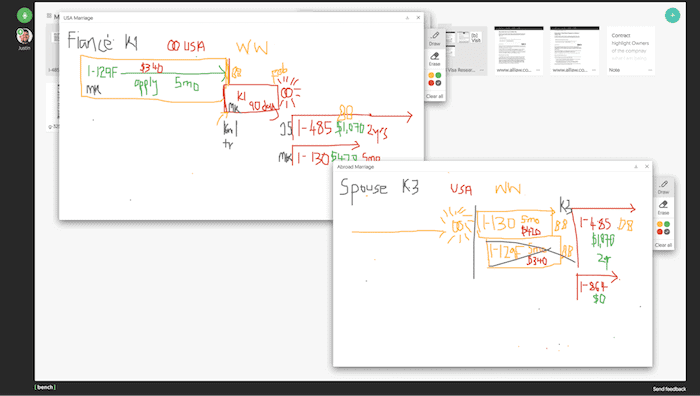 "This visualisation of information was amazing for communicating a very complex set of decisions we had to make."
And when we showed this to our attorneys we got the comment "This is SO rad".
(Let's just say our attorneys come from that hippie era.)
There was a lot of research and deep diving involved, so we started to compartmentalize what we had covered and put them into different folders.
My advice: keep everything organized. When you feel that nothing is under control, you have to find something you can be in charge of. It will bring back a sense of calm.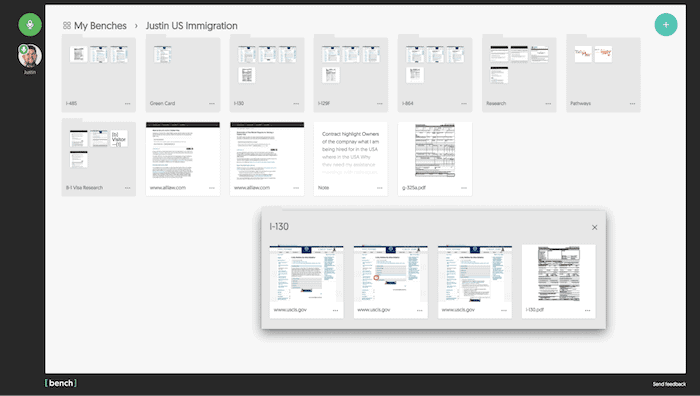 PHASE 2: Make Decisions About Your Immigration Pathway and Execute It
Once you've got the foundations of your knowledge in place, you can make a decision about the pathway you want to take.
We did seek legal advice on this because, even with the research we did, there were present-time nuances that we had to consider (like visa processing times). So definitely consult with an attorney throughout this process.
Once you know where you're heading, you're going to have a gigantic task list to get done.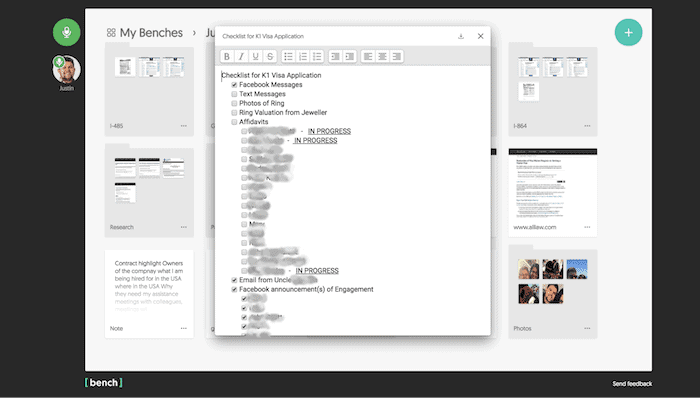 One of the big parts of our process (the K1 Fiancé Visa) was assembling evidence of our relationship.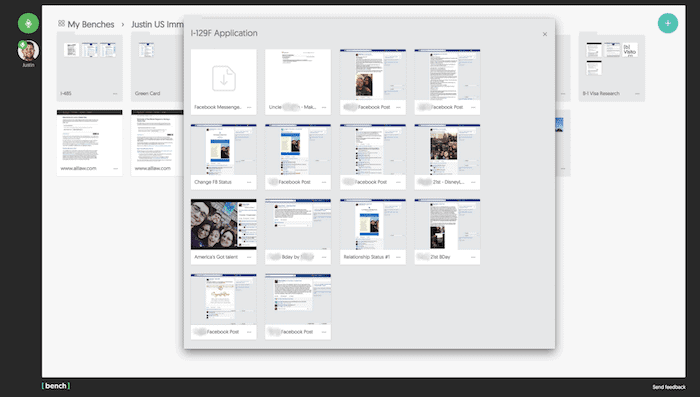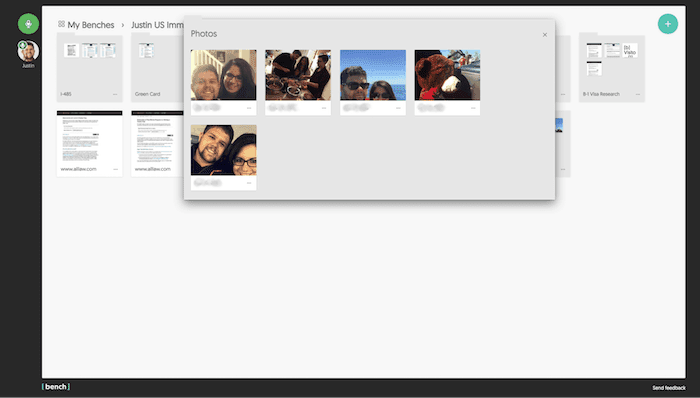 When the time came to submit our application everything was in one place, ready to go.
We submitted our application as needed, and now it's in the hands of the USCIS.
Effortlessly Introduce Anyone Into The Conversation
Attorneys and fiancées aren't the only people that you may need to communicate with during this process. My parents and my future mother-in-law also wanted to know what was happening.

So we just invited them to conversation, brought up a few relevant docs, and walked them through the info they needed to gain some clarity and confidence in what we were doing.
How to save time, money and stress
Lawyers charge by the hour, so the more time you save them and the more you take on yourself, the simpler you can make the process and the more money you save on legal fees.
But the biggest benefit we gained from collaborating in one place was a sense of certainty and a massive reduction in confusion. Any time a lawyer wanted to discuss details, they threw it up on Bench, we made notes, and we always had a clear record of everything. There was just way less confusion on the whole around the things that were discussed.
Having everything in one place – not stuck as attachments on emails – was also a game changer for us (and our attorneys felt this the most).
There was never any confusion on where things were, and no time was spent asking for things or endlessly searching through email.
The immigration process can be tedious and painful. If you need to work with your lawyer, you can avoid the commute to their office. Or, if they're working remotely as they were in my case, you can avoid the need to meet at all. With the right people (and tools) this stressful process can be managed with ease.
PHASE 3: Hello Vancouver
My visa story ends here for now – the waiting game has begun. Luckily, I'm spending much of this time in beautiful, green Vancouver with friendly and outgoing Canadians. That means that I can start to enjoy another great city on my nomad journey.
Todoist blog called Vancouver one of the best locations for digital nomads. I have to agree that, while it's a little bit pricey, it has amazing energy. Beaches, farm-to-table quality food and a huge startup community make me sure that I will enjoy my time here. And, if you're planning on a setting up shop here, Vancouver is one of the five best world cities with the lowest taxes on business.
Be sure to let me know if my visa application process was helpful in your case; and what I can do while I'm in Canada!