This article discusses six passports and residencies that you can get by investing in bonds.
Why bonds? Because many high-net-worth individuals don't like the idea of donating money (as an investment route), and they don't want the hassle of buying overpriced real estate or even managing a decently priced property in order to get their residence towards citizenship by investment.
For such individuals, investing in bonds is the next best option. If you don't like the idea of investing in offshore real estate or making a non-refundable donation to acquire residency or citizenship, read this article and set up a call with us today to discuss your options.
St. Lucia's Citizenship by Investment
First, located in the Caribbean, is the beautiful island of St. Lucia.
St. Lucia bond program costs $300K in bonds, plus a processing fee of $50K. So, for a lot of people, the opportunity cost just never made sense.
You can still invest your money in bonds for five years and get St. Lucian citizenship. Then, you can eventually get that $300,000 back without interest.
If you're looking for second citizenship in the Caribbean, St. Lucia's bond investment is not a bad option.
If you don't want to tie up nearly half a million dollars for the next five years, the $100,000 donation is the most affordable price out there for citizenship by investment.
You can learn more about St. Lucia's citizenship by investment program here.
Turkey's Citizenship by Investment
Turkey's passport can be obtained in a matter of months – through investment.
Now, most people choose the $400K real estate option. There are some decent real estate investment opportunities in Turkey – especially if you work with a team like Nomad Capitalist – we help you buy offshore real estate like a local and get the best deals that add immense value to your investment portfolio.
But for some people, getting into foreign real estate is quite a hassle, making Turkey's bond investment option much more attractive.
You can invest at least $500K in bonds and make a qualifying capital investment to qualify for citizenship.
This is one option where you can put your money in Turkey, get citizenship in three to four months, and have visa-free travel to more than 110 countries. For more information on Turkey, look at our Ultimate Guide to Turkish Citizenship.
Now, let's talk about a few countries where you can get a residence permit through bond investment.
Portugal Bond Investments
Back to Europe. Many people are familiar with Portugal and its Golden Visa program, where you can buy real estate from €500K all the way down to lesser amounts depending on the quality of the real estate that you're looking to buy and get residence in return.
This is a great program that we have helped many of our clients successfully use.
But if you don't want to invest in Portuguese real estate, there are other qualifying investments, including a bond option. Many people don't talk about this because the number is substantially higher. It's a €1.5 million investment, which can be in Portuguese debt.
If you don't want to buy real estate in Portugal and you don't want to invest in a managed fund, then there is an option to simply make a capital investment into Portugal at the €1 million level.
Spain Bond Investments
Next door to Portugal, Spain also has a Golden Visa program with a €2 million government bond investment option.
Now, for some of the programs that we've mentioned, you can invest in any kind of different debt, whether it's government or otherwise. Generally, in Spain, your investment needs to be government debt only.
If you do want to put the €2 million into Spanish government debt, you can get relatively favorable conditions for getting a residence permit. This can help you work your way towards permanent residence and eventually towards citizenship.
However, you'll have to wait a relatively long timeline to get citizenship in Spain.
Also, you should consider that Spain is one of the few countries left in Europe that still has a wealth tax.
But if you like Spain — and we have had clients where someone in the family will only live in Spain—they certainly do have some nominal tax savings opportunities for new immigrants, and you can get those by buying Spanish bonds.
Andorra Bond Investments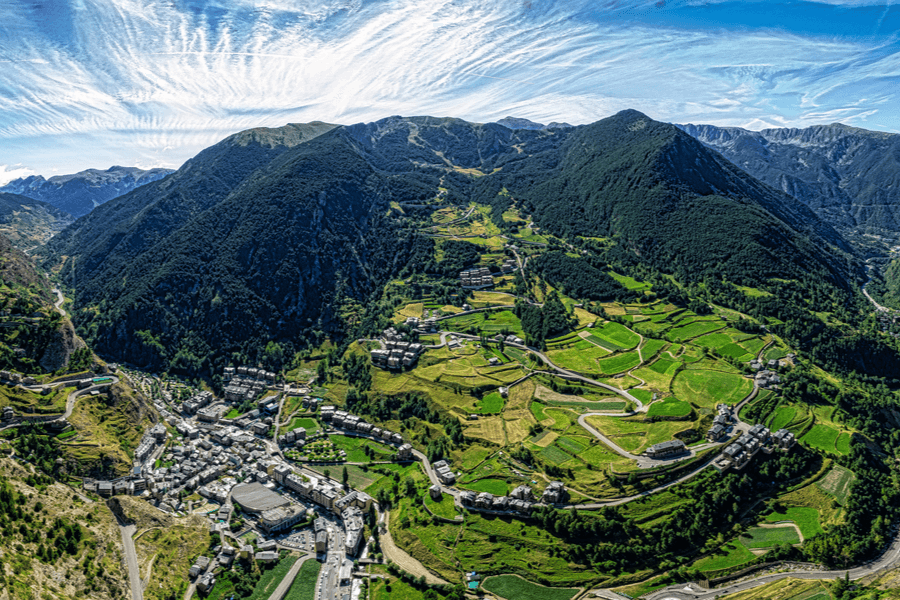 Located in the Pyrénées between Spain and France is Andorra. This country offers a €400K — basically a category A — residence program. Now, Andorra is not talked about that much. There are a couple of different criteria you need to satisfy to become a resident of Andorra.
One of them is that you do actually need to be in the country for 90 days a year.
The other one is you need to set up a bond for yourself in case you are out of the residence program and to make sure you can support yourself.
I think most people look at it as a real estate investment, but there are opportunities to invest in debt in Andorra, also. Once you put €600K into the government of Andorra, it's a very, very long road to citizenship — even longer than Spain.
You're looking at decades.
But that's better than a residence permit that will never lead to citizenship. And if you're looking for a peaceful, rather isolated, very tax-friendly country with great options for starting a business – if you like the four seasons, skiing, and a place where you don't have to spend that much time to keep the residence active, then Andorra might be a good option for you.
It's a cheaper bond option than in Portugal. Portugal may be easier to handle if you're looking to make other investments, but if you just want to make a capital investment, then Andorra might not be a bad opportunity for you.
Latvia Bond Investments
The last Golden Visa opportunity in Europe worth considering is in Latvia. This program used to be pretty popular. It's kind of fallen out of favor as they don't actually issue too many residence permits to investors anymore.
The most common investment recently has been forming a company and paying a certain amount of tax every year. So, if you have a business, that may be one way to go.
There's also a real estate option, but it's a little bit more restrictive than some of the other Golden Visas in Europe.
You can also make a debt obligation with the bank. If you invest €250K in government debt at 0% interest, you can get a Latvian residence permit. It starts as a temporary permit. If you actually live in the country, it can become permanent. Otherwise, you just keep it as a temporary permit for as long as you hold the investment.
Again, not as good for second citizenship, but if you like more of the four seasons, with more of that Eastern European vibe, it's a nice option. Riga has really developed over the past decade and is a charming city. They have really beautiful winters, and it's a great place to spend time if you want a calmer, quieter atmosphere.
Portugal is becoming more popular—it's certainly warmer there—but Riga offers some interesting opportunities. If this fits your description of your Nomad Capitalist lifestyle, then it's definitely worth looking into Latvia's program for bond investors.
Get Your Plan B Now
Whether you want a second residency or citizenship, the best time to get it is now. Two years ago, this list included eight countries. Now it contains six. Who knows, next year, how many countries will cancel the bond investment route or shut down whole programs (like the UK)?If you don't act now, you risk missing out on opportunities of a lifetime. So what are you waiting for? Set up a call with us today to start your offshore journey.