Is Anguilla residence a dream? You can make this second residence come true and take advantage of the plethora of benefits. Check out our comprehensive guide to discover how to join the Anguilla select residence program.
If your home country is a high-tax country, you'll appreciate the tax savings offered by Anguilla. If you prefer a private lifestyle, Anguilla ticks all the boxes. It is a very useful Plan B.
There are advantages of committing to the Anguilla select residence program but also drawbacks. Nomad Capitalist is aware that if you want immediate permanent residency, you might be better off looking elsewhere. We help HNWIs secure permanent residence, as part of a complete holistic plan, in countries like the following:
Andorra
Colombia
Malaysia
Portugal
UAE.
Where is Anguilla?
Anguilla is a British Overseas Territory located in the Eastern Caribbean.
Is Anguilla part of the Bahamas?
No. Although both Anguilla and the Bahamas are in the Caribbean region.
Is Anguilla in Puerto Rico?
No. Both Anguilla and Puerto Rico are Leeward Islands. However, Anguilla is located around 150 miles east of this US territory. Other Leeward Islands include Antigua and Barbuda.
Is Anguilla an English-speaking country?
Yes. Anguilla is a British Overseas Territory. King Charles III is the island's head of state. English is the official language of this British Caribbean island which offers permanent residency.
What are the Benefits of Anguilla Residency?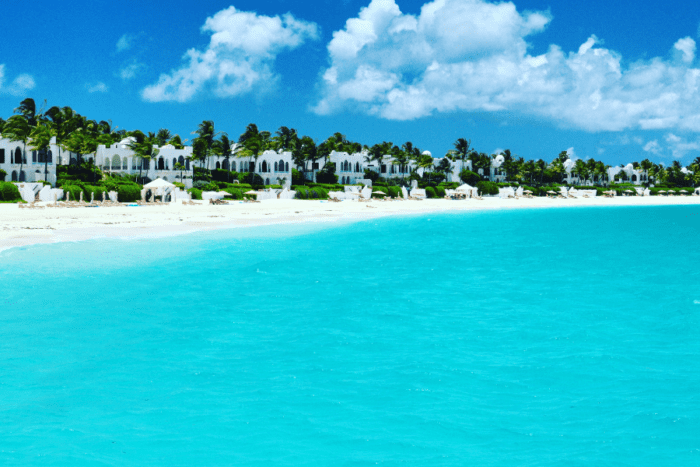 Before sharing the A to Z of getting Anguilla tax residency, let's reveal the pros. What will you achieve with permanent residency?
Anguilla combines luxury with privacy
Anguilla is a favorite destination of Hollywood stars because its citizens respect their privacy.
They also appreciate the glamor that financial freedom buys.
You'll be in good company when acquiring a Golden Visa there. Leonardo DiCaprio has visited, and Denzel Washington owns a seafront villa on the island, making him one of the higher-profile British Overseas Territories citizens.
Big names from the world of music are no strangers to its shores either, with Anguilla frequented by Beyoncé, Jay-Z, and Justin Timberlake.
Tax residency doesn't mean permanent residency
Anguilla tax residency suits entrepreneurs looking for a tax residence with some physical presence and investors looking for a summer residence. Depending on which tax residency program you opt for, you must spend a minimum of 45 days on the island.
Anguilla is virtually tax free
As there is no income tax, corporate taxation, capital gains tax, gift tax, net worth tax, or inheritance tax, the Anguilla government uses custom duties and levies to ensure a virtually zero tax jurisdiction. Social security contributions and property taxes are lower than regional neighbors and international alternatives.
Full British citizenship
Anguilla is a British Overseas Territory. If you spend a permanent residence of 183+ days there for five years, you qualify for a British Overseas Territories passport. After ten years in Anguilla, you can obtain a British passport. Anguilla permanent residency leads you to become a British Overseas Territories citizen and then an actual British citizen.
What Types of Residency in Anguilla are There?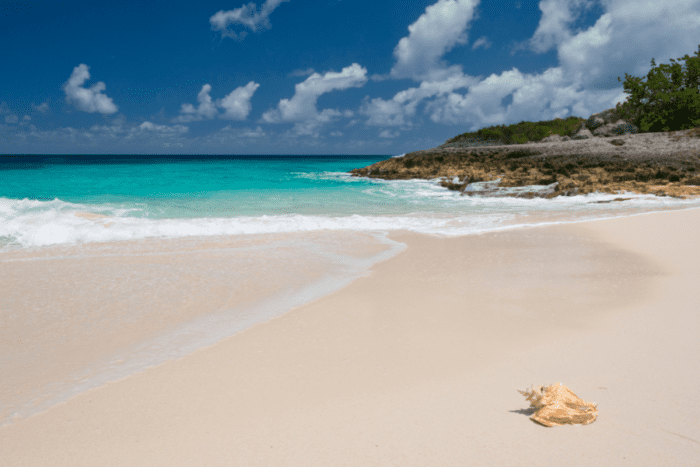 There are two types of Golden Visa available in Anguilla. The Select Anguilla residence program offers these. This approved government program allows you to acquire permanent residency by investment.
Apply for a Residence by Investment Golden Visa
The Residence by Investment (RBI) Golden Visa, aka the real estate investment option, requires principal applicants to:
Either
a) Make a non-refundable donation to the Government's Capital Development Fund (CDF) of no less than 150,000$
or
b) Earn residency by investment by buying or constructing real estate on the island valued (at the time of application) at no less than $750,000
If b), make this real estate investment within six months and present proof of ownership to the Agency
If b), maintain ownership of this real estate for at least five years following the date of purchase to continue on the investment program
Pay $25,000 for the main application fee along with $10,000 for each individual dependent
Pay $3,000 for this Golden Visa application processing fees and $500 each for all dependent family members
Pay a $7,500 due diligence fee for family members aged over 18 and $2,500 for each child aged 12-18
Receive a resident card.
Become a High-Value Resident in Anguilla
Simplify your annual worldwide income tax liability with a fixed annual payment of US$75,000 to Anguilla's treasury. The High-Value Resident (HVR) Golden Visa requires principal applicants to:
Pay $75,000 lump sum tax.
Commit to making this annual direct taxation payment for at least five years
Not be a tax resident in any other jurisdiction
Own and maintain property in Anguilla valued at more than $400,000 (inclusive of land purchase exceeding $100,000) and retain ownership of this residence for as long as you wish to remain tax residents
Establish genuine links to Anguilla by opening bank accounts there, securing local club membership, and acquiring a driver's license on the island
Make an annual written declaration every year that you reside less than 183 days in any other country
Pay Due Diligence Fees of $7,500 and a further $7,500 for every adult dependent and $2,500 for every additional family member aged 12-18
Present a clean criminal record and provide other supporting documents such as birth and marriage certificates
Pay a $3,000 processing fee to cover a family of four and $500 for each additional dependent
Wait three months to receive conditional approval by way of a Certificate of Tax Residence from the Anguillan Government.
Permanent residency in Anguilla using the immediate permanent residency secured by a High-Value Resident costs $498,000 for a family of four, including two children aged 12-18. The real estate option involves a minimum investment of $798,000 for a family of four, including two children aged 12-18.
This investment program that involves payment into a government fund saves paying corporate taxes elsewhere. This government-controlled fund can also make you and your family British overseas citizens. British overseas citizenship can lead to the acquisition of a UK passport. As a British overseas citizen, you can become a full British citizen.
Though this investment program per se is very straightforward, you should be careful when arranging your business affairs. Our team of Strategy experts can help you legally structure your business to achieve maximum tax savings and financial freedom, and our case managers can provide you with a full concierge service needed to help you relocate to Anguilla successfully.
Above all, we have one main objective. Helping you go where you're treated best.