This article looks at company formation in North Macedonia, the business environment in the country, the types of companies you can form, the one type we recommend to clients, the process involved as well as the benefits you receive.
North Macedonia is a low-tax country eagerly looking for investment as well as a candidate for future EU membership.
If you're looking for a European base for your business you're certainly spoiled for choices, but choosing incorrectly can end up costing you a lot of time and money unnecessarily. Let us help you make the best choice first time round. As a Nomad Capitalist client you'll gain the benefit of our team or experienced experts who'll find the jurisdiction that best suits your exact needs.
North Macedonia – Country Overview
Located in South-eastern Europe, the Republic of North Macedonia is a small country with less than two million population.
North Macedonia is the second most mountainous country globally, with 85% of its area covered in the mountains. (The first one is Montenegro, another Balkan neighbor and EU candidate with interesting investment opportunities.)
Kosovo, Serbia, Bulgaria, Greece, and Albania border the country. Almost all these countries make our list of Eastern European hidden gems.
Some of these countries are also the best eastern European countries for planting business flags.
North Macedonia is a reasonably young country that gained independence in 1991. The country isn't remarkable in terms of population, wealth, popularity, or economy.
However, it has a strategic geographic location at a famous communication and trade junction, providing an excellent base for company formation and investment opportunities for foreign investors and entrepreneurs.
Thanks to its highly fertile and lush green valleys and forests, the country has a thriving agriculture sector.
North Macedonia offers a range of benefits to foreign entrepreneurs and investors looking to set up business entities in the country.
If you've set your eyes on the Eastern European region for planting a business flag, you must consider North Macedonia as your offshore business jurisdiction.
This article discusses company formation in North Macedonia, its benefits, and why you should opt for this small country to start an offshore business.
North Macedonia Business Environment
North Macedonia may be a young country, but it has made a name for itself in offshore company incorporation.
Since North Macedonia is not a tax haven, you won't have to deal with additional questions and due diligence that come with operating in such countries.
Subsequently, opening a corporate bank account in North Macedonia is streamlined and straightforward.
North Macedonia has a Company Law that governs and regulates all aspects of company formation, including but not limited to types of business structures, activities, establishment, and procedures.
North Macedonia Company Law has authorized the Central Register to issue and maintain all company registrations. Moreover, it also maintains the Trade Register.
Central Register does an excellent job of streamlining the entire company registration process, making North Macedonia one of the easiest countries to register and start a business.
Now that you know about the country's corporate law, let's look at the types of business entities local and foreign individuals can establish in North Macedonia.
Forms of Business Structures in North Macedonia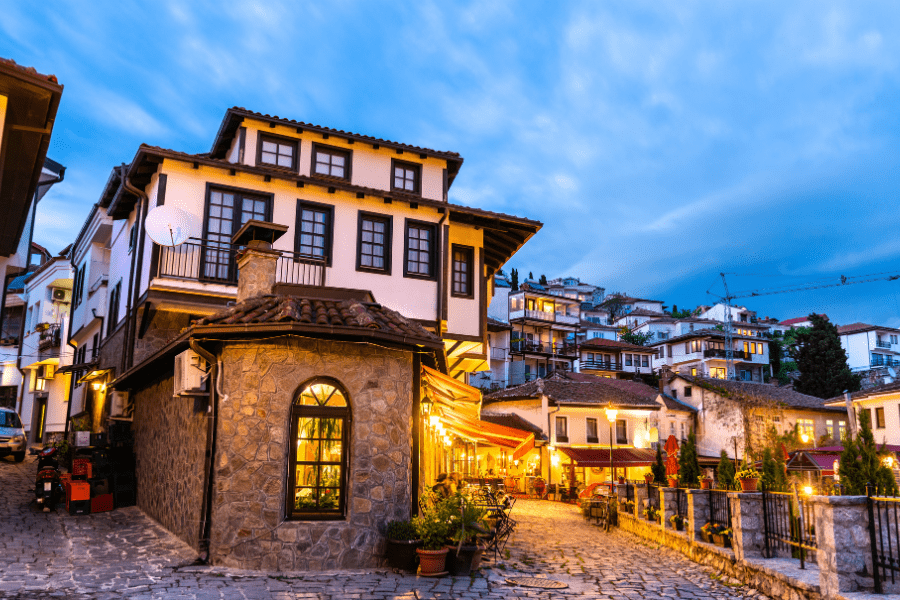 Foreign individuals can start and run a business in North Macedonia with the same rights and privileges as domestic entrepreneurs. The country's corporate legislation doesn't impose any restrictions on foreign-run companies.
Be it joint stock companies or self-owned private companies, local and foreign investors can run their preferred business structure in North Macedonia.
North Macedonia allows the establishment of the following types of companies:
General Partnership
Limited Partnership
Limited Liability Company (LLC)
Joint-Stock Company
Limited Partnership by Stock
Sole Proprietors
Best Form of Company for Foreigners in North Macedonia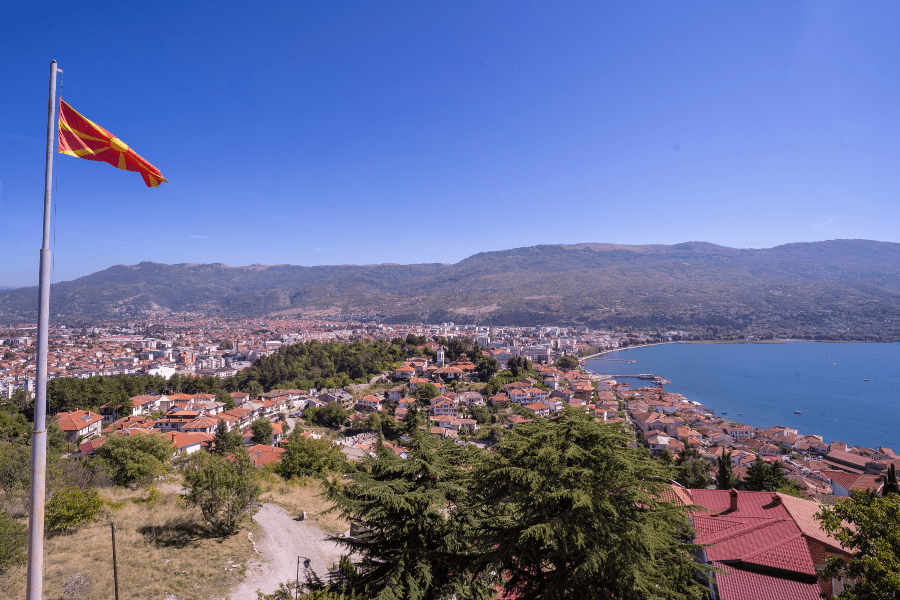 While foreigners have a range of options for company incorporation in North Macedonia, one form of company is considered best for foreign and local investors – a limited liability company.
The following factors make a North Macedonia LLC the best option for foreign individuals:
A North Macedonian LLC can be wholly foreign-owned.
The company must have at least one director and shareholder.
A citizen of any country can be a director of a North Macedonian company.
The shareholder of an LLC can be a natural person or a legal entity.
There are no restrictions on foreign shareholders, except that the number of shareholders can't exceed 50, and they are not required to be residents of North Macedonia.
A North Macedonian company can be established remotely through power of attorney.
The amount of charter capital required is €5,000 and must be paid at the moment of registration or within a year.
The charter capital must be deposited in a North Macedonian bank account.
Procedure to Register a North Macedonian LLC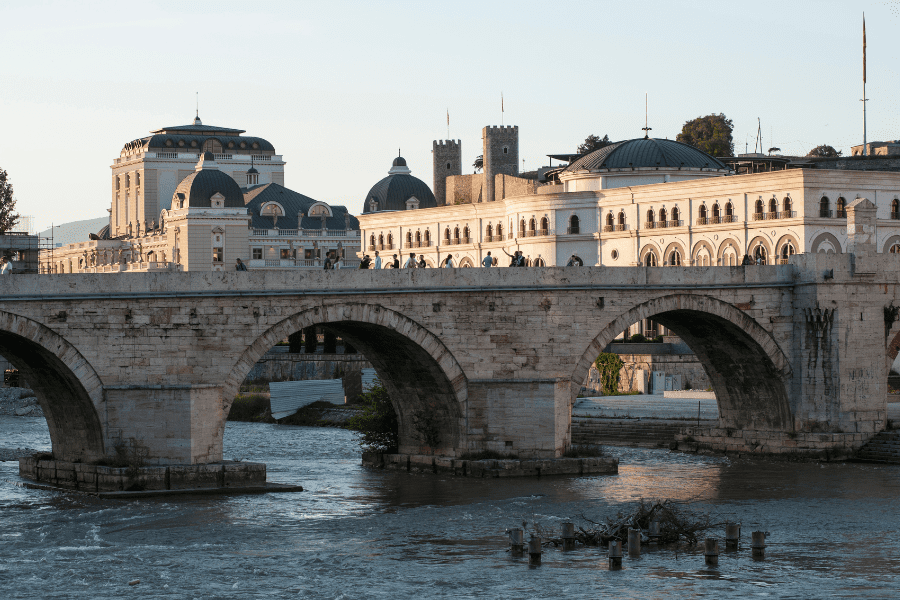 To register a Limited Liability Company in Macedonia, you must follow the following step-by-step procedure.
Register the Name of Your Foreign Company
The first step is to register your company name. You must shortlist three names and submit them for consideration to the relevant authorities. Verification is a relatively quick process. The authorities will choose one name and inform the director(s).
Submit Supporting Documentation
You must submit documents demonstrating information about the following aspects:
Company Name
Scope of business activities
North Macedonia Branch Office (you can also acquire an address from companies offering virtual office services )
Name of the bank chosen for opening a company bank account
Documents proving the identity of company owners.

For natural persons: name, surname, residential address, passport copy, and ID card copy.
For legal entity: Company's current state issued by trade register in their native country (maximum three months old)

Authorized representative/manager: Copy of the passport and ID card
Minimum share capital (i.e., €5,000 euros)
Information regarding the owner's liabilities and distribution of profits per share.
Company Seal
The shareholders must apply for the company seal before starting business activities. The company seal must be applied for after obtaining the certificate of registration.
Activate Company Bank Account
A corporate bank account is necessary to run a business in North Macedonia. Before opening a bank account, browse all your options and choose a bank that offers all your required services. Pay special attention to services like remote banking, online transactions, etc.
Register for VAT
All corporate entities in North Macedonia must obtain a tax identification code and be registered for tax purposes. Currently, North Macedonian VAT stands at 18%. You must also register the foreign investment within the Central Registry.
The steps mentioned above are essential. Foreign investors may be asked to conduct more due diligence or submit additional documents depending on their business activities, shareholders' structure, etc.
For example, companies looking to operate in specific sectors like pharmaceuticals, banking, higher education, etc., must acquire special permits from the relevant institutions.
Now that you've read the company incorporation process, let's see how starting a business in North Macedonia may benefit you.
Benefits of Starting a Business in Macedonia
Favorable Geographic Location
North Macedonia offers a strategic location and a primary base for local and foreign investors to conduct business and reach a high-income European market.
Located in the heart of the Balkans, North Macedonia is situated at the junction of primary European transport corridors linking Central Europe to the Aegean and the Black Sea.
The strategic position of North Macedonia offers direct access to a massive consumer market of over 650 million people across Turkey, Europe, Russia, and Africa.
The country also falls between the Central European time, making it extremely convenient to run cross-border business activities seamlessly.
Favorable Tax Environment
One of the most significant advantages of incorporating in North Macedonia is qualifying for its low corporate tax rates and lucrative tax advantages.
The country imposes a 10% corporate tax rate – one of the lowest in Europe. The VAT stands at 18%, while the dividends tax stands at 10%.
However, the real attraction comes in the shape of tax incentives. Investors seeking to set up local or foreign companies in the Technological Industrial Development zones are granted the following incentives, among other benefits:
Personal and corporate income tax exemption for the first ten years
Exemption from customs duties for machinery, goods, raw materials, etc.
Long-term land lease within the economic zone for up to 99 years.
VAT exemptions (subject to conditions)
Highly Skilled Workforce
North Macedonia is a small country with an even smaller population of less than two million. However, what the country lacks in quantity, it makes up in sheer quality.
North Macedonia boasts a highly educated and talented workforce, especially in ICT.
North Macedonian capital, Skopje, is also a start-up hub with many co-working spaces and a thriving start-up community.
Macedonian and Albanian are the official languages. However, a vast population speaks English, especially the younger generation.
Favorable Business Environment
The North Macedonian economy is far from Europe's strongest, but foreign investment has already made a huge impact. So the government is doing its best to attract foreign exchange and investors through various corporate and personal incentives.
Programs like North Macedonia citizenship by investment and the establishment of free economic zones are only some of the steps the government has taken to boost the economy.
The World Bank also ranked North Macedonia among the top 20 business-friendly countries in the world owing to the ease of doing business there.
Should You Start a Business in North Macedonia?
Lucrative tax incentives, strategic geographical location, and a highly skilled workforce – North Macedonia offers all that and more.
But, although the country is very business-friendly, it's also quite bureaucratic, and opening a corporate bank account is not as streamlined as the state authorities portray it.
However, with the right team by your side, issues like these can be handled quickly and without worry on your part.
If you want to start a business in North Macedonia, we can help you achieve that.
Moreover, if you'd instead start a business in an EU member state, we can make that happen too – all you have to do is reach out.