How could setting up a company in the United Arab Emirates work for you? Going offshore is a way to reclaim financial freedom, and starting a business in top-tier Dubai is the smartest of moves. Our comprehensive overview covers everything about a UAE company setup.
The United Arab Emirates is always open for business. Where your home jurisdiction puts obstacles every step of the way, company formation in the UAE is a more streamlined process. The United Arab Emirates is the new frontier of UHNWI investment.
If you're thinking about establishing your business in the UAE our holistic approach will help you get your business established quickly and effectively. Contact us to start your journey to more financial freedom.
UAE Country Overview
The United Arab Emirates is a country of seven individual emirates. Of these, the two most significant ones are Abu Dhabi, the largest and the location of the region's oil industry, and Dubai, whose port city of the same name has established itself at the center of worldwide business. The 2023 population is 9.26 million.
UAE – Climate
In the UAE, there is no escaping the heat. A hotter and drier interior borders a hot and humid coastline. Many tourists head to Dubai to top up their tans, and its warm business climate invites you to dive headfirst rather than dip your toes in.
UAE – Culture
The UAE is one of the world's biggest expat communities. It has been built on hospitality and tolerance. With nationals from more than 200 different countries living in the United Arab Emirates, this is one genuinely multicultural country, although there remains a reverence for traditional Arab and Islamic values.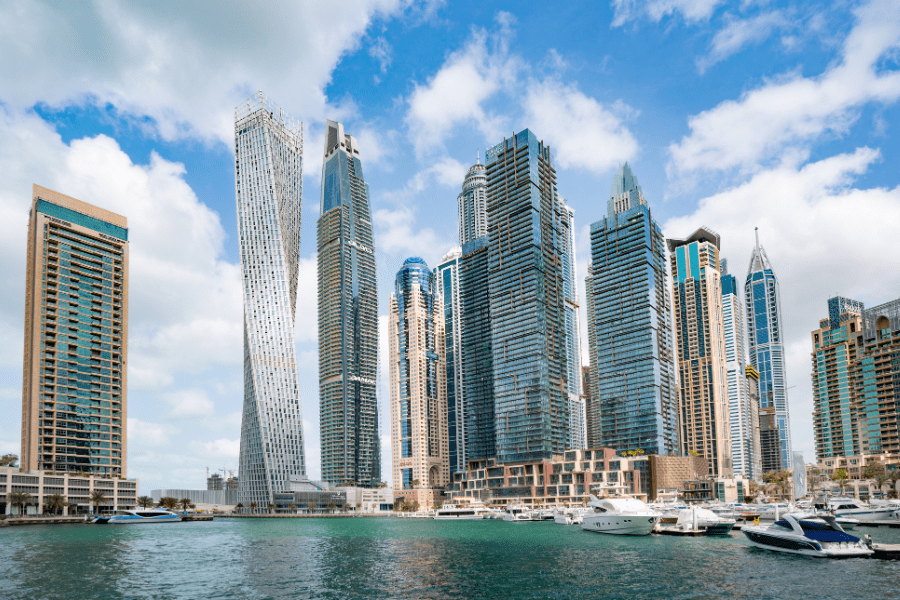 UAE – Economy
Where Abu Dhabi, home to the United Arab Emirates capital, relies on petroleum, Dubai has diversified. The establishment of UAE free zones has facilitated the growth of foreign companies.
According to the Dubai Chamber of Digital Economy, the UAE's digital economy is predicted to hit $140bn by 2031 and increase the sector's contribution to the country's GDP to more than 20%.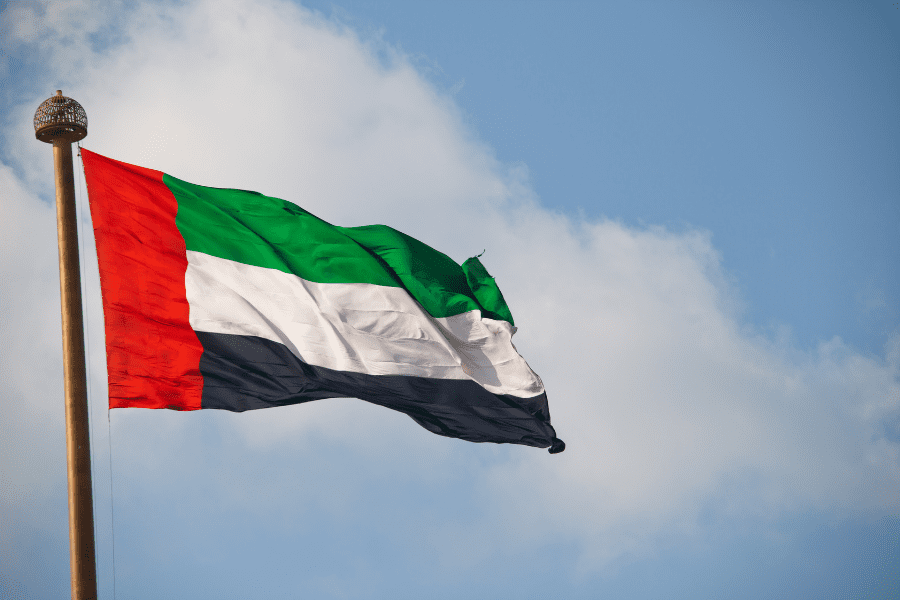 Benefits of Starting a Company in the UAE
The United Arab Emirates knew what it wanted, foreign investment, and how to get it, enticing incentives. Unsurprisingly, it has attracted the world's leading investment companies to open offices in the Emirates.
The United Arab Emirates Government are committed advancing their approach to business activity in the UAE. They have pioneered the Bashr service for setting up a company online.
This integrated eService allows investors to establish their companies in the UAE within 15 minutes through a unified online platform. This platform links with federal and local government entities to supply business licenses.
Abu Dhabi Business Centre provides investors with an instant license to start their company online. They receive the commercial license without having to travel to the UAE to pick it up in person.
Dubai Economy and other Dubai government entities governing relevant sectors launched the Dubai Virtual Commercial City Program for global entrepreneurs and investors. This allows investors to open a virtual company in the Emirates even if they do not reside in the UAE.
Previously, the UAE required that at least 51% of the shareholders in a company reside within the country. However, under the Amending Commercial Companies Law, this is no longer the case. Today you can incorporate an LLC in the United Arab Emirates with 100% of the shareholders residing abroad.
By opening a business in the UAE, you're opening the door to acquiring a UAE residence visa.
The UAE is well known for being a zero tax country, however that changed with the announcement of a new corporate income tax of 9% in June 2023.
However, a free zone company can maintain a 0% tax rate by meeting certain conditions. There are many tax exemptions available for businesses operating across strategic sectors too.
Navigating these rules and maintaining your zero-tax status can be confusing. By becoming a Nomad Capitalist client, we will analyze which tax system is right for you and your new business. We'll also handle all the paperwork and make the process easy and straightforward.
Opening a Business in the UAE Requirements
The UAE is divided into three different economic zones:
UAE Mainland
UAE Free Zone
Offshore
Each of these jurisdictions caters to different business requirements. Although there are differences in terms of company formation procedure, all broadly resemble the following mainland template.
Identify a Business Activity
Your business activity is the foundation for selecting the legal form and type of license, whether commercial, industrial or professional, etc. Deciding on a business activity is like laying the first brick of a house. There are six types of licenses. They are the following:
Industrial
Commercial
Professional
Tourist
Agricultural
Occupational
If you are finding it difficult to decide which business activity to practice in the UAE, don't worry. A company can have more than one business activity, with more than 2,000 business activities to select from in the UAE.
Choose the Legal Form
When you get to this stage, you need to realize that the legal form must match the business activity. Take your pick from one of the following legal forms that can be opened on the UAE mainland, in a free zone, and offshore:
General partnership
Limited partnership
Limited liability company (LLC)
Public joint stock company (PJSC)
Private joint stock company (PrJSC)
Civil company
Local company branch
GCC company branch
Foreign company branch
Free zone company branch
Sole establishment
Holding company
Choose the option that best suits the functions of your company and offers the best benefits.
Select the Trade Name of Your Business
A company name has to conform to the UAE's strict titling conventions. Otherwise, the relevant economic department is not going to approve your company name. The trade name must:
Be followed by the acronym of the legal form of the company, where appropriate, such as LLC, EST, or PJSC
Not contravene UAE's public morals or order
Be consistent with the required type of activity and the legal status of the company or business entity
Exclude names of any religion, governing authority, or names or logos of any external bodies
Not have been previously registered.
The local Department of Economic Development registers the trade name, while the Ministry of Economy registers the trademark.
Solicit Initial Approval From Government Authorities
Initial approval doesn't automatically mean a solid approval. Rather, it means you're on the right track towards getting your business established in the UAE. Interpret an initial approval as the UAE Government, via the Department of Economic Development or respective Free Zone authority, expressing its willingness for your company to be established in its country.
It also permits the investor to proceed with the next steps in setting up a business. However, an initial approval does not give you carte blanche to run or practice the business activity.
Complete and Sign a Memorandum of Association or Local Service Agent Agreement
Depending on the legal form of a business, you will need to fill in and sign a memorandum of association (MoA) or a local service agent agreement (LSA). You will need to submit an MoA for the following business legal forms:
Limited partnership
Limited liability company
Public joint stock company
Private joint stock company.
Only UAE-based law firms, courts, and notary public are authorized to prepare and attest to MoAs and agreements.
Determine Your Business Location
All UAE companies must conduct their operations from a physical address. These premises must meet the requirements defined by the particular emirate's Department of Economic Development, as well as the land planning regulations of the local municipalities.
If you don't own your office space and warehouse, you will need to provide proof of the rental agreement. Some emirates require these agreements to be notarized.
Attain Additional Government Approvals
Additional approval from other government entities governing specific business activities is required in certain situations. For example, the Ministry of the Interior issues additional approvals for activities related to general transport, such as driving schools, fire equipment, alarm, and safety systems, second-hand car dealers, used auto parts, and car rental.
The Ministry of Justice covers legal activities, while the local municipal department looks after architectural and engineering matters.
Travel and tourism, including car clubs, charter air transport, and foreign company branches, are the remits of the Executive Council, while the Ministry of Economy is charged with monitoring insurance activities.
Then there's the Telecommunications and Digital Government Regulatory Authority, which oversees telecommunication activities. The Local Municipal Department looks after architectural and engineering affairs.
Collect the Business License
Foreign investors can now collect the business license from the relevant Department of Economic Development service centers or secure an online electronic copy. They will need to submit documents to enable them to engage in UAE business activities:
Initial approval receipt and previously submitted documents
Copy of the lease contract attested by Dubai's Real Estate Regulatory Agency (RERA)
Memorandum of association or local service agent agreement
Further official approvals
You will need to pay for your trade license within 30 days of receiving the demand. Otherwise, your application will become void.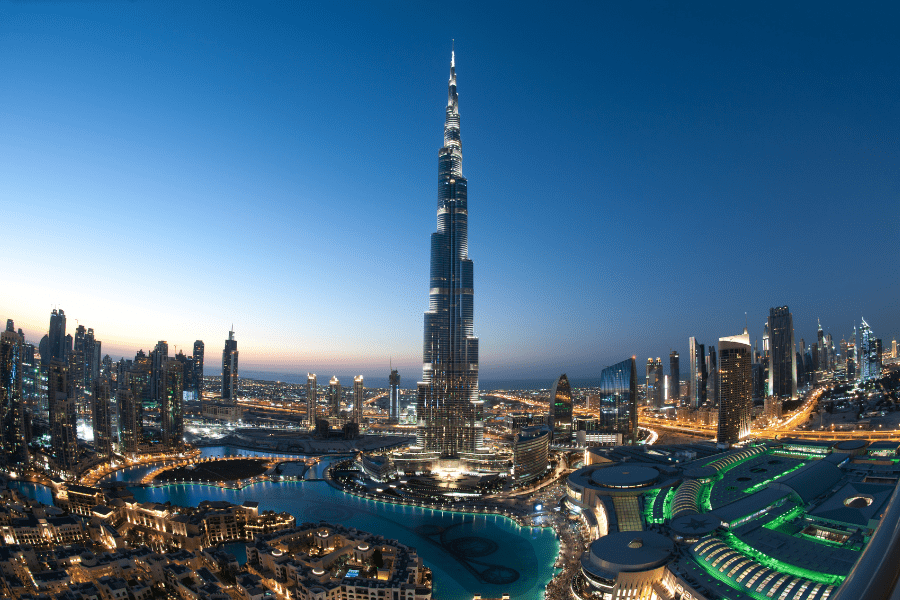 Opening a Business in the UAE Conclusion
The low corporate tax rate from 0 to 9% is one of the most appealing aspects of opening a business in the UAE. The company formation and application process is much easier and more direct than in other countries.
Being able to either establish your company digitally or physically makes the UAE unique. Most countries have residential or other restrictions in place for establishing your company overseas.
The process can be a little confusing, though, and no one wants to go through this type of process without help. Our team at Nomad Capitalist have helped thousands of clients make the best decisions for their businesses, families, and personal goals. Become one of our clients and let us help you achieve your goals and go where you're money and time is most valued.
Initial approval is a critical step in forming a business in the United Arab Emirates
Opening a Business in the UAE FAQ
Can a Foreigner Start a Company in the UAE?
Yes. Many foreigners choose to start a business in Dubai, for example. Expats make up over 80% of the population, with several of those owning their own businesses. Dubai encourages investors and business owners from overseas to set up shop in the city.
How Many Types of Trade Licenses are There in the UAE?
The Department of Economic Development offers six types of trade licenses. There are industrial licenses, commercial licenses, crafts licenses, tourism licenses, agricultural licenses, and professional licenses.
How Much Does it Cost to Start a Business in Dubai?
Budget between 20,000 and 30,000 Emirati Dirhams (around $5,446 to $8,169). The cost of UAE company formation increases in direct proportion to the extra privileges you require. So a foreign trade name or additional approval from a governing entity can raise the price.
Is Dubai a Good Place to Start a Business?
Starting a business in Dubai is a breeze. The city has cemented its position as one of the top startup locations. A business-friendly culture and innovation are the driving force behind Dubai's continuing relevance in the world of entrepreneurship.
We can help you with much more than starting a business in the UAE. Our holistic plans will help to propel your economic development and include instructions on where and when to open a corporate bank account.