In this article, we take a detailed look at banking in Luxembourg. What about this small European nation that has made it a banking powerhouse? And how can it benefit you?
To find out why we first take a look at Luxembourg, its economy, and its financial sector. We then look at some of its main banks, both national and international, the types of services available and what you need to open an account there.
Luxembourg – Country Overview
Luxembourg is a small nation of approximately 625,978 people located in the west of Europe. It borders France to the west, Germany to the east and Belgium to the north.
Along with Belgium and The Netherlands, Luxembourg is one of the three Benelux countries. It is the smallest of the three at just 998.6 square miles (2,586.4 square kilometers).
Luxembourg City is the capital, and the official currency is the euro. The official language is Luxembourgish, a Germanic language, with German and French also used for official purposes. As is often the case with smaller European countries, the population tends to be quite multilingual, with a high degree of English fluency.
Luxembourg is a constitutional monarchy, the only Grand Duchy in the world. It is also one of the founding members of the European Union, joining in 1958 and adopted the euro as currency in 1999.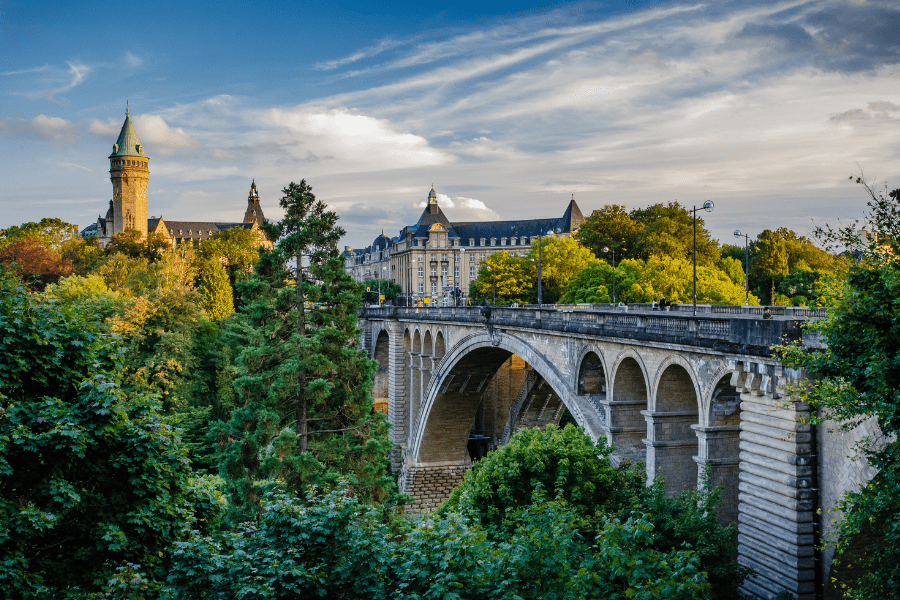 Though traditionally a neutral country, in the aftermath of the second world war, the government amended its constitution and would eventually become one of the founding members of NATO.
The post-war period also saw the decline of the country's steel industry, once the main driver of the economy. As a result, the government began to pivot more toward financial services.
Today finance makes up the majority of the country's economy, and Luxembourg plays host to many of the world's largest banks and insurance companies.
The dominant sectors include corporate finance, corporate banking, private banking, wealth management, asset management, and fund administration.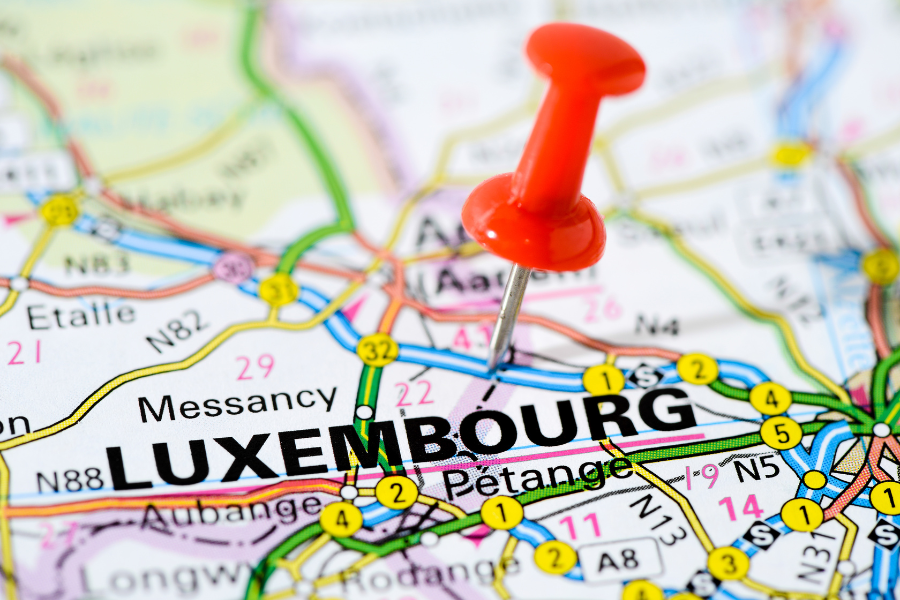 Banking in Luxembourg
Banking in Luxembourg makes up a considerable amount of its economy, with more than 35% of its GDP derived from financial services.
Given its importance as a major central European financial center, it should come as no surprise to discover that most banks in Luxembourg cater to private and corporate banking clients. (Though retail banking, institutional banking and business banking services also exist, with a wide range of options on offer.)
Though small, Luxembourg remains prosperous by serving as a gateway to the European market, providing a broad spectrum of offshore banking, private banking, corporate banking, investment banking, asset management, wealth management, and fund management services.
There are currently 136 different banks operating in the country, with foreign banks making up 30% of all banks in Luxembourg.
Banking in Luxembourg is regulated by its national financial regulator, the Commission de Surveillance du Secteur Financier (CSSF). Luxembourg's national bank is the Banque Centrale du Luxembourg, and, as Luxembourg is a member of the Eurozone, it is also under the purview of the European Central Bank.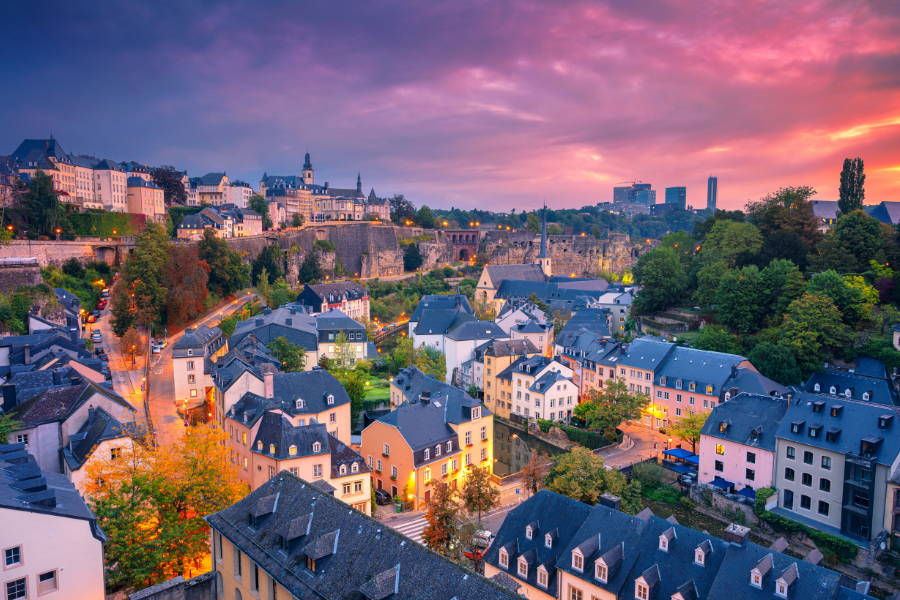 Luxembourg Banks
Luxembourg boasts a large selection of banks, ranging from retail banks to private banks. As a rule, banks in Luxembourg offer a broad range of banking services. Online banking is also widely available.
Luxembourg's banks include some of the biggest names across the entire global banking industry alongside established local institutions with global reach.
The following list should not be considered an exhaustive list of banks in Luxembourg but rather a carefully curated cross-section of the country's banking sector. The purpose of this list is not to endorse specific banks but rather to showcase the diversity of Luxembourg's banks and the different types of banking services available.
List Of Banks In Luxembourg
Advanzia Bank
Banco Santander
Banque de Luxembourg S.A.
Banque Internationale à Luxembourg
BGL BNP Paribas
Citibank
Deutsche Bank Luxembourg S.A.
HSBC
ING Luxembourg S.A.
J.P. Morgan Bank Luxembourg S.A.
Raffeisen
Société Générale Bank
Spuerkeess
UniCredit Luxembourg
Union Bancaire Privée
Advanzia Bank is a digital bank founded in 2005. It specializes in credit card services, specifically the provision of co-branded credit cards and bank cards with rewards programs for financial institutions across Europe. (With the majority of its credit card clients based in Germany.)
Banco Santander Asset Management is a part of the Santander Group, the Spanish multinational with a strong presence throughout Europe and Latin America. The bank offers private banking services plus investment management for customers ranging from individual investors to large financial institutions.
Banque de Luxembourg is a private bank established in 1920. It specializes in providing private banking and wealth management for high-net-worth individuals, though it also has personal and business banking offerings.
Banque Internationale à Luxembourg is the oldest private bank in Luxembourg, established in 1856. In addition to private banking, it provides corporate banking and wealth management services.
BGL BNP Paribas is one of the largest banks in Luxembourg. Originally founded as Banque Générale du Luxembourg (BGL), it became a part of the BNP Paribas group in 2009. It provides personal, business and private banking, as well as wealth management and asset management.
Citibank has had a presence in Luxembourg since 1970, making it one of the longest-serving American banks in the Grand Duchy. The bank specializes in private banking and investment banking, mainly serving ultra-high-net-worth individuals with global financial interests.
Deutsche Bank Luxembourg S.A. became the very first foreign subsidiary of Deutsche Bank AG to open since the Treaty of Rome when it opened in 1970. It provides various cross-border banking services, from financing to asset management and wealth management.
HSBC first opened in Luxembourg back in 1970. Today it provides a broad range of private banking and wealth management services.
ING Luxembourg S.A. offers retail banking, corporate banking and private banking across 16 branches throughout Luxembourg.
J.P. Morgan Bank Luxembourg S.A. is one of the largest banks in Luxembourg, with a presence dating back more than 45 years. It offers a range of services, particularly private banking and asset management services, to a large international client base.
Raiffeisen has roots dating back to 1926, growing from a cooperative bank to a full-spectrum financial institution providing retail banking, private banking, investment banking, and wealth management.
Société Générale Bank is another bank with a longstanding presence in Luxembourg. It caters to private investors, corporate clients, and financial intermediaries and offers a range of services, from asset management and investment funds to online banking.
Spuerkeess is the name of Luxembourg's State Bank, and Savings Fund (also known by the French name Caisse d'Epargne de l'Etat) is a state-owned bank. It was initially established as Caisse d'Epargne de l'Etat in 1856 and remains one of the leading financial institutions in Luxembourg today. It offers both retail banking and private banking, as well as investment banking services.
UniCredit Luxembourg S.A. was established in 1987. It provides private banking, wealth management, and asset management services for HNWI customers.
Union Bancaire Privée entered the Luxembourg market in 1971 and expanded its reach in recent years through acquisitions, such as that of Banque Carnegie Luxembourg (BCL) in 2019. It offers private banking, corporate banking, wealth management, funds management and asset management services to its customers.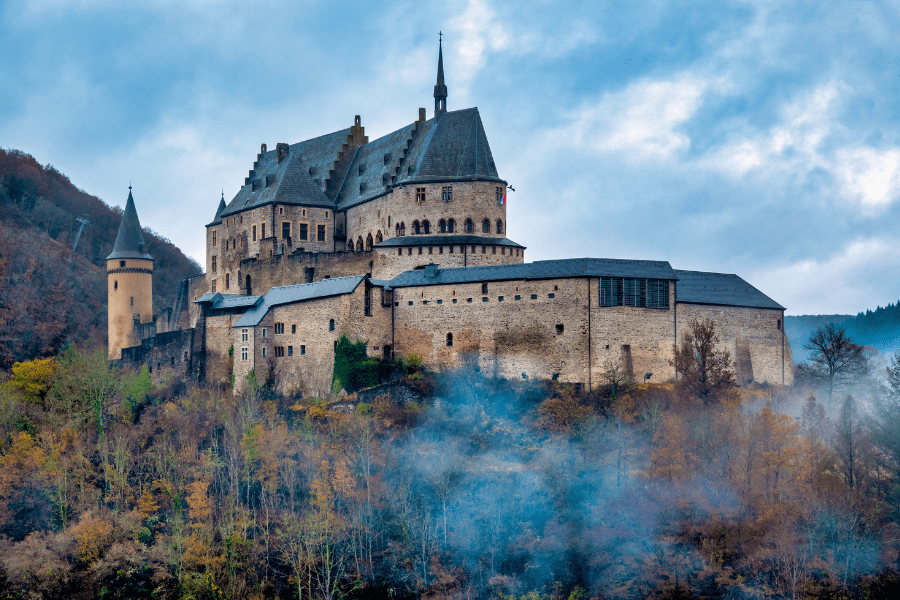 Opening A Bank Account In Luxembourg
Luxembourg's banking sector caters to a wide international clientele, with a particular focus on private banking, wealth management, and asset management. In this section, we look at how to open a bank account in Luxembourg for non-residents.
How To Open A Bank Account In Luxembourg
Generally, you don't need much to open an account in Luxembourg, and the process is relatively straightforward. In most cases, you just need to provide a valid identity document, such as a national identity card or passport, plus a proof of address.
This can be a utility bill from your place of domicile. If you are a resident of Luxembourg already, this bill can be from a local company.
For simple savings accounts or a basic personal account that allows you to set up a direct debit and access cash machines, you may be asked to provide a tax number if you are already a resident of Luxembourg.
For anything more advanced than a basic personal banking account, you may also be asked to provide proof of income. Private and corporate banking customers, naturally, are carefully screened, so be prepared to furnish the bank with any additional information they may require to ensure they are compliant with international KYC requirements.
It should be noted, however, that because of FATCA, Americans looking for offshore banking solutions in Luxembourg may encounter some difficulties in this area and may have to shop around.
It's also worth noting that bank deposit requirements may be high for non residents.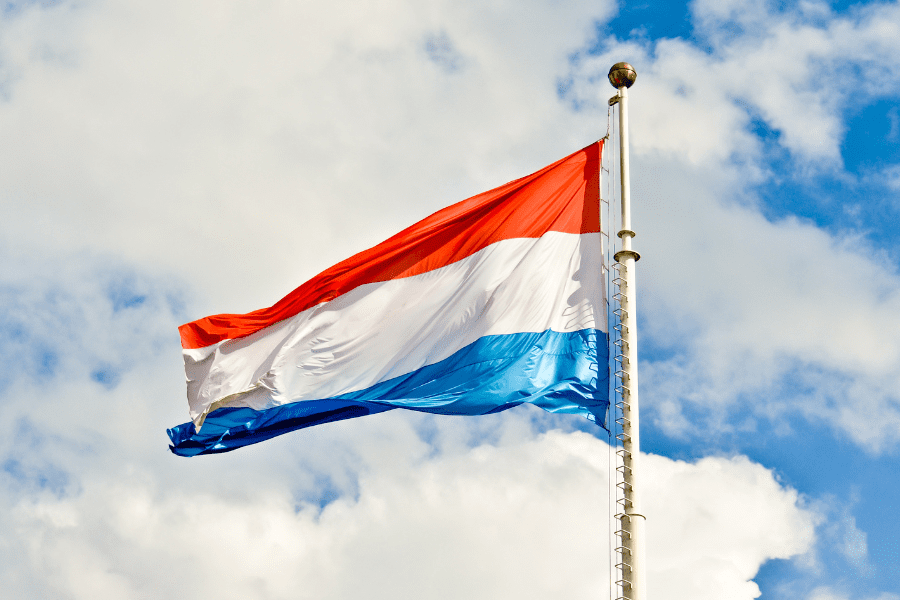 Banking in Luxembourg – FAQs
What are the largest banks in Luxembourg?
As one of Europe's leading financial centers, Luxembourg is home to a wide range of local and international banks. Some of the biggest include the Spuerkeess, the commercial bank owned by the government of Luxembourg (also known as Banque et Caisse d'Epargne de l'Etat), Banque Internationale à Luxembourg, the country's oldest bank alongside international banks like BGL BNP Paribas, Deutsche Bank Luxembourg S.A., J.P. Morgan Bank Luxembourg S.A., and Société Générale. Many of Luxembourg's most prominent banks offer retail, private and corporate banking.
How many banks are in Luxembourg?
There are currently 123 banks operating in Luxembourg.
Does Luxembourg have a central bank?
Yes. The Banque Centrale du Luxembourg is the central bank of Luxembourg. It is not to be confused with the Banque et Caisse d'Épargne de l'État, also known as Spuerkeess, a state-owned commercial bank.
Why bank in Luxembourg?
Luxembourg enjoys a solid international reputation for economic stability and the security and professionalism of its banks. Its private banks, in particular, are lauded for their commitment to traditional service standards and robust infrastructure.
But unlike other countries, which can sometimes make access difficult, as a non-resident, it's relatively simple to bank in Luxembourg.