This article looks in-depth at Andorran banking and the Andorran financial system in general. We look at the different banks in Andorra, both public and private, with details on how to set up a bank account in Andorra, even if you are a non-resident, and how the country's services compare with offshore banking services in other European jurisdictions.
But first, let's take a more general look at Andorra with some quick facts about its culture, infrastructure and economy. In doing so, we hope to answer many of the more common questions people have about this tiny country, namely where it is and what language the people speak.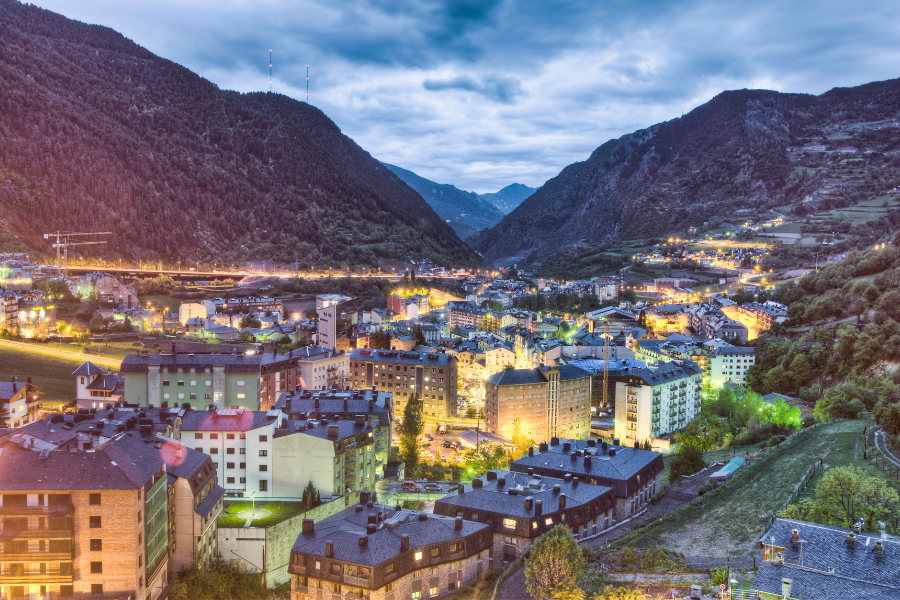 Andorra – Country Overview
Andorra is a tiny country of approximately 85,560 people. It is the largest of the six so-called "micro-states" in Europe; the others being Malta, Monaco, San Marino, the Vatican and Liechtenstein.
As with Monaco and Liechtenstein, Andorra is officially a principality, though the Andorran government also operates a parliamentary democracy.
Where is Andorra Located?
Andorra is located high in the Pyrenees, on the border between France and Spain.
It is not a member of the European Union and is not part of the Schengen Area, though thanks to reciprocal agreements with France and Spain, EU citizens can travel to Andorra visa-free.
If you are not an EU citizen, however, you will need to bring a passport to guarantee entry.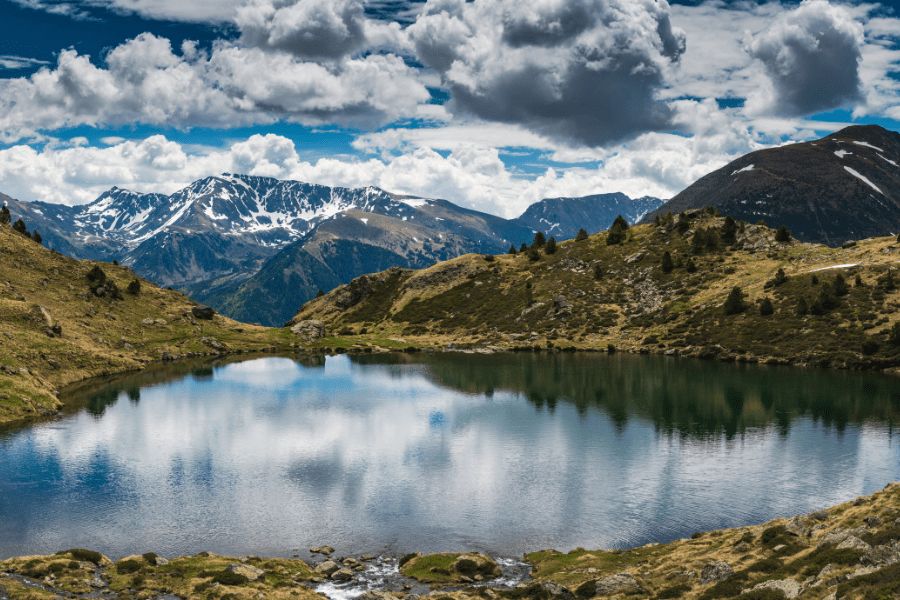 What Language Do They Speak In Andorra?
Andorra's official language is Catalan, a language also spoken in parts of neighboring France and Spain, particularly in Spain's Catalonia region.
As you might expect, both French and Spanish are also widely spoken and, thanks in part to the country's tourism and financial sectors, many people also speak fluent English.
What Is The Currency Of Andorra?
The official currency of Andorra is the euro. Although Andorra is not a member of the European Union, it still uses the Euro as its official currency in much the same way that other countries use the US Dollar. As such, it is subject to policies set by the European Central Bank.
Andorra is also part of the Single Euro Payments Area (SEPA).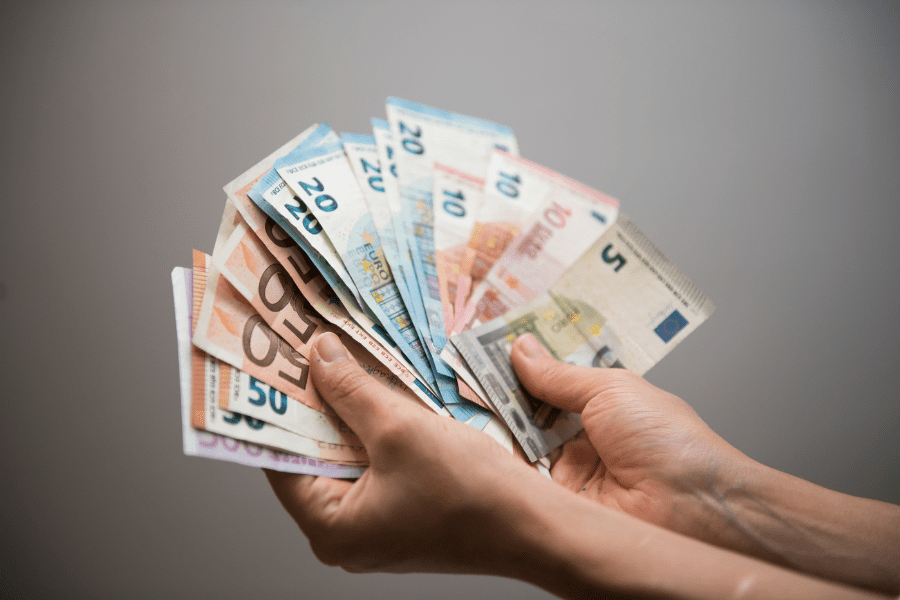 Andorra's adoption of the euro makes sense. It's a popular tourist destination, and most of the country's visitors and trade come from Europe, particularly neighboring France and Spain.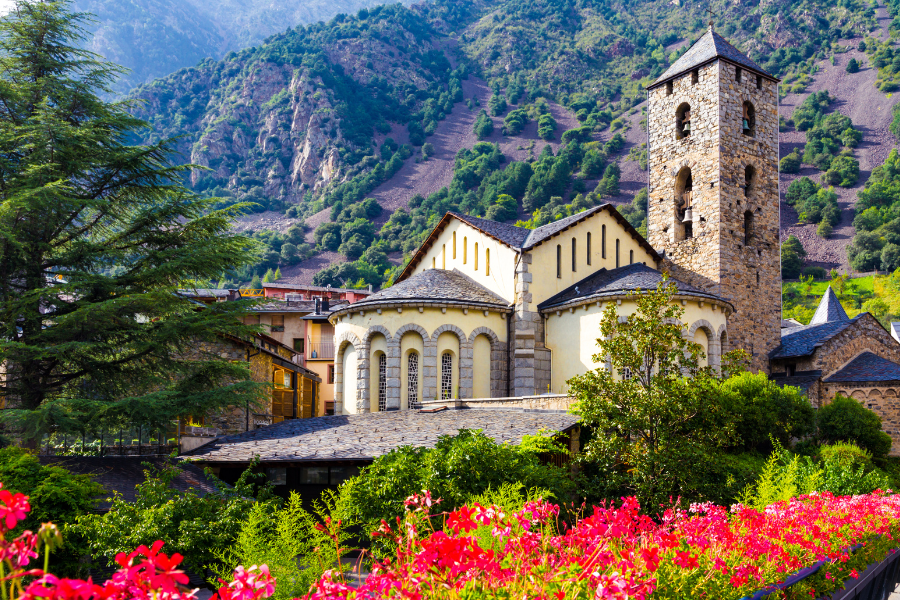 Economy Of Andorra
Andorra is one of the most recent members of the IMF, having joined in 2020.
It enjoys a modern communications infrastructure and a service-based economy.
As a small country, the Andorran economy is heavily reliant on tourism. It is particularly popular as a winter sports destination, with many tourists arriving to enjoy skiing and snowboarding.
Traditionally the economy has also been heavily reliant on banking, which is why the Andorran banking industry has taken steps to bring it more in harmony with the global financial system.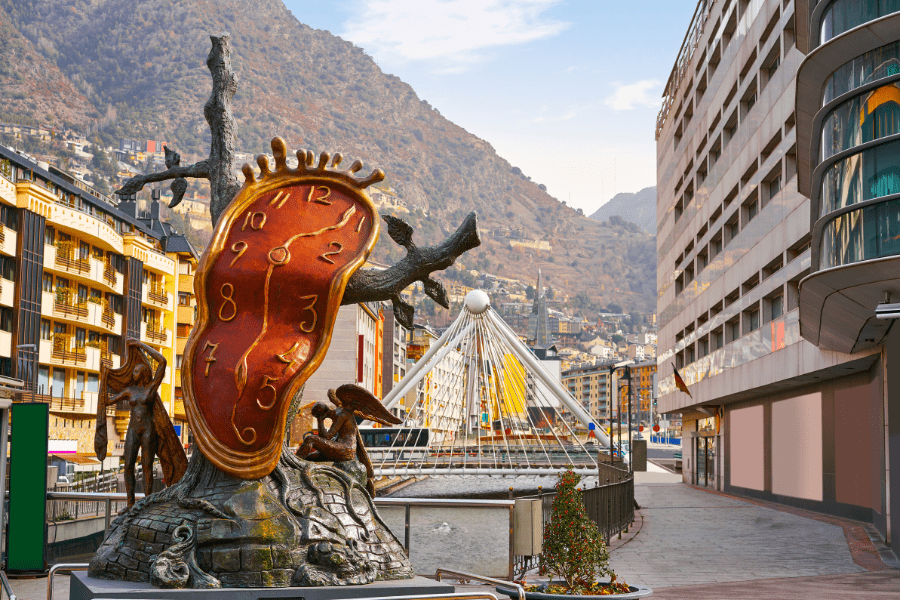 Andorra – Banking System
In Andorra, banks offer both offshore banking and commercial banking services. Following the 2022 merger of Credit Andorrà and Valbanc, the number of existing banks has been reduced.
There are now four main banks in Andorra, while previously, there were five.
All Andorran banks are regulated by the Andorran Financial Authority.
If you wish to open an Andorran company or become a resident, you will need to open a bank account in Andorra. Non-residents are allowed to open accounts in Andorran banks if they wish to.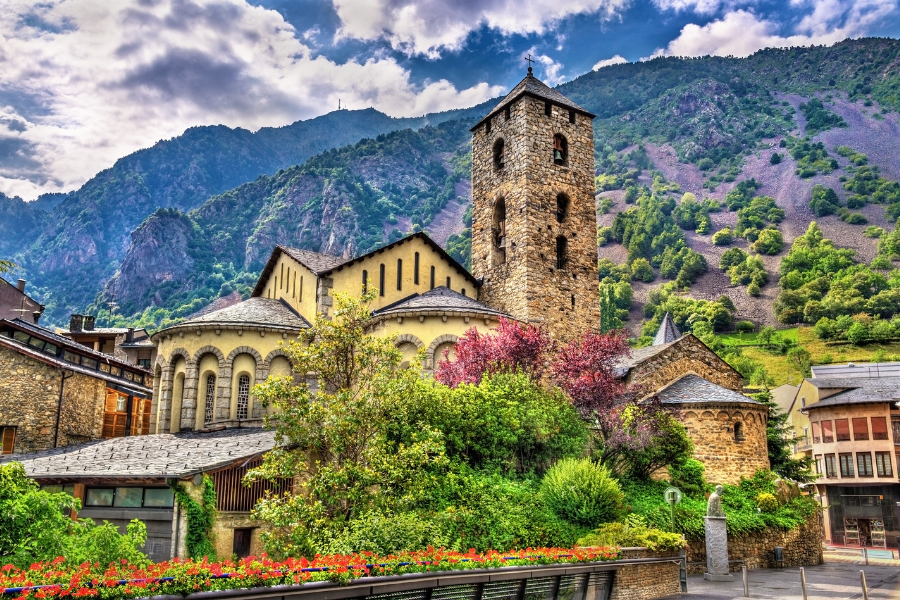 Andorra – Banking Sector History
Andorra's banking system has undergone several significant changes in recent times, reflecting the broader changes within international banking at large. The result was a shift away from the traditional system of banking secrecy in favor of greater transparency and global cooperation throughout the financial sector.
Guided by the Andorran Financial Authority, the Andorran banking sector took steps to ensure adherence to OECD guidelines with regard to implementing various information exchange treaties and being proactive in tackling money laundering.
As a result, the country was removed from the OECD's tax haven blacklist in 2009 (alongside fellow principalities Liechtenstein and Monaco).
This not only helped further harmonize Andorra's banks with its contemporaries in Europe, it also helped to strengthen the reputation and reach of the Andorran banking system globally.
Andorran banks have naturally benefited from this as, indeed, have customers. As a non-resident, you are allowed to open an Andorran bank account. Some banks in Andorra have international branches as well as local banks.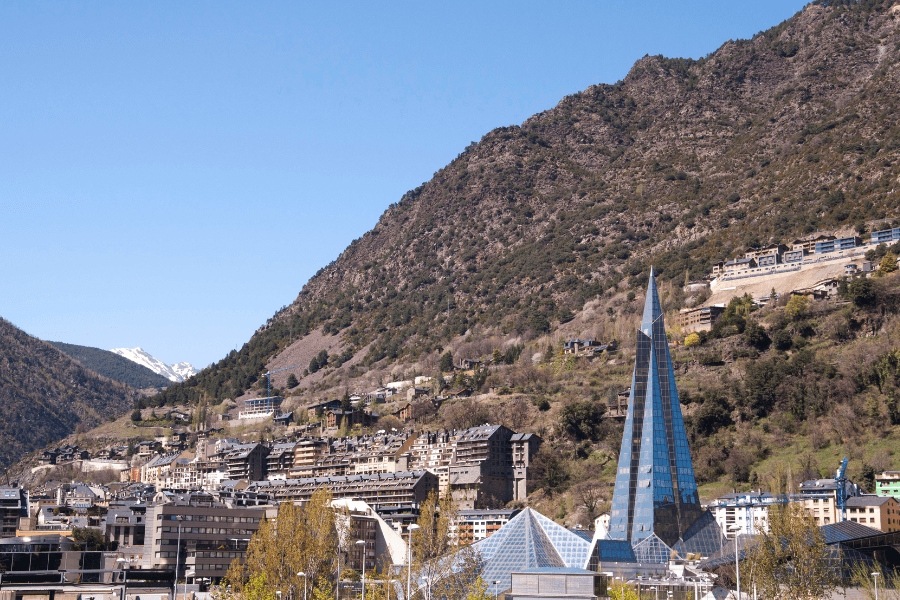 Banks in Andorra
At the time of writing, there are currently four banks in Andorra:
Andbank
Banc Sabadell d'Andorra
Credit Andorrà
Morabanc
When it comes to choosing a bank in Andorra, we cannot recommend one bank over the other. We can merely advise. Ultimately, your choice comes down to a matter of personal preference.
Andbank
Initially founded in 1930, Andbank is the oldest private banking firm in Andorra. In addition to its local presence, with multiple branches and cash points around the country, it has branches in 11 countries worldwide, including Spain, Monaco, Luxembourg, Israel and the United States. It provides private banking and asset management services.
Banc Sabadell d'Andorra
Banc Sabadell d'Andorra may be Andorra's smallest bank, but its parent company, Banco Sabadell, is one of the "big four" Spanish banks (alongside Banco Santander, BBVA and Caixabank). It offers personal, business and private banking plus asset management, wealth management and related services.
Credit Andorrà
Founded in 1949, Crèdit Andorrà Financial Group has branches throughout Andorra and offers personal, business and private banking. Crèdit Andorrà recently acquired another Andorran bank, Valbanc, completing the merger in 2022. This had the effect of reducing the number of Andorran banks from five to four.
Morabanc
Renamed to Morabanc in 2011, this bank was originally founded in 1958 and has branches, cash points and ATM terminals throughout Andorra. It offers personal and business bank accounts alongside private banking, asset management and online brokerage services. Multi-currency accounts are available with online and mobile banking options provided.
Private Banking in Andorra
All four of the main banks in Andorra offer both commercial banking and private banking services to residents and non-residents alike, alongside other related services such as wealth management and personal investments.
Given the robust Andorran economy, it's possible that other banks may also decide to enter into the market in the future. Conversely, we cannot rule out the possibility of another future Andorran bank merger either.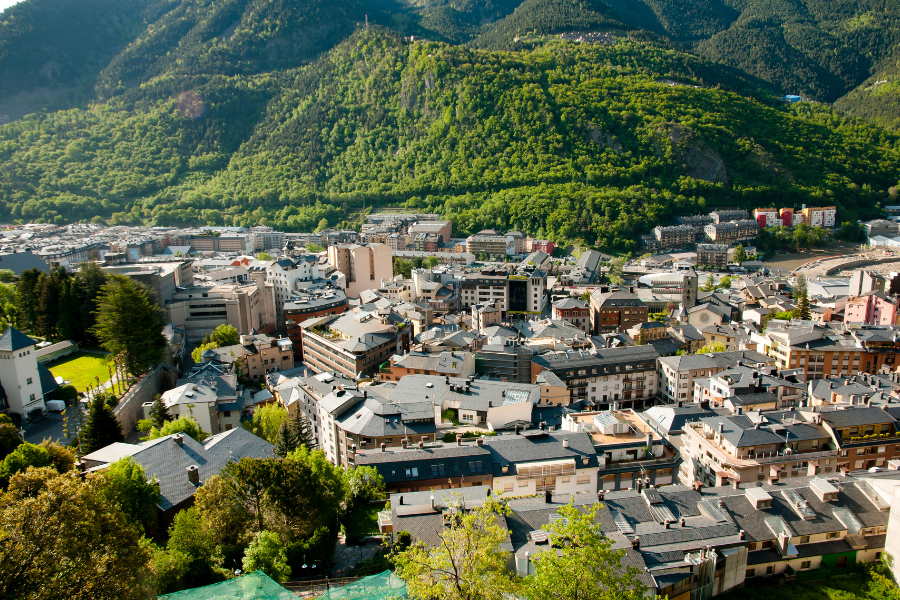 How To Open A Bank Account In Andorra
The process of opening a bank account in Andorra is pretty much the same as opening bank accounts in other European jurisdictions.
The first thing you will need to open a bank account is a valid national identity document, such as a passport. As a general rule, you should bring this with you when opening a bank account anywhere in the world. Just make sure the identity document you provide is in date and has not expired.
If you are resident in Andorra, you should already have a local bank account, though perhaps you may wish to change to another bank or open a new account with a different bank. In this case, you would need to provide proof of residence, such as a recent utility bill or a bank statement from another bank.
Since you are also allowed to open a bank account in Andorra as a non-resident, you would need to provide similar documentation as proof of residence in the country where you are domiciled.
In Andorra, bank account requirements are very much the same as in other countries. To comply with international regulations common throughout the global system (anti-money laundering, KYC, etc.), you may also be asked to provide additional financial information, including source of funds/income data. You may also be asked to supply reference letters to show that you are of good standing.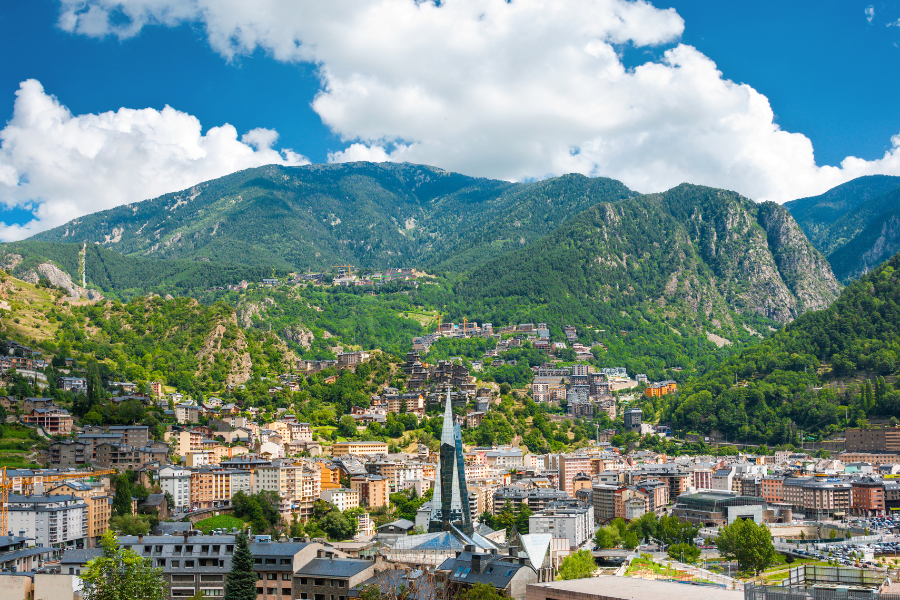 Andorra banks – FAQs
Are Andorra banks safe?
Yes, Andorran banks are safe. They enjoy a solid global reputation and provide a level of service that is on par with banks in neighboring EU jurisdictions.
Does Andorra share banking information?
Previously, having a bank account in Andorra guaranteed a certain level of privacy. In 2022, however, the days of banking secrecy are all but dead.
Even Switzerland, the country with the most famous banking secrecy laws, has turned its back on centuries of tradition in favor of greater global transparency and cooperation.
As a result, Andorra's financial sector no longer prioritizes banking secrecy either. Instead, it enjoys greater harmony with other jurisdictions regarding automatic exchange. It also facilitates cooperation on KYC matters such as anti-money laundering.
In doing so, the OECD removed Andorra from its list of tax havens back in 2009.
So, while Andorran banks exercise a great degree of discretion, they are nonetheless obliged to share information, so setting up a bank account in Andorra does not guarantee secrecy.