Since the moment humans first discovered gold, its appeal has captivated us. This shared fixation for gold across all civilizations led to the widespread acceptance of gold as a medium of exchange, ultimately giving rise to the gold standard.
Although the gold standard has since ended, the price and production of gold have continued to soar, to meet increasing demand.
More than 58 million ounces (1,800 tonnes) of the world's most successful gold bullion coin alone, the Krugerrand, has been produced since 1970.
With so many gold coin options now available in today's markets, which gold coin should you invest in? Which countries are the best for buying gold? Keep reading for a summary of the best gold coins to buy, as well as bonus insights from our gold experts.
Would you like to safeguard your wealth and diversify your asset portfolio while also legally reducing your taxes? Contact Nomad Capitalist today about becoming a client, and our team will create a bespoke strategy that includes purchasing and storing precious metals.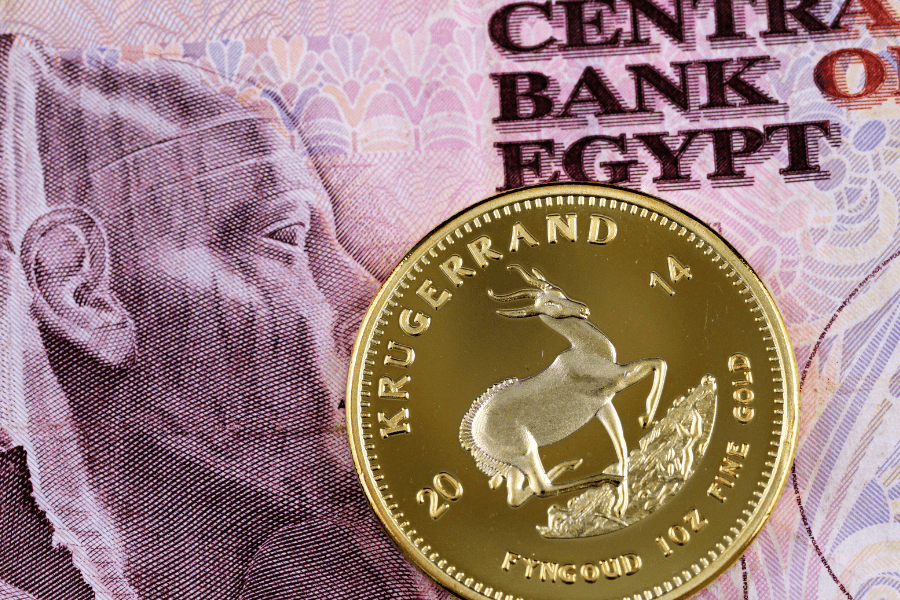 Gold South African Krugerrand
The 1 oz Gold Krugerrand coin, produced by the South African Rand Refinery, holds a prominent place on our list.
Comprising 91.7% gold, the Krugerrand coin incorporates copper for the remaining metal content. It was first introduced in 1964, making it the pioneering gold bullion coin and available to the general public in South Africa, and it quickly gained global popularity as one of the most sought-after gold bullion coins.
Its name, "Krugerrand," is a combination of Paul Kruger, South Africa's first Boer president, and the official currency, the rand. With a profile of Paul Kruger adorning one side and the Springbok, the national animal of South Africa, embellishing the other, this coin exudes a distinctive aesthetic appeal.
During the years of apartheid, nations imposed sanctions on South Africa, causing the Krugerrand to become less accessible globally, prompting other countries to produce their own gold bullion coins.
However, the Krugerrand remains a popular gold investment option today, offering both excellent value for money and widespread availability.
Gold British Britannia
The United Kingdom Royal Mint, formerly known as the British Royal Mint, has been well-known for crafting gold coins for England and the global market for over 1,000 years.
The Gold Britannia contains a full troy ounce of gold and holds a legal tender value of £100.
The United Kingdom Royal Mint upgraded its Gold Britannia coin in 2013 to have a purity of .9999 pure gold, an improvement from its previous purity of .9167.
On one side of the coin, there is a portrayal of the late Queen Elizabeth II, while the other side features the Roman representation of Britannia.
The latest coin released by the Royal Mint is the 2023 quarter-ounce gold Coronation coin, which has been specially designed to commemorate the coronation of His Majesty King Charles III.
The coins are minted from an exact quarter ounce of 999.9 pure gold. These types of gold coins have limited availability and are highly sought-after by collectors and investors.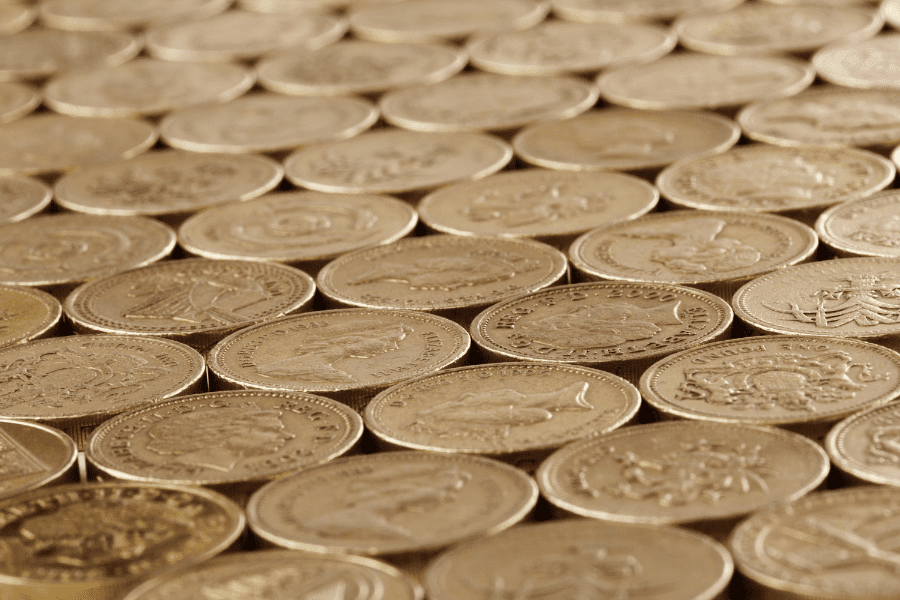 Austrian Philharmonic Gold Coins
Originally crafted in 1986 and officially launched in 1989, this gold bullion coin was specifically created to cater to European gold investors.
The Vienna Philharmonic quickly gained popularity, becoming the best-selling coin in Europe and the second best-selling worldwide in 1990.
It received further recognition in 1992, 1995, 1996, and 2000 when the World Gold Council declared it the top-selling gold coin globally.
The 1 oz Gold Philharmonic Coin from the Austrian Mint captures the spirit of Vienna's music resonating within the Vienna Concert Hall.
With a composition of .9999 gold (24kt), the Gold Philharmonic coin available today is of the highest quality.
The Vienna Philharmonic is the only European bullion coin with a face value in euros and is recognized as legal tender exclusively within Austria. Between the years 2004, sales of the Vienna Philharmonic coin contributed to around 40% of overall coin purchases within Europe. This coin has also gained widespread popularity in Japan and North America.
Gold Mexican Libertad
The Gold Mexican Libertad coins are precious metal bullion coins produced in Mexico by the Mexican Mint, also known as La Casa de Moneda de México. The oldest Mint in the Americas, dating back to 1535.
These modern Gold Mexican Libertad gold coin design has been used since 1981, are made of 99.9% gold, with a fineness of .999, and come in various sizes.
The coin's design is inspired by the iconic 50 Peso Gold Coin, known as the Centenario. The reverse side has a picture of Winged Victory between two Mexican volcano peaks, while the obverse side showcases the Mexican shield.
Libertad coins do not have a face value but are accepted as currency and guaranteed by Banco de México, and the value is determined by the market price of the gold or silver they contain.
Gold Australian Kangaroo
Gold has played an important role in Australian history ever since prospector Edward Hargraves made a significant discovery of gold in 1851 and triggered the Australian Gold Rush.
Even today, gold holds a vital role in the Australian economy, with approximately 11,000 people employed directly in the Australian Gold mining industry.
The Gold Australian Kangaroo is a unique series from the reputed Perth Mint that holds great symbolism for Australia.
With each release, the Australian Kangaroo Gold coin showcases an illustration of a kangaroo and is crafted from .9999 fine gold. The 1 oz Australian Gold Kangaroo coin carries a face value of $100 AUD.
As with most other coins in our list, the Australian Gold Kangaroo is available in various weights, including 0.01 oz, 1/10 oz, 1 oz, 10 oz, and even a kilogram.
According to the Australian Currency Act of 1965, the Australian Gold Kangaroo Coins is recognized as legal tender, joining just a few nations, including the United States, Canada, and China, with their own gold bullion coins programs sanctioned as legal tender.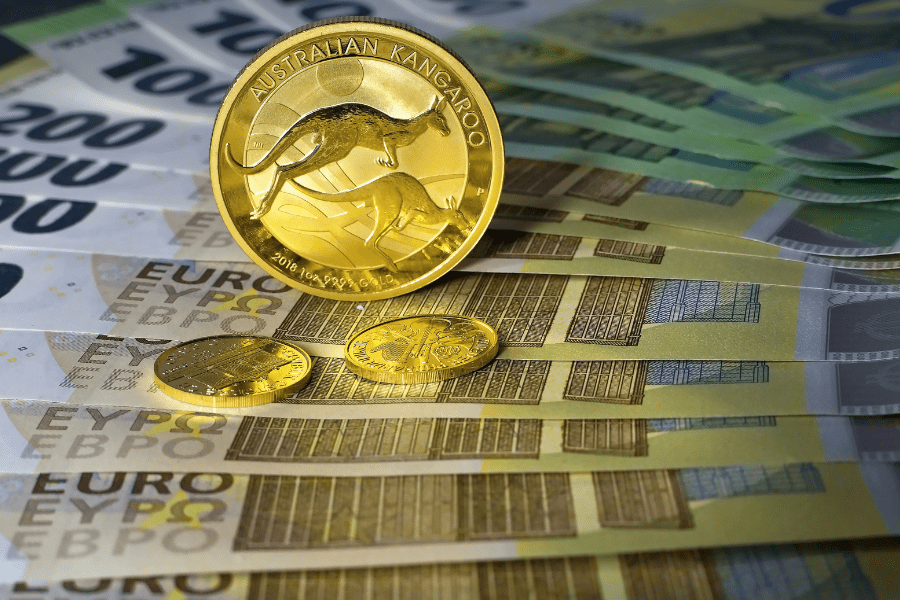 Chinese Gold Panda
Introduced by the People's Republic of China Mint in 1982, the Chinese Gold Panda holds a weight denomination of 30 grams, deviating from the standard 1 oz.
The Gold Chinese Panda is a dependable option with a strong potential for returns. This coin series offers a new depiction of the cherished giant panda each year, highlighting its significance as a symbol of China.
Being one of the coins with a more limited mintage, the China Gold Panda differentiates itself from other bullion coins. It's distinctive sizes and scarcity contribute to its appeal as a remarkable addition to any precious metals portfolio.
The Chinese Panda Coins is recognized as legal tender in the People's Republic of China, with face value denominations of 500, 200, 100, 50, and 20 yuan. The silver 30g panda coins carry a face value denomination of 10 yuan.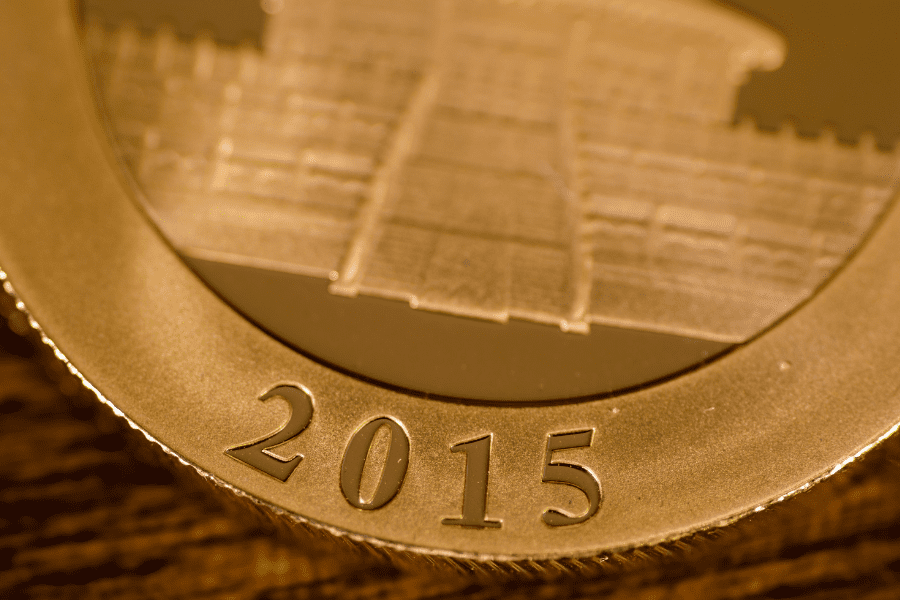 American Gold Eagle Gold Coin
The American Gold Eagle is a legal coin introduced by the United States Mint in 1986, following the Gold Bullion Coins Act of 1985.
When talking about American Gold Eagles, people usually mention the weight of the gold coin (such as "1/2-ounce American Gold Eagle") to avoid confusion.
The American Gold Eagle series has been a popular option because of its high purity of gold content and relatively low prices.
This gold bullion coin series offers four different sizes, with the 1-ounce gold coin providing the best value gram for gram.
The 1-ounce American Gold Eagle contains one troy ounce of .9167-fine gold with a face value of $50. And like all gold coins offered in this United States Mint bullion series, it is an official legal tender.
Another popular coin is the American Gold Buffalo Coin, which debuted in 2006.
Canadian Gold Maple Leaf Coin
The Gold Canadian Maple Leaf is a highly regarded coin globally.
Minted by the Royal Canadian Mint since 1979, it is formed out of .9999 fine gold, making it one of the purest official bullion coins worldwide.
This Canadian Maple Leaf coin features the iconic maple leaf design on one side and the late Queen Elizabeth II portrait on the other.
The Canadian Maple Leaf coin is available in various fractional sizes ranging from 1/20 oz to 1 oz, as well as larger sizes like 10 oz and even as small as 1 gram. The size range caters to anyone wanting to enter the world of gold bullion investing without a substantial financial commitment.
The Royal Canadian Mint is also known for producing some unique gold coins, and in 2007, it created a 100-kilogram (220 lb) gold coin with a nominal value of $1,000,000. The actual gold content was worth over $2 million at the time.
Initially created as a unique item to promote a new range of Canadian Gold Maple Leaf coins, the Mint received significant interest from potential buyers. In response, the Mint issued gold coins and decided to produce and sell them on demand, with prices ranging from $2.5 million to $3 million. By May 3, 2007, five orders had been placed for these coins. One of these unique coins was stolen while on display at the Bode Museum in Berlin.
In 2012, the Royal Canadian Mint introduced the first gold bullion coin embedded with a 0.11–0.14 carat diamond. This special coin, known as the Queen's Diamond Jubilee coin, was crafted from 99.999% gold and held a face value of $300.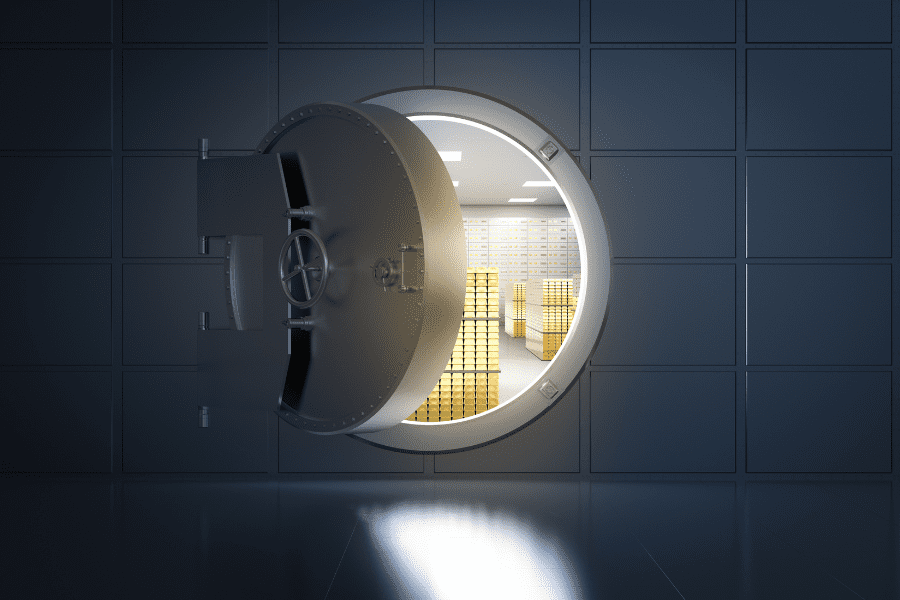 Gold Coin – A Word of Warning
We sat down recently with our gold partners and expert in the field Joshua Rotbart of J.Rotbart & Co, who shared some valuable insights on what gold coins to buy and how to store precious metals.
Joshua warned that when it comes to choosing gold coins, "gold investors need to stick to what we call the LBMA product, meaning the London Bullion Market Association."
The LBMA is the association that monitors all the global players in the gold industry, from refiners to vaults to shipping companies.
When you buy refined gold at an LBMA-approved refinery, it not only means that you receive physical gold bullion from a trustworthy supplier but also, it will be easy to liquidate no matter where you are.
Purchasing only LBMA-approved gold bars or gold coins protects you from counterfeit coins. In the past, counterfeits of bullion coins were rare and relatively easy to spot by comparing their weights, colors, and sizes to authentic ones.
However, since around 2015, counterfeit gold coins have been flooding the market at an alarming rate. According to the American Numismatic Association, even seasoned coin dealers may struggle to recognize a counterfeit immediately.
Thankfully, these types of counterfeits can be detected by testing acoustic, electric resistance, or magnetic properties.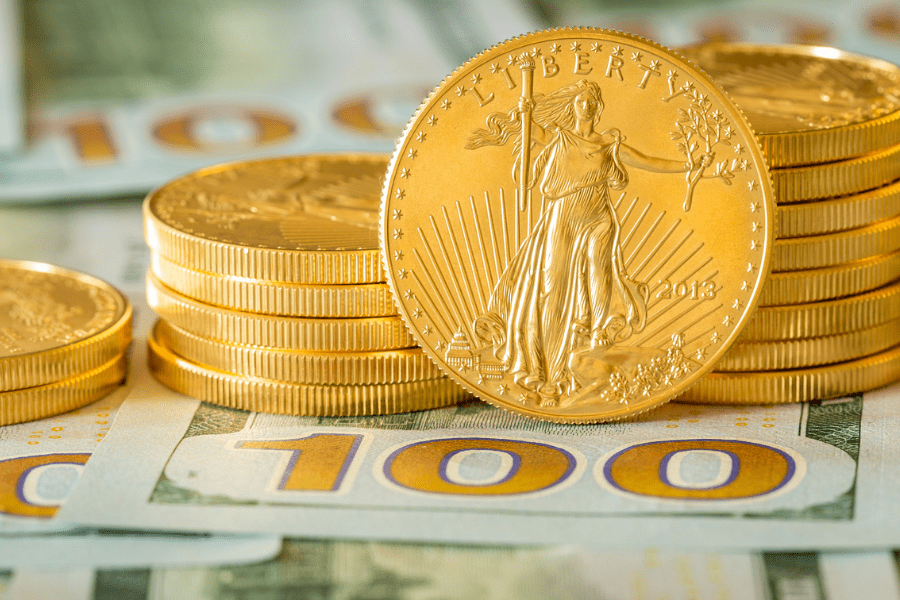 How Are Gold Coins Valued?
Thankfully, the pricing and value of gold are very transparent. You can quickly check the spot price of gold on financial websites such as Reuters or Bloomberg. Gold is usually priced in US dollars per ounce, not a regular ounce, but rather a Roman Troy ounce, which is slightly heavier than the standard one.
Keep in mind when checking the price of physical bars and gold coins there is a premium to this price. For example, if the price of a Canadian Gold Maple Leaf coin is $1,920 per troy ounce and has a premium of $10 per ounce, you would actually pay $1,930.
Because there are mining, production, and transportation costs, gold coins are sold at a higher premium than the spot price of gold.
J Rotbart noted that about 30% of their clients buy coins rather than bars, even if coins are more expensive than bars. The premium is higher for gold coins because it costs more to make them as they are smaller and have nice designs.
Also, coins can be used as legal tenders in the country of origin, so they must pay the government royalties. Coins are definitely a great option, but they are more expensive in terms of the spot price.
What does karat gold mean?
Karat is the unit by which gold is measured and is another way to give a percentage of the purity of gold.
The higher Karat indicates a greater amount of gold in your bullion, coin, or jewelry. 1 gold Karat is 1/24 part, or 4.1667 % of the whole metal, of pure gold.
18 karat means 75% pure gold and is usually used for jewelry
22 karat means 91.6% pure and two parts of another metal
24 karat means 100% or 99.99% pure and is the industry standard
Investment grade gold is what we call 24 karats (99.99% gold). The only item that is not 24 karat and is still acceptable in the market is 22 karat (91.67%) gold coins such as the American Eagles or the South African Krugerrands.
Any gold products approved by the London Bridge Market Association are generally at least 99.9% pure, the standard investment grade.
Gold Coin Storage
You want a storage solution for your gold coins that is safe, secure and allows you to access your assets quickly and efficiently.
At Nomad Capitalist, we advise using private vaulting facilities, such as the one offered by J.Rotbart & Co.
With a private gold storage company, you can benefit from a full suite of services, including add-on services such as converting assets to crypto and using holdings as collateral for a loan.
Such vaulting facilities are designed for high-net-worth individuals, allowing you to diversify your portfolio by investing in the precious metals portfolios of physical metals, including gold, silver, platinum, and palladium bars and coins.
Our go-to gold specialists, J. Rotbart & Co, are based out of Singapore and Hong Kong and store precious metals in 13 different locations globally and can ship from 40 different countries, including from client's houses to client houses.
They told us that they had seen a trend in recent years of clients moving their precious metals to Asia, primarily Singapore and Hong Kong. "Singapore, for example, has turned itself into the Asian Switzerland and attracts international gold bugs."
Although there are great storage facilities located throughout Europe, including the likes of Austria and Ireland, we recommend choosing a storage location that offers stability as a wealth safe haven, for example, Singapore and Switzerland.
At Nomad Capitalist, we recommend that you move at least a portion of your precious metals offshore, so you can get the full asset protection and security it has to offer. When you become our client, we will work as the architects and general contractors of your holistic strategy, including your precious metals purchasing and storing.