This article looks at banking in Antigua and Barbuda, with information on how to open a bank account in Antigua and Barbuda, some of the banks available plus the pros and cons of the jurisdiction to help you decide whether this is the right jurisdiction for you.
When choosing an offshore banking solution it's important to shop around to ensure that you find the solution that best suits your needs. But more often than not, of course, that can be quite time consuming and you may end up more confused than when you started.
But with a holistic Action Plan from Nomad Capitalist, we make everything, from banking to taxes, easier, tying everything neatly together to create something that best suits your specific need.
Antigua And Barbuda – Overview
Antigua and Barbuda is one of the most prosperous countries in the Eastern Caribbean region. That is thanks to a steady influx of tourists who like to dive its offshore reefs and its growing popularity as an offshore banking jurisdiction.
This member of the Eastern Caribbean region's financial institutions makes for an attractive option.
Offshore banks enable you to diversify your savings. We will outline the ins and outs of Antigua and Barbuda bank accounts in the latest of our ultimate guides covering commercial banks and their suitability for international business companies.
Benefits Of Antigua And Barbuda Banking
Antigua and Barbuda is home to both national and international banks offering foreign currency accounts. As they are used to catering to global clients, they may be the solution you are looking for as part of your Nomad Capitalist lifestyle.
As a Commonwealth country, the country has a common law legal system and speaks English.
Antigua and Barbuda has offered a 0% individual income tax rate since 2019. The country allows citizenship by investment and its passport packs some power.
The Financial Services Regulatory Commission (FSRC) as the single regulatory authority for all non-bank financial institutions supervises all offshore banks in Antigua and Barbuda. The Financial Services Regulatory Commission also governs the formation of International Business Companies (IBCs).
Who Should Bank In Antigua And Barbuda?
The World Bank's latest Ease of Doing Business Index showed that it has become easier to open a business in the jurisdiction. So setting up an account in their banks would make sense if you plan to oversee a start-up in Antigua and Barbuda.
When it comes to opening an account in an Antigua and Barbuda bank, it is not where you reside but your national identity that is the key consideration. A current and valid passport is the ID used by banks in Antigua and Barbuda.
There is no need to travel to Antigua and Barbuda. You can open an account online. However, you may be required to email supporting documents as an attachment or send them by post.
Of course, another reason for opening an account in Antigua and Barbuda is if you are a resident there. If you are planning to live there, you are better served by having a local Eastern Caribbean Dollar account, a currency which has been pegged to the United States Dollar since 1976, at the exchange rate of $1 = $2.70 XCD.
In short, you should consider the Antigua and Barbuda banking sector whether you are a resident or a non-resident as commercial banks offer online banking, enabling you to access your account remotely.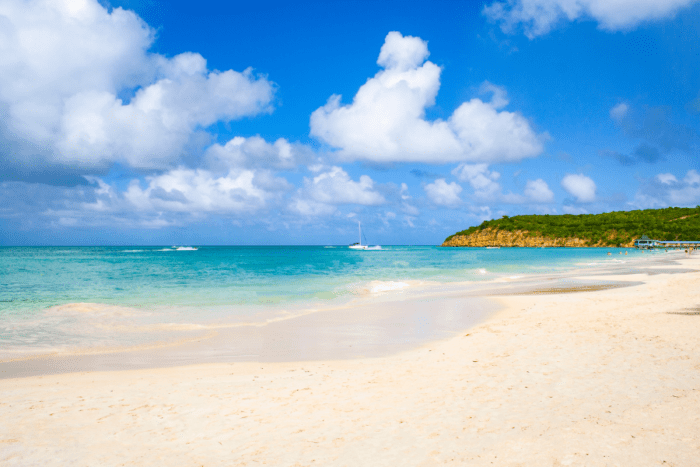 How To Open A Bank Account In Antigua And Barbuda
First you need to establish contact with the bank, whether that be a local institution or an international bank, and understand their rules and regulations.
Banks practice due diligence. They require clear and straightforward answers to their questions.
An Antigua and Barbuda bank will want you to share your banking history with them. They will want to see evidence of you holding an account with another bank for a minimum of three years.
Credit references can substitute for banking histories. A documented letter from a business associate who can vouch for you may also be required. You will have to have known this person for at least three years.
The bank will want to know the source of your funds. A rental agreement might demonstrate your income from rental properties or an employer reference outline your salary.
You'll need to show that you are who you say that you are and an address. To confirm your identity, you'll need to produce a driver's license or passport. For proof of residence, you'll need to provide a recent (as in less-than-three-months old) utility bill.
Corporate entities are required to supply a Certificate of Incorporation. They also need to share copies of their Memorandum and Articles of Association. In addition, corporate entities must disclose a Register of both Directors and Members, alongside the Board's Resolution to open the account, the Corporate Organizational Chart outlining Ultimate Beneficial Owners, and a Cryptocurrency Declaration.
Limited partnerships have to present their Certificate of Registration. They also need to supply their Limited Partnership Agreement and provide a schedule pinpointing the limited partners and their relevant percentage interests. Also needed is the Board's Resolution to open the account and the Corporate Organizational Chart unveiling Ultimate Beneficial Owners.
Trusts need to produce a certified copy of the declaration of trust or deed of settlement.
Foundations are stipulated to supply a copy of the Certificate of Registration, Charter of the Foundation, and Register identifying the Council of Members. Furthermore, they need to share the Board's Resolution to open the account and the Corporate Organizational Chart demonstrating Ultimate Beneficial Owners. A legal letter declaring that the Client follows all local and U.S. regulations concerning cryptocurrencies completes the process.
There is an initial minimum investment of at least $400.
Depending on the type of account, the deposit amount can increase into thousands of Dollars.
Top Banks In Antigua And Barbuda
There are many banks in Antigua and Barbuda. They run into double figures and we would encourage you to visit each and every individual bank's official website in order to find the best one for you. They include commercial banks and those offering offshore banking services in the Eastern Caribbean Region.
The following are some of the top Antigua and Barbuda banks that you should look into:
ACB Caribbean
The well-established Antigua Commercial Bank began trading as ACB in March 2021. The institution formerly known as Antigua Commercial Bank Ltd owns an Eastern Caribbean Dollar asset base of more than $1 billion XCD.
Eastern Caribbean Amalgamated Bank
Eastern Caribbean Amalgamated Bank is a commercial bank offering personal and commercial banking services.
CIBC FirstCaribbean International Bank
This Caribbean international bank is a Caribbean subsidiary of the Canadian Imperial Bank of Commerce. Its headquarters are in the Bahamas, but it has branches in Antigua and Barbuda.
The Antigua & Barbuda Development Bank
Committed to investing in the continuing development of Antigua and Barbuda, this bank is based in the capital, St. John's. It specializes in medium- and long-term development financing to the productive sectors and helped to subsidize the export of Antigua Black Pineapples to Norway.
The above list should not be considered to be an exhaustive list of banks in the jurisdiction, nor should the inclusion of specific banks be considered a direct endorsement of them by us. Although we take every opportunity to update our content to ensure it is up to date, you are advised to get in touch with our team and we will find the best banking option for you.
Banking in Antigua and Barbuda – Conclusion
Antigua and Barbuda is a stable Caribbean country which uses the Eastern Caribbean Dollar. The country's popularity as an offshore banking jurisdiction thanks largely to the country's attractive tax system.
With 0% income tax and other tax incentives, it makes sense for wealthy individuals to seek residence there, but for this, of course, you will need to have a bank account. Finding the right bank and, indeed, the right banking jurisdiction can take time and effort. We can help you save both.
If you're interested in opening an offshore bank account for you or your business, reach out to our team of experts. Our team can advise on a range of options including offshore banking, Caribbean citizenship and legal tax reduction.
Banking in Antigua and Barbuda FAQ
What Is The Economy Like In Antigua?
Tourism is the largest sector in Antigua and Barbuda, hardly surprising given the country's warm weather and natural beauty. Other significant industries include, of course, banking and financial services generally.
What Is The Currency Of Antigua And Barbuda?
Antigua and Barbuda uses the Eastern Caribbean Dollar (XCD) along with seven other countries in the region. The currency is pegged to the US Dollar at a rate of $1 to $2.70 XCD.
Can I Open A Bank Account In Antigua?
Yes, you can opt to do so directly, in person, or get someone to do so on your behalf via power of attorney. Or, you could go one better and, rather than relying on a local lawyer with a vested interest in selling you their jurisdiction, you can become a Nomad Capitalist client. This way you can be guaranteed that the banking jurisdiction you choose is one that best suits your lifestyle and business needs while also legally reducing your taxes and guaranteeing you get the best service possible.