Reporting from: Phnom Penh, Cambodia
I believe we are creatures of habit.
As human beings, we're easily influenced by what other people tell us. Despite a desire to cater to logic, it's easy to get bogged down by thoughts entirely built up by emotions. We make decisions based on thoughts of scarcity, fear, and greed. Different people and organizations can help mold the way we think.
It used to be that greed played a much larger role in our thinking. For centuries, entire societies like the Vikings and fortune-seeking adventurers like Marco Polo sought out fortune abroad. Hearing tales of grand riches on other continents, they took to the high seas, the low deserts, and everything in between to strike it rich.
These days, those same messages of overseas travel are often tainted by overzealous warnings. Governments have managed to play off of these emotions by creating false narratives about other countries and how "unsafe" they are. It helps keep people on the plantation like good little milk cows.
Perhaps one of the most maligned countries is the one I'm sitting in now: Cambodia.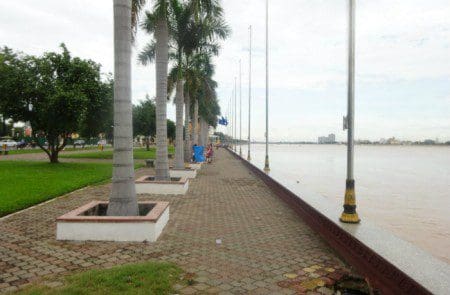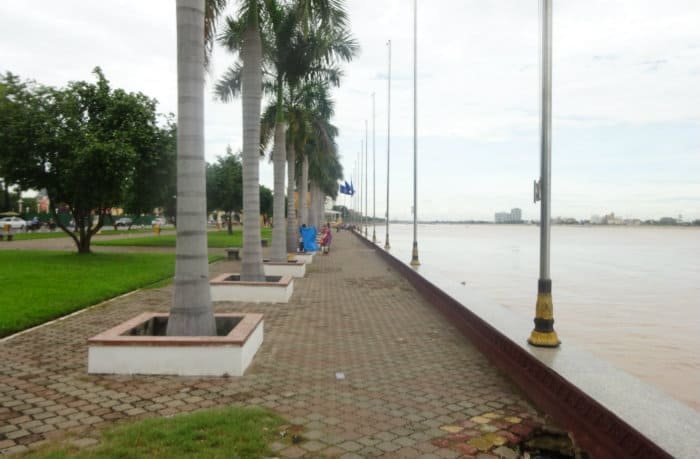 I arrived in Phnom Penh on Friday night just after dark. Even as an intrepid traveler, I was mildly worried about finding my way to my hotel. After all, if you believe all of the tourist scribblings and travel warnings, you'd think you wouldn't make it five feet out of the terminal without being robbed and attacked by a swarm of malarial mosquitos.
The media has made Cambodia out to be the ultimate "third world country".
In some ways, it's true. Cambodia is a low-income country, much poorer than neighboring Vietnam and Thailand. If you think those are places to be avoided, buckle up before you head over to Cambodia. GDP per capita is around $2,400 a year, and many people live on as little as $2 or $3 a day.
Entering Cambodia by land, the evidence of this low-income status is very much present. Mangy dogs roam both city streets and the countryside; one we saw while stopping on the way here had broken its fourth leg. Another had been eaten up by mosquitos.
But Phnom Penh is actually a relatively charming town. It's no Beverly Hills, but it does have a bustling waterfront full of western-style restaurants and shops serving up $3 tuna sandwiches to tourists. Traffic is manageable and polite. People are friendly and the architecture is interesting.
Cambodia receives a tiny fraction of the annual visitors that neighboring Thailand does. Only about 30,000 Americans visited in 2012, compared to about 700,000 to Thailand. Yet Cambodia is much less expensive; those backpackers traipsing along Sisowath Quay are staying in spacious $15-a-night hotel rooms.
Meanwhile, Cambodia is home to beautiful beaches, rich culture, and the must-see temples of Angkor Wat. So just why is tourism in Cambodia so minimal?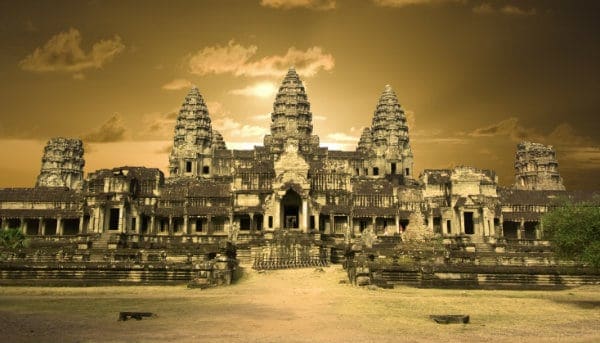 Fear. Bankrupt governments and exaggerative tourists have crafted an image of places like Cambodia that makes the average Joe scared to get off his couch and visit. The use terms like "third world" and speak of frequent nighttime robberies, as if anyone walking around will get their purse stolen. One travel commentary I read suggested there are no street lights in Phnom Penh and that walking after dark is near impossible and certainly not safe.
Yes, I'm serious.
There are plenty of street lights in Phnom Penh. Just last night, I walked two miles along the river and then inland. There were plenty of street cafes and stores open until all hours of the night, and plenty of activity the entire way. Rather than dangerous criminals, I saw wealthy people walking their dogs and kids playing on sidewalks.
I don't begrudge those who choose not to visit Cambodia. There are plenty of people who are better suited to spend their week off in Paris funding France's socialist mandate. But I do take umbrage with the idea that Cambodia and other countries like it are so unfit for traveling to as to not even be considered.
The silver lining in this story is that I do believe world ignorance, fueled largely by governments, is a great investment opportunity. It wasn't long ago that Vietnam was completely off-limits to tourism and expats, yet it has become a vibrant travel destination and home to 100,000 foreigners. Before that, Thailand was all but written off as a no-go destination.
With more and more of the world becoming wealthier, people – especially newly middle-class Asians – will be discovering Cambodia as a cheap place to vacation. The fortunes of Cambodians will begin to rise, and domestic spending will continue to increase. Rinse, wash, and repeat, and you've got the recipe for potentially excellent investments.
Call it the "block and tackle" school of investing: find stable yet low-income countries with the potential to compete in tourism, manufacturing, and agriculture, help them reduce inefficiencies in their systems, and wait to reap the rewards.
If you're looking for freedom and opportunity, you can't follow the herd mentality of being afraid of something difference.