Dateline: Tokyo, Japan
I was a 19-year-old when I began my first real business. I was ambitious and had a lot of success, but there were also a lot of inefficiencies in the way I did things.
At that point in my life, being able to run a successful business while sleeping in was my personal definition of freedom. And, because of how I had structured my business, there were days that I could go to sleep late, wake up at noon, and then work during the afternoon.
Thankfully, my definition of freedom has changed.
Sure, it was fun sleeping in and doing things on my own schedule, but I quickly realized that I would have a more successful, soul-fulfilling life by applying a bit more discipline.
The temptation for folks who have the freedom to work wherever they want is to translate that freedom into not working whenever they want. Many people mistakenly think that the Nomad Capitalist lifestyle is all about traveling the world with a bag in tow, waking up whenever you want, and experiencing something new, different, and exciting every day.
And many nomads choose this option.
But truly successful Nomad Capitalists will discover greater fulfillment in creating routines and following basic principles that will keep them on the path to success. Having a routine of basic, healthy habits that allow me to take time for myself every day is my newly found definition of freedom. It is what has allowed me to achieve great success in my businesses and deep fulfillment in my personal life, all while traveling the globe non-stop for the past eight years.
My Routines & Habits For Success
Daily routines don't have to be complex to be important. For example, every day, no matter where I am, I wake up at a certain hour, make myself a healthy smoothie, take a one-hour walk without my phone, and go to bed by the same time every night.
I have also found it essential to keep a calendar and delegate certain things to certain parts of the day. I set a specific time for when I'll wake up, when I'll handle business, and when I'll take time for my personal life. Once I handle the day's business, I turn off the notifications on my phone so I don't get messages at 10 o'clock at night making me feel anxious to respond.
The more nonessential "stuff" I can eliminate from my life, the better.
Before I entered the online business world, I imagined it was going to be really complicated and have a lot of moving parts. I soon discovered the exact opposite. The secret to successfully obtaining the end results for the people I help – reducing their taxes, getting their second passports, etc. – is fewer moving parts.
I focus on keeping it simple and removing all distractions.
I use Google Calendar to schedule all my activities, whether its clients, a flight, or anything else, but that's the extent of my foray into most "organizational technology." Instead, I've created an organized system based on scheduled communication that I am committed to 100%. I specify when communication will happen and set specific times every week that never change.
I do this whether it is for my personal life or for my business and it has helped me completely streamline my life. I do all my calls with clients on Tuesdays. If you are working with me, it's Tuesday. I don't travel on Tuesday and, unless it's a half-hour flight, I don't travel on Monday either because I want to be rested and refreshed for Tuesday.
When I tell a client that they can expect an email from my team every Tuesday with a list of what we have accomplished for their case and what we need from them before the next Tuesday (a copy of their passport, a notarized document, etc.) they know exactly what to expect from us and what we expect from them. They know to expect an email every Tuesday. They know that if they send us an email on Monday morning we are going to reply to it on Tuesday.
I am not running an emergency room in my business.
The more committed I am to this principle, the more success it brings me. For anyone looking to achieve a positive work/life balance running a location independent business, it's not just about building the work process but about removing all the unnecessary moving parts.
18 Nomad Capitalists Share Their Habits and Routines
Amanda
Professional Travel Blogger – Dangerous Business
I'm location-independent, and either work from home or on the road when I'm traveling. Some of my biggest tips for successful remote work include:
1. Stick to a routine when you can. Just because you're working remotely (or perhaps when traveling) doesn't mean you can't stick to a set work routine. I have certain times of the day when I work on certain aspects of my business (i.e., responding to emails, working on new blog posts, focusing on social media promotion, etc.), and I try to stick to roughly the same schedule even when I'm on the road.
2. Find tools that help you manage your time. As a blogger, I use Trello to keep track of my to-do list and use scheduling tools like CoSchedule and Tailwind to make sure important things are being shared, even when I'm not at my computer. Automating certain parts of my business allows me to step away frequently without the worry that I won't be reaching my readers.
3. Build in "work time" to your travels. As a travel blogger, I'm frequently on the road and working in different time zones. But, since I blog about travel, I kind of have to, you know, *travel* when I leave home. I balance sightseeing and research with actually working by building in extra time to my trips. If I want to spend three days exploring Barcelona, I might actually book four or five days there so I have enough time to sightsee AND still get work done.
Kaila
Founder of Hello Archipelago and The Content Castle
I have been living on a tropical island in Thailand for nearly eight years and own a writing and editing company, as well as a new concept in remote working accommodation. I'm going to give you non-standard answers for being a successful remote worker as I'm sure you'll get a lot of the same tips:
1. Create a business plan. Even if you're just working for yourself, a business plan is essential. Working from abroad can open your horizons in a lot of ways in terms of target market potential and more, so research, write down and organize your goals and objectives into a manageable, measurable plan that you review and update weekly as you progress throughout your remote career.
2. Join as many relevant Facebook groups as you can. These are one of the greatest resources for making connections with like-minded people, finding opportunities for promotion, finding potential clients, and discovering opportunities you may not have known about!
3. Before you sit down at your computer, get ready as if you were going to an office. It's easy to slip into the lifestyle of working in your pajamas with bed head all day, but you'll be much more effective if you prepare yourself for your work day as if you were going to a meeting. You don't necessarily have to put on a suit and tie, but taking a shower, brushing your teeth and doing your hair can make a big difference in how efficient and effective you work throughout the day.
4. Write out a to-do list each morning. Since you'll likely be working for yourself, or at least self-managed, each task you list should have an estimated amount of time attached to it. And only put down enough tasks to fill up the amount of time you feel you can handle that day. Sometimes, it will be six hours, sometimes it will be eight, sometimes it will need to be more, but at least at the start of the day you'll know approximately how long you'll be working that day, and you'll know everything on your to-do list is achievable. This also helps you focus on each task individually, rather than multi-tasking which is scientifically proven to be less efficient than focusing on individual tasks. Multi-tasking is one of the most common mistakes a remote worker can make.
5. Invest time in putting together a sound contract for your clients that includes all of your non-negotiables. For example, how long do they have to pay you once you've invoiced? How does it work if they pay you for a job to be done by a certain day but don't send you the information you need in time? Who reserves the rights to your work? These are all questions you need to ask yourself and then lay out in a contract template that you can use for all of your clients.
Kym Buchanan
Founder of TheBloggingDork.com & KymBuchanan.com
Kym Buchanan is a website and social media branding specialist. She writes, "Working remotely can sound like a dream job come true. You can skip the commute, work from home, and don't even have to get dressed if you don't want to.
But working remotely has its own challenges. It can be very easy to procrastinate since you feel you have "tomorrow" to get it done. Organization and time management can also be hard to perfect when you don't have a "boss" standing over you.
I know it took me a minute to get into a rhythm. The way I did it was to "pretend" that my remote job was not remote. What I mean is that I still get up, take a shower, get dressed, put my make on and go to work on time.
I have noticed that the difference in my work ethic and performance is dramatically different on the days that I work in my robe and the days I get up and get ready. My composure, my confidence level, and my overall frame of mind are different when I feel like a professional as opposed to a sloppy employee with no self-pride.
That change – plus having a calendar where I write out my weekly goals, meetings, and To-Do list on my desk so that I can see what I have going on – has helped me tremendously. Computers are great, apps and technology are great, but sometimes a good old fashion pen and paper is needed.
Summary: Working remotely is merely a job without a commute, not an excuse to work when and if you want. One could actually say that you should be able to get more done on a work day since you have all that extra time not having to travel to a dreary office each day.
Zack Reboletti
Owner of Web Focused
Determine which 2-3-hour chunk of the day you are most productive and double down on that time. By that I mean two things: 1) Plan your most important business tasks during that time, and 2) Completely remove any and all distractions (e.g. phone, email, etc.).
For me, this chunk of time is between 9am-noon, but I know people who start way earlier and others who start way later. The point is to figure out which 2-3-hour chunk works best for you and plan the rest of your day around it. The productivity you get during this window can be equal to or greater than a full 8-hour workday in an office!
John Doherty
Founder of Credo in Denver, Colorado
1. Expect that travel will take more time and energy than you expect. If you are moving from place to place every few days or every week, you may find yourself struggling to be productive because you are always in new surroundings. So, travel slowly if you can.
2. Do research on your destination and identify 3-4 places you could potentially work from (other than your Airbnb), then check them out when you are wandering around town before you are trying to be productive. Connect your phone to their Wi-Fi to see how fast/easy it is, try their coffee, etc. Failing to plan is planning to fail, and in this case, failure means getting less work done because you are stuck with bad Wi-Fi or forced to move locations.
3. Block off time that works for both and your client. If you have to do calls with clients, take into account their time zones as well as yours. You can use Calendly to have them schedule calls, or just communicate with them ahead of time according to where you will be.
4. If you are in a foreign country, get a local SIM card. You'll appreciate having data and phone service while on the go. And overseas data and phone minutes are cheaper than in the US, by far.
Natalie Athanasiadis
Founder & Head of Growth at Ormi Media in Melbourne
When you are working remotely you have the opportunity to have a flexible schedule, but this shouldn't impact your strategy. It's really important to map out what you want to achieve and the tasks you need to do. This helps to stop any overwhelmed moments because items have been overlooked. You still need to maintain some form of efficient structure to ensure that you are achieving the most you can while maximising the benefits of working from wherever you like.
Kean Graham
CEO of MonetizeMore
MonetizeMore – a leading ad tech firm that is a Google Certified Partner – has been a virtual office for seven and a half years and has 90 full-time remote team members. Below is advice I would give to anyone who works remotely:
1. Increments: On a weekday, I'll do three increments of 2-4 hours. In between, I'll do something active or social so that when I start a new increment of work, I am refreshed and ready to go.
2. Personalized Schedule: I don't work when people think I should work. I work when I am most alert and I produce my best work (late at night).
3. Morning Bliss: After you wake up, give yourself at least 30 minutes to not look at emails, Skype or Slack. Otherwise, this can be a stressful way to start your day wrong.
Liat Tzoubari
Founder & CEO of Sevensmith
I worked as a digital nomad when starting my business and traveled throughout Asia and Europe for a year and a half. I definitely had to develop some good habits to ensure that I got my work done and still managed to enjoy my time living abroad. Here are some of my best tips:
1. Routine is Key: Routine is key when working remotely. While it is great to have flexibility, sitting down to work requires discipline which is not always easy to come by. One way to ease yourself into your workday is to create a routine that alerts your body and mind to the fact that it is time to get down to business. Routine can be anything from waking up at the same time every day and grabbing a coffee on the way to work, to doing 30 minutes of morning exercise before jumping in the shower, or making yourself a hearty breakfast and reading the news for 30 minutes before continuing with your day.
2. Reward Yourself: You are probably working remotely because it provides a benefit for you, whether it be spending more time with family or visiting countries you've been dreaming of. While living as a digital nomad, every morning I would think of one goal I wanted to accomplish that day and I would keep that in mind to motivate myself to work. It would force me to get up early and start working so that I would have time to enjoy whatever it was I decided I wanted to accomplish that day, be it watching a sunset over the beach, visiting a museum, or trying out a new restaurant.
Jon Sterling
Real Estate Coach & CEO of Agents Launch
There are three important elements to working remotely that I share with other entrepreneurs:
1. You need to set ground rules for the people in your life, specifically for people in your household. It is important that they understand that "working from home" is different than "sitting at home and available for chores and errands." It takes some discipline to work from home and people who have never worked remotely won't necessarily understand that you're at work even if you're on the couch all day.
2. I recommend that you wake up at a normal time, shower and get dressed before you start your workday. It's a psychological trick, but it helps set the stage for the day being a "work" day.
3. Block time in your calendar when you are focused on work activities and don't let yourself get distracted. This means turning off notifications (phone and desktop) and closing all the tabs that aren't essential for the work that needs to get done during that block of time.
Michelle Garrett
Writer and PR Expert, Garrett Public Relations 
I have been self-employed for 18+ years now and have always worked remotely with clients during that time. Here are some tips for success when working remotely:
1. You must be able to focus from anywhere. Seek out locations when you're traveling that allow you to focus. For example, I often look for a location where I can sit outside (e.g., a coffee shop or similar location), that can be quieter.
2. Look for small blocks of time when you can get a few things done, like answer some email messages or return a phone call. You may not have hours of time, but if you can use those short blocks productively, it will make a difference.
3. Make sure to have apps on your phone that make day-to-day tasks easier. For example, I use the Buffer app to schedule my social media posts. It makes it VERY easy to set those all up ahead of time so I don't have to be in front of the computer to post. Bonus: They offer a free version if you're only posting on behalf of one business.
4. Establish working hours/a schedule. Whether that's a five-day week with traditional hours like 9 a.m. to 6 p.m. or something less traditional like a four-day week with longer hours – or weekend hours – it helps you and your clients to understand when you'll be available. Of course, you'll have to work outside those hours at times, but it does help set expectations on both sides if you have published "office" hours.
Chuck Stricker
IT Consultant
I operate my IT consulting business out of my own home. Prior to starting my own firm, I worked remotely in the software industry for over 10 years.
One of the best tips I have to offer is the importance of some type of a "Starting Ritual" that is performed every morning to shift your brain into work mode. It could be as simple as making the bed as soon as you get up, getting the kids fed and off to school, or it could be showering and getting dressed as if you are going into an office. Performing a simple starting ritual will trigger your brain to start work and start it in a productive way. Once you've started your day productively, it's much easier to stay productive the rest of the day.
Sharon Vagley
Co-founder and CEO of Good Migrations
Since I run a site dedicated to helping expats relocate overseas, managing remote work is something I have had to deal with daily for the last four years as my team and myself work remotely.
My #1 tip is to create a routine! I cannot emphasize enough how important this is. It is so easy to take your flexible schedule for granted and let little things throughout the day distract you, but these add up. You need to create a routine just as if you were going to an office: waking up at the same time, staying focused, starting and ending work at the same time, and exercising.
My #2 tip is to make sure you're accountable. If you are a solopreneur, this can be a challenge at times since you only answer to yourself. Write down short-term tasks and long-term goals and stick to them. If you have a team, no matter how small, make sure you hold weekly status update meetings. This will keep everyone aligned and accountable to each other.
My #3 tip is to cultivate a work-friendly environment. This is something I learned later on from my experience. Do not sit on your couch with your laptop and think that high-quality work is going to get done. You should dedicate a space in your home for work, with a proper desk and chair. This is achievable no matter how small your place is. And consider co-working with others from time to time to spark new ideas and motivation.
Ryan Biddulph
Professional Blogger – Blogging From Paradise
After circling the globe for the past six years as a professional blogger, I'd say that working off of a strict schedule while maintaining boundaries is important for successful remote working. I find my sweet spot according to my time zone, bending a little bit to help clients or customers halfway across the world but sticking to my guns when someone wants me to wake up at 2 AM for a call. No way! I may work a little bit earlier or later to accommodate someone 12 hours behind me, yet honoring my normal sleeping and working pattern helps me succeed by avoiding burnout.
Andrew Lee Miller
Digital nomad and startup marketing consultant at andrewleemiller.com 
Here are my three best tips for being a successful entrepreneur and Digital Nomad:
1. Work Hard and Focus: I see a lot of new digital nomads going to beach towns, and that's great, as I write this I am looking out at the beach from my Airbnb in Puerto Vallarta, Mexico…but I am working. It's very hard for most Digital Nomads to have the willpower to get a 10-hour work day in when they're surrounded by other people on vacation who just want to relax. You have to be able to force yourself to work, at least if you want this lifestyle to be sustainable. I use a flurry of apps, alarms, tools, reminders, and notifications, but the best one I have in my arsenal is an app called Focus Zen. This relatively unknown app is an incredible, free tool for plugging in and zoning out on five-hour blocks of work. It plays some simple rhythmic tunes that keep you motivated and blocks out all distractions. This has helped me crush deadlines countless times. As a DN, you realize quickly that there is no peer pressure to get in the office on time or early, there is no one seeing if you made it to work by 9 am. You have to push yourself and be self-motivated.
2. Go to cheap countries or where you have a hook up: I try to stay with friends around the world as much as possible. This is not only cheaper, it's killing two birds with one stone because I don't need to make specific trips just to see friends. (A perpetual problem for a long-term nomad is that you're constantly missing and wishing you could see friends in various countries…sometimes for years on end.) Another amazing reason it's great to visit friends is that they leave to go to work, or often invite you to work from their office so it's nice to have that peer pressure occasionally to grind a full 9-hour day out. If I don't have a friend or specific reason to visit a country I will look for a nice balance of three main qualities in a destination: Price, Internet Connection, and Safety. A couple of the best places I have enjoyed working from in the last year are Nicaragua (high on cheapness and safety, lower on the internet) and the Czech Republic (high on the internet, safety, and cheapness).
3. Find a navigator. If you can team up with another Digital Nomad for things like motivation, organization, coordination, splitting the costs of stuff, safer transit, etc., it's a huge bonus. I've found that starting from co-working spots and then finding a "captain, and navigator" relationship with another DN is really valuable. Bonus points if they work in the same industry as you, or have clients you can upsell your work to! Overall, this is a no-brainer. If you can avoid going-it-alone then you'll benefit, especially if you're just starting out. I found another DN I really liked (professionally) in Thailand and we both went on together to Cambodia and Vietnam and it ended up cutting our costs in half as we split all accommodation.
Harshit Jain
Owner of HobbieSphere
1. Keep Yourself Focused. One thing about working remotely is the freedom to work. It seems beneficial, and it is, but the bad side of this is that people tend to lose focus on their work. If you are in an office you know you have to spend the time working for the time that you are there. But when the same happens at your home you just get caught up in a bunch of other tasks and tend to lose focus.
2. Set Your Routine. Another thing that comes with working remotely is that you can work at any time of the day you want. But, as time goes by, it gets really hard to stick with it and you'll start having work holidays – which is a pretty bad thing (in my opinion). So, to make sure you get rid of this issue, set your routine and follow it vigorously.
3. Believe in Yourself. In an office, you are often surrounded by like-minded people who can guide you along the way, even if you know what you are doing is correct. We all want to be double sure of what we are doing and when someone tells us that it's right… huzzah!!!
But what about when there's no one around to tell you that you are doing the right thing? Following the right path? You have to believe in yourself, what you are doing, and your hustle. You know how to get it done and maybe you are not following the obvious route, but you will get it done somehow. Just trust in yourself. In the worst-case scenario, you will end up failing but learning new things. But your effort will never get wasted. NEVER!
Brian Davis
Co-founder of SparkRental.com
As the Co-founder of Spark Rental, I am also the lead real estate and personal finance blogger for the site. I also teach a free mini-course on building remote income from rentals at SnapLandlord.com and I'm a weekly investing and personal finance columnist for BiggerPockets.
I travel the world as I work, spending the majority of the year in Abu Dhabi, and the rest of the year in either Baltimore (where I'm from) or Europe. Here are a few tips that have a made a big difference for me:
1. Have a set schedule and work routine, no matter where you are in the world. I work from around [7:15] AM to noon, take a 1.5-2 hour break for a workout and shower, then work another 4.5 hours or so in the afternoon. I tackle work in the mornings that require lots of focus and concentration because I know my afternoon shift will be less productive.
2. Find somewhere to work that's a dedicated workspace. It could be a home office with no distractions, or it could be a cooperative workspace. Coffee shops, cafes, and restaurants are all fair game as well if they're quiet and have reliable internet. But "my living room" is a bad option for a dozen reasons.
3. Plan your work on a weekly and daily basis. It could be the night before, or the morning of, but it helps you keep your projects and time structured if you plan your work in advance. Keep it high-level on a weekly basis, and more granular on a daily basis.
4. If you're traveling outside the US, invest in Skype's service to call US phone numbers from anywhere. 'Nuff said.
Kristin
Author, Travel Blogger & Photographer at www.bemytravelmuse.com
I have been running my own business for the past five years from abroad. Over that time, I have had to learn a lot about how to manage a business on the go. Three things have been really helpful:
1. Buying local Sim cards everywhere I go, from Iceland to Tanzania. I've done a lot of work from hostels, the back of the camper van, or even in a safari tent in the Serengeti.
2. Getting all of the stuff done that I possibly can while I have an Internet connection and leave anything that doesn't need Internet – like photo editing, or writing with research that has already been completed, or video editing – for when I have offline time. It's all about planning for when there is going to be a strong enough Internet connection!
3. Having a full-time assistant who serves as my point of contact and liaison when I'm not online. She makes sure that things get done when I am out in the mountains or simply can't be reached. This all keep things going!
Dr. Ariane Machin
Psychologist and Co-Founder of The Conscious Coaching Collective
1. Find a reliable place to sit and work… whether that is from your home or at a local coffee shop…somewhere where you don't have to think every day if it will be a 'good' place to work or not. You can balance your 'ideal' workplace depending on the needs of your day. Maybe you can work from a coffee shop doing computer tasks, but if you have to take some client calls, plan for this place to accommodate a setting that allows for quiet, uninterrupted conversation.
2. Know your strengths. Do you work better by yourself, with people around you, or a little bit of both? Sometimes, a quiet workplace ISN'T the best fit for getting everything done. You might thrive by having people and a little noise around you. Know what makes you energized and identify a location that helps you work and feel your best.
3. Plan connection time. Sometimes working solo can make you feel a little bit isolated. GO OUT OF YOUR WAY to set up some phone calls with colleagues or others to stay part of a team. Connection fosters mutual strength for both you and the person on the other line/side of the table. Make an effort to forge these relationships because this will not only help your team and colleagues get to know you better (and want to help you because they know you), but you might be surprised how energized it will make YOU! 🙂
4. Identify work/home boundaries. Sometimes, working from home can make work/home boundaries a little challenging. Should you do the dishes and laundry during a work call? Can you take mini breaks cleaning your kids' rooms? Can you work in your house even when it is messy (or will you have to clean it all up prior to starting your own work, which might delay your work day? These are all questions to consider when evaluating whether working from home will be a good fit for you.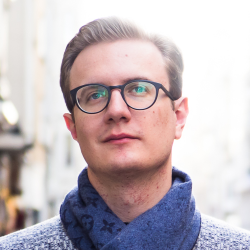 Latest posts by Andrew Henderson
(see all)