For entrepreneurs and investors who want to earn MORE money and pay LESS in taxes…
Would You Like Me To Personally Show You
How to Offshore Your Bank Account, Business,
and Investments without getting scammed…
And Guarantee Results?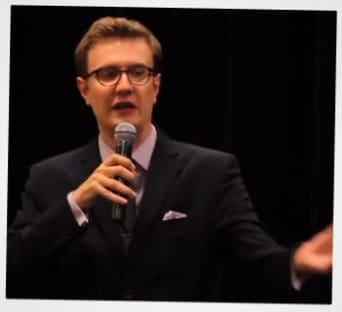 From The "Desk" Of Andrew Henderson
37,000 feet above Myanmar
Dear Fellow Capitalist,
I'm looking for a few "grasshoppers"… freedom seekers I can personally help enjoy the pleasure of moving their wealth and their business offshore for higher returns.
If that's you, I will personally work with you one-on-one to show you the EXACT STEPS that my multi-millionaire friends and I have used to escape high taxes, pathetic bank yields, shaky stock market investments, and bankrupt governments.
It will all start in a 45-minute phone call where I will take ALL of the risk.
Learning this Stuff (from me Personally) will be Totally Risk-Free
Now, I should tell you: I'm not a lawyer, tax accountant, investment advisor, or priest. I'm a guy who – probably like you – spent years building a hard-fought fortune in my home country only to pay nearly half of it to various corrupt governments.
After selling my first business, I start demanding answers, and I traveled nearly 1 million miles to build a rolodex of the world's smartest offshore advisors. I figured this stuff out for myself, and I can shorten the learning curve for you.
On top of that, I'm going to help you get started by guaranteeing that you're satisfied after our first call.
In this initial conversation, we'll create an entire "Offshore Blueprint" specifically for you. We'll discuss ways you can implement 100% legal offshore strategies and hopefully make a lot more money. This could involve bank accounts, investments, trusts, or other strategies I recommend.
Anyway, I'll even do most of the heavily lifting for you, by helping you map out exactly how to get things started… I can even point you in the direction of the paperwork.
At the end of this initial strategy session one of three things will happen:
You love our plan and decide to implement it on your own. If this is the case, I'll wish you the best of luck and ask you to keep me in the loop so I can add you to my wall of success stories.
You love our plan and ask to me to help you implement it for you. If that's the case, I'll personally hold your hand through the entire process as well as invite my personal legal and tax advisers to help you personally.
In the unlikely and unprecedented event that you feel like you wasted your time, I will send you a $2,500 gift as payment for wasting your time. No questions asked. That's how I completely eliminate your risk.
It really is that simple. There's no catch. Think about it…
The worst that can happen is you get to pick my brain and end up with a free $2,500 gift for the inconvenience.
(Oh, and this $2,500 gift is something plenty of people have ACTUALLY paid $2,500 for… not some e-book or tschotske with a value I pulled out of thin air.)
That said…
The best that can happen is that you and I work together – one-on-one – to get your affairs optimized using the latest and greatest in offshore strategies I speak about for a living…
…the stuff my lawyer friends charge as much as $50,000 to help people like you implement.
That's Why This Is Perhaps the
Biggest "No Brainer" You'll Ever See
Here's how it'll work:
First, you and I will get on the phone – just the two of us – and discuss your current situation.
I'll review everything you're doing, where you live, where you want to live, what your business does, what your goals are, etc.
Once I have that basic knowledge, I'll personally whip up a strategic plan of action items for you to put in place to maximize returns and allow you to enjoy the full benefits of this "offshore stuff".
This could work in a few different ways…
I might suggest moving your current company to a friendlier, low-tax or tax-free jurisdiction. I might suggest moving your retirement account offshore, seeking out higher yield real estate investments, or moving your precious metals to a vault overseas.
No matter what your situation, we're bound to come up several really good ideas you can implement the SAME DAY.
And as I said, I'm taking all of the risk…
Because, if you don't believe our call was worth it, just say the word before we hang up and I'll send the $2,500 gift your way.
So why the heck would I do this?!
Well, two reasons:
First of all, because I've been in your shoes. I spent years hearing about offshore strategies but I had no idea how they worked. I figured "that stuff must be illegal"… and so I kept running my business, paying a ton in taxes and just feeling "stuck".
So I get a personal sense of satisfaction from helping people like you get "un-stuck".
Beyond that, helping serious people like you personally is a good way for me to find Members for my private club, The Nomad Society.
Think of it this way…
If I show you the holy grail, you'll want to keep working with me until my team and I have helped you optimize every aspect of your life, allowing you to live the high life, retire early, or leave a legacy for your children.
In short, if I can make big improvements in your life, you'd want me to give you everything I've got, right?
In that case, I might invite you to become a member of The Nomad Society, my private club for people just like you who are perpetual travelers, investors, digital nomads, and entrepreneurs of all kinds. Society Members travel and invest together and help enrich each others' lives.
The nominal fee to join The Nomad Society should be easily covered many times over by the offshore cost savings I help you implement in just our first call. You'll literally see the value by the time we hang up the phone on the first call.
Now, if you don't want to become a Member of The Nomad Society, no sweat. It's not required or anything like that. And I won't give you a "hard sell" to join.
If you want to hang out with other like-minded people running seven-, eight-, and nine-figure businesses around the world, cool. If not, that's cool, too. It's that easy.
In fact, here's my "Virtually Unheard Of" Promise to you…
You will find our initial strategy session to be so valuable that if you don't agree it was worth the 45 minutes of your time, I will personally send you a $2,500 gift as my way of making things right.
I can make that guarantee because – unlike so many "free consultations" being offered by offshore salesmen who don't practice what they preach – I stand behind what I do. And I want to provide you value from the first time we talk.
Obviously, this is an offer that no nameless, faceless "guru" out there is making.
Think about it.
Rather than demand you pay some outrageous sum that the alleged "gurus" charge ($5,000 is not abnormal with those guys), I'm going to pick up the phone and talk to you for peanuts.
I will be personally generating an Offshore Blueprint for you upfront… and letting you pay me "the big bucks" later if (and only if) you want my team and I to provide even more help long-term.
Plus, I'm the only guy in this entire industry who is taking the bold step of guaranteeing that I will give YOU a $2,500 gift if you feel I've wasted your time.
Who else is doing that? Why, nobody. (Feel free to check).
I'm happy to do this because I've got a slate of satisfied Members who have all enjoyed and gotten value from these consultations.
If after speaking with me you believe that I can help you, you'll be in good company. The people I associate with, as well as my Society Members, are highly successful entrepreneurs and investors themselves.
This isn't a group of newbies, dreamers, whiners, or fruitcakes.
There's a reason more than 1 million people have visited Nomad Capitalist in the last year seeking out the type of information I'm going to help you personally apply in your own life. This is your chance to finally get this part of your life handled with some personalized guidance.
My stuff works, and I know what I'm talking about…
If we work together, I am positive you'll be thrilled with the results I can help you achieve.
If you're an entrepreneur, I can help you lower or eliminate your company's tax bill, slash operating costs, and even find some "global strategies" to drum up sales. (I used ONE of these strategies myself to start a business in an industry I had little experience in… and did $25,000 in the first week after about five hours of work.)
If you're an investor, I can share with you all of the high-yield strategies my friends and I are using to build wealth a lot faster than in the stock market.
You see, I myself am a lifelong investor and entrepreneur, so I know what you need.
Consider that:
I started my first business at age 19 and turned it into an $11 million machine that counted a Fortune 50 company and a billion-dollar man as customers.
My offshore strategy events are some of the best attended in the industry (even my first one ever sold out), with people flying as many as 8,123 miles (yes, I checked!) to attend
I frequently consult with friends and colleagues who have helped build businesses as big as $200 million
Not only do I know business, but I know the offshore and internationalization business. And I'm confident I can help you.
That's why guys with personal fortunes north of the $10 million mark have sought out MY advice. Hard to imagine they want to talk to little old me, but it's true.
Anyways… as you can imagine, I'll get a LOT of interest from this letter. Thousands of people each day will see this and, due to a busy travel schedule seeking out the latest information, my time is very limited.
So please read this next part very carefully…
This Is NOT For Everybody. Here's Who I CAN Help:
I can only help people who are willing to help themselves, so I have a few simple criteria you should meet before applying to speak with me…
1. You should have a business or portfolio already.
This offer is for entrepreneurs and investors who have a reason for this kind of help. You don't have to be investing millions in rare peacock feathers or something, but you should at least be living comfortably. $100K in annual sales in a business, OR in investable liquid assets is usually a good start.
2. You must have a good reputation.
You need to have your act together. I will NOT help you break any laws in your home country or overseas. Going offshore isn't about hiding money or evading taxes, and I won't put my reputation on the line.
3. You must be able to follow directions.
I'm not going to "test" you or make you jump through hoops like a circus animal, but I do need people who are open-minded and willing to TAKE ACTION once we establish a battle plan. As much as I'd love to talk about the weather, I need serious people who just need a little help to get started.
Is That You? Then Here's What I Want You To Do Next
If you meet my criteria and are itching to get started seeing incredible results, here's how the process works:
First, you need to give me your contact info on the next page. Basic stuff… I just need to know who I'm speaking with.
When you do that, I'm also going to ask for $400 to reserve your spot.
Now, I normally book consultations at $1,250 for roughly an hour or so. Full day "boot camps" have sold for $3,000 to $4,000.
You see, my business isn't built by charging people by the hour. I'm not in the business of making money $400 at a time. This fee is merely to filter out those who aren't serious.
(With well over 1 million visitors to this site, you can imagine that my inbox is full of crazy requests for all kinds of free advice).
Anyway, the $400 fee is all you have to pay for the full consultation. While I do value my time, I value yours, too, which is why I'll gladly send you a $2,500 gift (six times the value) if you feel I've wasted your time or haven't delivered value.
Here's What Will Happen After You Sign Up…
Once you've paid this tiny sum to book your consultation, you'll get an email to select an available time on my calendar. If we don't hear from you within 48 hours, my Girl Friday, "M", will reach out personally.
Our initial call will last about 45 minutes.
That first call is where you'll really figure out what exactly it is you want and need to get your affairs turbo-charged.
I'll take great care to review your current situation and all of your goals. You'll get advice you can put into practice immediately.
If you'd rather outsource the offshore stuff, we can do that. Or you can do it yourself. And if I feel you may be a good fit for joining my Society and hanging out with like-minded people on yachts, we can discuss that, too.
No matter what, there's no pressure. None.
Oh, and if you tell me I've wasted your time, I'll have "M" send you the $2,500 gift pronto.
You literally can't lose.
WARNING! WARNING!
Time is of the essence.
This opportunity is extremely limited because of I don't spend all of my time doing consultations. (Unlike most others in this field, I have actually run successful businesses since age 19. I still do today. I'm not another "newsletter guy" who makes money selling consultations.)
With that said, know that the window of opportunity won't be open long. Conversations are granted on a first come, first served basis.
If you feel like this is right for you, kindly apply and pay below.
I look forward to talking to you soon.
Yours,
Andrew Henderson

P.S. If you're "on the fence" or not sure about forking out a few hundred bucks, you may not be ready yet. It's OK. We've got a ton of free resources on our blog, and we host one really big event every year, to help you do some of this stuff yourself. This is for people who are tired of the misinformation, half-information, and shoddy service from the rest of the people in this industry. People who are ready to put this stuff into action if only they knew they had someone on their side.
P.P.S. The fine print (you'll notice it's not any smaller than the rest of the text): Obviously, I can only offer a risk-free guarantee that you'll be satisfied with our call and with my help. I can't guarantee that if you DO go out and invest in rare peacock feathers, you won't lose it all in some modern day version of Tulip Mania. So know that my guarantee doesn't apply to your actual results, but the fact that I can help you find the right strategies. Remember, I'm not a tax expert, lawyer, or investment guy, so you should always talk to one first. I'll share some contacts I trust on our call, but you are always free to seek out outside advice. You're ultimately on the hook for whatever you do.