Dateline: Mexico City, Mexico
Who wouldn't want to live in a friendly place where the sun shines year-round, the standard of living is high, crime is low, and the prices are some of the best in Europe?
Portugal's capital, Lisbon, meets all of those ideals. It is known for its friendly people, fine cuisine, colonial history, and ornate architecture. Additionally, sitting on a hilltop overlooking the Tagus river provides some of the most spectacular vistas around.
Lisbon has a strong and growing economy with great investment potential. Real estate, especially recently, has become quite popular among investors. There is a greater demand for housing than what is currently available, so prices continue to remain strong. Due to rising interest rates and economic growth slowing down, the residential property market in Portugal could experience a price correction in 2023. 
Over the past few years, much of the attraction for real estate investment in Portugal has come from its Golden Visa program. However, it was announced in February 2023 that Portugal was discontinuing its Golden Visa Program.
However, there are other great real estate options outside of the Golden Visa program that are worth considering.
Simply put, now is a great time to start investing in Lisbon real estate.
In this article, we'll fill you in on all the details of what Lisbon real estate investment offers, why you should get involved now, and the step-by-step process to do so.
Why Invest in Real Estate in Lisbon, Portugal
Even in the aftermath of the pandemic, the housing market in Lisbon, and most of Portugal has remained strong. Portugal, and especially Lisbon, have been getting a lot of international attention as a popular tourist destination and a great place for investment.
Luckily, there are no restrictions for foreigners who want to buy a home in the country.
Lisbon is a great place to invest in real estate, listed as having some of the best-priced properties in a European capital city. It's more expensive than the countryside of Portugal but there are better investment return options in the capital. You can find nicely renovated properties in the city center in the €200,000 ($242,932) to €500,000 ($607,330) range.
Another benefit is that the prices for buying and renting continue to rise. In the metropolitan area of Lisbon property prices were up were up by 15.2% (4.8% in real terms) as of November 2022 putting median prices at €1,929 (US$2,091) per sq. m
While property prices are increasing, it's still relatively affordable for Europe, especially for a capital city. Real estate in Lisbon is also moderate in terms of the cost of buying and selling properties. In general, transaction costs are relatively low. There are real estate agent fees, value-added tax (VAT) taxes, transfer taxes, and legal fees, but all are around the low to average range.
Tourism in the capital city is high. Purchasing real estate there, especially in the center area, is a great investment even if you don't plan on living there. There are great options for renting out properties or using them as an Airbnb.
There is a fixed net rental income tax of 28%, but repairs, maintenance expenses, and local taxes are deductible from the gross rental income. In comparison with other European cities, rental income yield is quite high in Lisbon, making it a great investment.
Getting residency through the purchase of a property in Portugal will also qualify you for the Non Habitual Resident (NHR) tax regime. This program offers foreign residents and investors reduced tax rates and exemptions on some taxes. While second citizenship in most countries in Europe won't help you lower your tax rate, Portugal is the one exception that can get you to a 0% income tax rate.
Living in Lisbon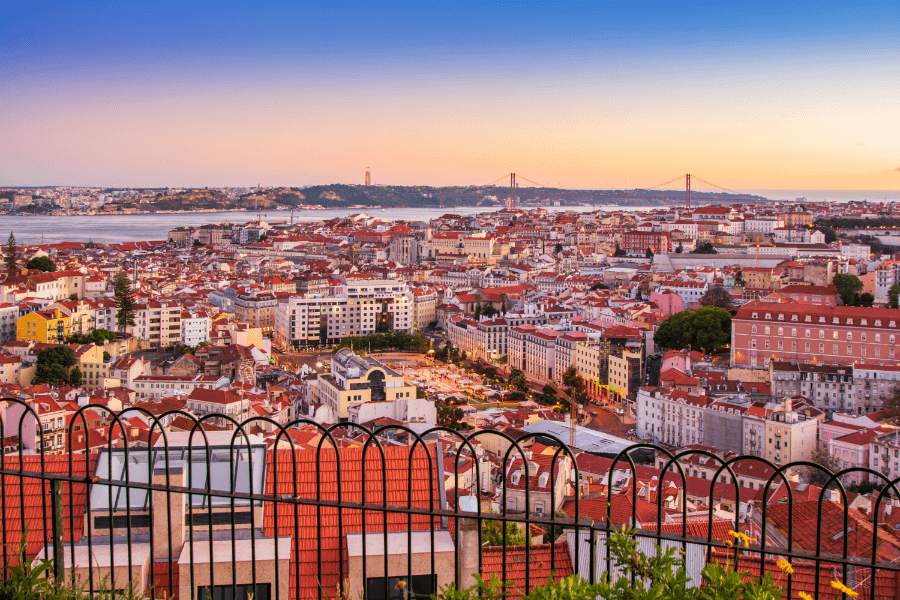 Lisbon is one of the oldest cities in all of Europe and is such a great deal all-round that it made it to one of the top five spots of our Nomad Quality of Life Index. With a high quality of life and a low cost of living, it also made our list of 7 European Cities to Live in Luxury for Cheap.
The city of Lisbon has a lot to offer.
There's been a lot of buzz about Lisbon lately thanks to its economic restructuring and efforts to attract startup companies. While local jobs around parts of the country might not pay much, Portugal has really been working to draw in entrepreneurs and specifically skilled workers. There are many opportunities to start and grow a business there.
Lisbon is an expat haven. There's an extensive network for expats coming to live or work in Lisbon. Most expats comment on the friendly, warm atmosphere as well as the active community with much to do and easy ways to get to know people. The nightlife is great as well and there are always festivals and cultural events.
There is great cultural diversity as the city is very open to and accepting of expats. Lisbon has a welcoming, safe atmosphere with one of the lowest crime rates in Europe.
It's a pleasant place to live with mild weather year-round, plenty of sunshine, an easy-going pace of life, and warm friendly people. There are plenty of beaches nearby and with 10 months of amazing weather, people are often outside.
There is a lot to see in Lisbon. Monuments and historical markers abound, museums are first-rate, and the architecture is beautiful. The streets themselves, especially in the older neighborhoods are fun to explore.
The cost of living in Lisbon is one of the lowest in Europe with affordable groceries and transportation costs. The city and overall country also offer great infrastructure in terms of government stability, quality healthcare and accessibility to education, and an excellent transportation system.
Lisbon also offers first-rate cuisine. Restaurants and bars abound with delicious food and a range of cultural options.
Most people in Lisbon, especially the younger generation, speak English. Still, it is helpful to know some Portuguese to aid in getting around and you'll need to have some proficiency in the language if you're seeking citizenship.
Why Invest in Lisbon Real Estate Now
Most investors have focused on properties in Lisbon, Porto, or along the coast. Portugal has no restrictions on foreign property ownership, and housing prices for Lisbon real estate are still some of the lowest in Europe, making it a great option for investing in foreign real estate even without the Golden Visa program.
If you're not looking to live in Lisbon full-time there are great options for renting your property, and there is a high demand for apartments for rent in Lisbon. While the property prices for buying are relatively low, rent prices, especially in the center of Lisbon, remain high and continue to increase. Rent yields in the Lisbon area range from 3% to 8%.
In addition, there is a lot of interest in Lisbon now as a tourist destination, as a base for startup companies, and for expats looking to start life anew. You won't have trouble finding someone to rent your apartment there. While property prices are much more expensive in the central region of Lisbon, you will get a much higher rent income from it. The investment could well be worth it.
The Best Neighborhood in Lisbon
Lisbon is the capital and biggest city in Portugal, with a handful of neighborhoods of interest to foreign investors.
One thing to keep in mind is that there aren't really any unsafe areas in Lisbon. As mentioned above, it has some of the lowest crime rates in Europe. It's not like Bogota, where you must avoid certain neighborhoods due to safety concerns.
So, without further ado, what areas do we recommend when buying Lisbon real estate?
Alfama and Graça
If you're looking for the quiet, traditional Lisbon neighborhood, look no further than Alfama and Graça. They are known as "the heart of Lisbon" with a close-knit community that treats you like family.
As the oldest neighborhoods of Lisbon, these charming villages are also home to many historical areas with narrow medieval streets and some of the best views in the city. They are also home to where Fado, Portugal's traditional style of music, was created.
While it's a calm neighborhood nestled in the heart of the city, it is also near public transportation and is a popular tourist area. So yes it's quiet, but it's definitely not dead.
Much of the housing is in need of renovation, but you can definitely find affordable prices on renovated properties. The best houses are around the cathedral.
Barrio Alto
Known as the bohemian nightlife center, Barrio Alto is where everyone will be on Saturday nights. It's home to the most popular restaurants, nightlife, and shopping, as well as to many immigrants and expats, giving it a culturally diverse feel.
The sidestreets have many nice apartments (as well as many in need of renovation). If you don't mind the loud weekends, it can be a fantastic central location to live in.
Príncipe Real
Príncipe Real is a quiet, charming neighborhood known for its gardens and is probably the trendiest place to live in Lisbon right now. If you're looking for less of the wild nightlife of Barrio Alto and more of a sophisticated, residential area, Príncipe Real is where it's at.
The buildings of this neighborhood are more stately, giving off a more expensive vibe. It has some of the best boutiques and places to get food and drinks, especially along the Rua Dom Pedro V.
Rent and house prices are higher. But those seeking more of a socially elite district of gardens and high-end shopping will enjoy this neighborhood.
Baixa and Rossio
The neighborhoods of Baixa and Rossio make up the heart of downtown Lisbon. This area is home to the main historic landmarks in Lisbon as well as many great places to shop and eat. As a tourist destination, it's mostly busy during the day, but quieter at night.
Apartments in these areas are quite spacious and there are many great investment opportunities. As mentioned before, if you're looking for an investment property where you wouldn't live, but are looking to rent out, these neighborhoods would offer great opportunities as tourist-friendly spots.
Alcântara
Alcântara is a great neighborhood along the Tagus river and right next to the city center where you'll find great attractions like the Docas de Santo Amaro, which has fantastic bars and restaurants along the docks, and the LX Factory, which is a renovated factory with trendy shopping, eating, offices, and more.
Apartments in Alcântara start at around €250,000 (approx. $271,913) for a nice one-bedroom apartment. You can easily pay €1 million ($1,87 million) for a more spacious apartment, but there are many nice apartments for less than that.
How to Invest in Real Estate in Lisbon, Portugal

As previously mentioned, the Golden Visa is no longer an available option. Thankfully there are still options beyond the Golden Visa program. Let's discuss the step-by-step process for investing in Lisbon real estate. It's important to note that buying a property is rarely a simple process, and buying internationally adds a few more steps and some additional work. So be prepared.
Also, know that it can be very helpful, and save you a lot of headaches, to work with a professional when buying international properties as a foreigner. Our team has years of experience doing this sort of work. Please contact us if you're looking for knowledgeable professionals to simplify the process.
Step 1: Obtaining a Portuguese Tax Number
Whether you're a resident or non-resident, to invest in real estate in Portugal, you'll need a tax identification number, known as a Número de Identificação Fiscal (NIF). You can obtain one by contacting any of the government finance offices. You'll need to provide proof of your current address and passport information.
You'll also need this tax ID number to open a bank account in Portugal, which is advisable when buying real estate in-country, to avoid fluctuations in exchange rates.
Step 2: Finding a Property
There are good websites that can help you find the perfect piece of Lisbon real estate. OLX, Imovirtual, Idealista, Trovit, and Nestpick are a few to get you started.
You will need to work through a local real estate agent that can take your requirements and work with you to find exactly what you're looking for in the right location.
Alternatively, you can choose to work with the Nomad Capitalist team — our main goal is to find you a good deal, not an 'expat-friendly' (and overpriced) deal like many of the local agents specialized in dealing with English speakers will try to get you.
First, determine your budget and what kind of property you want to invest in. Here are some of our suggestions:
Go for an apartment in the center of town if you want to capitalize on the vibrant Airbnb market and rent to ever-increasing numbers of tourists

Choose a 2-3 bedroom apartment in the quieter neighborhoods discussed above if you see yourself renting to professionals for longer-term

Travel to Lisbon and choose a neighborhood and a property you love if you're going to be living there yourself (even if it's just for a part of the year as part of a

Trifecta strategy

)
If you have specific needs and wants, we can work those out together and give you recommendations as to which type of property and where you should be looking to buy.
Once you have narrowed your options down, go view them and choose which one you would like to buy. You can skip this step if you're buying your property remotely.
Step 3: Purchasing the Property
After finding the property that you want and settling on a price with the owner, the next step is to work through all the formalities of executing the contract.
If you haven't already found a local lawyer or solicitor or chosen to work with our team, now would be the time to seek professional help. You'll need to review the terms and promissory contract with your lawyer or solicitor. Then both the buyer and the seller will sign the promissory contract.
At this point, you will be required to pay a deposit, which is generally 10% of the cost. If you back out of the deal after this point, you will lose your deposit.
Step 4: Signing the Promissory Contract
This is quite a simple step. When all the terms of the promissory contract have been met, the buyer and the seller or their lawyers/solicitors will meet in front of a notary to finalize the sale.
At this point, the buyer will pay the remaining amount owed on the property and the seller will hand over the keys.
Step 5: Paying Fees
In Portugal, the seller typically pays the agency fees, but the buyer also incurs several additional costs:
IMT (Property Transfer Tax) – based on the purchase price value and your situation. For non-residents buying a second or third home, it can be as high as 10% of the purchase price.

Stamp Duty – a fixed rate of 0.8% of the purchase price

Notary fees and Land Registration fee – generally between 0.2% and 1.2% of the property value
Maintaining your Lisbon Real Estate
There really isn't much to maintaining your property in Lisbon that would be different from anywhere else in Europe.
You'll be responsible for utility bills which consist of a recurring fee, as well as a metered usage fee. In other words, even if you're not using the electricity or water, you will have to pay a set amount per month.
All of your utility charges should only ever cost you a couple of hundred euros if you're using the space. It's normal for tenants to pay all utility bills themselves if you're renting your property long-term.
If you're using the property as a rental, there is a well-developed property management market, especially in the major tourist areas of Lisbon. For a fee, they'll take care of all your rental concerns and needs.
You will be liable to pay an annual property tax. Each municipality levies its own taxes. On average, the rates are between 0.3% and 0.8% of the property's value. Unsurprisingly, properties in major tourist areas require higher rates.
Still, it's definitely not like the property tax in the United States or in Western Europe where they'll make you pay through the nose just because you own real estate.
Challenges of Buying Lisbon Real Estate

Buying foreign property can be an intimidating process. There is no scarier feeling than when you're about to wire funds to a foreign country, possibly to somewhere you've never been before.
While some places in Latin America and Asia have their troublesome nuances regarding buying real estate, there's less to worry about in Portugal and especially in Lisbon where foreign investment is common. The entire process is fully regulated and handled by notaries, lawyers, and government officials.
There is pretty much no room for scams or mishaps, though you should always be on the lookout no matter where you're buying real estate.
The biggest challenge with Lisbon real estate is probably finding properties for sale. The demand for housing in Lisbon is high right now. There's currently much more demand than there are houses available. This makes it great for selling prices and rental yields, but more difficult to find the perfect option at the price you want.
Prices do continue to rise, so acting sooner than later will get you a better price.
Another consideration specific to Portugal is the law of subrogation. This law attaches debts to the property, rather than to the borrower. Most lawyers will catch this when putting together the contract, but if you're not careful you can end up being liable for any unpaid taxes, bills, or even mortgages connected to the property.
The final challenge is concerning the title deed. Portugal has a dispersion of ownership clause where family properties will pass down through the generations and can end up belonging to several people — including relatives who have emigrated to a different country. This can put huge delays on finalizing sales as you must hunt down everyone that has ownership of the property to facilitate the sale.
While it is less common in Lisbon, it is still something to be on the lookout for if you're in any kind of hurry to get your property. And again, any good lawyer will catch something like this so make sure you're well represented when getting involved in purchasing foreign real estate.
Obtaining Residence and Citizenship in Portugal
It is still a good investment to buy Lisbon real estate even without the Golden Visa program, but if you're just looking for residence and citizenship, you might want to consider one of their other investment opportunities that are a little less hassle than real estate. There is an option for entrepreneurs, as well as capital contributions.
Outside of the Golden Visa program, you can get citizenship in Portugal after living there for five years. If you are a non-European Union citizen, you will first need to apply for a temporary residence permit which will last for one year. It can then be renewed for two years, and again for two years after that.
After those five years of temporary residence, you can apply for a permanent residence permit which will need to be renewed every five years. Or, after the five years, you can apply for citizenship.
This is a great option if you're looking to buy real estate and live in Lisbon. You can simply find a nice place to live and then after five years apply for citizenship. You will be required to know sufficient Portuguese and have a clean police record with no jail sentences.
If you are married to a Portuguese citizen, you can apply for citizenship after three years and there are no requirements about living in the country under that option.
There are also citizenship options if you are lucky enough to claim parents who were Portuguese citizens. Citizenship by descent is probably the fastest and least expensive option to acquire citizenship in Portugal.
Buying Real Estate in Lisbon – FAQs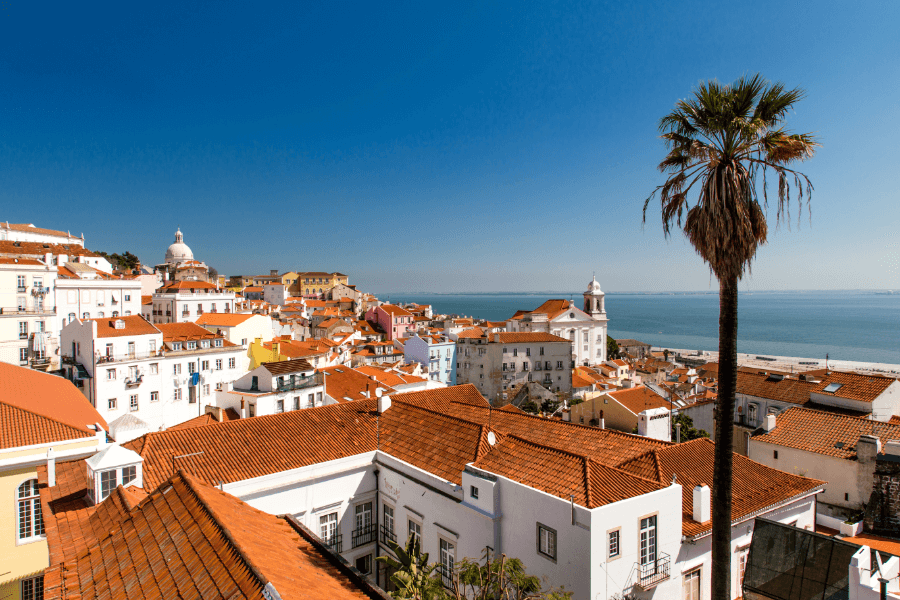 Can Foreigners Buy Property in Lisbon?
There are no restrictions on foreign property ownership in Portugal. Many of the government programs encourage foreign ownership and investment in property.
What Documents are Needed to Buy Lisbon Real Estate?
You will first need to get a Portuguese tax number which you or your lawyer can get at any of the local tax offices. You will also need the following documents:
A photo ID from both the buyer and seller

The

Contrato-Promessa De Compra e Venda

(CPCV), or promissory contract if available

The property's energy certificate

The

Imposto de Selo

or (stamp duty payment)

The

Caderneta Predial

(land register)
Do I need a Lawyer when Buying a Property?
Yes, we strongly advise using a professional. An independent lawyer or solicitor will act on your behalf and is especially helpful when buying remotely.
Why Buy Property in Lisbon?
Lisbon has been in the buzz lately as an increasingly popular place to visit and to buy property, whether for a second home or for investment. The combination of a high quality of life with low costs of living, a pleasant climate, a steady economy, and low property prices for a European capital is hard to beat.
What are the Additional Fees when Buying a Property in Lisbon?
Fees will depend on the type and value of the property you buy. In general, for private real estate, the fees are between 7% and 10% of the purchase price.
Is Property Cheap in Lisbon?
Yes and no. For property in a Western European capital, prices are some of the lowest in Lisbon on average. Within Portugal itself, Lisbon is one of the priciest places to buy real estate. While it is more expensive for Portugal, Lisbon is also a major tourist destination for the country and currently in Europe, making your investment quite valuable.
Can Foreigners Buy Property in Portugal?
Yes, foreigners can purchase property there, provided they have all of the correct documentation.
Is Buying Property in Lisbon a Good Investment?
Buying a property to rent in Lisbon could be an excellent financial investment. Especially now and especially in Lisbon, there is more demand for housing than what is currently available, driving up prices. In addition, rent income yields during the peak season of tourism make real estate investment quite profitable. It's also important to note that Lisbon and Portugal have experienced steady growth over the past years, even despite the pandemic. This is always an important factor when considering where to invest.
How Much of a Deposit is Required when Buying Real Estate in Lisbon?
A 10% initial deposit is required when signing the promissory contract. Then the rest is due when the contract is fulfilled and notarized. However, if you're taking out a Portuguese mortgage, a 20% deposit is required. Loans from Portuguese banks generally vary from 60% to 80% of the valuation price, depending on the lender.
Is Property Cheaper in Spain or Portugal?
Portugal often is more attractive due to its high quality of life with a lower cost of living. According to Numbeo, consumer goods in Portugal are 3% lower than in Spain on average, and restaurant prices are 10% lower.
Is Lisbon a Good Place to Invest in Property?
Yes! The real estate market in Portugal is inexpensive compared to other Western European capitals. In recent years, it has seen a period of steady growth, which makes it an excellent place to invest.
Is it a Good Time to Buy Property in Lisbon?
Lisbon still offers great real estate investment opportunities, especially in the major tourist areas where property can be used as rentals and Airbnb's. Prices continue to rise, so acting sooner rather than later will provide you with the most benefit.
Do Expats Pay Taxes in Portugal?
As a non-resident in Portugal, you are only taxed on your Portuguese income, while residents pay an international tax. You are considered a resident if you reside in Portugal for 183 days or more within a period of 12 consecutive months.
Is there Property Tax in Portugal?
As an owner of real estate in Portugal, you'll need to pay property tax, also known as the Immovable property tax (IMI). Rates are set by each municipal assembly and thus vary from 0.3% to 0.45%.
Is there a Wealth Tax in Portugal?
In terms of properties, there is a small wealth tax. For properties held by a corporation, the rate is 0.4%, for individuals, it's 0.7%, and for owners of property valued at over €1 million, there is a 1% tax. There is a €600,000 ($729,189) deductible from the value of the real estate for individuals, but not for companies.
Lisbon Real Estate: A Great Investment
As an open, diverse, and beautiful city, Lisbon, Portugal has become a hotspot for tourists and expats alike. Its year-round warm weather and friendly people are hard to top.
Not only is it beautiful, but it has remained economically stable during the pandemic and housing prices continue to climb.
Some of the benefits of investing in Lisbon real estate are:
It's one of the most secure and attractive real estate markets in Europe

It boasts the lowest real estate prices for a European capital city

High rental income yields, especially in the downtown tourist areas

Strong constitutional property protections

A short timeline of five years to citizenship

A top-notch Tier A passport

The possibility of establishing non-habitual residence and tapping into the incredible tax savings
If you're considering investing in foreign real estate, Lisbon is a great investment right now.
As the capital of Portugal, Lisbon offers all the charm and benefits of Europe but at some of the lowest prices in all of western Europe. The important thing is that you don't work with the local agents who have 'specialized' in investment real estate and will cost you a premium.
Here at Nomad Capitalist, we have a boots-on-the-ground perspective of Lisbon's real estate market and can work with you to uncover the best deal and the best property for you.
Get in touch today to learn how you can benefit the most from your next investment.