This article discusses the eight most livable cities in South East Asia and how moving there can add value to your life.
Southeast Asia is one of the first places people try out when they start their nomadic lifestyle. It's cheap, it's warm, it's easy to get to, and it's a lot of fun. But what people often don't consider is that it's more than just a short-term place to vacation.
It's actually a great place to live.
Our Trifecta strategy has made us appreciate cities that offer something more than most: good service, shopping malls, excellent food, Uber access, and ease of settling in — a place that feels like home.
Whether Southeast Asia is just one base in part of your multi-base strategy or a place to settle down and live full-time, there are many cities that provide great opportunities for you.
We recommend the cities on this list based on factors like foreign accessibility, efficiency, variety of available services, lifestyle options, and travel availability.
If you want to live, work, or invest in Asia, set up a call with us today. We'll create a tailored holistic strategy for you that helps you build your best life in Asia.
8. Bali, Indonesia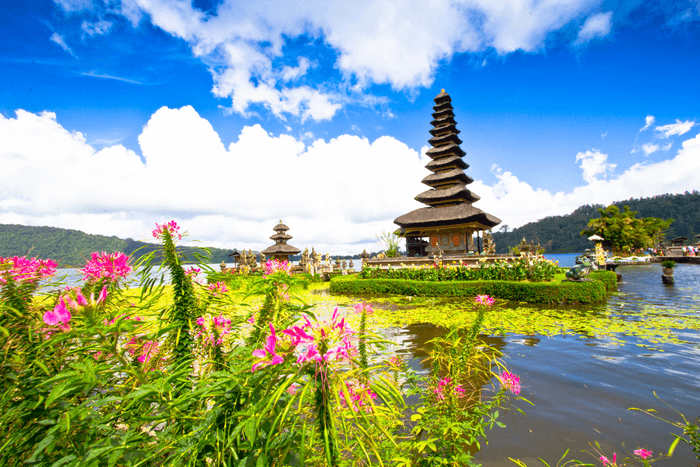 Bali is a major nomad hub, especially for startups and new entrepreneurs.
Moreover, it is a heavenly place for anyone who wants a vegetarian diet and beautiful nature scenery while bouncing between the main hubs in Ubud, Canggu, and Seminyak to surf, work, and enjoy the nightlife.
Bali is also a hugely popular destination for interests like yoga retreats, meditation, and health classes.
Our remote team was in Bali doing a three-month stay and loved it. (You can read about our Bali experience in our nomad guide to living in Bali.
There are, however, a few things to be aware of in Bali.
For one, there are some stories of credit card scams or duplicates.
The economy of Bali has long been geared towards tourists, so you need to stay vigilant.
Also, it can be harder to fly to, but there are options through Singapore and elsewhere for a long and refreshing visit to the big city after being in the jungle or on a beach for a while.
Also, certain connectivity issues can come up.
The Internet connection can be unreliable (definitely buy protectors and power stabilizers), and transport/traffic on the island can be quite congested at times.
That said, the Balinese culture is generally very welcoming and hospitable, and the nomad hubs of Ubud and Seminyak have had a huge influence on SE Asia nomad travels.
7. Hanoi, Vietnam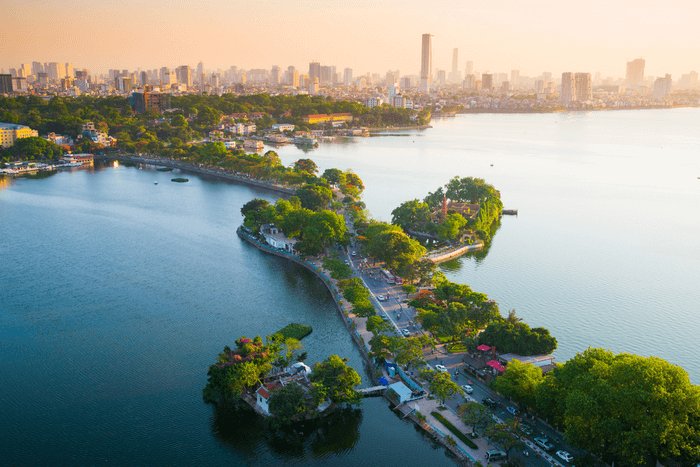 Hanoi is the cultural capital of Vietnam and a great option for nomads and expats.
We have written before about the cost of living in Vietnam and how to be part of the emerging economy there.
Hanoi is one of the more underrated cities to focus on as a base in SE Asia.
Hanoi has a colonial charm and an excellent cultural scene for nomads who want to be somewhere a little different than the typical mall-heavy cities of Bangkok or Singapore.
One of the interesting things about Hanoi are the tube houses which result from old property tax laws.
The city has some fascinating zoning laws that result in an interesting array of homes and neighborhoods throughout.
Both Hanoi and Ho Chi Minh City are fast-growing cities that reflect the increasing interest in Vietnam as a regional economic powerhouse.
Plus, as capital and operations continue to move from China to Vietnam, due to rising costs and other factors (including political) we believe that Vietnam will continue to be one of the most promising frontier markets to invest in well into the future.
6. Hong Kong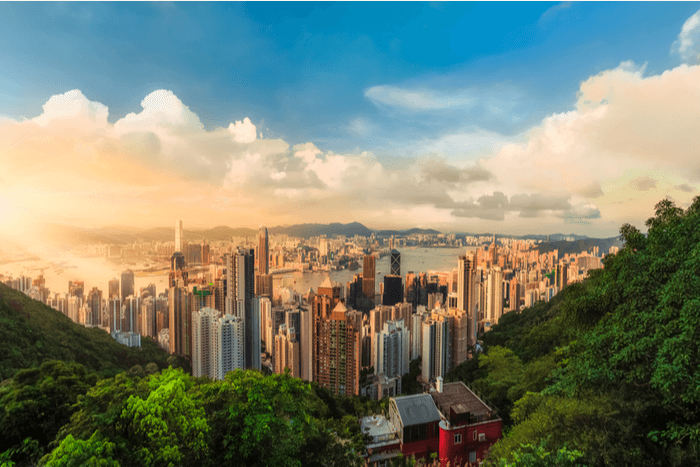 One of our favorite cities in the world, Hong Kong is a fantastic place to bank or do business.
While not always considered part of Southeast Asia, Hong Kong is a truly international city on the South China Sea that defines much of the region.
Hong Kong is an incredibly expensive place to rent an apartment. A long-running real estate bubble has made it among the most expensive places to live. However, even in Central Hong Kong, there is a yin-and-yang about the country that makes it truly special.
On one corner, well-dressed bankers dine on $100 lunches.
On the opposite corner, local merchants hawk cheap clothing next to food shacks.
You can get anything you want in Hong Kong, and the weather is great most of the year. Moreover, its big-city nature offers up plenty of ways to live abundantly.
Beaches, greenery, and culture (like the Big Buddha) are a short bus ride away.
And, if some of the world's best shopping and waterfront views don't excite you, the world's largest gambling destination is a one-hour ferry ride away.
The strong business culture and low tax rates make it a great city for entrepreneurs.
As an added bonus, Hong Kong airport is one of the world's cleanest and most luxurious airports, with non-stop service to almost any civilized place you want to go.
Now, on to our top five!
5. Manila, Philippines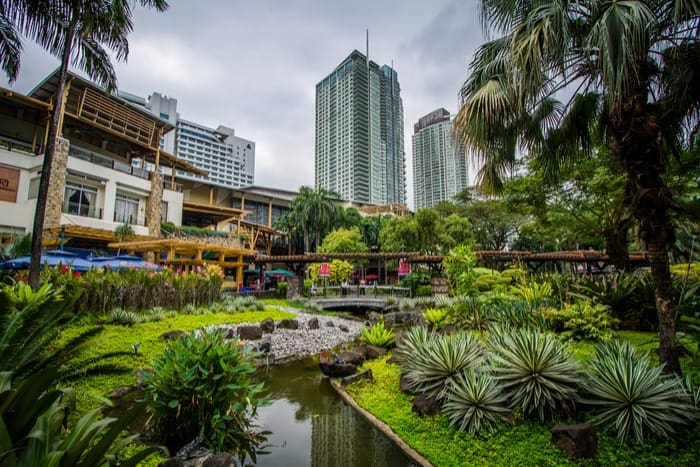 The Philippines is a very interesting place with a business-friendly environment, rich culture, and plenty of English-speaking people – especially in the city of Manila.
With Manila, finding the right part of town is important.
Areas like Makati and Fort Bonifacio (Manila's own version of Singapore) offer great shopping.
The Greenbelt Mall in Makati is filled with lush greenery, streams, a duck pond, and even a chapel.
While not huge on culture, the city has several interesting museums and attractions from its Latin roots.
Note, however, that foreigners can only buy freehold condos in the Philippines.
Finally, for Westerners, areas like Makati offer a city within a city with Western-style dining, such as the Filipino equivalent of the Cheesecake Factory.
It won't be the easiest place to navigate because it's an island chain, and the Manila airport isn't that great, to say the least, making travel around as well as in and out of the region harder than other options on this list.
Manila itself doesn't score too high as far as efficiency is concerned, either.
It isn't the cleanest city, and everything will tend to run behind, but if you can get past being a little late, you'll eventually blend right in.
If you enjoy beautiful beaches, great people, and interesting food, then Manila could be a great place for you.
Other people may recommend other cities like Cebu or Davao, but we would choose Manila for a global citizen lifestyle over anywhere else in the Philippines.
4. Bangkok, Thailand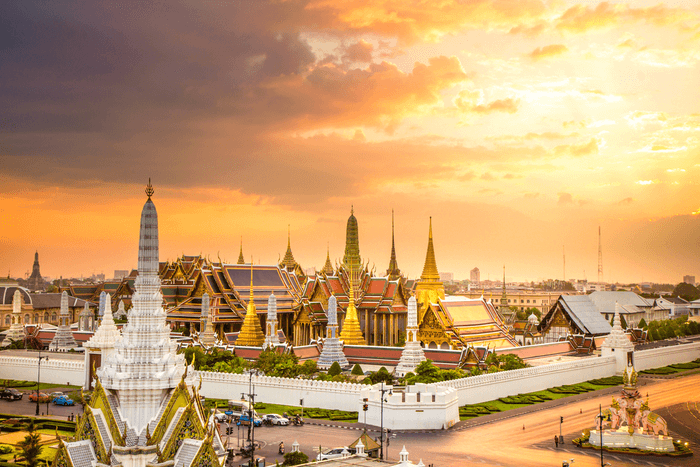 Bangkok is a city that can fit a wide variety of pockets.
It's big, it's bustling and has everything you need. You can fly anywhere in the region with very little trouble.
If you want to live cheaply, you definitely can — eating street food, living somewhere further from the metro or BTS, etc.
It's a great city for making a budget stretch, giving you a chance to do more with your money than you might be able to in other places.
If you are looking for a high-end lifestyle, it is accessible in areas like Silom at sky bars and different gourmet restaurants.
Moreover, as an international hub, flying in and out of BKK is easy.
Spending the weekend on the beach is also affordable and easy, making Thailand an ongoing popular option.
Its popularity extends from young digital nomads to retirees to wealthier expats, who enjoy the lifestyle and culture, but it's not without its limitations.
3. Ho Chi Minh City, Vietnam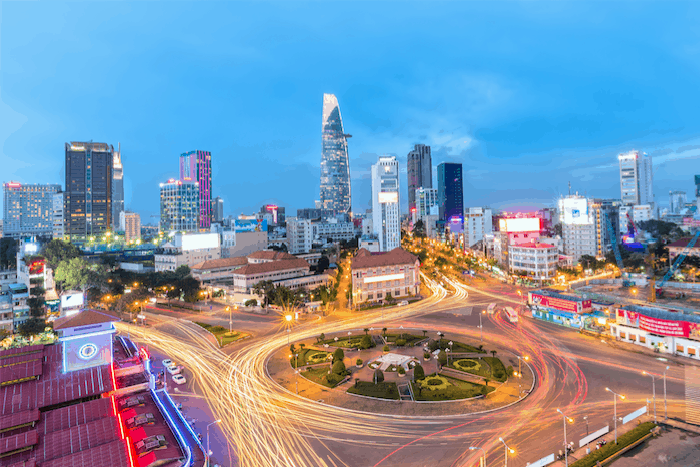 Ho Chi Minh punches above its weight, as people say. It has more going for it than you might surmise at first glance.
Ho Chi Minh City is especially popular among digital nomads who travel with a backpack and a laptop.
After all, there's a cafe on practically every corner.
Ho Chi Minh City's District 1 has everything a Westerner could want, from fresh Asian food to expat-run hamburger shacks and sky bar nightlife.
Whereas other nearby areas are great for plenty of expats with those of a more traditional, family lifestyle.
Vietnam's currency, the dong, is weak, allowing your dollar or euro to go incredibly far in a market that offers very affordable living, developed shopping, fantastic restaurants, and beautiful apartment buildings.
This also makes it a great place for business. Many nomads go there to bootstrap their businesses and get the most for their dollar.
The food is exquisite, the culture is great, and you can easily maintain a Western lifestyle there.
In essence, Vietnam is a great place to live.
2. Singapore
Singapore is highly developed, delightfully efficient and so amazingly sterile and clean that first-time visitors joke about eating off the ground.
We love to sing Singapore's praises here at Nomad Capitalist, particularly when it comes to banking, investing, and storing your wealth.
But living there is a different matter.
Like Hong Kong, Singapore is both a symbol of economic freedom and a rather expensive place to live.
While not necessarily as extreme as other major finance centers, the high cost of housing and low yields should still give you pause for thought.
While locals can use the country's Central Provident Fund to help pay for their housing, it is a luxury foreigners don't really get.
Of course, there are also plenty of perks to living as an expat in Singapore. 
The diverse culture of Singapore and its highly affluent status not only makes it a perfect place for fine shopping but also for a myriad of dining and cultural options provided by the foreign talent that helped build the place.
While Singapore is rather isolated geographically, you're not far from great beaches in Indonesia or even the pseudo beaches of Singapore's Sentosa Island.
1. Kuala Lumpur, Malaysia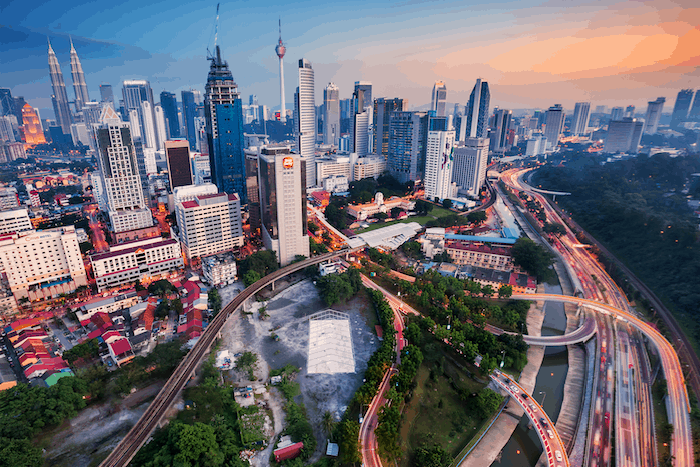 The first place goes to Kuala Lumpur because the city has it all. We've been a big fan of Kuala Lumpur for a very long time and consider it Asia's hidden gem.
Bar none, it is the most underestimated place for living in the world.
In Malaysia, you'll come across many of the same elements that make Singapore great, including a sizable English-speaking population.
You'll have good connectivity to the most important parts of the country with one of the best airports in the world for getting around.
The regional airline, Malaysia Airlines, is also very affordable.
Beyond that, you have every cuisine known to man and some of the best food in the world that you can share with friendly people.
The country has recently made moves to attract more digital nomads with its De Rantau Nomad Pass.
You lose some of the efficiency of Singapore because of some disjointed infrastructure, but this is more than made up for by the fact that you can buy a relatively nice apartment for a quarter million dollars.
Plus, you can get a residence permit for much cheaper than it would cost you in Singapore.
The country offers an excellent lifestyle for the average six- or seven-figure entrepreneur who wants to settle down either full or part-time.
We rate it as number 1 on this list, and while some may disagree, we encourage you to visit this wonderful country and give it a full shot before writing it off. Many who visit Kuala Lumpur find it to be a refreshing mix of Singapore and Hong Kong in one.
The Bottomline
Our list is based on our livability criteria of foreign accessibility, efficiency, variety of services, lifestyle options, and availability of travel.

Livability is a subjective matter, and two different people may have completely different ideas of what's livable. People who prefer a slow-paced life may like Chieng Rai way more than Bangkok, and that's completely alright. What's important is knowing your options and going where you're treated best. If that's your goal, reach out to us, and we'll help you find the new home that suits you best.