Nomad Capitalist Report
Airdate: August 24, 2013
Topics discussed: Global entrepreneurship, living in Vietnam, medical tourism
Guests:
0:00 Andrew talks about a new YouTube cartoon voiced by Ed Asner that spews a bunch of mistruths about capitalism and "the 1%". Worse yet, the video was paid for by the California teachers union as an educational tool! Andrew rants on how this is just the latest reason you should never live or do business in California, and why the next generation of Americans is being brainwashed to hate capitalism. Is that really good for your business?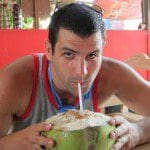 16:10 Dan Andrews from Tropical MBA joins Andrew live in his "studio" from Ho Chi Minh City to discuss living in Vietnam, running a business from southeast Asia, and productivity hacks he uses in the emerging world to get more done with his business and spend more time living. As the host of own his podcast on global entrepreneurship, Dan is an expert on making businesses go from zero-to-fast anywhere in the world!
If you like our content, subscribe to our free email newsletter and get a free whitepaper.
Subscribe to our weekly radio show on iTunes and never miss a minute! Plus, check out our past radio shows and listen on demand.