READ ON TO DISCOVER THE

'MONKEY'S FIST' TRICK


YOUR GOVERNMENT IS PLAYING ON YOU RIGHT NOW
AND HOW YOU CAN TURN THE TABLES ON THEM…
Dear Fellow Freedom Lover…
Have you ever watched one of those giant luxury ocean liners tying up at New York or some other great port?
They carry ropes to tie them to the quay. But these ropes are massive – far too heavy for one man to lift, let alone throw on to the quay.
So, instead, they throw a very thin rope, with a small, round weight attached.
This weight is called 'The Monkey's Fist' and makes it easy for someone standing on the quay to catch the rope.
And this thin rope, when hauled in, leads to another – thicker – rope. And the thicker rope leads seamlessly to the thickest rope of all, enabling it to be easily brought ashore to tie up the liner.
So What's This Got To Do With You, Your Family and Your Financial and Personal Freedom?
Quite a lot.
Because the 'Monkey's Fist' trick is already being used on you, right now – regardless of which Western country you live in.
Little by little – sometimes under the guise of 'The War On Terror' or some other thinly veiled excuse – your money PLUS the freedoms you once took for granted are being stolen.
And they are taken away in small bites. But the size of each theft gets successively larger – just like the ropes on the cruise liner.
And this isn't just in the USA, Canada or the UK. Virtually every Western government is being sucked down into a financial swamp, with no obvious way out…
… and history shows us, when things start to go wrong, governments – like cornered rats – will fight to ensure THEIR survival, regardless of anyone else.
And the very first way they do that is to jack up your taxes.
Right From the Collapse of the Roman Empire,
All the Way Through the Centuries to the Weimar Republic,
the Pattern Always Has the Same Two Steps:
Step ONE:

Squeeze your captive population for more and more taxes. Shame it's counter-productive, because it chokes off growth and enterprise, leading to the need for even bigger tax hikes. Then, when the productive sector finally collapses under the sheer weight of taxation, everyone realizes too late that the whole thing was one GIGANTIC CHAIN LETTER – and it just ran out of chain.

Step TWO:

When the money printing and other measures fail to work, grow even more paranoid about your citizens and start to spy on them under the guise of 'national security'. Then, when the good folks object to this and start to riot, introduce even heavier measures in a vicious spiral down to total anarchy, like what's happening in Egypt.
Is this beginning to ring a few bells?
And don't draw any comfort from the fact that the USA is the richest, most powerful nation on Earth. Sure it has impressive military might, but its finances are underpinned by one of the least democratic countries in the world – China.
You see, the 'Monkey's Fist' trick has already been played on the USA. So, they are now on the hook for trillions of dollars of debt – to China.
Ever heard that expression: "He who pays the piper calls the tune" ?
Back in the 1930s Argentina was also one of the world's richest countries. But today it's an economic BASKET CASE.
So Just Ask Yourself This…
Is this really the sort of economic deprivation, coupled with the erosion of freedom that our brave ancestors crossed the stormy oceans in tiny wooden ships … fought their way across the prairies … made unimaginable sacrifices and suffered a civil war to achieve for us?
Hell no!
So, make no mistake … you owe it to your brave forefathers, as much as your family and loved ones, to step up to the plate and take a stand – right now – before it's too late and your prison door slams shut, for good.
My Travels Have Shown Me How To
Protect My Money From Greedy Governments
Just this year alone, I've discovered shocking secrets I want to share with you… and I hope you can handle the truth.
The thugs in big government are coming for your retirement account.
They're coming for your bank account.
They're even coming for your gold.
They even steal your old age pensions
Recently CNN featured a video interview with a retired Greek airline pilot, Yiannis Pantzos, who has just had his pension SLASHED BY 70%.
Now you're probably thinking: yes, but that's Spain, France and Greece – those sick Eurozone countries. Hey, I'm good … I live in the good old US of A.
But it does highlight a dangerous fact: your money is at the TOTAL MERCY of your government.


I'm Andrew Henderson – globe-trotting "citizen of the world" and free man. I spend my life on the road in search of the ultimate freedom and opportunity the world has to offer.
Like you, I spent years in "The Land of the Free" starting businesses and creating wealth. I was overtaxed, over-regulated, and under-appreciated.
As a permanent traveler, I spend time in as many as two dozen countries in a single year. I see first-hand all the ways governments are SCREWING their own citizens out of their hard-earned money.
You've played by the rules. You did what they asked. And now that they're in trouble, the government wants to take the money you legally earned… by FORCE.
And the saddest part of all of it is… THEY CAN.



Governments Want Your Money In One Place So It's Easy To Steal
Throughout history, people have kept their money close to home. They used to keep it under the mattress or keep a few coins in a coffee can.
These days though, greedy governments are on a mad dash to shut off all the escape hatches…
They're outlawing cash… in parts of Europe, you can't even legally buy a tank of gas in cash!
I recently held a secret, invitation-only event covering the most introductory topics on protecting your wealth abroad. People were literally showing up an hour or two early to make sure they got a seat.
At this event, I taught people the very basics… and here's what they had to say:
"I thought the event was very informative and helpful in that the timing was perfect as it relates to the social and geopolitical climate that we are all experiencing…..it piqued my curiosity with other subjects related to economic freedom that I want study. I believe that so many people need to hear this information if not for them but for others to take advantage of." – K. Harrigan
"We sat through this because it is great stuff Andrew. Thank you." - Paul M,
Hi Andrew,
I enjoyed your seminar on the offshore accounts and additional passports. You have brought some great light to the subject of our government's "rules". I will greatly consider this session with you a great learning experience. I wasn't so sure on how to go about this and have thought greatly about it, but you made this sound so easy. Thank you for sharing your hard work of gained knowledge.
- John Mijal
"I made it late, but I made it. This is amazing. Thank you."- D. Anderson
The Secrets I Learned to Keeping
Big Brother Away From My Money
Now, imagine if I were to share with you ten, twenty, or even one hundred times the amount of ACTIONABLE information these people got – and heaped praise on me for – in one informative event?
Imagine if you could learn all of these well-guarded secrets in just three days…
Secrets Like These ….
The smoke and mirrors used by governments to mug you (it's being going on since the days of the Roman Empire, so they're pretty good at it now)

The lightening fast, no-brainer way you can open a private offshore bank account from your home with just a few clicks of your mouse – there are two ways to do it and I share the pros and cons of each.

How to instantly STOP your government snooping on your emails (you'll LOVE this one!).

The best country in which to buy gold … and the different country which is the best place to store it … and the three different ways you can choose to do it.

How to take full advantage of 'geo-arbitrage' (get this right and you'll save a boatload of cash and time, regardless of where you live).

Why the US Constitution is powerless to safeguard your freedom – and what you can do about it.

Why you definitely need more than one passport – and the six fatal mistakes I'll steer you away from (vital intel if you're a US citizen).

How, in the end, paper money always corrupts governments (they just can't resist the temptation).

Two offshore assets the IRS don't want to know about (so you certainly don't need to tell them!).

The huge advantages of owning foreign real estate – and the best places in the world to buy it (and enjoy the bonus of second passport thrown in).

The country which will pay you as much as 15% annual interest on your savings.

How to own an offshore account and stay legal (yes it REALLY IS possible to do both).

… and much, MUCH more …
I Struggled For Years To Find The Ultimate Solution To Protecting My Wealth…
That's Why I've Assembled the Top Group of Asset Protection Experts in the World to Show YOU the Way Out!
For years, I worried about the government taking more and more of what I worked for.
That I was POWERLESS to fight them whenever they wanted to dip their dirty paws into my bank account (which they actually DID).
My lifestyle isn't for everyone. And I'm not suggesting you pack your bags, tell the kids not to burn the house down, and head for the hills.
What has ALREADY HAPPENED in Argentina and Ireland and Hungary and here in Vietnam – among countless other places – could EASILY HAPPEN TO YOU if you don't take the proper precautions.

Learn How To Protect Everything You Have in Just Three Days!
If you're serious about TAKING ACTION rather than just waiting – worrying – for the United States to become even MORE of a confiscatory socialist state, then I have a solution you can actually use.
For the first time ever, I'm bringing my most respected experts together on one stage for a very special, three-day event. As a fellow freedom lover who DESERVES to protect your capital, I'm inviting you to join me as my special guest.
In just three days, you'll hear from nearly twenty experts on topics such as offshore banking, offshore corporations, offshore gold storage, and more.
You'll learn ACTIONABLE and LEGAL strategies from respected experts in their fields. Everything you'll learn will be above board.
What this event WON'T be is another pity party about how few liberties Americans have left. As someone who left his home in search of greater pastures, I'm a man of action, and I wouldn't be bringing in these experts to speak to you – some of them from nearly 10,000 miles away – if I didn't think you would LEARN MORE about these topics than you probably ever have before.
The bottom line: they'll show you how to protect your money so you can leave it to your children or favorite charities and NOT to Obama and his bailouts, welfare giveaways, and endless wars.
My event, called Passport to Freedom, will contain three days of top-shelf information about all aspects of wealth preservation. You'll not only hear from expert speakers but have a chance to ask questions.
The theme of this year's event is "Fight or Flight?" Should you personally stay in the United States, or should you leave seeking greener pastures. Our cast of expert speakers will show you how to protect your money and your freedom no matter which option you choose!
You'll hear firsthand how these freedom fighters and expanding their liberties no matter where they're located, and how they're protecting their own money as well. The most important part is: you don't have to pack your bags and leave the country yet. You'll learn about the ways governments around the world are trying to take your freedoms and your money, and how to fight back whether you STAY or whether you GO.
You're going to learn more than you probably ever have on these topics before.
Now, yes, you did read the location correctly. You and I know deep down that the United States is no longer the best place to store your wealth – or to keep it safe from bankrupt politicians…
But thanks to the never-ending government-created recession in the US, I felt compelled to host this event in a place that as many people as possible could attend.
Because I believe ANYONE with any kind of wealth – be it bank accounts, IRAs and 401(k)s, gold, or equity in a business – NEEDS this information… before it's too late.
Governments know that wealth goes where it's treated best. But until now, too few people have had access to this SHOCKING information. So before the government closes the door to moving money offshore, you NEED to have a plan.
Here Are JUST A FEW Of The Internationally Respected Experts You'll Learn From:
Peter Schiff – Financial commentator, investment manager, and radio host

Topic: Global Economic Freedom

Peter Schiff keynotes Passport to Freedom 2014 and promises to share ways to build your own economic freedom around the world. He'll discuss banking and investment opportunities offshore, whether you have $50,000 or $50 million. Plus, he'll offer insights on how the western world is broken – and specific ways to find freedom in spite of it.


Andrew Henderson – Nomad Capitalist

Topic: Best Places to Live and Bank Offshore

From stable countries with strong currencies to frontier markets offering double-digit returns on deposits, Andrew shares his knowledge on where in the world to keep your money safe and where to find potential for returns as high as 7%, 10%, and 15%.


Jeff Berwick – Escaping the Coming Dollar Collapse

Topic: Citizenship and Fiat Currency Insurance


Jeff Berwick is one of the most sought after speakers in the asset protection and international community – but he'll be sharing unique information EXCLUSIVELY at Passport to Freedom. Learn how to get citizenship insurance, the best places to get a second passport (including one you never thought of), and the best real estate investment you can make to survive and prosper in bad economic times.

Bobby Casey – Global Wealth Protection

Topic: Air-Tight Asset Protection Planning


An authority on offshore corporations, Bobby shares ways to keep the government, ambulance chasers, and the banks' away from your hard-earned money and business assets. He'll share ways to lock up your assets so no one can touch them.

Joel Nagel – Owner of Nagel Associates Law Firm

Topic: The One Secret You Must Know About Trusts


The most respected expert in the US on offshore trusts, Joel will share one legal secret you need to know before setting up any trust – onshore or offshore. You'll learn which trusts are best for keeping creditors at bay, as well as legal strategies to remain compliant so your assets stay yours.

Charles Goyette – Bestselling Author of "The Dollar Meltdown"

Topic: The Best Fiat Currency Escape Hatches


Nationally-known author, speaker, and radio host with Ron Paul, Charles shares thirty years of experience studying precious metals and the death of fiat currencies. You'll learn his top three tips for protecting your fiat money from a death spiral.

Vitalik Buterin – Bitcoin Expert

Topic: How to Survive – and Profit from – Bitcoin and Digital Currencies

One of the biggest names in Bitcoin, Vitalik Buterin is a columnist, advocate, and early adopter of Bitcoin. He's a sought-after expert on cryptocurrencies as well as a senior contributor to Bitcoin Magazine. He'll show you how to "mine", buy, store, and spend Bitcoins for more privacy or greater profits. Vitalik will also share Bitcoin trends from around the world and how you can follow them to find more freedom.


Torgny Persson – Swedish/Singoporean Entrepreneur

Topic: Protecting Your Gold from the Next Gold Confiscation

Will FDR rear his ugly, gold-stealing head again? Governments around the world want your gold – you'll learn how to stop them. Torgny shares his two favorite plans for protecting your gold from government confiscation, as well as the pros and cons of offshore gold storage – even how to store your gold for free!

Pete Sisco – Millionaire Online Entrepreneur And Author

Topic: How to Create a Six-Figure Online Income… Again and Again

Whether you plan to stay in the US or move to greener pastures, you don't have to be a slave to the office to make money anymore. Pete has made millions in his thirteen years as an online business owner, and he'll lay out – step-by-step – how you can do it, too. No hype, no BS sales pitch… just real information he learned the hard way. Plus, why he claims anyone can make six figures online faster than they thought possible

David Lesperance – Second Passport Guru

Topic: The Easiest Second Passports to Get (That You've Never Heard Of)

Having a second passport is an essential diversification tool. Canadian lawyer David Lesperance is the second passport guru to the stars! He's helped people get passports in places you may not even know offer second citizenship. He'll share the second passports "they" don't want to you know about, as well as second passport countries NO ONE is talking about.

Steve Michaels – Privacy Expert and Perpetual Traveler

Topic: Becoming Globally Invisible Online and Offline

The NSA wants to know everything about you. Steve will show you how to restore privacy to your finances and your life and escape Big Brother's surveillance state – once and for all! Learn how to protect your phone calls, emails, and bank records.

Aaron Cleary – Author of "Captain Capitalism"

Topic: Help Sink the Titanic That Is The United States

With the US economy in a constant state of doom and gloom, you'd think there would be nowhere to hide. But top-rated writer Aaron Cleary will show you how to maximize your profits and your lifestyle even as US economic dominance wanes. He'll have you asking "What recession?!"

Ernest Hancock – Syndicated Radio Host And Editor of "Freedom's Phoenix"

Topic: How To End Your Reliance On Government


A lifetime advocate of freedom, Ernest will show you the #1 best way to own gold and silver, how to keep the police from snooping on your finances, and how to divorce your government no matter where you live.

Matt DuBiel – Libertarian Entrepreneur

Topic: How To Take Freedom With You – Anywhere


Named "one of the 100 most influential people online", Matt will share how you can restore freedom to your life no matter where you live. Whether you stay in the US or become an expat, Matt will share tips he himself has used to escape the clutches of the TSA, FEMA, and other big government agencies! Matt's been featured on Fox News, CNN, WLS Radio, and more, discussing his strategies for personal freedom.
 …and many more! You'll hear more than ONE DOZEN experts on these topics and more.
Join me at Passport To Freedom: January 23-26, 2014 in fabulous Las Vegas, Nevada
This Asset Protection Information is Only for Those who REALLY want to Protect their Money, Gold, and Business from A Desperate Government's Next Move
You see, Passport to Freedom is a unique event. It's the only place where you can learn from nearly twenty experts who actually WALK THE WALK. While plenty of people sit in an office and dream up asset protection strategies, these guys are out in the field finding the BEST PLACES IN THE WORLD to store your capital.
As a successful person, you know you can't afford to make mistakes when it comes to protecting your money. One wrong move and it could all go up in smoke.
The speakers at Passport to Freedom are global citizens like I am. They take the emotion out of where to bank, invest, and protect your money. That's why they are the perfect people to learn from so you can PROTECT YOURSELF.
Imagine how much better you'll sleep at night knowing you don't have to rely on only one country. Once you attend my Passport to Freedom event, you'll worry less about:
The government "bailing in" the banks by helping themselves to your deposits…
Government goons confiscating your gold and silver for themselves…
Obama and Congress "nationalizing" your IRA and FORCING you to buy worthless government bonds with it…
Higher income taxes stealing more of your hard-earned money…
Higher estate taxes eating away at the legacy you leave to your heirs…
… and much more. You'll learn how to FREE yourself from the madness and go where you and your money are treated best.

You Can See Just How This Information Has Helped Other People – People Just Like You – To Protect Their Financial Legacy
"…I love your stuff! You're a great spokesman for a freedom lifestyle, and the quality of information you put out there makes me follow what you're saying. Thanks for what you do."
Matt - Chicago, IL
"…I track with and agree with much of what you say in your blog."
D Alway
"…Excellent message!"
Ray - Houston, TX
Here's Just Some of What You'll Learn At This All-Access Event:
The best places to open an offshore bank account – and how to do it all from your living room couch…
The one business asset most likely to be seized by the government – and how to protect yourself…
A simple yet little-known trick to legally increase your tax deductions…
The two non-reportable financial assets you should own if you want to get the government out of your life…
How to open completely legal offshore accounts with no reporting required…
The one disadvantage Americans have when it comes to banking or living overseas – and the legal way to get around it…
The three biggest mistakes Americans make opening offshore bank accounts – and how to avoid making them..
Quick and easy ways to protect your retirement savings from government confiscation…
The one disadvantage Americans have when it comes to living or banking offshore – and the legal way to get around it…
Why you shouldn't store all your gold at home or even in the same country – and one simple FREE trick you can use today…
The best countries, currencies, and strategies to safe-guard your savings from the coming dollar collapse…
How to store your gold and silver offshore for practically nothing and legally hide it from the government…
How to buy and profit from foreign real estate in growing markets with no "flipping" – whether you live there or not…
How to get "citizenship insurance" to build an escape hatch against tyranny at home…
How to become globally invisible with total internet privacy, offshore email, and encrypted phone lines – for pennies on the dollar…
The one country with the lowest premiums over spot price on gold – it's literally a few basis points!…
How to find savings accounts paying 10%, 12%, or even 15% annual interest…
The best countries for retirees of any age – even 35-year-olds can live here on the cheap…
The #1 way to determine if you should stay in your home country, or move overseas…
How to get a second residence in another country, and have as a backup if you ever need to ESCAPE…
The fastest way to get a second passport cheaply and easily…
You'll Get Everything You Need in Clear, Simple Terms to TAKE ACTION Protecting Your Assets IMMEDIATELY
The speakers at Passport to Freedom have helped their own clients save hundreds of thousands or even MILLIONS of dollars with their advice. The return you get simply by attending this event could be INFINITE.
And if things really go to hell, it could protect EVERY PENNY YOU HAVE.
By attending this event, you won't just LEARN about how to protect your assets… you'll actually be able to DO something about it… even before you leave!
At The Event, You'll Be Able To:
Open an overseas bank account without leaving the country
Buy offshore gold and silver
Consult with an asset protection attorney
SPECIAL BONUS:
Guide To Banking In Singapore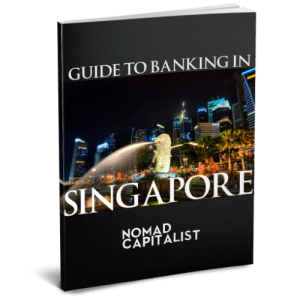 This guide offers specific account opening instructions at Singapore banks, plus analysis of the country and offshore banking regulations. Opening an offshore bank account doesn't have to be hard, nor is it illegal to do so.
This is the ultimate crash course to offshore banking in one of the world's best jurisdictions for opening your own bank account outside of your home country.
Millions of Americans have discovered the benefits of living, banking, and investing offshore for greater protection from government wealth confiscation, high taxes, and frivolous lawsuits. If you want to join them and put a lockbox around your hard-earned money, NOW IS THE TIME to take action.
But Fair Warning… Your Seat at this Event May Well Be GONE if you Don't Reserve it Now
Over the past five years, I've spent over $100,000 of my own money traveling the world and tracking down the people who know how to keep your money safe.
If you're looking for an easier way to learn all of this information, this event will save you the years of searching and hundreds of thousands of miles a year of flying that I've done.
But this simplicity doesn't usually come cheap. You could easily spend $800 an hour with a good global asset protection lawyer.
You could spend $3,000 traveling overseas to open a bank account – if you even know where to go.
And other asset protection events often charge $2,000, $3,000 or even more just to learn their secrets. One event I saw wanted $6,000 to spend a weekend learning their strategies.

I'm Making It Easy for You to Attend So There's NO EXCUSE For Being a Sitting Duck Anymore
Much of the information you'll learn at Passport to Freedom can't be found anywhere else.
But rather than charge $6,000 to learn this life-changing – and possibly life-saving – information, I want you to offer you a real bargain.
That's why I'm offering the first TWENTY-FIVE people to register a special early-bird rate of only $997.
And if you want to bring your spouse, partner, best friend, or business partner, you're free to do so at a very special discount – you'll pay just $400 for your partner's ticket, a 60% discount off of our best pre-sale rate.
And because the event is being held in Las Vegas, you'll enjoy easy travel to the event. And you'll enjoy some of the special surprises I have in store for attendees.
Join me at Passport To Freedom: January 23-26, 2014 in fabulous Las Vegas, Nevada
I'm Taking the Risk out of Registering – So You Can Put an End all the Worrying About Your Financial Future Once and For All
We both know you could easily spend thousands of dollars to enjoy a fraction of this information. Like I said, in-demand experts don't come cheap, and just consulting with one of them could cost you more than the cost of your early bird ticket.
But I understand that you want to make sure you're getting the best value for your money.
Which is why I'm offering a special guarantee ONLY TO EARLY BIRDS who are ready to take action.
These People Put My Material to the Test… And Loved It…
"…Man! These Governments are really afraid of people owning gold! Hopefully by the time the Vietnamese government decides to confiscate the people's gold they will find out that all of it has been moved to another more friendlier country."
Jose Romero
"…just read about every post you made on your whole website in a bunch of hours spread over a few days. I think I love you! Excellent info in every post. Thanks and keep up the good work!"
Robin - Bridgeport, CT
Make Your Money Back Many Times Over Just From One Speaker
You and I know there is a lot at stake here.
The good old days of freedom and liberty for all are gone, and they've been replaced by an era of Big Government that knows what's best for you and isn't afraid to take your money to prove their point.
At least $997, you'll learn information that could save you thousands of dollars. Attending one speech alone could give you a million-dollar idea. Even if you only have a modest nest egg to protect, the information you'll learn in only sixty minutes could pay for itself and much more.
I'm talking to some even BIGGER NAMES right now about speaking at this event, as well. My friends include national talk show hosts, multi-millionaire international businessmen, and many more. These people want to speak at Passport to Freedom and SHARE THEIR SECRETS WITH YOU…
And I'll be unveiling them very soon. But because of the huge demand these speakers command, I may have to raise the price once their photo gets added to the speaker roster here.
To get the special bonuses for early birds and lock in your very special bargain price for this event, you must act now.
Remember, You'll Learn ALL of This In Just Three Days:
The best places to open an offshore bank account – and how to do it all from your living room couch…
The one business asset most likely to be seized by the government – and how to protect yourself…
A simple yet little-known trick to legally increase your tax deductions…
The two non-reportable financial assets you should own if you want to get the government out of your life…
How to open completely legal offshore accounts with no reporting required…
The one disadvantage Americans have when it comes to banking or living overseas – and the legal way to get around it…
The three biggest mistakes Americans make opening offshore bank accounts – and how to avoid making them..
Quick and easy ways to protect your retirement savings from government confiscation…
The one disadvantage Americans have when it comes to living or banking offshore – and the legal way to get around it…
Why you shouldn't store all your gold at home or even in the same country – and one simple FREE trick you can use today…
The best countries, currencies, and strategies to safe-guard your savings from the coming dollar collapse…
How to store your gold and silver offshore for practically nothing and legally hide it from the government…
How to buy and profit from foreign real estate in growing markets with no "flipping" – whether you live there or not…
How to get "citizenship insurance" to build an escape hatch against tyranny at home…
How to become globally invisible with total internet privacy, offshore email, and encrypted phone lines – for pennies on the dollar…
The one country with the lowest premiums over spot price on gold – it's literally a few basis points!…
How to find savings accounts paying 10%, 12%, or even 15% annual interest…
The best countries for retirees of any age – even 35-year-olds can live here on the cheap…
The #1 way to determine if you should stay in your home country, or move overseas…
How to get a second residence in another country, and have as a backup if you ever need to ESCAPE…
The fastest way to get a second passport cheaply and easily…
Join me at

Passport To Freedom

: January 23-26, 2014 in fabulous Las Vegas, Nevada
To your new-found freedom,
Andrew Henderson
Nomad Capitalist